At the heart of C9ORF72-related amyotrophic lateral sclerosis and frontotemporal dementia (ALS /FTD) research lies the mechanistic question of whether disease is caused by toxic gain of function related to the repeat expansion, loss of endogenous C9ORF72 expression, or both. New findings provide insights to this question.
Access options
Subscribe to Journal
Get full journal access for 1 year
$209.00
only $17.42 per issue
All prices are NET prices.
VAT will be added later in the checkout.
Rent or Buy article
Get time limited or full article access on ReadCube.
from$8.99
All prices are NET prices.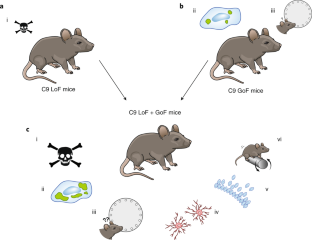 References
1.

DeJesus-Hernandez, M. et al. Neuron 72, 245–256 (2011).

2.

Jiang, J. et al. Neuron 90, 535–550 (2016).

3.

Zhu, Q. et al. Nat. Neurosci. https://doi.org/10.1038/s41593-020-0619-5 (2020).

4.

Ash, P. E. et al. Neuron 77, 639–646 (2013).

5.

Gijselinck, I. et al. Lancet Neurol. 11, 54–65 (2012).

6.

Therrien, M., Rouleau, G. A., Dion, P. A. & Parker, J. A. PLoS One 8, e83450 (2013).

7.

Ciura, S. et al. Ann. Neurol. 74, 180–187 (2013).

8.

O'Rourke, J. G. et al. Science 351, 1324–1329 (2016).

9.

Burberry, A. et al. Sci. Transl. Med. 8, 347ra93 (2016).

10.

Chew, J. et al. Science 348, 1151–1154 (2015).
Ethics declarations
Competing interests
The author declares no competing interests.
About this article
Cite this article
Lutz, C. Realizing the gains and losses in C9ORF72 ALS/FTD. Nat Neurosci 23, 596–597 (2020). https://doi.org/10.1038/s41593-020-0622-x