Abstract
Understanding how genes, drugs and neural circuits influence behavior requires the ability to effectively organize information about similarities and differences within complex behavioral datasets. Motion Sequencing (MoSeq) is an ethologically inspired behavioral analysis method that identifies modular components of three-dimensional mouse body language called 'syllables'. Here, we show that MoSeq effectively parses behavioral differences and captures similarities elicited by a panel of neuroactive and psychoactive drugs administered to a cohort of nearly 700 mice. MoSeq identifies syllables that are characteristic of individual drugs, a finding we leverage to reveal specific on- and off-target effects of both established and candidate therapeutics in a mouse model of autism spectrum disorder. These results demonstrate that MoSeq can meaningfully organize large-scale behavioral data, illustrate the power of a fundamentally modular description of behavior and suggest that behavioral syllables represent a new class of druggable target.
Relevant articles
Open Access articles citing this article.
Yu-Ting Tseng

,

Binghao Zhao

…

Liping Wang

Translational Psychiatry Open Access 25 May 2023

Jeffrey E. Markowitz

,

Winthrop F. Gillis

…

Sandeep Robert Datta

Nature Open Access 18 January 2023

Rebecca Z. Weber

,

Geertje Mulders

…

Ruslan Rust

BMC Biology Open Access 15 October 2022
Access options
Access Nature and 54 other Nature Portfolio journals
Get Nature+, our best-value online-access subscription
$29.99 / 30 days
cancel any time
Subscribe to this journal
Receive 12 print issues and online access
$189.00 per year
only $15.75 per issue
Rent or buy this article
Get just this article for as long as you need it
$39.95
Prices may be subject to local taxes which are calculated during checkout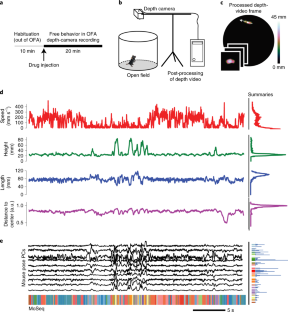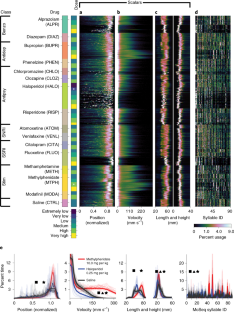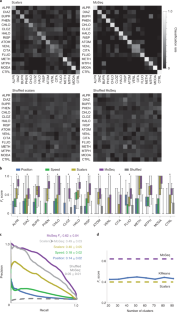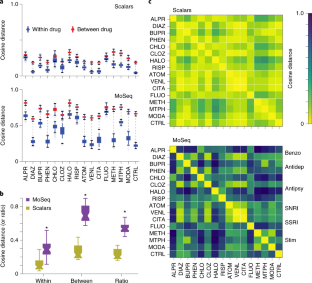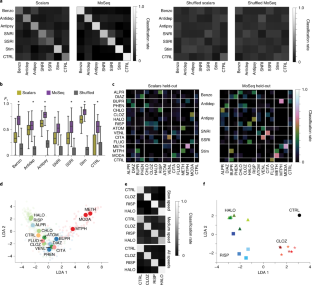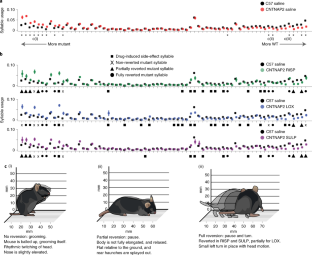 Data availability
All datasets generated and/or analyzed during the current study will be available from the corresponding author upon reasonable request. The raw per-frame data, MoSeq per-frame labels and per-mouse behavioral summary data organized as NumPy arrays are stored in a Python pickle file and are available for download on an open-access basis via GitHub (https://github.com/dattalab/moseq-drugs).
References
Tinbergen, N. The Study of Instinct (Clarendon Press, 1951).

Dawkins, R. in Growing Points in Ethology (eds Bateson, P. P. G. & Hinde, R. A.) 7–54 (Cambridge Univ. Press, 1976).

Datta, S. R., Anderson, D. J., Branson, K., Perona, P. & Leifer, A. Computational neuroethology: a call to action. Neuron 104, 11–24 (2019).

Anderson, D. J. & Perona, P. Toward a science of computational ethology. Neuron 84, 18–31 (2014).

Mathis, A. et al. DeepLabCut: markerless pose estimation of user-defined body parts with deep learning. Nat. Neurosci. 21, 1281–1289 (2018).

Meyer, A. F., Poort, J., O'Keefe, J., Sahani, M. & Linden, J. F. A head-mounted camera system integrates detailed behavioral monitoring with multichannel electrophysiology in freely moving mice. Neuron 100, 46–60.e7 (2018).

Klaus, A. et al. The spatiotemporal organization of the striatum encodes action space. Neuron 95, 1171–1180.e7 (2017).

Pereira, T. D. et al. Fast animal pose estimation using deep neural networks. Nat. Methods 16, 117–125 (2019).

Wiltschko, A. B. et al. Mapping sub-second structure in mouse behavior. Neuron 88, 1121–1135 (2015).

Graving, J. M. et al. Fast and robust animal pose estimation. eLife 8, e47994 (2019).

Markowitz, J. E. et al. The striatum organizes 3D behavior via moment-to-moment action selection. Cell 174, 44–58.e17 (2018).

Crawley, J. N. Behavioral phenotyping of rodents. Comp. Med. 53, 140–146 (2003).

Crawley, J. N. Behavioral phenotyping strategies for mutant mice. Neuron 57, 809–818 (2008).

Crabbe, J. C. Genetics of mouse behavior: interactions with laboratory environment. Science 284, 1670–1672 (1999).

Wahlsten, D. et al. Different data from different labs: lessons from studies of gene–environment interaction. J. Neurobiol. 54, 283–311 (2002).

Egnor, S. E. R. & Branson, K. Computational analysis of behavior. Annu. Rev. Neurosci. 39, 217–236 (2016).

Berman, G. J., Choi, D. M., Bialek, W. & Shaevitz, J. W. Mapping the stereotyped behaviour of freely moving fruit flies. J. R. Soc. Interface https://doi.org/10.1098/rsif.2014.0672 (2014).

Fentress, J. C. & Stilwell, F. P. Grammar of a movement sequence in inbred mice. Nature 244, 52–53 (1973).

Berridge, K. C., Fentress, J. C. & Parr, H. Natural syntax rules control action sequence of rats. Behav. Brain Res. 23, 59–68 (1987).

Peñagarikano, O. et al. Absence of CNTNAP2 leads to epilepsy, neuronal migration abnormalities, and core autism-related deficits. Cell 147, 235–246 (2011).

Zetler, G. Haloperidol catalepsy in grouped and isolated mice. Pharmacology 13, 526–532 (1975).

Millichap, J. G. & Boldrey, E. E. Studies in hyperkinetic behavior. II. Laboratory and clinical evaluations of drug treatments. Neurology 17, 467–471 (1967).

Ebenezer, I. S. Neuropsychopharmacology and Therapeutics (Wiley, 2015).

Duncan, G. E., Zorn, S. & Lieberman, J. A. Mechanisms of typical and atypical antipsychotic drug action in relation to dopamine and NMDA receptor hypofunction hypotheses of schizophrenia. Mol. Psychiatry 4, 418–428 (1999).

Roth, B. L., Sheffler, D. J. & Kroeze, W. K. Magic shotguns versus magic bullets: selectively non-selective drugs for mood disorders and schizophrenia. Nat. Rev. Drug Discov. 3, 353–359 (2004).

McOmish, C. E., Lira, A., Hanks, J. B. & Gingrich, J. A. Clozapine-induced locomotor suppression is mediated by 5-HT2A receptors in the forebrain. Neuropsychopharmacolgy 37, 2747–2755 (2012).

Volkow, N. D. et al. Effects of modafinil on dopamine and dopamine transporters in the male human brain: clinical implications. JAMA 301, 1148–1154 (2009).

Zolkowska, D. et al. Evidence for the involvement of dopamine transporters in behavioral stimulant effects of modafinil. J. Pharmacol. Exp. Ther. 329, 738–746 (2009).

Alarcón, M. et al. Linkage, association, and gene-expression analyses identify CNTNAP2 as an autism-susceptibility gene. Am. J. Hum. Genet. 82, 150–159 (2008).

Rodenas-Cuadrado, P., Ho, J. & Vernes, S. C. Shining a light on CNTNAP2: complex functions to complex disorders. Eur. J. Hum. Genet. 22, 171–178 (2014).

Brunner, D. et al. Comprehensive analysis of the 16p11.2 deletion and null Cntnap2 mouse models of autism spectrum disorder. PLoS ONE 10, e0134572 (2015).

So, H.-C. et al. Analysis of genome-wide association data highlights candidates for drug repositioning in psychiatry. Nat. Neurosci. 20, 1342–1349 (2017).

Ferreri, F. et al. The in vitro actions of loxapine on dopaminergic and serotonergic receptors. Time to consider atypical classification of this antipsychotic drug? Int. J. Neuropsychopharmacol. 21, 355–360 (2018).

Datta, S. R. Q&A: understanding the composition of behavior. BMC Biol. 17, 44 (2019).

Brown, A. E. X., Yemini, E. I., Grundy, L. J., Jucikas, T. & Schafer, W. R. A dictionary of behavioral motifs reveals clusters of genes affecting Caenorhabditis elegans locomotion. Proc. Natl Acad. Sci. USA 110, 791–796 (2013).

Berman, G. J., Choi, D. M., Bialek, W. & Shaevitz, J. W. Mapping the stereotyped behaviour of freely moving fruit flies. J. R. Soc. Interface 11, 20140672 (2014).

Vogelstein, J. T. et al. Discovery of brainwide neural-behavioral maps via multiscale unsupervised structure learning. Science 344, 386–392 (2014).

Swinney, D. C. & Anthony, J. How were new medicines discovered? Nat. Rev. Drug Discov. 10, 507–519 (2011).

Hendriksen, H. & Groenink, L. Back to the future of psychopharmacology: a perspective on animal models in drug discovery. Eur. J. Pharmacol. 759, 30–41 (2015).

Witt, P. N. Drugs alter web-building of spiders: a review and evaluation. Behav. Sci. 16, 98–113 (1971).

Bishop, C. M. Pattern Recognition and Machine Learning (Springer, 2006).

McLachlan, G. J. Discriminant Analysis and Statistical Pattern Recognition (Wiley, 2004).

Fukunaga, K. & Olsen, D. R. An algorithm for finding intrinsic dimensionality of data. IEEE Trans. Computers 20, 176–183 (1971).
Acknowledgements
We thank members of the Datta Lab for helpful comments on the manuscript. We thank O. Mazor and P. Gorelik from the Research Instrumentation Core Facility for engineering support, S. Knemeyer for mouse illustrations and C. Ashton for technical assistance. Core facility support is provided by NIH grant P30 HD18655. Pilot experiments for this paper were supported by Hoffman LaRoche. S.R.D. is supported by the National Institutes of Health (U24NS109520, RO11DC016222, U19NS113201 and RO1NS114020), by a SFARI grant from the Simons Foundation and by the Simons Collaboration on the Global Brain.
Ethics declarations
Competing interests
The authors declare the following competing interests: A.B.W., M.J.J. and S.R.D. are co-founders of Syllable Life Sciences, Inc. A.B.W. and S.R.D. are co-authors on awarded patents WO2013170129A1 and US10025973B2, which describe behavioral methods used herein.
Additional information
Peer review information Nature Neuroscience thanks Ann Kennedy, Paul Kenny, and the other, anonymous, reviewer(s) for their contribution to the peer review of this work.
Publisher's note Springer Nature remains neutral with regard to jurisdictional claims in published maps and institutional affiliations.
Supplementary information
Supplementary Figs. 1–6, Supplementary Tables 1–4 and Supplementary References.
About this article
Cite this article
Wiltschko, A.B., Tsukahara, T., Zeine, A. et al. Revealing the structure of pharmacobehavioral space through motion sequencing. Nat Neurosci 23, 1433–1443 (2020). https://doi.org/10.1038/s41593-020-00706-3
Received:

Accepted:

Published:

Issue Date:

DOI: https://doi.org/10.1038/s41593-020-00706-3