Chronic pain is associated with anxio-depressive comorbidities, but the neuroanatomical substrates remain unknown. A specific serotonergic pathway from the dorsal raphe nucleus to the lateral habenula via the central amygdala is now uncovered as a key neural circuit governing comorbid depressive symptoms in chronic pain.
Access options
Subscribe to Journal
Get full journal access for 1 year
$225.00
only $18.75 per issue
All prices are NET prices.
VAT will be added later in the checkout.
Rent or Buy article
Get time limited or full article access on ReadCube.
from$8.99
All prices are NET prices.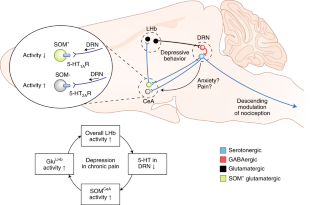 References
1.

Doan, L., Manders, T. & Wang, J. Neural Plast. 2015, 504691 (2015).

2.

Walker, A. K., Kavelaars, A., Heijnen, C. J. & Dantzer, R. Pharmacol. Rev. 66, 80–101 (2013).

3.

Sindrup, S. H., Otto, M., Finnerup, N. B. & Jensen, T. S. Basic Clin. Pharmacol. Toxicol. 96, 399–409 (2005).

4.

Kremer, M., Salvat, E., Muller, A., Yalcin, I. & Barrot, M. Neuroscience 338, 183–206 (2016).

5.

Zhou, W., et al., Nat. Neurosci. https://dx.doi.org/s41593-019-0468-2 (2019).

6.

Li, Y. et al. Front. Behav. Neurosci. 11, 31 (2017).

7.

Ren, J. et al. Cell 175, 472–487.e20 (2018).

8.

Sartorius, A. et al. Biol. Psychiatry 67, e9–e11 (2010).

9.

Patetsos, E. & Horjales-Araujo, E. Pain Res. Manag. 2016, 2020915 (2016).

10.

Yalcin, I., Barthas, F. & Barrot, M. Neurosci. Biobehav. Rev. 47, 154–164 (2014).

11.

Pitzer, C., La Porta, C., Treede, R. D. & Tappe-Theodor, A. Eur. J. Pain 23, 285–306 (2019).

12.

Sellmeijer, J. et al. J. Neurosci. 38, 3102–3115 (2018).
Acknowledgements
The authors acknowledge funding from the Deutsche Forschungsgemeinschaft in form of grants in Collaborative Research Center 1158 to R.K. (projects B01 and B06) and to A.T.T. (project S01).
About this article
Cite this article
Tappe-Theodor, A., Kuner, R. A common ground for pain and depression. Nat Neurosci 22, 1612–1614 (2019). https://doi.org/10.1038/s41593-019-0499-8
Further reading
Sameer Hassamal

,

Marianne Razavi

,

Karen Clark

,

William Dale

&

Matthew Loscalzo

Psycho-Oncology (2020)