Using data from 45,615 people, Kaufmann et al. compare the gaps between brain age and chronological age in a number of brain disorders and study the relationship of these gaps with genetics. Their research shows that the brains of individuals with a range of different brain disorders, such as dementia and schizophrenia, are aging faster than normal.
Access options
Subscribe to Journal
Get full journal access for 1 year
$59.00
only $4.92 per issue
All prices are NET prices.
VAT will be added later in the checkout.
Tax calculation will be finalised during checkout.
Rent or Buy article
Get time limited or full article access on ReadCube.
from$8.99
All prices are NET prices.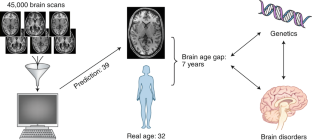 References
1.

Cole, J. H. & Franke, K. Trends Neurosci. 40, 681–690 (2017).

2.

Kaufmann, T., van der Meer, D., Doan, N.T., Schwarz, E. & Lund, M.J. Nat. Neurosci. https://doi.org/10.1038/s41593-019-0471-7 (2019).

3.

Gratten, J. & Visscher, P. M. Genome Med. 8, 78 (2016).

4.

Insel, T. R. Am. J. Psychiatry 171, 395–397 (2014).

5.

Miller, K. L. et al. Nat. Neurosci. 19, 1523–1536 (2016).

6.

Thompson, P. M. et al. Neuroimage 145 Pt B, 389–408 (2017).

7.

Weiner, M. W. et al. Alzheimers Dement. 13, e1–e85 (2017).

8.

Smith, S. M. & Nichols, T. E. Neuron 97, 263–268 (2018).

9.

Fortin, J.-P. et al. Neuroimage 167, 104–120 (2018).
About this article
Cite this article
Bijsterbosch, J. How old is your brain?. Nat Neurosci 22, 1611–1612 (2019). https://doi.org/10.1038/s41593-019-0478-0