Abstract
Vocal learners use early social experience to develop auditory skills specialized for communication. However, it is unknown where in the auditory pathway neural responses become selective for vocalizations or how the underlying encoding mechanisms change with experience. We used a vocal tutoring manipulation in two species of songbird to reveal that tuning for conspecific song arises within the primary auditory cortical circuit. Neurons in the deep region of primary auditory cortex responded more to conspecific songs than to other species' songs and more to species-typical spectrotemporal modulations, but neurons in the intermediate (thalamorecipient) region did not. Moreover, birds that learned song from another species exhibited parallel shifts in selectivity and tuning toward the tutor species' songs in the deep but not the intermediate region. Our results locate a region in the auditory processing hierarchy where an experience-dependent coding mechanism aligns auditory responses with the output of a learned vocal motor behavior.
Relevant articles
Open Access articles citing this article.
Stephen Gareth Hörpel

,

A. Leonie Baier

…

Uwe Firzlaff

Scientific Reports Open Access 01 July 2021
Access options
Subscribe to Nature+
Get immediate online access to the entire Nature family of 50+ journals
Subscribe to Journal
Get full journal access for 1 year
$99.00
only $8.25 per issue
All prices are NET prices.
VAT will be added later in the checkout.
Tax calculation will be finalised during checkout.
Buy article
Get time limited or full article access on ReadCube.
$32.00
All prices are NET prices.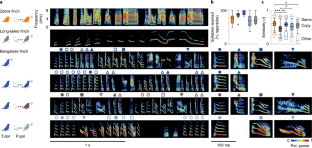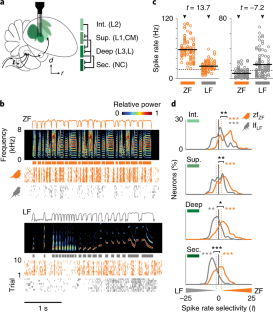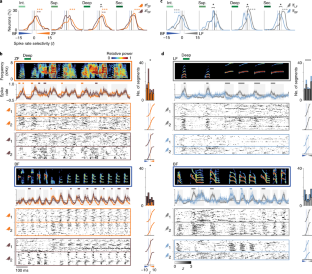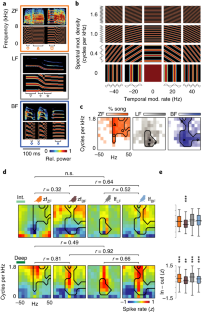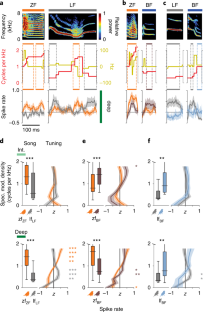 Data availability
The data that support the findings of this study are available from the corresponding author upon request.
Code availability
The code used to analyze data in this study is available from the corresponding author upon request.
References
Bradbury, J. W. & Vehrencamp, S. L. Principles of Animal Communication 2nd edn (Sinauer Associates, 2011).

Ord, T. J. & Stamps, J. A. Species identity cues in animal communication. Am. Nat. 174, 585–593 (2009).

Dooling, R. J., Brown, S. D., Klump, G. M. & Okanoya, K. Auditory perception of conspecific and heterospecific vocalizations in birds: evidence for special processes. J. Comp. Psychol. 106, 20–28 (1992).

Woolley, S. M. N., Fremouw, T. E., Hsu, A. & Theunissen, F. E. Tuning for spectro-temporal modulations as a mechanism for auditory discrimination of natural sounds. Nat. Neurosci. 8, 1371–1379 (2005).

Saffran, J. R., Werker, J. F. & Werner, L. A. in Handbook of Child Development (eds Seigler, R. & Kuhn, D.) 58–108 (John Wiley & Sons, 2006).

Poremba, A., Bigelow, J. & Rossi, B. Processing of communication sounds: contributions of learning, memory, and experience. Hear. Res. 305, 31–44 (2013).

Doupe, A. J. & Kuhl, P. K. Birdsong and human speech: common themes and mechanisms. Annu. Rev. Neurosci. 22, 567–631 (1999).

Konishi, M. The role of auditory feedback in birdsong. Ann. NY Acad. Sci. 1016, 463–475 (2004).

Werker, J. F. & Tees, R. C. Cross-language speech perception: evidence for perceptual reorganization during the first year of life. Infant Behav. Dev. 7, 49–63 (1984).

Kuhl, P. K., Williams, K. A., Lacerda, F., Stevens, K. N. & Lindblom, B. Linguistic experience alters phonetic perception in infants by 6 months of age. Science 255, 606–608 (1992).

Johnson, J. S. & Newport, E. L. Critical period effects in second language learning: the influence of maturational state on the acquisition of English as a second language. Cogn. Psychol. 21, 60–99 (1989).

Riebel, K. Song and female mate choice in zebra finches: a review. Adv. Study Behav. 40, 197–238 (2009).

Immelmann, K. in Bird Vocalizations (ed Hinde, R. A.) 61–74 (Cambridge Univ. Press, 1969).

Belin, P., Zatorre, R. J., Lafaille, P., Ahad, P. & Pike, B. Voice-selective areas in human auditory cortex. Nature 403, 309–312 (2000).

Näätänen, R. et al. Language-specific phoneme representations revealed by electric and magnetic brain responses. Nature 385, 432–434 (1997).

Mesgarani, N., Cheung, C., Johnson, K. & Chang, E. F. Phonetic feature encoding in human superior temporal gyrus. Science 343, 1006–1010 (2014).

Winkler, I. et al. Brain responses reveal the learning of foreign language phonemes. Psychophysiology 36, 638–642 (1999).

Butler, A. B., Reiner, A. & Karten, H. J. Evolution of the amniote pallium and the origins of mammalian neocortex. Ann. NY Acad. Sci. 1225, 14–27 (2011).

Wang, Y., Brzozowska-Prechtl, A. & Karten, H. J. Laminar and columnar auditory cortex in avian brain. Proc. Natl Acad. Sci. USA 107, 12676–12681 (2010).

Calabrese, A. & Woolley, S. M. N. Coding principles of the canonical cortical microcircuit in the avian brain. Proc. Natl Acad. Sci. USA 112, 3517–3522 (2015).

Grace, J. A., Amin, N., Singh, N. C. & Theunissen, F. E. Selectivity for conspecific song in the zebra finch auditory forebrain. J. Neurophysiol. 89, 472–487 (2003).

Amin, N., Gastpar, M. & Theunissen, F. E. Selective and efficient neural coding of communication signals depends on early acoustic and social environment. PLoS One 8, e61417 (2013).

Eales, L. A. Do zebra finch males that have been raised by another species still tend to select a conspecific song tutor? Anim. Behav. 35, 1347–1355 (1987).

Gomes, A. C. R., Sorenson, M. D. & Cardoso, G. C. Speciation is associated with changing ornamentation rather than stronger sexual selection. Evolution 70, 2823–2838 (2016).

Fecteau, S., Armony, J. L., Joanette, Y. & Belin, P. Is voice processing species-specific in human auditory cortex? An fMRI study. Neuroimage 23, 840–848 (2004).

Remedios, R., Logothetis, N. K. & Kayser, C. An auditory region in the primate insular cortex responding preferentially to vocal communication sounds. J. Neurosci. 29, 1034–1045 (2009).

Wang, X., Merzenich, M. M., Beitel, R. & Schreiner, C. E. Representation of a species-specific vocalization in the primary auditory cortex of the common marmoset: temporal and spectral characteristics. J. Neurophysiol. 74, 2685–2706 (1995).

Perrodin, C., Kayser, C., Logothetis, N. K. & Petkov, C. I. Voice cells in the primate temporal lobe. Curr. Biol. 21, 1408–1415 (2011).

Carruthers, I. M., Natan, R. G. & Geffen, M. N. Encoding of ultrasonic vocalizations in the auditory cortex. J. Neurophysiol. 109, 1912–1927 (2013).

Zhang, L. I., Bao, S. & Merzenich, M. M. Persistent and specific influences of early acoustic environments on primary auditory cortex. Nat. Neurosci. 4, 1123–1130 (2001).

Chang, E. F. & Merzenich, M. M. Environmental noise retards auditory cortical development. Science 300, 498–502 (2003).

Sarro, E. C. & Sanes, D. H. The cost and benefit of juvenile training on adult perceptual skill. J. Neurosci. 31, 5383–5391 (2011).

Sanes, D. H. & Woolley, S. M. N. A behavioral framework to guide research on central auditory development and plasticity. Neuron 72, 912–929 (2011).

Chi, T., Ru, P. & Shamma, S. A. Multiresolution spectrotemporal analysis of complex sounds. J. Acoust. Soc. Am. 118, 887–906 (2005).

Shamma, S. A., Versnel, H. & Kowalski, N. Ripple analysis in ferret primary auditory cortex. I. Response characteristics of single units to sinusoidally rippled spectra. Audit. Neurosci. 1, 233–254 (1995).

Hullett, P. W., Hamilton, L. S., Mesgarani, N., Schreiner, C. E. & Chang, E. F. Human superior temporal gyrus organization of spectrotemporal modulation tuning derived from speech stimuli. J. Neurosci. 36, 2014–2026 (2016).

Bizley, J. K., Walker, K. M., Nodal, F. R., King, A. J. & Schnupp, J. W. Auditory cortex represents both pitch judgments and the corresponding acoustic cues. Curr. Biol. 23, 620–625 (2013).

Fukushima, M., Saunders, R. C., Leopold, D. A., Mishkin, M. & Averbeck, B. B. Differential coding of conspecific vocalizations in the ventral auditory cortical stream. J. Neurosci. 34, 4665–4676 (2014).

Harris, K. D. & Thiele, A. Cortical state and attention. Nat. Rev. Neurosci. 12, 509–523 (2011).

Kato, H. K., Gillet, S. N. & Isaacson, J. S. Flexible sensory representations in auditory cortex driven by behavioral relevance. Neuron 88, 1027–1039 (2015).

Caras, M. L. & Sanes, D. H. Top-down modulation of sensory cortex gates perceptual learning. Proc. Natl Acad. Sci. USA 114, 9972–9977 (2017).

Schneider, D. M. & Woolley, S. M. N. Discrimination of communication vocalizations by single neurons and groups of neurons in the auditory midbrain. J. Neurophysiol. 103, 3248–3265 (2010).

Mesgarani, N., David, S. V., Fritz, J. B. & Shamma, S. A. Influence of context and behavior on stimulus reconstruction from neural activity in primary auditory cortex. J. Neurophysiol. 102, 3329–3339 (2009).

Sun, W. & Barbour, D. L. Rate, not selectivity, determines neuronal population coding accuracy in auditory cortex. PLoS Biol. 15, e2002459 (2017).

Razak, K. A., Richardson, M. D. & Fuzessery, Z. M. Experience is required for the maintenance and refinement of FM sweep selectivity in the developing auditory cortex. Proc. Natl Acad. Sci. USA 105, 4465–4470 (2008).

Schreiner, C. E. & Polley, D. B. Auditory map plasticity: diversity in causes and consequences. Curr. Opin. Neurobiol. 24, 143–156 (2014).

Han, Y. K., Köver, H., Insanally, M. N., Semerdjian, J. H. & Bao, S. Early experience impairs perceptual discrimination. Nat. Neurosci. 10, 1191–1197 (2007).

Caras, M. L. & Sanes, D. H. Sustained perceptual deficits from transient sensory deprivation. J. Neurosci. 35, 10831–10842 (2015).

Green, D. B., Mattingly, M. M., Ye, Y., Gay, J. D. & Rosen, M. J. Brief stimulus exposure fully remediates temporal processing deficits induced by early hearing loss. J. Neurosci. 37, 7759–7771 (2017).

Cousillas, H. et al. Experience-dependent neuronal specialization and functional organization in the central auditory area of a songbird. Eur. J. Neurosci. 19, 3343–3352 (2004).

Mandelblat-Cerf, Y. & Fee, M. S. An automated procedure for evaluating song imitation. PLoS One 9, e96484 (2014).

Fortune, E. S. & Margoliash, D. Cytoarchitectonic organization and morphology of cells of the field L complex in male zebra finches (Taenopygia guttata). J. Comp. Neurol. 325, 388–404 (1992).

Quiroga, R. Q., Nadasdy, Z. & Ben-Shaul, Y. Unsupervised spike detection and sorting with wavelets and superparamagnetic clustering. Neural Comput. 16, 1661–1687 (2004).

Wild, J., Prekopcsak, Z., Sieger, T., Novak, D. & Jech, R. Performance comparison of extracellular spike sorting algorithms for single-channel recordings. J. Neurosci. Methods 203, 369–376 (2012).

Joris, P. X., Louage, D. H., Cardoen, L. & van der Heijden, M. Correlation index: a new metric to quantify temporal coding. Hear. Res. 216-217, 19–30 (2006).
Acknowledgements
We thank J. Schumacher, A. Calabrese, D. Schneider, H. Brew, S. Rosis and N. So for suggestions on design and analysis. We are grateful to N. Mesgarani, M. Long, N. So and E. Perez for comments on previous versions of the manuscript. Funding was provided by NIH grant no. DC009810 (to S.M.N.W.) and NSF grant no. IOS-1656825 (to S.M.N.W.).
Ethics declarations
Competing interests
The authors declare no competing interests.
Additional information
Peer review information: Nature Neuroscience thanks Jon Sakata and the other, anonymous, reviewer(s) for their contribution to the peer review of this work.
Publisher's note: Springer Nature remains neutral with regard to jurisdictional claims in published maps and institutional affiliations.
Integrated supplementary information
About this article
Cite this article
Moore, J.M., Woolley, S.M.N. Emergent tuning for learned vocalizations in auditory cortex. Nat Neurosci 22, 1469–1476 (2019). https://doi.org/10.1038/s41593-019-0458-4
Received:

Accepted:

Published:

Issue Date:

DOI: https://doi.org/10.1038/s41593-019-0458-4
This article is cited by
Stephen Gareth Hörpel
A. Leonie Baier
Uwe Firzlaff

Scientific Reports (2021)

Aaron Williams
Maria N. Geffen

Nature Neuroscience (2019)