Abstract
Learning to predict rewards based on environmental cues is essential for survival. The orbitofrontal cortex (OFC) contributes to such learning by conveying reward-related information to brain areas such as the ventral tegmental area (VTA). Despite this, how cue–reward memory representations form in individual OFC neurons and are modified based on new information is unknown. To address this, using in vivo two-photon calcium imaging in mice, we tracked the response evolution of thousands of OFC output neurons, including those projecting to VTA, through multiple days and stages of cue–reward learning. Collectively, we show that OFC contains several functional clusters of neurons distinctly encoding cue–reward memory representations, with only select responses routed downstream to VTA. Unexpectedly, these representations were stably maintained by the same neurons even after extinction of the cue–reward pairing, and supported behavioral learning and memory. Thus, OFC neuronal activity represents a long-term cue–reward associative memory to support behavioral adaptation.
Relevant articles
Open Access articles citing this article.
Kelsey M. Vollmer

,

Lisa M. Green

…

James M. Otis

Nature Communications Open Access 11 November 2022

Yi Cao

,

Suwan Pan

…

Lu Yi

BMC Biology Open Access 24 November 2021

Reagan R. Wetherill

,

Nathaniel Spilka

…

Henry R. Kranzler

Neuropsychopharmacology Open Access 08 February 2021
Access options
Access Nature and 54 other Nature Portfolio journals
Get Nature+, our best-value online-access subscription
$29.99 / 30 days
cancel any time
Subscribe to this journal
Receive 12 print issues and online access
$189.00 per year
only $15.75 per issue
Rent or buy this article
Get just this article for as long as you need it
$39.95
Prices may be subject to local taxes which are calculated during checkout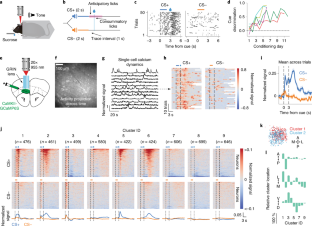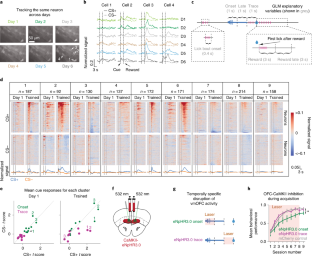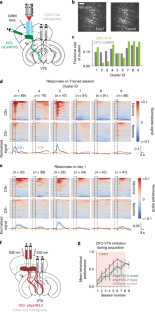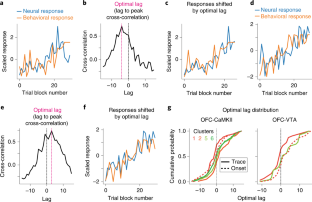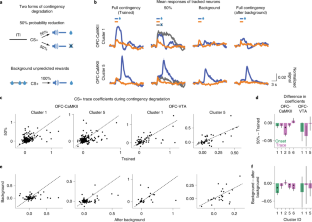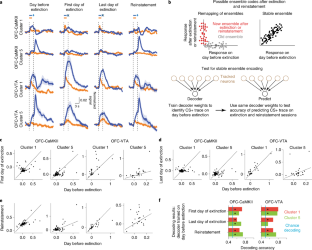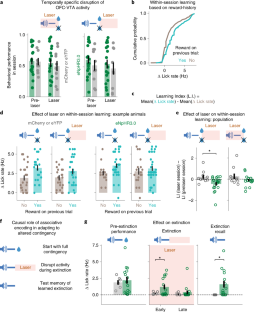 Data availability
The data that support the findings of this study are available from the corresponding author on request.
Code availability
All of the behavioral data were collected using custom MATLAB and Arduino scripts written by V.M.K.N. These are available on request from the corresponding author. All of the analyses were done in Python using custom codes written by V.M.K.N. These will be uploaded to the Stuber laboratory Github page (https://github.com/stuberlab), and/or will be available on request from the corresponding author.
References
Wilson, R. C., Takahashi, Y. K., Schoenbaum, G. & Niv, Y. Orbitofrontal cortex as a cognitive map of task space. Neuron 81, 267–279 (2014).

Stalnaker, T. A., Cooch, N. K. & Schoenbaum, G. What the orbitofrontal cortex does not do. Nat. Neurosci. 18, 620–627 (2015).

Wallis, J. D. Cross-species studies of orbitofrontal cortex and value-based decision-making. Nat. Neurosci. 15, 13–19 (2011).

Izquierdo, A. Functional heterogeneity within rat orbitofrontal cortex in reward learning and decision making. J. Neurosci. 37, 10529–10540 (2017).

Rudebeck, P. H. & Murray, E. A. The orbitofrontal oracle: cortical mechanisms for the prediction and evaluation of specific behavioral outcomes. Neuron 84, 1143–1156 (2014).

Izquierdo, A., Suda, R. K. & Murray, E. A. Bilateral orbital prefrontal cortex lesions in rhesus monkeys disrupt choices guided by both reward value and reward contingency. J. Neurosci. 24, 7540–7548 (2004).

Schoenbaum, G., Setlow, B., Nugent, S. L., Saddoris, M. P. & Gallagher, M. Lesions of orbitofrontal cortex and basolateral amygdala complex disrupt acquisition of odor-guided discriminations and reversals. Learn. Mem. 10, 129–140 (2003).

Noonan, M. P. et al. Separate value comparison and learning mechanisms in macaque medial and lateral orbitofrontal cortex. Proc. Natl Acad. Sci. USA 107, 20547–20552 (2010).

Walton, M. E., Behrens, T. E. J., Buckley, M. J., Rudebeck, P. H. & Rushworth, M. F. S. Separable learning systems in the macaque brain and the role of orbitofrontal cortex in contingent learning. Neuron 65, 927–939 (2010).

Padoa-Schioppa, C. & Assad, J. A. Neurons in the orbitofrontal cortex encode economic value. Nature 441, 223–226 (2006).

Rich, E. L. & Wallis, J. D. Decoding subjective decisions from orbitofrontal cortex. Nat. Neurosci. 19, 973–980 (2016).

Schuck, N. W., Wilson, R. C. & Niv, Y. A state representation for reinforcement learning and decision-making in the orbitofrontal cortex. in Goal-Directed Decision Making (eds. Morris, R., Bornstein, A. & Shenhav, A.) 259–278 (Academic Press, 2018).

Bradfield, L. A., Dezfouli, A., van Holstein, M., Chieng, B. & Balleine, B. W. Medial orbitofrontal cortex mediates outcome retrieval in partially observable task situations. Neuron 88, 1268–1280 (2015).

Kepecs, A., Uchida, N., Zariwala, H. A. & Mainen, Z. F. Neural correlates, computation and behavioural impact of decision confidence. Nature 455, 227–231 (2008).

Hirokawa, J., Vaughan, A. & Kepecs, A. Categorical representations of decision-variables in orbitofrontal cortex. Preprint at bioRxiv https://doi.org/10.1101/135707 (2017).

Moorman, D. E. & Aston-Jones, G. Orbitofrontal cortical neurons encode expectation-driven initiation of reward-seeking. J. Neurosci. 34, 10234–10246 (2014).

Lichtenberg, N. T. et al. Basolateral amygdala to orbitofrontal cortex projections enable cue-triggered reward expectations. J. Neurosci. 37, 8374–8384 (2017).

Lucantonio, F. et al. Orbitofrontal activation restores insight lost after cocaine use. Nat. Neurosci. 17, 1092–1099 (2014).

Takahashi, Y. K. et al. Neural estimates of imagined outcomes in the orbitofrontal cortex drive behavior and learning. Neuron 80, 507–518 (2013).

Schultz, W., Dayan, P. & Montague, P. R. A neural substrate of prediction and reward. Science 275, 1593–1599 (1997).

Poort, J. et al. Learning enhances sensory and multiple non-sensory representations in primary visual cortex. Neuron 86, 1478–1490 (2015).

Otis, J. M. et al. Prefrontal cortex output circuits guide reward seeking through divergent cue encoding. Nature 543, 103–107 (2017).

Hoover, W. B. & Vertes, R. P. Projections of the medial orbital and ventral orbital cortex in the rat. J. Comp. Neurol. 519, 3766–3801 (2011).

Chen, T.-W. et al. Ultrasensitive fluorescent proteins for imaging neuronal activity. Nature 499, 295–300 (2013).

Gutierrez, R., Carmena, J. M., Nicolelis, M. A. L. & Simon, S. A. Orbitofrontal ensemble activity monitors licking and distinguishes among natural rewards. J. Neurophysiol. 95, 119–133 (2006).

Schoenbaum, G., Setlow, B., Saddoris, M. P. & Gallagher, M. Encoding predicted outcome and acquired value in orbitofrontal cortex during cue sampling depends upon input from basolateral amygdala. Neuron 39, 855–867 (2003).

Lopatina, N. et al. Ensembles in medial and lateral orbitofrontal cortex construct cognitive maps emphasizing different features of the behavioral landscape. Behav. Neurosci. 131, 201–212 (2017).

Schoenbaum, G., Roesch, M. R., Stalnaker, T. A. & Takahashi, Y. K. A new perspective on the role of the orbitofrontal cortex in adaptive behaviour. Nat. Rev. Neurosci. 10, 885–892 (2009).

Morrison, S. E., Saez, A., Lau, B. & Salzman, C. D. Different time courses for learning-related changes in amygdala and orbitofrontal cortex. Neuron 71, 1127–1140 (2011).

Friedrich, J., Zhou, P. & Paninski, L. Fast online deconvolution of calcium imaging data. PLoS Comput. Biol. 13, e1005423 (2017).

Takahashi, Y. K. et al. Expectancy-related changes in firing of dopamine neurons depend on orbitofrontal cortex. Nat. Neurosci. 14, 1590–1597 (2011).

Takahashi, Y. K., Stalnaker, T. A., Roesch, M. R. & Schoenbaum, G. Effects of inference on dopaminergic prediction errors depend on orbitofrontal processing. Behav. Neurosci. 131, 127–134 (2017).

Jo, Y. S. & Mizumori, S. J. Y. Prefrontal regulation of neuronal activity in the ventral tegmental area. Cereb. Cortex 26, 4057–4068 (2016).

Takahashi, Y. K. et al. The orbitofrontal cortex and ventral tegmental area are necessary for learning from unexpected outcomes. Neuron 62, 269–280 (2009).

Delamater, A. R. Outcome-selective effects of intertrial reinforcement in a Pavlovian appetitive conditioning paradigm with rats. Anim. Learn. Behav. 23, 31–39 (1995).

Rescorla, R. A. Pavlovian conditioning and its proper control procedures. Psychol. Rev. 74, 71–80 (1967).

Bouton, M. E. Context and behavioral processes in extinction. Learn. Mem. 11, 485–494 (2004).

Pan, W.-X., Brown, J. & Dudman, J. T. Neural signals of extinction in the inhibitory microcircuit of the ventral midbrain. Nat. Neurosci. 16, 71–78 (2013).

Milad, M. R. & Quirk, G. J. Neurons in medial prefrontal cortex signal memory for fear extinction. Nature 420, 70–74 (2002).

Gallagher, M., McMahan, R. W. & Schoenbaum, G. Orbitofrontal cortex and representation of incentive value in associative learning. J. Neurosci. 19, 6610–6614 (1999).

Ostlund, S. B. & Balleine, B. W. Orbitofrontal cortex mediates outcome encoding in Pavlovian but not instrumental conditioning. J. Neurosci. 27, 4819–4825 (2007).

Guo, J.-Z. et al. Cortex commands the performance of skilled movement. eLife 4, e10774 (2015).

Vartak, D., Jeurissen, D., Self, M. W. & Roelfsema, P. R. The influence of attention and reward on the learning of stimulus-response associations. Sci. Rep. 7, 9036 (2017).

Nguyen, D. P. & Lin, S.-C. A frontal cortex event-related potential driven by the basal forebrain. eLife 3, e02148 (2014).

Jennings, J. H. et al. Interacting neural ensembles in orbitofrontal cortex for social and feeding behaviour. Nature 565, 645–649 (2019).

Driscoll, L. N., Pettit, N. L., Minderer, M., Chettih, S. N. & Harvey, C. D. Dynamic reorganization of neuronal activity patterns in parietal cortex. Cell 170, 986–999.e16 (2017).

Namboodiri, V. M. K., Mihalas, S., Marton, T. M. & Hussain Shuler, M. G. A general theory of intertemporal decision-making and the perception of time. Front. Behav. Neurosci. 8, 61 (2014).

Fiorillo, C. D., Tobler, P. N. & Schultz, W. Discrete coding of reward probability and uncertainty by dopamine neurons. Science 299, 1898–1902 (2003).

Keiflin, R., Reese, R. M., Woods, C. A. & Janak, P. H. The orbitofrontal cortex as part of a hierarchical neural system mediating choice between two good options. J. Neurosci. 33, 15989–15998 (2013).

Grewe, B. F. et al. Neural ensemble dynamics underlying a long-term associative memory. Nature 543, 670–675 (2017).

Resendez, S. L. et al. Visualization of cortical, subcortical and deep brain neural circuit dynamics during naturalistic mammalian behavior with head-mounted microscopes and chronically implanted lenses. Nat. Protoc. 11, 566–597 (2016).

Kaifosh, P., Zaremba, J. D., Danielson, N. B. & Losonczy, A. SIMA: Python software for analysis of dynamic fluorescence imaging data. Front. Neuroinform. 8, 80 (2014).

Pachitariu, M. et al. Suite2p: beyond 10,000 neurons with standard two-photon microscopy. Preprint at bioRxiv https://doi.org/10.1101/061507 (2016).

Burnham, K. P. & Anderson, D. R. Model Selection and Multimodel Inference: A Practical Information-Theoretic Approach (Springer, 2002).

Fisher, R. A. On the probable error of a coefficient of correlation deduced from a small sample. Metron 1, 3–32 (1921).

Steiger, J. H. Tests for comparing elements of a correlation matrix. Psychol. Bull. 87, 245 (1980).

Sparta, D. R. et al. Construction of implantable optical fibers for long-term optogenetic manipulation of neural circuits. Nat. Protoc. 7, 12–23 (2012).
Acknowledgements
We thank S. Smith, H. Kato, J. Stirman and M. Andermann for helpful discussions. This study was funded by grants from the National Institutes of Health (NIDA: grant no. F32-DA041184, J.M.O.; grant no. R01-DA032750, G.D.S.; grant no. R01-DA038168, G.D.S.; NIMH: grant no. F32-MH113327, J.R.R.), the Brain and Behavior Research Foundation (NARSAD Independent Investigator Award to G.D.S., NARSAD Young Investigator Award to V.M.K.N. and J.M.O.), the Yang Family Biomedical Scholars Award (G.D.S.), the Foundation of Hope (G.D.S.), the UNC Neuroscience Center (Helen Lyng White Fellowship, V.M.K.N.), the UNC Neuroscience Center Microscopy Core (grant no. P30 NS045892) and the UNC Department of Psychiatry (G.D.S.). We also thank members of the Stuber laboratory, especially L. Eckman, O. Kosyk, S. Resendez, C. Zhu, A. Chen and C. Cook, for their assistance. We thank K. Deisseroth (Stanford University), the GENIE project at Janelia Research Campus and E. Kremer (Institut de Génétique Moléculaire de Montpellier) for viral constructs.
Ethics declarations
Competing interests
The authors declare no competing interests.
Additional information
Journal peer review information: Nature Neuroscience thanks Kay Tye and the other, anonymous, reviewer(s) for their contribution to the peer review of this work.
Publisher's note: Springer Nature remains neutral with regard to jurisdictional claims in published maps and institutional affiliations.
Integrated supplementary information
Supplementary information
About this article
Cite this article
Namboodiri, V.M.K., Otis, J.M., van Heeswijk, K. et al. Single-cell activity tracking reveals that orbitofrontal neurons acquire and maintain a long-term memory to guide behavioral adaptation. Nat Neurosci 22, 1110–1121 (2019). https://doi.org/10.1038/s41593-019-0408-1
Received:

Accepted:

Published:

Issue Date:

DOI: https://doi.org/10.1038/s41593-019-0408-1