Abstract
Subjective decisions play a vital role in human behavior because, while often grounded in fact, they are inherently based on personal beliefs that can vary broadly within and between individuals. While these properties set subjective decisions apart from many other sensorimotor processes and are of wide sociological impact, their single-neuronal basis in humans is unknown. Here we find cells in the dorsolateral prefrontal cortex (dlPFC) that reflect variations in the subjective decisions of humans when performing opinion-based tasks. These neurons changed their activities gradually as the participants transitioned between choice options but also reflected their unique point of conversion at equipoise. Focal disruption of the dlPFC, by contrast, diminished gradation between opposing decisions but had little effect on sensory perceptual choices or their motor report. These findings suggest that the human dlPFC plays an important role in subjective decisions and propose a mechanism for mediating their variation during opinion formation.
Access options
Subscribe to Journal
Get full journal access for 1 year
$59.00
only $4.92 per issue
All prices are NET prices.
VAT will be added later in the checkout.
Tax calculation will be finalised during checkout.
Rent or Buy article
Get time limited or full article access on ReadCube.
from$8.99
All prices are NET prices.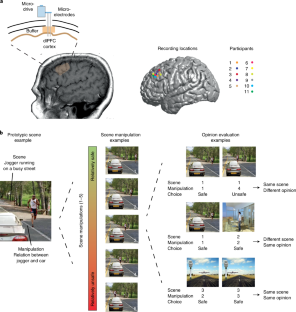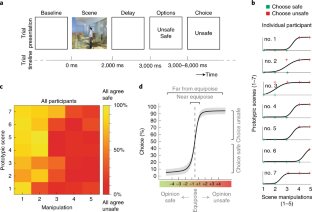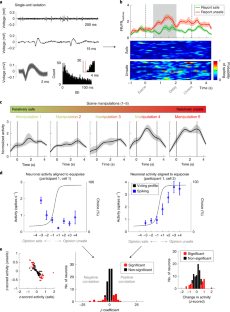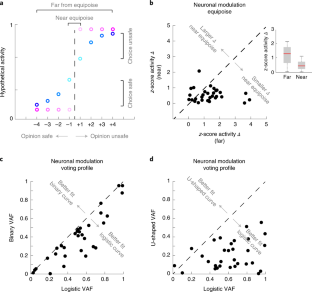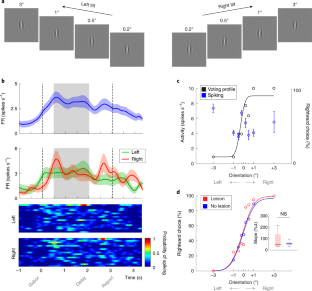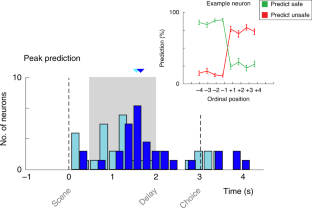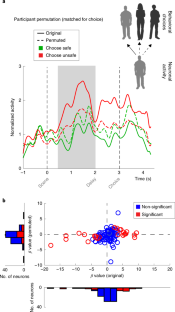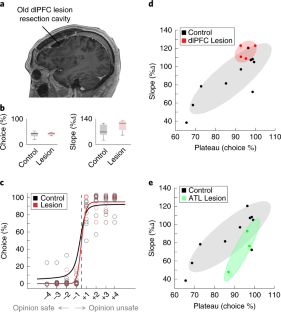 Data availability
The data that support the findings of this study are available from the corresponding author upon reasonable request.
Code availability
The primary codes used to analyze the data are available from the corresponding author upon reasonable request.
References
1.

Zaller, J. The Nature and Origins of Mass Opinion (Cambridge Univ. Press, 1992).

2.

Dryzek, J. S. Discursive Democracy: Politics, Policy, and Political Science (Cambridge Univ. Press, 1990).

3.

Mara, G. M. Socrates' Discursive Democracy: Logos and Ergon in Platonic Political Philosophy (State Univ. of New York Press, 1997).

4.

Turner, C. F., Martin, E. & National Research Council (U.S.). Panel on Survey Measurement of Subjective Phenomena. Surveying Subjective Phenomena (Russell Sage Foundation, 1984).

5.

Pesaran, B., Nelson, M. J. & Andersen, R. A. Free choice activates a decision circuit between frontal and parietal cortex. Nature 453, 406–409 (2008).

6.

Mante, V., Sussillo, D., Shenoy, K. V. & Newsome, W. T. Context-dependent computation by recurrent dynamics in prefrontal cortex. Nature 503, 78–84 (2013).

7.

Hanks, T. D. et al. Distinct relationships of parietal and prefrontal cortices to evidence accumulation. Nature 520, 220–223 (2015).

8.

Williams, Z. M. & Eskandar, E. N. Selective enhancement of associative learning by microstimulation of the anterior caudate. Nat. Neurosci. 9, 562–568 (2006).

9.

Yartsev, M. M., Hanks, T. D., Yoon, A. M. & Brody, C. D. Causal contribution and dynamical encoding in the striatum during evidence accumulation. eLife 7, e34929 (2018).

10.

Kim, J. N. & Shadlen, M. N. Neural correlates of a decision in the dorsolateral prefrontal cortex of the macaque. Nat. Neurosci. 2, 176–185 (1999).

11.

Odegaard, B. et al. Superior colliculus neuronal ensemble activity signals optimal rather than subjective confidence. Proc. Natl Acad. Sci. USA 115, E1588–E1597 (2018).

12.

Romo, R. & de Lafuente, V. Conversion of sensory signals into perceptual decisions. Prog. Neurobiol. 103, 41–75 (2013).

13.

de Lafuente, V. & Romo, R. Dopamine neurons code subjective sensory experience and uncertainty of perceptual decisions. Proc. Natl Acad. Sci. USA 108, 19767–19771 (2011).

14.

Padoa-Schioppa, C. & Assad, J. A. Neurons in the orbitofrontal cortex encode economic value. Nature 441, 223–226 (2006).

15.

Cai, X. & Padoa-Schioppa, C. Contributions of orbitofrontal and lateral prefrontal cortices to economic choice and the good-to-action transformation. Neuron 81, 1140–1151 (2014).

16.

Koenigs, M. et al. Damage to the prefrontal cortex increases utilitarian moral judgements. Nature 446, 908–911 (2007).

17.

Chung, D., Christopoulos, G. I., King-Casas, B., Ball, S. B. & Chiu, P. H. Social signals of safety and risk confer utility and have asymmetric effects on observers' choices. Nat. Neurosci. 18, 912–916 (2015).

18.

Kable, J. W. & Glimcher, P. W. The neural correlates of subjective value during intertemporal choice. Nat. Neurosci. 10, 1625–1633 (2007).

19.

Shenhav, A. & Greene, J. D. Moral judgments recruit domain-general valuation mechanisms to integrate representations of probability and magnitude. Neuron 67, 667–677 (2010).

20.

Sternberg, R. J. Cognitive Psychology 3rd edn (Thomson/Wadsworth, 2003).

21.

Weekley, J. A. & Ployhart, R. E. Situational Judgment Tests: Theory, Measurement, and Application (Lawrence Erlbaum Associates, 2006).

22.

Nowinski, W. L., Gupta, V., Qian, G., Ambrosius, W. & Kazmierski, R. Population-based stroke atlas for outcome prediction: method and preliminary results for ischemic stroke from CT. PLoS One 9, e102048 (2014).

23.

Ndode-Ekane, X. E., Kharatishvili, I. & Pitkanen, A. Unfolded maps for quantitative analysis of cortical lesion location and extent after traumatic brain injury. J. Neurotrauma 34, 459–474 (2017).

24.

Patel, S. R. et al. Studying task-related activity of individual neurons in the human brain. Nat. Protoc. 8, 949–957 (2013).

25.

Zedeck, S. & American Psychological Association. APA Handbook of Industrial and Organizational Psychology 1st edn (American Psychological Association, 2011).

26.

Rainer, G., Asaad, W. F. & Miller, E. K. Selective representation of relevant information by neurons in the primate prefrontal cortex. Nature 393, 577–579 (1998).

27.

Haroush, K. & Williams, Z. M. Neuronal prediction of opponent's behavior during cooperative social interchange in primates. Cell 160, 1233–1245 (2015).

28.

Kepecs, A., Uchida, N., Zariwala, H. A. & Mainen, Z. F. Neural correlates, computation and behavioural impact of decision confidence. Nature 455, 227–231 (2008).

29.

Hanes, D. P., Patterson, W. F. II & Schall, J. D. Role of frontal eye fields in countermanding saccades: visual, movement, and fixation activity. J. Neurophysiol. 79, 817–834 (1998).

30.

Freeman, E., Sagi, D. & Driver, J. Lateral interactions between targets and flankers in low-level vision depend on attention to the flankers. Nat. Neurosci. 4, 1032–1036 (2001).

31.

Padoa-Schioppa, C. & Assad, J. A. The representation of economic value in the orbitofrontal cortex is invariant for changes of menu. Nat. Neurosci. 11, 95–102 (2008).

32.

Summerfield, C., Behrens, T. E. & Koechlin, E. Perceptual classification in a rapidly changing environment. Neuron 71, 725–736 (2011).

33.

Williams, Z. M., Elfar, J. C., Eskandar, E. N., Toth, L. J. & Assad, J. A. Parietal activity and the perceived direction of ambiguous apparent motion. Nat. Neurosci. 6, 616–623 (2003).

34.

Mian, M. K. et al. Encoding of rules by neurons in the human dorsolateral prefrontal cortex. Cereb. Cortex 24, 807–816 (2014).

35.

Rigotti, M. et al. The importance of mixed selectivity in complex cognitive tasks. Nature 497, 585–590 (2013).

36.

Fusi, S., Asaad, W. F., Miller, E. K. & Wang, X. J. A neural circuit model of flexible sensorimotor mapping: learning and forgetting on multiple timescales. Neuron 54, 319–333 (2007).

37.

Zuckerman, M. Psychobiology of Personality 2nd edn (Cambridge Univ. Press, 2005).

38.

Porter, K. R., McCarthy, B. J., Freels, S., Kim, Y. & Davis, F. G. Prevalence estimates for primary brain tumors in the United States by age, gender, behavior, and histology. Neuro Oncol. 12, 520–527 (2010).

39.

Sofer, C., Dotsch, R., Wigboldus, D. H. & Todorov, A. What is typical is good: the influence of face typicality on perceived trustworthiness. Psychol. Sci. 26, 39–47 (2015).

40.

Sheth, S. A. et al. Human dorsal anterior cingulate cortex neurons mediate ongoing behavioural adaptation. Nature 488, 218–221 (2012).

41.

Freiwald, W. A., Tsao, D. Y. & Livingstone, M. S. A face feature space in the macaque temporal lobe. Nat. Neurosci. 12, 1187–1196 (2009).

42.

Hirabayashi, T., Takeuchi, D., Tamura, K. & Miyashita, Y. Microcircuits for hierarchical elaboration of object coding across primate temporal areas. Science 341, 191–195 (2013).

43.

Siddique, Z., Anand, S. & Lewis-Greene, H. Situational Judgment Tests for Dentists: the DF1 Guidebook (Wiley, 2017).

44.

Eysenck, H. J. The Psychology of Politics (Routledge and Kegan Paul, 1954).

45.

Rushworth, M. F., Hadland, K. A., Gaffan, D. & Passingham, R. E. The effect of cingulate cortex lesions on task switching and working memory. J. Cogn. Neurosci. 15, 338–353 (2003).

46.

Williams, Z. M., Bush, G., Rauch, S. L., Cosgrove, G. R. & Eskandar, E. N. Human anterior cingulate neurons and the integration of monetary reward with motor responses. Nat. Neurosci. 7, 1370–1375 (2004).

47.

Wenzel, A., Chapman, J. E., Newman, C. F., Beck, A. T. & Brown, G. K. Hypothesized mechanisms of change in cognitive therapy for borderline personality disorder. J. Clin. Psychol. 62, 503–516 (2006).

48.

Eysenck, H. J. The Psychology of Politics (Transaction Publishers, 1999).

49.

Asaad, W. F., Rainer, G. & Miller, E. K. Neural activity in the primate prefrontal cortex during associative learning. Neuron 21, 1399–1407 (1998).

50.

Green, D. M. & Swets, J. A. Signal Detection Theory and Psychophysics (Krieger, 1974).

51.

Amirnovin, R., Williams, Z. M., Cosgrove, G. R. & Eskandar, E. N. Experience with microelectrode guided subthalamic nucleus deep brain stimulation. Neurosurgery 58, ONS96–ONS102 (2006).

52.

Gross, R. E., Krack, P., Rodriguez-Oroz, M. C., Rezai, A. R. & Benabid, A. L. Electrophysiological mapping for the implantation of deep brain stimulators for Parkinson's disease and tremor. Mov. Disord. 21, S259–S283 (2006).

53.

Theodosopoulos, P. V., Marks, W. J. Jr., Christine, C. & Starr, P. A. Locations of movement-related cells in the human subthalamic nucleus in Parkinson's disease. Mov. Disord. 18, 791–798 (2003).

54.

Asaad, W. F. & Eskandar, E. N. Achieving behavioral control with millisecond resolution in a high-level programming environment. J. Neurosci. Methods 173, 235–240 (2008).

55.

Wasserman, L. All of Statistics: A Concise Course in Statistical Inference (Springer Texts, 2005).
Acknowledgements
Z.M.W. is supported by NIH grant nos. R01HD059852 and R01NS091390, the Presidential Early Career Award for Scientists and Engineers and the Whitehall Foundation. M.J. is supported by the Banting Foundation, B.G. is supported by the NREF and Z.B.M. is supported by the NREF and NIH NRSA. K.H. is supported by the Simmons's foundation. E.N.E. is supported by grant nos. NIH R01NS086422 and NIH UH3NS100548.
Ethics declarations
Competing interests
The authors declare no competing interests.
Additional information
Journal peer review information: Nature Neuroscience thanks Rony Paz, Philip Starr, and other anonymous reviewer(s) for their contribution to the peer review of this work.
Publisher's note: Springer Nature remains neutral with regard to jurisdictional claims in published maps and institutional affiliations.
Integrated supplementary information
Supplementary information
About this article
Cite this article
Jamali, M., Grannan, B., Haroush, K. et al. Dorsolateral prefrontal neurons mediate subjective decisions and their variation in humans. Nat Neurosci 22, 1010–1020 (2019). https://doi.org/10.1038/s41593-019-0378-3
Received:

Accepted:

Published:

Issue Date: