Abstract
Sleep cycles consist of rapid alterations between arousal states, including transient perturbation of sleep rhythms, microarousals, and full-blown awake states. Here we demonstrate that the calretinin (CR)-containing neurons in the dorsal medial thalamus (DMT) constitute a key diencephalic node that mediates distinct levels of forebrain arousal. Cell-type-specific activation of DMT/CR+ cells elicited active locomotion lasting for minutes, stereotyped microarousals, or transient disruption of sleep rhythms, depending on the parameters of the stimulation. State transitions could be induced in both slow-wave and rapid eye-movement sleep. The DMT/CR+ cells displayed elevated activity before arousal, received selective subcortical inputs, and innervated several forebrain sites via highly branched axons. Together, these features enable DMT/CR+ cells to summate subcortical arousal information and effectively transfer it as a rapid, synchronous signal to several forebrain regions to modulate the level of arousal.
Relevant articles
Open Access articles citing this article.
Juan Carlos Méndez

,

Brook A. L. Perry

…

Anna S. Mitchell

Scientific Reports Open Access 07 October 2023

Han Guo

,

Jian-Bo Jiang

…

Wei-Min Qu

Nature Communications Open Access 24 April 2023

Nóra Hádinger

,

Emília Bősz

…

László Acsády

Nature Neuroscience Open Access 22 December 2022
Access options
Access Nature and 54 other Nature Portfolio journals
Get Nature+, our best-value online-access subscription
$29.99 / 30 days
cancel any time
Subscribe to this journal
Receive 12 print issues and online access
$209.00 per year
only $17.42 per issue
Rent or buy this article
Prices vary by article type
from$1.95
to$39.95
Prices may be subject to local taxes which are calculated during checkout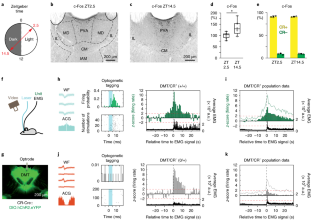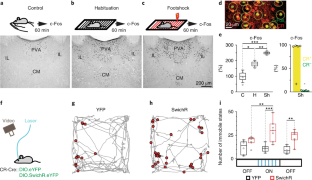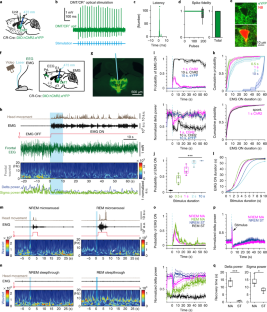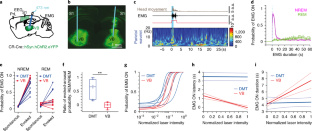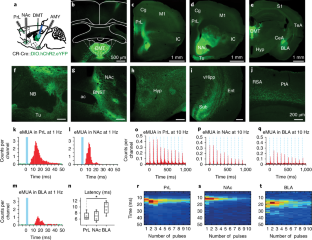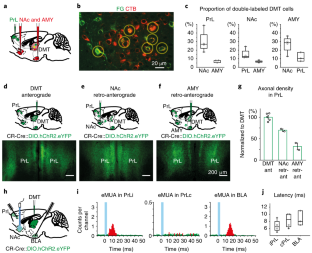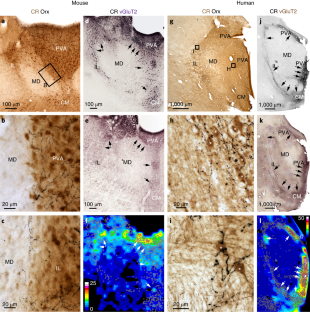 References
Saper, C. B., Fuller, P. M., Pedersen, N. P., Lu, J. & Scammell, T. E. Sleep state switching. Neuron 68, 1023–1042 (2010).

Brown, R. E., Basheer, R., McKenna, J. T., Strecker, R. E. & McCarley, R. W. Control of sleep and wakefulness. Physiol. Rev. 92, 1087–1187 (2012).

Halász, P. & Bódizs, R. Dynamic Structure of NREM Sleep. (Springer-Verlag, London, UK, 2013).

Terzano, M. G. & Parrino, L. Origin and significance of the cyclic alternating pattern (CAP). Sleep. Med. Rev. 4, 101–123 (2000).

Schieber, J. P., Muzet, A. & Ferriere, P. J. Les phases d'activation transitoire spontanées au cours du sommeil normal chez l'homme. [Phases of spontaneous transitory activation during normal sleep in humans]. Arch. Sci. Physiol. (Paris) 25, 443–465 (1971).

Sakurai, T. The neural circuit of orexin (hypocretin): maintaining sleep and wakefulness. Nat. Rev. Neurosci. 8, 171–181 (2007).

Van der Werf, Y. D., Witter, M. P. & Groenewegen, H. J. The intralaminar and midline nuclei of the thalamus. Anatomical and functional evidence for participation in processes of arousal and awareness. Brain Res. Brain Res. Rev. 39, 107–140 (2002).

Kirouac, G. J. Placing the paraventricular nucleus of the thalamus within the brain circuits that control behavior. Neurosci. Biobehav. Rev. 56, 315–329 (2015).

Colavito, V., Tesoriero, C., Wirtu, A. T., Grassi-Zucconi, G. & Bentivoglio, M. Limbic thalamus and state-dependent behavior: The paraventricular nucleus of the thalamic midline as a node in circadian timing and sleep/wake-regulatory networks. Neurosci. Biobehav. Rev. 54, 3–17 (2015).

Unzai, T., Kuramoto, E., Kaneko, T. & Fujiyama, F. Quantitative analyses of the projection of individual neurons from the midline thalamic nuclei to the striosome and matrix compartments of the rat striatum. Cereb. Cortex 27, 1164–1181 (2017).

Lövblad, K. O., Bassetti, C., Mathis, J. & Schroth, G. MRI of paramedian thalamic stroke with sleep disturbance. Neuroradiology 39, 693–698 (1997).

Hermann, D. M. et al. Evolution of neurological, neuropsychological and sleep-wake disturbances after paramedian thalamic stroke. Stroke 39, 62–68 (2008).

Jones, E. G. The thalamic matrix and thalamocortical synchrony. Trends Neurosci. 24, 595–601 (2001).

Fuller, P. M., Sherman, D., Pedersen, N. P., Saper, C. B. & Lu, J. Reassessment of the structural basis of the ascending arousal system. J. Comp. Neurol. 519, 933–956 (2011).

Anaclet, C. et al. Basal forebrain control of wakefulness and cortical rhythms. Nat. Commun. 6, 8744 (2015).

Winsky, L., Montpied, P., Arai, R., Martin, B. M. & Jacobowitz, D. M. Calretinin distribution in the thalamus of the rat: immunohistochemical and in situ hybridization histochemical analyses. Neuroscience 50, 181–196 (1992).

Fortin, M., Asselin, M. C., Gould, P. V. & Parent, A. Calretinin-immunoreactive neurons in the human thalamus. Neuroscience 84, 537–548 (1998).

Peng, Z. C., Grassi-Zucconi, G. & Bentivoglio, M. Fos-related protein expression in the midline paraventricular nucleus of the rat thalamus: basal oscillation and relationship with limbic efferents. Exp. Brain Res. 104, 21–29 (1995).

Otake, K., Kin, K. & Nakamura, Y. Fos expression in afferents to the rat midline thalamus following immobilization stress. Neurosci. Res. 43, 269–282 (2002).

Zhu, L., Wu, L., Yu, B. & Liu, X. The participation of a neurocircuit from the paraventricular thalamus to amygdala in the depressive like behavior. Neurosci. Lett. 488, 81–86 (2011).

Bubser, M., Scruggs, J. L., Young, C. D. & Deutch, A. Y. The distribution and origin of the calretinin-containing innervation of the nucleus accumbens of the rat. Eur. J. Neurosci. 12, 1591–1598 (2000).

Do-Monte, F. H., Quiñones-Laracuente, K. & Quirk, G. J. A temporal shift in the circuits mediating retrieval of fear memory. Nature 519, 460–463 (2015).

Penzo, M. A. et al. The paraventricular thalamus controls a central amygdala fear circuit. Nature 519, 455–459 (2015).

Steriade, M., Oakson, G. & Ropert, N. Firing rates and patterns of midbrain reticular neurons during steady and transitional states of the sleep-waking cycle. Exp. Brain Res. 46, 37–51 (1982).

Beas, B. S. et al. The locus coeruleus drives disinhibition in the midline thalamus via a dopaminergic mechanism. Nat. Neurosci. 21, 963–973 (2018).

Berndt, A., Lee, S. Y., Ramakrishnan, C. & Deisseroth, K. Structure-guided transformation of channelrhodopsin into a light-activated chloride channel. Science 344, 420–424 (2014).

Watson, B. O., Levenstein, D., Greene, J. P., Gelinas, J. N. & Buzsáki, G. Network homeostasis and state dynamics of neocortical sleep. Neuron 90, 839–852 (2016).

Lecci, S. et al. Coordinated infraslow neural and cardiac oscillations mark fragility and offline periods in mammalian sleep. Sci. Adv. 3, e1602026 (2017).

Otake, K. & Nakamura, Y. Single midline thalamic neurons projecting to both the ventral striatum and the prefrontal cortex in the rat. Neuroscience 86, 635–649 (1998).

Dong, X., Li, S. & Kirouac, G. J. Collateralization of projections from the paraventricular nucleus of the thalamus to the nucleus accumbens, bed nucleus of the stria terminalis, and central nucleus of the amygdala. Brain. Struct. Funct. 222, 3927–3943 (2017).

Paré, D. & Smith, Y. Thalamic collaterals of corticostriatal axons: their termination field and synaptic targets in cats. J. Comp. Neurol. 372, 551–567 (1996).

Zhang, L., Kolaj, M. & Renaud, L. P. Suprachiasmatic nucleus communicates with anterior thalamic paraventricular nucleus neurons via rapid glutamatergic and gabaergic neurotransmission: state-dependent response patterns observed in vitro. Neuroscience 141, 2059–2066 (2006).

Pedersen, N. P. et al. Supramammillary glutamate neurons are a key node of the arousal system. Nat. Commun. 8, 1405 (2017).

Fremeau, R. T. Jr et al. The expression of vesicular glutamate transporters defines two classes of excitatory synapse. Neuron 31, 247–260 (2001).

Cicchetti, F., Lacroix, S., Beach, T. G. & Parent, A. Calretinin gene expression in the human thalamus. Brain. Res. Mol. Brain. Res. 54, 1–12 (1998).

Gent, T. C., Bandarabadi, M., Herrera, C. G. & Adamantidis, A. R. Thalamic dual control of sleep and wakefulness. Nat. Neurosci. 21, 974–984 (2018).

Matyas, F. et al. Motor control by sensory cortex. Science 330, 1240–1243 (2010).

Hunter, J. & Jasper, H. H. Effects of thalamic stimulation in unanaesthetised animals; the arrest reaction and petit mal-like seizures, activation patterns and generalized convulsions. Electroencephalogr. Clin. Neurophysiol. 1, 305–324 (1949).

Moruzzi, G. & Magoun, H. W. Brain stem reticular formation and activation of the EEG. Electroencephalogr. Clin. Neurophysiol. 1, 455–473 (1949).

Schlag, J. D., Chaillet, F. & Herzet, J. P. Thalamic reticular system and cortical arousal. Science 134, 1691–1692 (1961).

Vanderwolf, C. H. & Stewart, D. J. Thalamic control of neocortical activation: a critical re-evaluation. Brain Res. Bull. 20, 529–538 (1988).

Padilla-Coreano, N., Do-Monte, F. H. & Quirk, G. J. A time-dependent role of midline thalamic nuclei in the retrieval of fear memory. Neuropharmacology 62, 457–463 (2012).

Zhu, Y., Wienecke, C. F. R., Nachtrab, G. & Chen, X. A thalamic input to the nucleus accumbens mediates opiate dependence. Nature 530, 219–222 (2016).

Choi, E. A. & McNally, G. P. Paraventricular thalamus balances danger and reward. J. Neurosci. 37, 3018–3029 (2017).

Do-Monte, F. H., Minier-Toribio, A., Quiñones-Laracuente, K., Medina-Colón, E. M. & Quirk, G. J. Thalamic regulation of sucrose seeking during unexpected reward omission. Neuron 94, 388–400.e4 (2017).

Betley, J. N. et al. Neurons for hunger and thirst transmit a negative-valence teaching signal. Nature 521, 180–185 (2015).

Labouèbe, G., Boutrel, B., Tarussio, D. & Thorens, B. Glucose-responsive neurons of the paraventricular thalamus control sucrose-seeking behavior. Nat. Neurosci. 19, 999–1002 (2016).

Christoffel, D. J. et al. Excitatory transmission at thalamo-striatal synapses mediates susceptibility to social stress. Nat. Neurosci. 18, 962–964 (2015).

Yerkes, R. M. & Dodson, J. D. The relation of strength of stimulus to rapidity of habit-formation. J. Comp. Neurol. Psychol. 18, 459–482 (1908).

Umbriaco, D., Watkins, K. C., Descarries, L., Cozzari, C. & Hartman, B. K. Ultrastructural and morphometric features of the acetylcholine innervation in adult rat parietal cortex: an electron microscopic study in serial sections. J. Comp. Neurol. 348, 351–373 (1994).

Pinault, D. A novel single-cell staining procedure performed in vivo under electrophysiological control: morpho-functional features of juxtacellularly labeled thalamic cells and other central neurons with biocytin or Neurobiotin. J. Neurosci. Methods 65, 113–136 (1996).

Lopes, G. et al. Bonsai: an event-based framework for processing and controlling data streams. Front. Neuroinform. 9, 7 (2015).

Rossant, C. et al. Spike sorting for large, dense electrode arrays. Nat. Neurosci. 19, 634–641 (2016).

Furuta, T. et al. In vivo transduction of central neurons using recombinant Sindbis virus: Golgi-like labeling of dendrites and axons with membrane-targeted fluorescent proteins. J. Histochem. Cytochem. 49, 1497–1508 (2001).

Porrero, C. et al. A simple and efficient in vivo non-viral RNA transfection method for labeling the whole axonal tree of individual adult long-range projection neurons. Front. Neuroanat. 10, 27 (2016).

Harsan, L.-A. et al. Mapping remodeling of thalamocortical projections in the living reeler mouse brain by diffusion tractography. Proc. Natl. Acad. Sci. USA 110, E1797–E1806 (2013).

Giber, K. et al. A subcortical inhibitory signal for behavioral arrest in the thalamus. Nat. Neurosci. 18, 562–568 (2015).

Barthó, P. et al. Ongoing network state controls the length of sleep spindles via inhibitory activity. Neuron 82, 1367–1379 (2014).
Acknowledgements
We thank Z.J. Huang (CSHL, NY, USA) for providing us with the Calb2-Cre mice and C. Smerdou and C. Ballesteros (CIMA, University of Navarre, Spain) for synthesizing the Sindbis-Pal-eGFP RNA construct. The technical help of K. Faddi, K. Varga, A. Jász and E. Szabo-Egyud is acknowledged. The authors thank the Nikon Microscopy Center at IEM, Nikon Austria GmbH, and Auro-Science Consulting Ltd for kindly providing microscopy support and thank the Human Brain Research Laboratory (IEM/HAS) for the preparation of human material. The authors thank J. Poulet, B. Hangya, and H. Bokor for comments and discussions on the manuscript. This work was supported by the National Office for Research and Technology (NKTH-ANR-09-BLAN-0401, Neurogen to L.A; K119650 to P.B.; FK124434 to F.M.; PD124034 to B.B.), "Lendület" Program of the Hungarian Academy of Sciences (LP2012-23; B.B.), Hungarian Korean Joint Laboratory Program, Hungarian Brain Research Program (grants no. KTIA_NAP_13-2-2015-0010 to F.M., KTIA_NAP_13-2-2014-0016 to P.B. and KTIA_13_NAP-A-I/1 to L.A.), ERC (FRONTHAL, 742595 to L.A.), and HBP-FLAG-ERA (118886 to L.A.).
Ethics declarations
Competing interests
The authors declare no competing interests.
Additional information
Publisher's note: Springer Nature remains neutral with regard to jurisdictional claims in published maps and institutional affiliations.
Integrated supplementary information
Supplementary information
About this article
Cite this article
Mátyás, F., Komlósi, G., Babiczky, Á. et al. A highly collateralized thalamic cell type with arousal-predicting activity serves as a key hub for graded state transitions in the forebrain. Nat Neurosci 21, 1551–1562 (2018). https://doi.org/10.1038/s41593-018-0251-9
Received:

Accepted:

Published:

Issue Date:

DOI: https://doi.org/10.1038/s41593-018-0251-9