Abstract
Transcriptomic data is often affected by uncontrolled variation among samples that can obscure and confound the effects of interest. This variation is frequently due to unintended differences in developmental stages between samples. The transcriptome itself can be used to estimate developmental progression, but existing methods require many samples and do not estimate a specimen's real age. Here we present real-age prediction from transcriptome staging on reference (RAPToR), a computational method that precisely estimates the real age of a sample from its transcriptome, exploiting existing time-series data as reference. RAPToR works with whole animal, dissected tissue and single-cell data for the most common animal models, humans and even for non-model organisms lacking reference data. We show that RAPToR can be used to remove age as a confounding factor and allow recovery of a signal of interest in differential expression analysis. RAPToR will be especially useful in large-scale single-organism profiling because it eliminates the need for accurate staging or synchronisation before profiling.
Access options
Subscribe to Nature+
Get immediate online access to the entire Nature family of 50+ journals
Subscribe to Journal
Get full journal access for 1 year
$99.00
only $8.25 per issue
All prices are NET prices.
VAT will be added later in the checkout.
Tax calculation will be finalised during checkout.
Buy article
Get time limited or full article access on ReadCube.
$32.00
All prices are NET prices.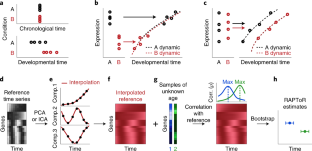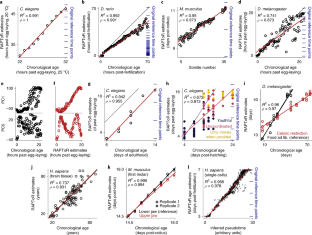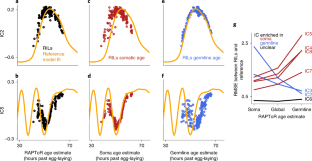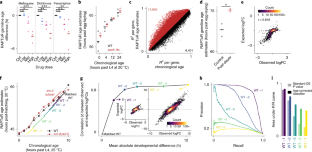 Data availability
Source data for all figures is provided. Source data are provided with this paper.
References
Francesconi, M. & Lehner, B. Reconstructing and analysing cellular states, space and time from gene expression profiles of many cells and single cells. Mol. Biosyst. 11, 2690–2698 (2015).

Risso, D., Ngai, J., Speed, T. P. & Dudoit, S. Normalization of RNA-seq data using factor analysis of control genes or samples. Nat. Biotechnol. 32, 896–902 (2014).

Leek, J. T. & Storey, J. D. Capturing heterogeneity in gene expression studies by surrogate variable analysis. PLoS Genet. 3, e161 (2007).

Stegle, O., Parts, L., Piipari, M., Winn, J. & Durbin, R. Using probabilistic estimation of expression residuals (PEER) to obtain increased power and interpretability of gene expression analyses. Nat. Protoc. 7, 500–507 (2012).

Gómez-Orte, E. et al. Effect of the diet type and temperature on the C. elegans transcriptome. Oncotarget 9, 9556–9571 (2018).

MacNeil, L. T., Watson, E., Arda, H. E., Zhu, L. J. & Walhout, A. J. Diet-induced developmental acceleration independent of TOR and insulin in C. elegans. Cell 153, 240–252 (2013).

Ludewig, A. H. et al. Larval crowding accelerates C. elegans development and reduces lifespan. PLoS Genet. 13, e1006717 (2017).

Kuntz, S. G. & Eisen, M. B. Drosophila embryogenesis scales uniformly across temperature in developmentally diverse species. PLoS Genet. 10, e1004293 (2014).

Perez, M. F., Francesconi, M., Hidalgo-Carcedo, C. & Lehner, B. Maternal age generates phenotypic variation in Caenorhabditis elegans. Nature 552, 106–109 (2017).

Snoek, L. B. et al. A rapid and massive gene expression shift marking adolescent transition in C. elegans. Sci Rep. 4, 3912 (2014).

Rockman, M. V., Skrovanek, S. S. & Kruglyak, L. Selection at linked sites shapes heritable phenotypic variation in C. elegans. Science 330, 372–376 (2010).

Francesconi, M. & Lehner, B. The effects of genetic variation on gene expression dynamics during development. Nature 505, 208–211 (2014).

Hibbs, M. A. et al. Exploring the functional landscape of gene expression: directed search of large microarray compendia. Bioinformatics 23, 2692–2699 (2007).

Lu, P., Nakorchevskiy, A. & Marcotte, E. M. Expression deconvolution: a reinterpretation of DNA microarray data reveals dynamic changes in cell populations. Proc. Natl Acad. Sci. 100, 10370–10375 (2003).

O'Duibhir, E. et al. Cell cycle population effects in perturbation studies. Mol. Syst. Biol. 10, 732 (2014).

Street, K. et al. Slingshot: cell lineage and pseudotime inference for single-cell transcriptomics. BMC Genomics 19, 477 (2018).

Haghverdi, L., Büttner, M., Wolf, F. A., Buettner, F. & Theis, F. J. Diffusion pseudotime robustly reconstructs lineage branching. Nat. Methods 13, 845–848 (2016).

Trapnell, C. et al. The dynamics and regulators of cell fate decisions are revealed by pseudotemporal ordering of single cells. Nat. Biotechnol. 32, 381–386 (2014).

Anavy, L. et al. BLIND ordering of large-scale transcriptomic developmental timecourses. Development 141, 1161–1166 (2014).

Kim, Dhyun, Grün, D. & van Oudenaarden, A. Dampening of expression oscillations by synchronous regulation of a microRNA and its target. Nat. Genet. 45, 1337–1344 (2013).

Meeuse, M. W. et al. Developmental function and state transitions of a gene expression oscillator in Caenorhabditis elegans. Mol. Syst. Biol. 16, e9498 (2020).

Reinke, V., San Gil, I., Ward, S. & Kazmer, K. Genome-wide germline-enriched and sex-biased expression profiles in Caenorhabditis elegans. Development 131, 311–323 (2004).

Domazet-Lošo, T. & Tautz, D. A phylogenetically based transcriptome age index mirrors ontogenetic divergence patterns. Nature 468, 815–818 (2010).

Xue, L. et al. Global expression profiling reveals genetic programs underlying the developmental divergence between mouse and human embryogenesis. BMC Genomics 14, 568 (2013).

Graveley, B. R. et al. The developmental transcriptome of Drosophila melanogaster. Nature 471, 473–479 (2011).

Hendriks, G.-J., Gaidatzis, D., Aeschimann, F. & Großhans, H. Extensive oscillatory gene expression during C. elegans larval development. Mol. Cell 53, 380–392 (2014).

Levin, M. et al. The mid-developmental transition and the evolution of animal body plans. Nature 531, 637–641 (2016).

Rauwerda, H. et al. Transcriptome dynamics in early zebrafish embryogenesis determined by high-resolution time course analysis of 180 successive, individual zebrafish embryos. BMC Genomics 18, 287 (2017).

Collins, J. E. et al. Common and distinct transcriptional signatures of mammalian embryonic lethality. Nat. Commun. 10, 2792 (2019).

Somel, M., Khaitovich, P., Bahn, S., Pääbo, S. & Lachmann, M. Gene expression becomes heterogeneous with age. Curr. Biol. 16, R359–R360 (2006).

Kedlian, V. R., Donertas, H. M. & Thornton, J. M. The widespread increase in inter-individual variability of gene expression in the human brain with age. Aging 11, 2253–2280 (2019).

Martinez-Jimenez, C. P. et al. Aging increases cell-to-cell transcriptional variability upon immune stimulation. Science 355, 1433–1436 (2017).

Hou, L. et al. A systems approach to reverse engineer lifespan extension by dietary restriction. Cell Metab. 23, 529–540 (2016).

Golden, T. R., Hubbard, A., Dando, C., Herren, M. A. & Melov, S. Age-related behaviors have distinct transcriptional profiles in Caenorhabditis elegans. Aging Cell 7, 850–865 (2008).

Pletcher, S. D. et al. Genome-wide transcript profiles in aging and calorically restricted Drosophila melanogaster. Curr. Biol. 12, 712–723 (2002).

Chen, C.-Y. et al. Effects of aging on circadian patterns of gene expression in the human prefrontal cortex. Proc. Natl Acad. Sci. 113, 206–211 (2016).

Pantalacci, S. et al. Transcriptomic signatures shaped by cell proportions shed light on comparative developmental biology. Genome Biol. 18, 29 (2017).

Sémon, M. et al. Comparison of developmental genome expression in rodent molars reveals extensive developmental system drift. Preprint at bioRxiv https://doi.org/10.1101/2020.04.22.043422 (2020).

Petropoulos, S. et al. Single-cell RNA-seq reveals lineage and X chromosome dynamics in human preimplantation embryos. Cell 165, 1012–1026 (2016).

Perez, M. F. Neuronal perception of the social environment generates an inherited memory that controls the development and generation time of C. elegans. Curr. Biol. 31, 4256–4268 (2021).

Kalinka, A. T. et al. Gene expression divergence recapitulates the developmental hourglass model. Nature 468, 811–814 (2010).

Deng, Q., Ramsköld, D., Reinius, B. & Sandberg, R. Single-cell RNA-seq reveals dynamic, random monoallelic gene expression in mammalian cells. Science 343, 193–196 (2014).

Vassena, R. et al. Waves of early transcriptional activation and pluripotency program initiation during human preimplantation development. Development 138, 3699–3709 (2011).

Cuthbert, J. M. et al. Comparing mRNA and sncRNA profiles during the maternal-to-embryonic transition in bovine IVF and scNT embryos. Biol. Reprod. 105, 1401–1415 (2021).

Li, J. J., Huang, H., Bickel, P. J. & Brenner, S. E. Comparison of D. melanogaster and C. elegans developmental stages, tissues, and cells by modENCODE RNA-seq data. Genome Res. 24, 1086–1101 (2014).

Lewis, J. A., Szilagyi, M., Gehman, E., Dennis, W. E. & Jackson, D. A. Distinct patterns of gene and protein expression elicited by organophosphorus pesticides in Caenorhabditis elegans. BMC Genomics 10, 202 (2009).

Lehrbach, N. J. et al. Post-developmental microRNA expression is required for normal physiology, and regulates aging in parallel to insulin/IGF-1 signaling in C. elegans. RNA 18, 2220–2235 (2012).

Hall, S. E., Beverly, M., Russ, C., Nusbaum, C. & Sengupta, P. A cellular memory of developmental history generates phenotypic diversity in C. elegans. Curr. Biol. 20, 149–155 (2010).

Miki, T. S., Carl, S. H. & Großhans, H. Two distinct transcription termination modes dictated by promoters. Genes Dev. 31, 1870–1879 (2017).

Ritchie, M. E. et al. limma powers differential expression analyses for RNA-sequencing and microarray studies. Nucleic Acids Res. 43, e47–e47 (2015).

Borchani, H., Varando, G., Bielza, C. & Larrañaga, P. A survey on multi-output regression. WIRES Data Min. Knowl. 5, 216–233 (2015).

Bolger, A. M., Lohse, M. & Usadel, B. Trimmomatic: a flexible trimmer for Illumina sequence data. Bioinformatics 30, 2114–2120 (2014).

Patro, R., Duggal, G., Love, M. I., Irizarry, R. A. & Kingsford, C. Salmon provides fast and bias-aware quantification of transcript expression. Nat. Methods 14, 417–419 (2017).

Hill, M. A. Mouse Stages. Embryology https://embryology.med.unsw.edu.au/embryology/index.php/Main_Page (2022).

Michaelson, J. J., Alberts, R., Schughart, K. & Beyer, A. Data-driven assessment of eQTL mapping methods. BMC Genomics 11, 502 (2010).

Raudvere, U. et al. g:Profiler: a web server for functional enrichment analysis and conversions of gene lists (2019 update). Nucleic Acids Res. 47, W191–W198 (2019).

Llobat, L. Pluripotency and growth factors in early embryonic development of mammals: a comparative approach. Vet. Sci. 8, 78 (2021).
Acknowledgements
We are grateful to S. E. Hall, M. Sémon, and S. Pantalacci for providing data from their profiling experiments. We are also grateful to G. Yvert, D. Jost, M. Sémon, A. Piazza, S. Pantalacci, and B. Lehner for their critical reading of the manuscript. M.F. is supported by INSERM. Work in the laboratory of M.F. is supported by a grant from the Agence Nationale pour la Recherche (ANR-19-CE12-0009 'InterPhero'), Université de Lyon (IDEX IMPULSION G19002CC) and ENS-Lyon (Projet emergent 2019). R.B. PhD fellowship is funded by the French Ministry of Research.
Ethics declarations
Competing interests
The authors report no competing interests.
Peer review
Peer review information
Nature Methods thanks Helge Grosshans, Adam Alexander Thil Smith and the other, anonymous, reviewer(s) for their contribution to the peer review of this work. Primary Handling Editor: Rita Strack, in collaboration with the Nature Methods team. Peer reviewer reports are available.
Additional information
Publisher's note Springer Nature remains neutral with regard to jurisdictional claims in published maps and institutional affiliations.
Supplementary information
About this article
Cite this article
Bulteau, R., Francesconi, M. Real age prediction from the transcriptome with RAPToR. Nat Methods 19, 969–975 (2022). https://doi.org/10.1038/s41592-022-01540-0
Received:

Accepted:

Published:

Issue Date:

DOI: https://doi.org/10.1038/s41592-022-01540-0