Abstract
Super-resolution microscopies have become an established tool in biological research. However, imaging throughput remains a main bottleneck in acquiring large datasets required for quantitative biology. Here we describe multifocal flat illumination for field-independent imaging (mfFIFI). By integrating mfFIFI into an instant structured illumination microscope (iSIM), we extend the field of view (FOV) to >100 × 100 µm2 while maintaining high-speed, multicolor, volumetric imaging at double the diffraction-limited resolution. We further extend the effective FOV by stitching adjacent images for fast live-cell super-resolution imaging of dozens of cells. Finally, we combine our flat-fielded iSIM with ultrastructure expansion microscopy to collect three-dimensional (3D) images of hundreds of centrioles in human cells, or thousands of purified Chlamydomonas reinhardtii centrioles, per hour at an effective resolution of ~35 nm. Classification and particle averaging of these large datasets enables 3D mapping of posttranslational modifications of centriolar microtubules, revealing differences in their coverage and positioning.
Relevant articles
Open Access articles citing this article.
Malte Plidschun

,

Matthias Zeisberger

…

Markus A. Schmidt

Scientific Reports Open Access 03 December 2022
Access options
Access Nature and 54 other Nature Portfolio journals
Get Nature+, our best-value online-access subscription
$29.99 per month
cancel any time
Subscribe to this journal
Receive 12 print issues and online access
$209.00 per year
only $17.42 per issue
Rent or buy this article
Get just this article for as long as you need it
$39.95
Prices may be subject to local taxes which are calculated during checkout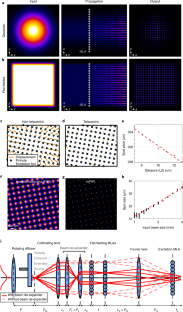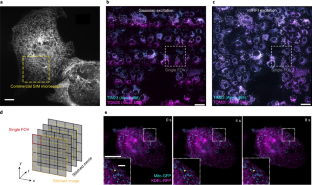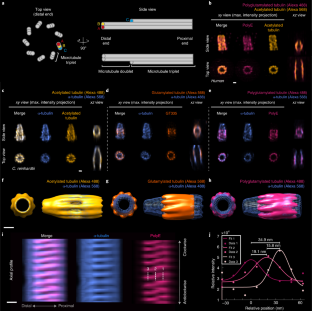 References
Rust, M. J., Bates, M. & Zhuang, X. Sub-diffraction-limit imaging by stochastic optical reconstruction microscopy (STORM). Nat. Methods 3, 793–796 (2006).

Betzig, E. et al. Imaging intracellular fluorescent proteins at nanometer resolution. Science 313, 1642–1645 (2006).

Gustafsson, M. G. L. Surpassing the lateral resolution limit by a factor of two using structured illumination microscopy. J. Microsc. 198, 82–87 (2000).

Hell Stefan, W. & Jan, W. Breaking the diffraction resolution limit by stimulated emission: stimulated-emission-depletion fluorescence microscopy. Opt. Lett. 19, 780–782 (1994).

Tanaami, T. et al. High-speed 1-frame/ms scanning confocal microscope with a microlens and Nipkow disks. Appl. Opt. 41, 4704 (2002).

Bingen, P., Reuss, M., Engelhardt, J. & Hell, S. W. Parallelized STED fluorescence nanoscopy. Opt. Express 19, 23716 (2011).

Chmyrov, A. et al. Nanoscopy with more than 100,000 'doughnuts'. Nat. Methods 10, 737–740 (2013).

York, A. G. et al. Instant super-resolution imaging in live cells and embryos via analog image processing. Nat. Methods 10, 1122–1126 (2013).

Schulz, O. et al. Resolution doubling in fluorescence microscopy with confocal spinning-disk image scanning microscopy. Proc. Natl Acad. Sci. USA 110, 21000–21005 (2013).

Douglass, K. M., Sieben, C., Archetti, A., Lambert, A. & Manley, S. Super-resolution imaging of multiple cells by optimized flat-field epi-illumination. Nat. Photonics 10, 705–708 (2016).

Archetti, A. et al. Waveguide-PAINT offers an open platform for large field-of-view super-resolution imaging. Nat. Commun. 10, 1267 (2019).

Chen, F., Tillberg, P. W. & Boyden, E. S. Expansion microscopy. Science 347, 543–548 (2015).

Gao, R. et al. Cortical column and whole-brain imaging with molecular contrast and nanoscale resolution. Science 363, eaau8302 (2019).

Cahoon, C. K. et al. Superresolution expansion microscopy reveals the three-dimensional organization of the Drosophila synaptonemal complex. Proc. Natl Acad. Sci. USA 114, 6857–6866 (2017).

Gao, M. et al. Expansion stimulated emission depletion microscopy (ExSTED). ACS Nano 12, 4178–4185 (2018).

Xu, H. et al. Molecular organization of mammalian meiotic chromosome axis revealed by expansion STORM microscopy. Proc. Natl Acad. Sci. USA 116, 18423–18428 (2019).

Mahecic, D., Testa, I., Griffié, J. & Manley, S. Strategies for increasing the throughput of super-resolution microscopies. Curr. Opin. Chem. Biol. 51, 84–91 (2019).

Sacconi, L. et al. Multiphoton multifocal microscopy exploiting a diffractive optical element. Opt. Lett. 28, 1918 (2003).

Coelho, S. et al. Multifocal multiphoton microscopy with adaptive optical correction. Multiphot. Microsc. Biomed. Sci. XIII 8588, 858817 (2013).

Cooper, D. J. F. Imaging distal end of multimode fiber. US Patent 867,017,8B2 (2014).

Nielsen, T., Fricke, M., Hellweg, D. & Andresen, P. High efficiency beam splitter for multifocal multiphoton microscopy. J. Microsc. 201, 368–376 (2001).

Zimmermann, M., Lindlein, N., Voelkel, R. & Weible, K. J. Microlens laser beam homogenizer: theory application. In Proc. SPIE 6663, Laser Beam Shaping VIII 666302 (SPIE, 2007).

Voelkel, R. & Weible, K. J. Laser beam homogenizing: limitations and constraints. In Proc. SPIE 7102, Optical Fabrication, Testing, and Metrology III 71020J (eds. Duparré, A. & Geyl, R.) (2008).

Gambarotto, D. et al. Imaging cellular ultrastructures using expansion microscopy (U-ExM). Nat. Methods 16, 71–74 (2019).

Schreiber, P., Kudaev, S., Dannberg, P. & Zeitner, U. D. Homogeneous LED-illumination using microlens arrays. Nonimaging Opt. Effic. Illum. Syst. II 5942, 59420K (2005).

Curd, A. et al. Construction of an instant structured illumination microscope. Methods 88, 37–47 (2015).

Model, M. A. & Blank, J. L. Concentrated dyes as a source of two-dimensional fluorescent field for characterization of a confocal microscope. J. Microsc. 229, 12–16 (2008).

Friedman, J. R. et al. ER tubules mark sites of mitochondrial division. Science 334, 358–362 (2011).

Görlitz, F. et al. easySLM-STED: stimulated emission depletion microscopy with aberration correction, extended field of view and multiple beam scanning. J. Biophotonics 11, 1–11 (2018).

Guichard, P., Chrétien, D., Marco, S. & Tassin, A. M. Procentriole assembly revealed by cryo-electron tomography. EMBO J. 29, 1565–1572 (2010).

Banterle, N. & Gönczy, P. Centriole biogenesis: from identifying the characters to understanding the plot. Annu. Rev. Cell Dev. Biol. 33, 23–49 (2017).

Janke, C. & Bulinski, J. C. Post-translational regulation of the microtubule cytoskeleton: mechanisms and functions. Nat. Rev. Mol. Cell Biol. 12, 773–786 (2011).

Bobinnec, Y. et al. Centriole disassembly in vivo and its effect on centrosome structure and function in vertebrate cells. J. Cell Biol. 143, 1575–1589 (1998).

Xu, Z. et al. Microtubules acquire resistance from mechanical breakage through intralumenal acetylation. Science 356, 328–332 (2017).

Portran, D., Schaedel, L., Xu, Z., Théry, M. & Nachury, M. V. Tubulin acetylation protects long-lived microtubules against mechanical ageing. Nat. Cell Biol. 19, 391–398 (2017).

Abal, M., Keryer, G. & Bornens, M. Centrioles resist forces applied on centrosomes during G2/M transition. Biol. Cell 97, 425–434 (2005).

Wong, Y. L. et al. Reversible centriole depletion with an inhibitor of Polo-like kinase 4. Science 348, 1155–1160 (2015).

Hamel, V. et al. Identification of chlamydomonas central core centriolar proteins reveals a role for human WDR90 in ciliogenesis. Curr. Biol. 27, 2486–2498.e6 (2017).

Fortun, D. et al. Reconstruction from multiple particles for 3D isotropic resolution in fluorescence microscopy. IEEE Trans. Med. Imaging 37, 1235–1246 (2018).

Sieben, C., Banterle, N., Douglass, K. M., Gönczy, P. & Manley, S. Multicolor single-particle reconstruction of protein complexes. Nat. Methods 15, 777–780 (2018).

Jiang, J., Pentelute, B. L., Collier, R. J. & Hong Zhou, Z. Atomic structure of anthrax protective antigen pore elucidates toxin translocation. Nature 521, 545–549 (2015).

Meehl, J. B., Bayless, B. A., Giddings, T. H., Pearson, C. G. & Winey, M. Tetrahymena Poc1 ensures proper intertriplet microtubule linkages to maintain basal body integrity. Mol. Biol. Cell 27, 2394–2403 (2016).

Le Guennec, M. et al. A helical inner scaffold provides a structural basis for centriole cohesion. Sci. Adv. 6, eaaz4137 (2020).

Edelstein, A. D. et al. Advanced methods of microscope control using μManager software. J. Biol. Methods 1, 10 (2014).

Schindelin, J. et al. Fiji: An open-source platform for biological-image analysis. Nat. Methods 9, 676–682 (2012).

Arganda-Carreras, I. et al. Trainable Weka Segmentation: a machine learning tool for microscopy pixel classification. Bioinformatics 33, 2424–2426 (2017).

Mahecic, D. et al. Membrane bending energy and tension govern mitochondrial division. Preprint at bioRxiv https://doi.org/10.1101/255356 (2018).

Klena, N. et al. Isolationand fluorescence imaging for single-particle reconstruction of chlamydomonascentrioles. J. Vis. Exp. 139, 58109 (2018).
Acknowledgements
We thank H. Shroff and A. Curd for their help and advice on the construction of the iSIM; H. Perreten for technical assistance; C. Berz for her help with multi-FOV imaging; R. Kirchner on discussions on the Köhler integrator and C. Sieben and L. Carlini for critical reading of the manuscript. This work is supported by the European Research Council (grants AdG 835322, CENGIN to P. Gönczy and StG 715289 ACCENT to P. Guichard), the Swiss National Science Foundation (SNSF) grants PP00P3_157517 to P. Gu and 182429 to S.M., the MSCA (grant 75200, CARTASSY to N.B.), and the NCCR Chemical Biology (S.M. and P. Gönczy).
Ethics declarations
Competing interests
The mfFIFI flat-fielding module has been covered in a patent application filed by EPFL, with D. Mahecic, K.M. Douglass and S. Manley as the inventors and is currently pending under patent application number PCT/EP2018/085228.
Additional information
Peer review information Rita Strack was the primary editor on this article and managed its editorial process and peer review in collaboration with the rest of the editorial team.
Publisher's note Springer Nature remains neutral with regard to jurisdictional claims in published maps and institutional affiliations.
Supplementary information
About this article
Cite this article
Mahecic, D., Gambarotto, D., Douglass, K.M. et al. Homogeneous multifocal excitation for high-throughput super-resolution imaging. Nat Methods 17, 726–733 (2020). https://doi.org/10.1038/s41592-020-0859-z
Received:

Accepted:

Published:

Issue Date:

DOI: https://doi.org/10.1038/s41592-020-0859-z