Abstract
Behaviors emerge from activity throughout the brain, but noninvasive optical access in adult vertebrate brains is limited. We show that three-photon (3P) imaging through the head of intact adult zebrafish allows structural and functional imaging at cellular resolution throughout the telencephalon and deep into the cerebellum and optic tectum. With 3P imaging, considerable portions of the brain become noninvasively accessible from embryo to sexually mature adult in a vertebrate model.
Access options
Subscribe to Journal
Get full journal access for 1 year
$59.00
only $4.92 per issue
All prices are NET prices.
VAT will be added later in the checkout.
Tax calculation will be finalised during checkout.
Rent or Buy article
Get time limited or full article access on ReadCube.
from$8.99
All prices are NET prices.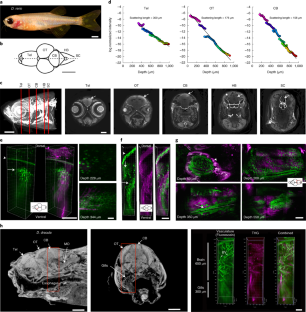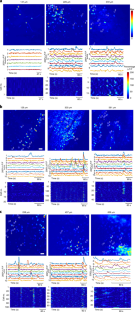 Data availability
The imaging and scattering length data sets that support the findings of this study are available from the corresponding author upon reasonable request.
Code availability
The software codes used for the analyses are available from the corresponding author upon reasonable request.
References
1.

Fetcho, J. R. & O'Malley, D. M. Visualization of active neural circuitry in the spinal-cord of intact zebrafish. J. Neurophysiol. 73, 399–406 (1995).

2.

Cox, K. J. & Fetcho, J. R. Labeling blastomeres with a calcium indicator: a non-invasive method of visualizing neuronal activity in zebrafish. J. Neurosci. Methods 68, 185–191 (1996).

3.

O'Malley, D. M., Kao, Y.-H. & Fetcho, J. R. Imaging the functional organization of zebrafish hindbrain segments during escape behaviors. Neuron 17, 1145–1155 (1996).

4.

Higashijima, S., Masino, M. A., Mandel, G. & Fetcho, J. R. Imaging neuronal activity during zebrafish behavior with a genetically encoded calcium indicator. J. Neurophysiol. 90, 3986–3997 (2003).

5.

Ahrens, M. B. et al. Brain-wide neuronal dynamics during motor adaptation in zebrafish. Nature 485, 471–477 (2012).

6.

Vladimirov, N. et al. Light-sheet functional imaging in fictively behaving zebrafish. Nat. Methods 11, 883–884 (2014).

7.

Andalman, A. S. et al. Neuronal dynamics regulating brain and behavioral state transitions. Cell 177, 970–985 (2019).

8.

Li, J. et al. Early development of functional spatial maps in the zebrafish olfactory bulb. J. Neurosci. 25, 5784–5795 (2005).

9.

Jacobson, G. A., Rupprecht, P. & Friedrich, R. W. Experience-dependent plasticity of odor representations in the telencephalon of zebrafish. Curr. Biol. 28, 1–14 e13 (2018).

10.

Guesmi, K. et al. Dual-color deep-tissue three-photon microscopy with a multiband infrared laser. Light Sci. Appl. 7, 12 (2018).

11.

White, R. M. et al. Transparent adult zebrafish as a tool for in vivo transplantation analysis. Cell Stem Cell 2, 183–189 (2008).

12.

Ouzounov, D. G. et al. In vivo three-photon imaging of activity of GCaMP6-labeled neurons deep in intact mouse brain. Nat. Methods 14, 388–390 (2017).

13.

Wang, T. et al. Three-photon imaging of mouse brain structure and function through the intact skull. Nat. Methods 15, 789–792 (2018).

14.

Farrar, M. J., Wise, F. W., Fetcho, J. R. & Schaffer, C. B. In vivo imaging of myelin in the vertebrate central nervous system using third harmonic generation microscopy. Biophys. J. 100, 1362–1371 (2011).

15.

Park, H. C. et al. Analysis of upstream elements in the HuC promoter leads to the establishment of transgenic zebrafish with fluorescent neurons. Dev. Biol. 227, 279–293 (2000).

16.

Satou, C., Kimura, Y. & Higashijima, S. Generation of multiple classes of V0 neurons in zebrafish spinal cord: progenitor heterogeneity and temporal control of neuronal diversity. J. Neurosci. 32, 1771–1783 (2012).

17.

Bae, Y.-K. et al. Anatomy of zebrafish cerebellum and screen for mutations affecting its development. Dev. Biol. 330, 406–426 (2009).

18.

Corbo, C. P., Othman, N. A., Gutkin, M. C., Alonso Adel, C. & Fulop, Z. L. Use of different morphological techniques to analyze the cellular composition of the adult zebrafish optic tectum. Microsc. Res. Tech. 75, 325–333 (2012).

19.

Diotel, N. et al. Comprehensive expression map of transcription regulators in the adult zebrafish telencephalon reveals distinct neurogenic niches. J. Comp. Neurol. 523, 1202–1221 (2015).

20.

Britz, R., Conway, K. W. & Ruber, L. Spectacular morphological novelty in a miniature cyprinid fish, Danionella dracula n. sp. Proc. Biol. Sci. 276, 2179–2186 (2009).
Acknowledgements
The work was supported by grant nos. NSF DBI-1707312, NIH 1U01NS103516, NSF IOS-1457108 and NIH S10OD012287. We thank C. Walcott (Cornell University) for photographic assistance, D. Mclean (Northwestern University) for his drawing skill, M. Farrar (Messiah College) for the mTdTomato construct and T. Porri (Cornell University) for performing the CT scans.
Ethics declarations
Competing interests
The authors declare no competing interests.
Additional information
Peer review information Nina Vogt was the primary editor on this article and managed its editorial process and peer review in collaboration with the rest of the editorial team
Publisher's note Springer Nature remains neutral with regard to jurisdictional claims in published maps and institutional affiliations.
Supplementary information
About this article
Cite this article
Chow, D.M., Sinefeld, D., Kolkman, K.E. et al. Deep three-photon imaging of the brain in intact adult zebrafish. Nat Methods 17, 605–608 (2020). https://doi.org/10.1038/s41592-020-0819-7
Received:

Accepted:

Published:

Issue Date: