Abstract
N6-methyladenosine (m6A) is a widespread RNA modification that influences nearly every aspect of the messenger RNA lifecycle. Our understanding of m6A has been facilitated by the development of global m6A mapping methods, which use antibodies to immunoprecipitate methylated RNA. However, these methods have several limitations, including high input RNA requirements and cross-reactivity to other RNA modifications. Here, we present DART-seq (deamination adjacent to RNA modification targets), an antibody-free method for detecting m6A sites. In DART-seq, the cytidine deaminase APOBEC1 is fused to the m6A-binding YTH domain. APOBEC1-YTH expression in cells induces C-to-U deamination at sites adjacent to m6A residues, which are detected using standard RNA-seq. DART-seq identifies thousands of m6A sites in cells from as little as 10 ng of total RNA and can detect m6A accumulation in cells over time. Additionally, we use long-read DART-seq to gain insights into m6A distribution along the length of individual transcripts.
Access options
Subscribe to Journal
Get full journal access for 1 year
$119.00
only $9.92 per issue
All prices are NET prices.
VAT will be added later in the checkout.
Tax calculation will be finalised during checkout.
Rent or Buy article
Get time limited or full article access on ReadCube.
from$8.99
All prices are NET prices.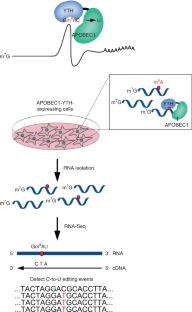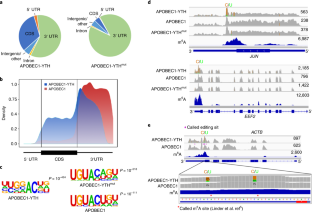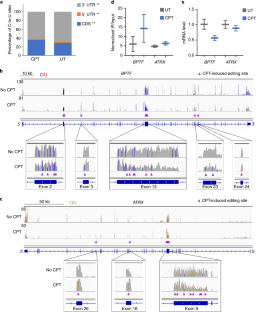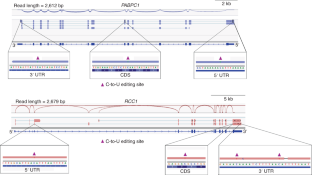 Data availability
The data that support the findings of this study have been deposited in NCBI's Gene Expression Omnibus under accession code GSE125780.
References
1.

Zhao, B. S., Roundtree, I. A. & He, C. Post-transcriptional gene regulation by mRNA modifications. Nat. Rev. Mol. Cell Biol. 18, 31–42 (2017).

2.

Meyer, K. D. & Jaffrey, S. R. Rethinking m6A readers, writers, and erasers. Annu. Rev. Cell Dev. Biol. 33, 319–342 (2017).

3.

Meyer, K. D. et al. Comprehensive analysis of mRNA methylation reveals enrichment in 3′ UTRs and near stop codons. Cell 149, 1635–1646 (2012).

4.

Dominissini, D. et al. Topology of the human and mouse m6A RNA methylomes revealed by m6A-seq. Nature 485, 201–206 (2012).

5.

Linder, B. et al. Single-nucleotide-resolution mapping of m6A and m6Am throughout the transcriptome. Nat. Methods 12, 767–772 (2015).

6.

Ke, S. et al. A majority of m6A residues are in the last exons, allowing the potential for 3′ UTR regulation. Genes Dev. 29, 2037–2053 (2015).

7.

Navaratnam, N. et al. The p27 catalytic subunit of the apolipoprotein B mRNA editing enzyme is a cytidine deaminase. J. Biol. Chem. 268, 20709–20712 (1993).

8.

Komor, A. C., Kim, Y. B., Packer, M. S., Zuris, J. A. & Liu, D. R. Programmable editing of a target base in genomic DNA without double-stranded DNA cleavage. Nature 533, 420–424 (2016).

9.

Schibler, U., Kelley, D. E. & Perry, R. P. Comparison of methylated sequences in messenger RNA and heterogeneous nuclear RNA from mouse L cells. J. Mol. Biol. 115, 695–714 (1977).

10.

Wei, C. M. & Moss, B. Nucleotide sequences at the N 6-methyladenosine sites of HeLa cell messenger ribonucleic acid. Biochemistry 16, 1672–1676 (1977).

11.

Wei, C. M., Gershowitz, A. & Moss, B. 5′-terminal and internal methylated nucleotide sequences in HeLa cell mRNA. Biochemistry 15, 397–401 (1976).

12.

Li, F., Zhao, D., Wu, J. & Shi, Y. Structure of the YTH domain of human YTHDF2 in complex with an m6A mononucleotide reveals an aromatic cage for m6A recognition. Cell Res. 24, 1490–1492 (2014).

13.

Wang, X. et al. N 6-methyladenosine-dependent regulation of messenger RNA stability. Nature 505, 117–120 (2014).

14.

Schwartz, S. et al. Perturbation of m6A writers reveals two distinct classes of mRNA methylation at internal and 5′ sites. Cell Rep. 8, 284–296 (2014).

15.

Chen, K. et al. High-resolution N 6-methyladenosine (m6A) map using photo-crosslinking-assisted m6A sequencing. Angew. Chem. Int Ed. Engl. 54, 1587–1590 (2015).

16.

Liu, N. et al. Probing N 6-methyladenosine RNA modification status at single nucleotide resolution in mRNA and long noncoding RNA. RNA 19, 1848–1856 (2013).

17.

Weng, Y. L. et al. Epitranscriptomic m6A regulation of axon regeneration in the adult mammalian nervous system. Neuron 97, 313–325 e316 (2018).

18.

Merkurjev, D. et al. Synaptic N 6-methyladenosine (m6A) epitranscriptome reveals functional partitioning of localized transcripts. Nat. Neurosci. 21, 1004–1014 (2018).

19.

Zeng, Y. et al. Refined RIP-seq protocol for epitranscriptome analysis with low input materials. PLoS Biol. 16, e2006092 (2018).

20.

Mauer, J. et al. Reversible methylation of m6Am in the 5′ cap controls mRNA stability. Nature 541, 371–375 (2017).

21.

Luo, S. & Tong, L. Molecular basis for the recognition of methylated adenines in RNA by the eukaryotic YTH domain. Proc. Natl Acad. Sci. USA 111, 13834–13839 (2014).

22.

Xu, C. et al. Structural basis for selective binding of m6A RNA by the YTHDC1 YTH domain. Nat. Chem. Biol. 10, 927–929 (2014).

23.

Molinie, B. et al. m6A-LAIC-seq reveals the census and complexity of the m6A epitranscriptome. Nat. Methods 13, 692–698 (2016).

24.

Slobodin, B. et al. Transcription impacts the efficiency of mRNA translation via co-transcriptional N 6-adenosine methylation. Cell 169, 326–337 e312 (2017).

25.

Love, M. I., Huber, W. & Anders, S. Moderated estimation of fold change and dispersion for RNA-seq data with DESeq2. Genome Biol. 15, 550 (2014).

26.

Shah, A., Qian, Y., Weyn-Vanhentenryck, S. M. & Zhang, C. CLIP Tool Kit (CTK): a flexible and robust pipeline to analyze CLIP sequencing data. Bioinformatics 33, 566–567 (2017).

27.

Wu, T. D. & Watanabe, C. K. GMAP: a genomic mapping and alignment program for mRNA and EST sequences. Bioinformatics 21, 1859–1875 (2005).

28.

Olarerin-George, A. O. & Jaffrey, S. R. MetaPlotR: a Perl/R pipeline for plotting metagenes of nucleotide modifications and other transcriptomic sites. Bioinformatics 33, 1563–1564 (2017).

29.

Heinz, S. et al. Simple combinations of lineage-determining transcription factors prime cis-regulatory elements required for macrophage and B cell identities. Mol. Cell 38, 576–589 (2010).

30.

Lindenbaum, P. JVarkit: java-based utilities for bioinformatics. Figshare https://doi.org/10.6084/m9.figshare.1425030.v1 (2015).

31.

Quinlan, A. R. & Hall, I. M. BEDTools: a flexible suite of utilities for comparing genomic features. Bioinformatics 26, 841–842 (2010).
Acknowledgements
We thank S.H. Choi for generating METTL3-depleted cells. We also thank S. Horner and members of the Meyer laboratory for comments and suggestions. This study was supported by the National Institutes of Health grant nos. R00MH104712, R01MH118366 and DP1DA046584. K.D.M. is also supported by the Rita Allen Foundation, the Kinship Foundation Searle Scholars Program and the Klingenstein–Simons Fellowship in Neurosciences.
Ethics declarations
Competing interests
The author declares no competing interests.
Additional information
Peer review information Nicole Rusk was the primary editor on this article and managed its editorial process and peer review in collaboration with the rest of the editorial team.
Publisher's note Springer Nature remains neutral with regard to jurisdictional claims in published maps and institutional affiliations.
Integrated supplementary information
Supplementary information
About this article
Cite this article
Meyer, K.D. DART-seq: an antibody-free method for global m6A detection. Nat Methods 16, 1275–1280 (2019). https://doi.org/10.1038/s41592-019-0570-0
Received:

Accepted:

Published:

Issue Date: