Abstract
A major limitation of RNA sequencing (RNA-seq) analysis of alternative splicing is its reliance on high sequencing coverage. We report DARTS (https://github.com/Xinglab/DARTS), a computational framework that integrates deep-learning-based predictions with empirical RNA-seq evidence to infer differential alternative splicing between biological samples. DARTS leverages public RNA-seq big data to provide a knowledge base of splicing regulation via deep learning, thereby helping researchers better characterize alternative splicing using RNA-seq datasets even with modest coverage.
Access options
Subscribe to Journal
Get full journal access for 1 year
$119.00
only $9.92 per issue
All prices are NET prices.
VAT will be added later in the checkout.
Tax calculation will be finalised during checkout.
Rent or Buy article
Get time limited or full article access on ReadCube.
from$8.99
All prices are NET prices.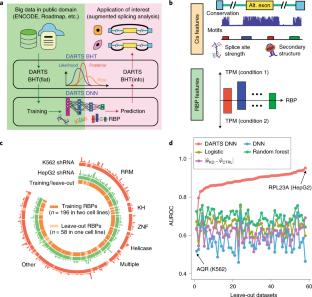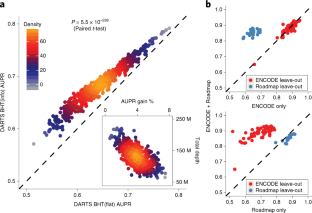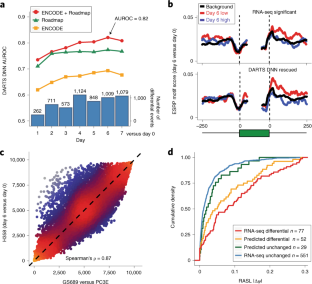 References
1.

Katz, Y., Wang, E. T., Airoldi, E. M. & Burge, C. B. Nat. Methods 7, 1009–1015 (2010).

2.

Shen, S. et al. Proc. Natl Acad. Sci. USA 111, E5593–E5601 (2014).

3.

ENCODE Project Consortium. Nature 489, 57–74 (2012).

4.

Kundaje, A. et al. Nature 518, 317–330 (2015).

5.

Cieślik, M. & Chinnaiyan, A. M. Nat. Rev. Genet. 19, 93–109 (2018).

6.

Park, E., Pan, Z., Zhang, Z., Lin, L. & Xing, Y. Am. J. Hum. Genet. 102, 11–26 (2018).

7.

Xiong, H. Y. et al. Science 347, 1254806 (2015).

8.

Barash, Y. et al. Nature 465, 53–59 (2010).

9.

Leung, M. K., Xiong, H. Y., Lee, L. J. & Frey, B. J. Bioinformatics 30, i121–i129 (2014).

10.

Huang, Y. & Sanguinetti, G. Genome. Biol. 18, 123 (2017).

11.

Gerstberger, S., Hafner, M. & Tuschl, T. Nat. Rev. Genet. 15, 829–845 (2014).

12.

Van Nostrand, E. L. et al. Preprint at bioRxiv https://www.biorxiv.org/content/10.1101/179648v1?versioned=true (2017).

13.

Warzecha, C. C. et al. EMBO J. 29, 3286–3300 (2010).

14.

Yang, Y. et al. Mol. Cell. Biol. 36, 1704–1719 (2016).

15.

Dittmar, K. A. et al. Mol. Cell. Biol. 32, 1468–1482 (2012).

16.

Lu, Z. X. et al. Mol. Cancer Res. 13, 305–318 (2015).

17.

Li, H., Qiu, J. & Fu, X.-D. Curr. Protoc. Mol. Biol. 98, 13.1–4.13.9 (2012).

18.

Trincado, J. L. et al. Genome. Biol. 19, 40 (2018).

19.

Srivastava, N., Hinton, G., Krizhevsky, A., Sutskever, I. & Salakhutdinov, R. J. Mach. Learn. Res. 15, 1929–1958 (2014).

20.

Ioffe, S. & Szegedy, C. In Proc. 32nd International Conference on Machine Learning (eds Bach, F. & Blei, D.) 448–456 (PMLR/Microtome Publishing, Brookline, MA, USA, 2015).

21.

Bray, N. L., Pimentel, H., Melsted, P. & Pachter, L. Nat. Biotechnol. 34, 525–527 (2016).

22.

Harrow, J. et al. Genome. Biol. 7, 1–S4.9 (2006).

23.

Kent, W. J. Genome Res. 12, 656–664 (2002).

24.

Ying, Y. et al. Cell 170, 312–323 (2017).
Acknowledgements
We thank X.-D. Fu (UCSD) for the RASL oligos and advice on RASL-seq. This study is supported by National Institutes of Health grants (R01GM088342, R01GM117624, U01HG007912, and U01CA233074 to Y.X.). Z.Z. is partially supported by a UCLA Dissertation Year Fellowship.
Ethics declarations
Competing interests
Y.X. and D.L.B. are scientific cofounders of Panorama Medicine. Z.Z. and Y.X. are in the process of filing a patent application for DARTS.
Additional information
Publisher's note: Springer Nature remains neutral with regard to jurisdictional claims in published maps and institutional affiliations.
Integrated supplementary information
Supplementary information
About this article
Cite this article
Zhang, Z., Pan, Z., Ying, Y. et al. Deep-learning augmented RNA-seq analysis of transcript splicing. Nat Methods 16, 307–310 (2019). https://doi.org/10.1038/s41592-019-0351-9
Received:

Accepted:

Published:

Issue Date: