Abstract
Immune-cell engineering opens new capabilities for fundamental immunology research and immunotherapy. We developed a system for efficient generation of chimeric antigen receptor (CAR)-engineered T cells (CAR-T cells) with considerably enhanced features by streamlined genome engineering. By leveraging trans-activating CRISPR (clustered regularly interspaced short palindromic repeats) RNA (tracrRNA)-independent CRISPR–Cpf1 systems with adeno-associated virus (AAV), we were able to build a stable CAR-T cell with homology-directed-repair knock-in and immune-checkpoint knockout (KIKO CAR-T cell) at high efficiency in one step. The modularity of the AAV–Cpf1 KIKO system enables flexible and highly efficient generation of double knock-in of two different CARs in the same T cell. Compared with Cas9-based methods, the AAV–Cpf1 system generates double-knock-in CAR-T cells more efficiently. CD22-specific AAV–Cpf1 KIKO CAR-T cells have potency comparable to that of Cas9 CAR-T cells in cytokine production and cancer cell killing, while expressing lower levels of exhaustion markers. This versatile system opens new capabilities of T-cell engineering with simplicity and precision.
Access options
Subscribe to Journal
Get full journal access for 1 year
$119.00
only $9.92 per issue
All prices are NET prices.
VAT will be added later in the checkout.
Tax calculation will be finalised during checkout.
Rent or Buy article
Get time limited or full article access on ReadCube.
from$8.99
All prices are NET prices.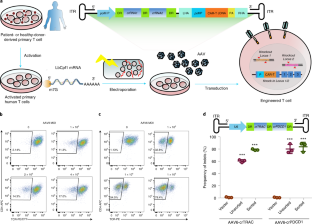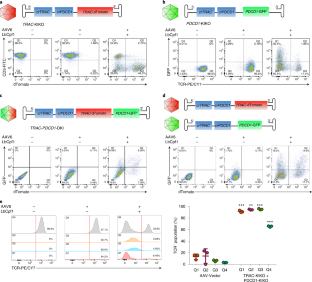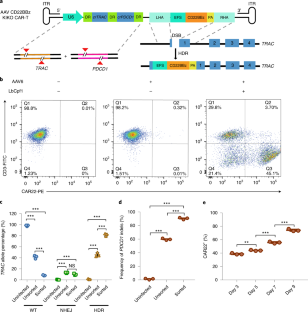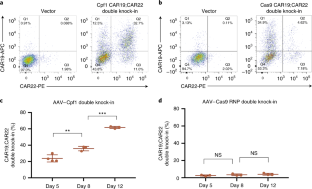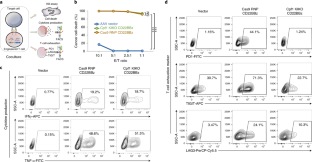 Code availability
Analytic codes used to generate figures that support the findings of this study will be made available by the corresponding author upon reasonable request.
Data availability
Genome sequencing data are available via SRA/BioProject under accession number PRJNA509600. Plasmids and libraries are being deposited to Addgene. A list of AAV vectors generated and used in this study is provided in Supplementary Table 2. Original and processed data are included in the figures, figure legends, and supplementary materials of this article. Other relevant data and materials that support the findings of this study will be made available by the corresponding author upon reasonable request.
References
1.

Garfall, A. L. et al. Chimeric antigen receptor T cells against CD19 for multiple myeloma. N. Engl. J. Med. 373, 1040–1047 (2015).

2.

Tebas, P. et al. Gene editing of CCR5 in autologous CD4 T cells of persons infected with HIV. N. Engl. J. Med. 370, 901–910 (2014).

3.

Jackson, H. J., Rafiq, S. & Brentjens, R. J. Driving CAR T-cells forward. Nat. Rev. Clin. Oncol. 13, 370–383 (2016).

4.

Labanieh, L., Majzner, R. G. & Mackall, C. L. Programming CAR-T cells to kill cancer. Nat. Biomed. Eng. 2, 377 (2018).

5.

Rosenbaum, L. Tragedy, perseverance, and chance—the story of CAR-T therapy. N. Engl. J. Med. 377, 1313–1315 (2017).

6.

Porter, D. L., Levine, B. L., Kalos, M., Bagg, A. & June, C. H. Chimeric antigen receptor–modified T cells in chronic lymphoid leukemia. N. Engl. J. Med. 365, 725–733 (2011).

7.

Kalos, M. et al. T cells with chimeric antigen receptors have potent antitumor effects and can establish memory in patients with advanced leukemia. Sci. Transl. Med. 3, 95ra73 (2011). 95ra73.

8.

Neelapu, S. S. et al. Axicabtagene ciloleucel CAR T-cell therapy in refractory large B-cell lymphoma. N. Engl. J. Med. 377, 2531–2544 (2017).

9.

Themis, M. et al. Oncogenesis following delivery of a nonprimate lentiviral gene therapy vector to fetal and neonatal mice. Mol. Ther. 12, 763–771 (2005).

10.

Howe, S. J. et al. Insertional mutagenesis combined with acquired somatic mutations causes leukemogenesis following gene therapy of SCID-X1 patients. J. Clin. Invest. 118 3143–3150 (2008).

11.

Eyquem, J. et al. Targeting a CAR to the TRAC locus with CRISPR/Cas9 enhances tumour rejection. Nature 543, 113 (2017).

12.

Schumann, K. et al. Generation of knock-in primary human T cells using Cas9 ribonucleoproteins. Proc. Natl. Acad. Sci. USA 112, 10437–10442 (2015).

13.

Roth, T. L. et al. Reprogramming human T cell function and specificity with non-viral genome targeting. Nature 559, 405 (2018).

14.

Bak, R. O., Dever, D. P. & Porteus, M. H. CRISPR/Cas9 genome editing in human hematopoietic stem cells. Nat. Protoc. 13, 358 (2018).

15.

Ren, J. et al. A versatile system for rapid multiplex genome-edited CAR T cell generation. Oncotarget 8, 17002 (2017).

16.

Liu, X. et al. CRISPR-Cas9-mediated multiplex gene editing in CAR-T cells. Cell Res. 27, 154 (2017).

17.

Zetsche, B. et al. Multiplex gene editing by CRISPR–Cpf1 using a single crRNA array. Nat. Biotechnol. 35, 31 (2017).

18.

Kleinstiver, B. P. et al. Genome-wide specificities of CRISPR-Cas Cpf1 nucleases in human cells. Nat. Biotechnol. 34, 869 (2016).

19.

Zetsche, B. et al. Cpf1 is a single RNA-guided endonuclease of a class 2 CRISPR-Cas system. Cell 163, 759–771 (2015).

20.

Li, B. et al. Engineering CRISPR-Cpf1 crRNAs and mRNAs to maximize genome editing efficiency. Nat. Biomed. Eng. 1, 0066 (2017).

21.

Torikai, H. et al. A foundation for universal T-cell based immunotherapy: T cells engineered to express a CD19-specific chimeric-antigen-receptor and eliminate expression of endogenous TCR. Blood 119, 5697–5705 (2012).

22.

Kim, H. et al. Surrogate reporters for enrichment of cells with nuclease-induced mutations. Nat. Methods 8, 941 (2011).

23.

Rafiq, S. et al. Targeted delivery of a PD-1-blocking scFv by CAR-T cells enhances anti-tumor efficacy in vivo. Nat. Biotechnol. 36, 847–856 (2018).

24.

Ren, J. et al. Multiplex genome editing to generate universal CAR T cells resistant to PD1 inhibition. Clin. Cancer Res. 23, 2255–2266 (2017).

25.

Haso, W. et al. Anti-CD22-chimeric antigen receptors targeting B-cell precursor acute lymphoblastic leukemia. Blood 121, 1165–1174 (2013).

26.

Fry, T. J. et al. CD22-targeted CAR T cells induce remission in B-ALL that is naive or resistant to CD19-targeted CAR immunotherapy. Nat. Med. 24, 20 (2018).

27.

Levine, B. L., Miskin, J., Wonnacott, K. & Keir, C. Global manufacturing of CAR T cell therapy. Mol. Ther. Methods Clin. Dev. 4, 92–101 (2017).

28.

Ellis, J. Silencing and variegation of gammaretrovirus and lentivirus vectors. Hum. Gene Ther. 16, 1241–1246 (2005).

29.

Majzner, R. G. & Mackall, C. L. Tumor antigen escape from CAR T-cell therapy. Cancer Discov. 8, 1219–1226 (2018).

30.

Maude, S. L. et al. Chimeric antigen receptor T cells for sustained remissions in leukemia. N. Engl. J. Med. 371, 1507–1517 (2014).

31.

Dai, X. et al. Rapid modular CAR-T generation with CRISPR/Cpf1 and AAV systems. Protocol Exchange https://doi.org/10.1038/protex.2018.139 (2019).

32.

Kochenderfer, J. N. et al. Construction and pre-clinical evaluation of an anti-CD19 chimeric antigen receptor. J. Immunother. 32, 689 (2009).

33.

Han, C. et al. Desensitized chimeric antigen receptor T cells selectively recognize target cells with enhanced antigen expression. Nat. Commun. 9, 468 (2018).

34.

Chen, S. et al. Genome-wide CRISPR screen in a mouse model of tumor growth and metastasis. Cell 160, 1246–1260 (2015).

35.

Wang, J. et al. Highly efficient homology-driven genome editing in human T cells by combining zinc-finger nuclease mRNA and AAV6 donor delivery. Nucleic Acids Res. 44, e30 (2016).
Acknowledgements
We thank C. Fuchs and R. Herbst for their assistance and insightful discussions. We thank L. Ye, J. Li, L. Shen, M. Dong, R. Chow, Z. Bai, X. Zhang, and all other members of the Chen laboratory for technical assistance and discussions. We thank various colleagues in the Department of Genetics, Systems Biology Institute, Cancer Systems Biology Center, MCGD Program, Immunobiology Program, BBS Program, Cancer Center, and Stem Cell Center at Yale for assistance and/or discussion. We thank the Center for Genome Analysis, Center for Molecular Discovery, Pathology Tissue Services, Histology Services, High Performance Computing Center, West Campus Analytical Chemistry Core and West Campus Imaging Core, and Keck Biotechnology Resource Laboratory at Yale for technical support. S.C. is supported by the Yale SBI/Genetics Startup Fund, the Damon Runyon Dale Frey Award (grant/award number DFS-13-15), the Melanoma Research Alliance (412806, 16-003524), St-Baldrick's Foundation (426685), the Breast Cancer Alliance, the Cancer Research Institute (CLIP), AACR (499395, 17-20-01-CHEN), the Mary Kay Foundation (017-81), the V Foundation (V2017-022), the Ludwig Family Foundation, the US Department of Defense (W81XWH-17-1-0235), the Sontag Foundation, the Chenevert Foundation, and the NIH/NCI (1DP2CA238295-01, 1R01CA231112-01, 1U54CA209992-8697, 5P50CA196530-A10805, 4P50CA121974-A08306). G.W. is supported by CRI Irvington and RJ Anderson postdoctoral fellowships. J.J.P. is supported by a Yale MSTP training grant from the NIH (no. T32GM007205).
Ethics declarations
Competing interests
This research is primarily supported by the Yale SBI/Genetics Startup Fund and the NIH/NCI. The funder has no role in the conceptualization, design, data collection, analysis, decision to publish, or preparation of the manuscript. A provisional patent has been filed by S.C. at Yale University related to this study.
Additional information
Publisher's note: Springer Nature remains neutral with regard to jurisdictional claims in published maps and institutional affiliations.
Integrated supplementary information
Supplementary information
About this article
Cite this article
Dai, X., Park, J.J., Du, Y. et al. One-step generation of modular CAR-T cells with AAV–Cpf1. Nat Methods 16, 247–254 (2019). https://doi.org/10.1038/s41592-019-0329-7
Received:

Accepted:

Published:

Issue Date: