Models of estrogen receptor–positive breast cancer are used to explore the rationale for androgen receptor agonists as treatments for breast cancer.
Access options
Subscribe to Journal
Get full journal access for 1 year
$59.00
only $4.92 per issue
All prices are NET prices.
VAT will be added later in the checkout.
Tax calculation will be finalised during checkout.
Rent or Buy article
Get time limited or full article access on ReadCube.
from$8.99
All prices are NET prices.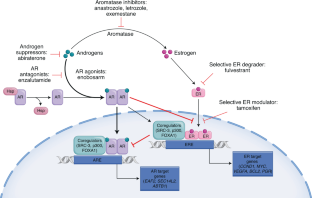 References
1.

Hickey, T.E. et al. Nat. Med. https://doi.org/10.1038/s41591-020-01168-7 (2020).

2.

Adair, F. E. & Herrmann, J. B. Ann. Surg. 123, 1023–1035 (1946).

3.

Kelley, R. M. Cancer 28, 1686–1691 (1971).

4.

Hu, R. et al. Clin. Cancer Res. 17, 1867–1874 (2011).

5.

Vera-Badillo, F. E. et al. J. Natl. Cancer Inst. 106, djt319 (2014).

6.

Palmieri, C. et al. San Antonio Breast Cancer Symposium https://www.abstractsonline.com/pp8/#!/9223/presentation/850 (2020).

7.

Michmerhuizen, A. R., Spratt, D. E., Pierce, L. J. & Speers, C. W. NPJ Breast Cancer 6, 47 (2020).

8.

Krop, I. et al. Clin. Cancer Res. 26, 6149–6157 (2020).

9.

Garay, J. P. & Park, B. H. Am. J. Cancer Res. 2, 434–445 (2012).

10.

D'Amato, N. C. et al. Mol. Cancer Res. 14, 1054–1067 (2016).

11.

Schiff, R., Massarweh, S., Shou, J. & Osborne, C. K. Clin. Cancer Res. 9, 447S–454S (2003).

12.

Arruabarrena-Aristorena, A. et al. Cancer Cell (2020).
Ethics declarations
Competing interests
C.C. has performed advisory board and/or consulting work for Genentech, GRAIL, Illumina and NanoString, and reports GRAIL stockholdings.
About this article
Cite this article
Caswell-Jin, J.L., Curtis, C. Androgen receptor agonists as breast cancer therapeutics. Nat Med 27, 198–199 (2021). https://doi.org/10.1038/s41591-021-01242-8