Abstract
Recent studies show that aneuploidy and driver gene mutations precede cancer diagnosis by many years1,2,3,4. We assess whether these genomic signals can be used for early detection and pre-emptive cancer treatment using the neoplastic precursor lesion Barrett's esophagus as an exemplar5. Shallow whole-genome sequencing of 777 biopsies, sampled from 88 patients in Barrett's esophagus surveillance over a period of up to 15 years, shows that genomic signals can distinguish progressive from stable disease even 10 years before histopathological transformation. These findings are validated on two independent cohorts of 76 and 248 patients. These methods are low-cost and applicable to standard clinical biopsy samples. Compared with current management guidelines based on histopathology and clinical presentation, genomic classification enables earlier treatment for high-risk patients as well as reduction of unnecessary treatment and monitoring for patients who are unlikely to develop cancer.
Access options
Subscribe to Journal
Get full journal access for 1 year
$59.00
only $4.92 per issue
All prices are NET prices.
VAT will be added later in the checkout.
Tax calculation will be finalised during checkout.
Rent or Buy article
Get time limited or full article access on ReadCube.
from$8.99
All prices are NET prices.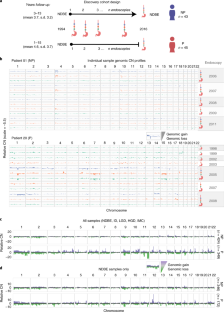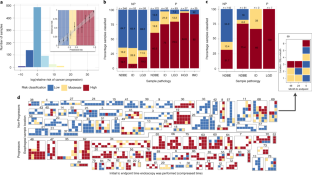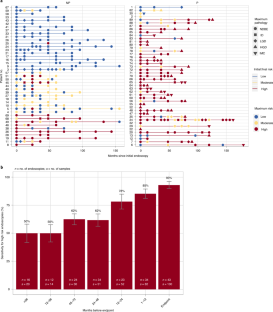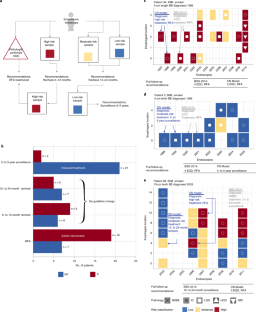 References
1.

Gerstung, M. et al. The evolutionary history of 2,658 cancers. Nature 578, 122–128 (2020).

2.

Mitchell, T. J. et al. Timing the landmark events in the evolution of clear cell renal cell cancer: TRACERx renal. Cell https://doi.org/10.1016/j.cell.2018.02.020 (2018).

3.

Lee, J. J.-K. et al. Tracing oncogene rearrangements in the mutational history of lung adenocarcinoma. Cell https://doi.org/10.1016/j.cell.2019.05.013 (2019).

4.

Abelson, S. et al. Prediction of acute myeloid leukaemia risk in healthy individuals. Nature 559, 400–404 (2018).

5.

Gregson, E. M., Bornschein, J. & Fitzgerald, R. C. Genetic progression of Barrett's oesophagus to oesophageal adenocarcinoma. Br. J. Cancer 115, 403–410 (2016).

6.

Esserman, L. J. et al. Addressing overdiagnosis and overtreatment in cancer: a prescription for change. Lancet Oncol. 15, e234–e242 (2014).

7.

Siegel, R. L., Miller, K. D. & Jemal, A. Cancer statistics. CA Cancer J. Clin. 66, 7–30 (2016).

8.

Masclee, G. M. C., Coloma, P. M., De Wilde, M., Kuipers, E. J. & Sturkenboom, M. C. J. M. The incidence of Barrett's oesophagus and oesophageal adenocarcinoma in the United Kingdom and the Netherlands is levelling off. Aliment. Pharmacol. Ther. 39, 1321–1330 (2014).

9.

Phoa, K. N. et al. Radiofrequency ablation vs endoscopic surveillance for patients with Barrett esophagus and low-grade dysplasia: a randomized clinical trial. J. Am. Med. Assoc. 311, 1209–1217 (2014).

10.

Shaheen, N. J. et al. Radiofrequency ablation in Barrett's esophagus with dysplasia. N. Engl. J. Med. 360, 2277–2288 (2009).

11.

Parasa, S. et al. Development and validation of a model to determine risk of progression of Barrett's esophagus to neoplasia. Gastroenterology 154, 1282–1289.e2 (2018).

12.

Younes, M. et al. p53 protein accumulation predicts malignant progression in Barrett's metaplasia: a prospective study of 275 patients. Histopathology 71, 27–33 (2017).

13.

Pettit, K. & Bellizzi, A. Evaluation of p53 immunohistochemistry staining patterns in Barrett esophagus with low-grade dysplasia. Am. J. Clin. Pathol. 144, A382–A382 (2015).

14.

Sikkema, M. et al. Aneuploidy and overexpression of Ki67 and p53 as markers for neoplastic progression in Barrett's esophagus: a case–control study. Am. J. Gastroenterol. 104, 2673–2680 (2009).

15.

Keswani, R. N., Noffsinger, A., Waxman, I. & Bissonnette, M. Clinical use of p53 in Barrett's esophagus. Cancer Epidemiol. Biomark. Prev. 15, 1243–1249 (2006).

16.

Reid, B. J. et al. Predictors of progression in Barrett's esophagus II: baseline 17p (p53) loss of heterozygosity identifies a patient subset at increased risk for neoplastic progression. Am. J. Gastroenterol. 96, 2839–2848 (2001).

17.

Alvi, M. A. et al. DNA methylation as an adjunct to histopathology to detect prevalent, inconspicuous dysplasia and early-stage neoplasia in Barrett's esophagus. Clin. Cancer Res. 19, 878–888 (2013).

18.

Jin, Z. et al. A multicenter, double-blinded validation study of methylation biomarkers for progression prediction in Barrett's esophagus. Cancer Res. 69, 4112–4115 (2009).

19.

Weaver, J. M. J. et al. Ordering of mutations in preinvasive disease stages of esophageal carcinogenesis. Nat. Genet. 46, 837–843 (2014).

20.

Secrier, M. et al. Mutational signatures in esophageal adenocarcinoma define etiologically distinct subgroups with therapeutic relevance. Nat. Genet. 48, 1131–1141 (2016).

21.

Frankell, A. M. et al. The landscape of selection in 551 esophageal adenocarcinomas defines genomic biomarkers for the clinic. Nat. Genet. 51, 506–516 (2019).

22.

Nones, K. et al. Genomic catastrophes frequently arise in esophageal adenocarcinoma and drive tumorigenesis. Nat. Commun. 5, 5224 (2014).

23.

Blum, A. et al. RNA sequencing identifies transcriptionally-viable gene fusions in esophageal adenocarcinomas. Cancer Res. 76, 5587–5589 (2016).

24.

The Cancer Genome Atlas Research Network. Integrated genomic characterization of oesophageal carcinoma. Nature 541, 169–175 https://doi.org/10.1038/nature20805 (2017).

25.

Ross-Innes, C. S. et al. Whole-genome sequencing provides new insights into the clonal architecture of Barrett's esophagus and esophageal adenocarcinoma. Nat. Genet. 47, 1038–1046 (2015).

26.

Maley, C. C. et al. Genetic clonal diversity predicts progression to esophageal adenocarcinoma. Nat. Genet. 38, 468–473 (2006).

27.

Martinez, P. et al. Dynamic clonal equilibrium and predetermined cancer risk in Barrett's oesophagus. Nat. Commun. 7, 12158 (2016).

28.

Li, X. et al. Assessment of esophageal adenocarcinoma risk using somatic chromosome alterations in longitudinal samples in Barrett's esophagus. Cancer Prev. Res. 8, 845–856 (2015).

29.

Martinez, P. et al. Evolution of Barrett's esophagus through space and time at single-crypt and whole-biopsy levels. Nat. Commun. 9, 794 (2018).

30.

Scheinin, I. et al. DNA copy number analysis of fresh and formalin-fixed specimens by whole-genome sequencing: improved correction of systematic biases and exclusion of problematic regions. Genome Res. 24, 2022–2032 (2014).

31.

Li, X. et al. Temporal and spatial evolution of somatic chromosomal alterations: a case–cohort study of Barrett's esophagus. Cancer Prev. Res. 7, 114–127 (2014).

32.

Shaheen, N. J., Falk, G. W., Iyer, P. G. & Gerson, L. B. ACG clinical guideline: diagnosis and management of Barrett's esophagus. Am. J. Gastroenterol. 111, 30–50 (2016).

33.

Fitzgerald, R. C. et al. British Society of Gastroenterology guidelines on the diagnosis and management of Barrett's oesophagus. Gut 63, 7–42 (2014).

34.

Stachler, M. D. et al. Paired exome analysis of Barrett's esophagus and adenocarcinoma. Nat. Genet. 47, 1047–1055 (2015).

35.

Kaye, P. V. et al. Novel staining pattern of p53 in Barrett's dysplasia—the absent pattern. Histopathology 57, 933–935 (2010).

36.

Kaye, P. V. et al. Barrett's dysplasia and the Vienna classification: reproducibility, prediction of progression and impact of consensus reporting and p53 immunohistochemistry. Histopathology 54, 699–712 (2009).

37.

Li, H. & Durbin, R. Fast and accurate short read alignment with Burrows–Wheeler transform. Bioinformatics 25, 1754–1760 (2009).

38.

Nilsen, G. et al. Copynumber: efficient algorithms for single- and multi-track copy number segmentation. BMC Genomics 13, 591 (2012).

39.

Friedman, J., Hastie, T. & Tibshirani, R. Regularization paths for generalized linear models via coordinate descent. J. Stat. Softw. 33, 1–22 (2010).

40.

Robin, X. et al. pROC: an open-source package for R and S+ to analyze and compare ROC curves. BMC Bioinform. 12, 77 (2011).
Acknowledgements
We thank the patients who donated tissue samples to this project. The laboratory of R.C.F. is funded by a Core Programme Grant from the Medical Research Council (grant RG84369). This work was also funded by a United European Gastroenterology Research Prize (RG76026). We thank the Human Research Tissue Bank, which is supported by the UK National Institute for Health Research Cambridge Biomedical Research Centre, from Addenbrooke's Hospital. Additional infrastructure support was provided from the Cancer Research UK-funded Experimental Cancer Medicine Centre. We also thank B. J. Reid, P. C. Galipeau and C. A. Sanchez from the Fred Hutchinson Cancer Research Center in Seattle, for their time and help in understanding their data, as well as A. Wolfgang Jung from the EMBL-EBI for advice on survival analysis.
Ethics declarations
Competing interests
R.C.F. is named on patents for Cytosponge and related assays that have been licensed by the Medical Research Council to Covidien GI Solutions (now Medtronic).
Additional information
Peer review information Javier Carmona was the primary editor on this article, and managed its editorial process and peer review in collaboration with the rest of the editorial team.
Publisher's note Springer Nature remains neutral with regard to jurisdictional claims in published maps and institutional affiliations.
Supplementary information
Supplementary Note, Methods and Results and Supplementary Tables 1–4.
About this article
Cite this article
Killcoyne, S., Gregson, E., Wedge, D.C. et al. Genomic copy number predicts esophageal cancer years before transformation. Nat Med 26, 1726–1732 (2020). https://doi.org/10.1038/s41591-020-1033-y
Received:

Accepted:

Published:

Issue Date:
Further reading
Sarah Killcoyne

&

Rebecca C. Fitzgerald

Nature Reviews Cancer (2021)

Sarah Killcoyne

&

Rebecca C. Fitzgerald

British Journal of Cancer (2021)

Nature Reviews Clinical Oncology (2020)