Abstract
In many areas of oncology, we lack sensitive tools to track low-burden disease. Although cell-free DNA (cfDNA) shows promise in detecting cancer mutations, we found that the combination of low tumor fraction (TF) and limited number of DNA fragments restricts low-disease-burden monitoring through the prevailing deep targeted sequencing paradigm. We reasoned that breadth may supplant depth of sequencing to overcome the barrier of cfDNA abundance. Whole-genome sequencing (WGS) of cfDNA allowed ultra-sensitive detection, capitalizing on the cumulative signal of thousands of somatic mutations observed in solid malignancies, with TF detection sensitivity as low as 10−5. The WGS approach enabled dynamic tumor burden tracking and postoperative residual disease detection, associated with adverse outcome. Thus, we present an orthogonal framework for cfDNA cancer monitoring via genome-wide mutational integration, enabling ultra-sensitive detection, overcoming the limitation of cfDNA abundance and empowering treatment optimization in low-disease-burden oncology care.
Access options
Subscribe to Journal
Get full journal access for 1 year
$225.00
only $18.75 per issue
All prices are NET prices.
VAT will be added later in the checkout.
Rent or Buy article
Get time limited or full article access on ReadCube.
from$8.99
All prices are NET prices.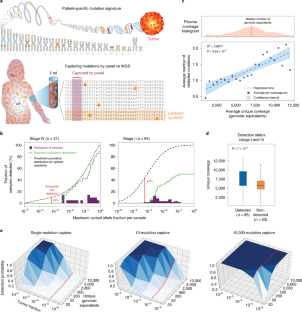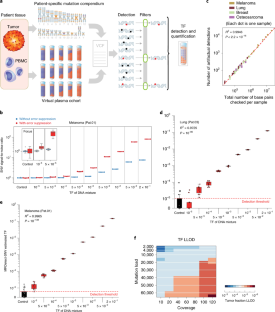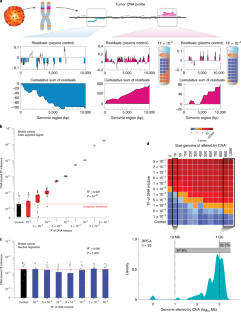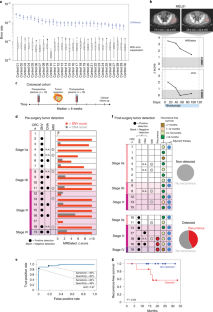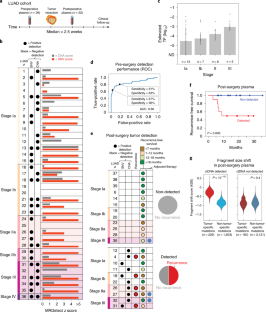 Data availability
Sequence data has been deposited at the European Genome-phenome Archive (EGA), which is hosted by the EBI and the CRG, under accession number EGAS00001004406.
References
1.

Wan, J. C. M. et al. Liquid biopsies come of age: towards implementation of circulating tumour DNA. Nat. Rev. Cancer 17, 223–238 (2017).

2.

Cohen, J. D. et al. Detection and localization of surgically resectable cancers with a multi-analyte blood test. Science 359, 926–930 (2018).

3.

Sadeh, R. et al. ChIP-seq of plasma cell-free nucleosomes identifies cell-of-origin gene expression programs. Preprint at https://www.biorxiv.org/content/10.1101/638643v1 (2019).

4.

Moss, J. et al. Comprehensive human cell-type methylation atlas reveals origins of circulating cell-free DNA in health and disease. Nat. Commun. 9, 5068 (2018).

5.

Shen, S. Y. et al. Sensitive tumour detection and classification using plasma cell-free DNA methylomes. Nature 563, 579–583 (2018).

6.

Snyder, M. W., Kircher, M., Hill, A. J., Daza, R. M. & Shendure, J. Cell-free DNA comprises an in vivo nucleosome footprint that informs its tissues-of-origin. Cell 164, 57–68 (2016).

7.

Cristiano, S. et al. Genome-wide cell-free DNA fragmentation in patients with cancer. Nature 570, 385–389 (2019).

8.

Wang, S. et al. Potential clinical significance of a plasma-based KRAS mutation analysis in patients with advanced non-small cell lung cancer. Clin. Cancer Res. 16, 1324–1330 (2010).

9.

Kobayashi, S. et al. EGFR mutation and resistance of non-small-cell lung cancer to gefitinib. N. Engl. J. Med. 352, 786–792 (2005).

10.

Adalsteinsson, V. A. et al. Scalable whole-exome sequencing of cell-free DNA reveals high concordance with metastatic tumors. Nat. Commun. 8, 1324 (2017).

11.

Murtaza, M. et al. Non-invasive analysis of acquired resistance to cancer therapy by sequencing of plasma DNA. Nature 497, 108–112 (2013).

12.

Diehl, F. et al. Circulating mutant DNA to assess tumor dynamics. Nat. Med. 14, 985–990 (2008).

13.

Sozzi, G. et al. O-297 quantification of free circulating DNA as a diagnostic marker in lung cancer. Lung Cancer 41, S86–S87 (2003).

14.

Bettegowda, C. et al. Detection of circulating tumor DNA in early- and late-stage human malignancies. Sci. Transl. Med. 6, 224ra24 (2014).

15.

Wang, Y. et al. Prognostic potential of circulating tumor DNA measurement in postoperative surveillance of nonmetastatic colorectal cancer. JAMA Oncol. 5, 1118–1123 (2019).

16.

van Wezel, E. M. et al. Whole-genome sequencing identifies patient-specific DNA minimal residual disease markers in neuroblastoma. J. Mol. Diagn. 17, 43–52 (2015).

17.

Abbosh, C. et al. Phylogenetic ctDNA analysis depicts early-stage lung cancer evolution. Nature 545, 446–451 (2017).

18.

Phallen, J. et al. Direct detection of early-stage cancers using circulating tumor DNA. Sci. Transl. Med. 9, eaan2415 (2017).

19.

Newman, A. M. et al. An ultrasensitive method for quantitating circulating tumor DNA with broad patient coverage. Nat. Med. 20, 548–554 (2014).

20.

Newman, A. M. et al. Integrated digital error suppression for improved detection of circulating tumor DNA. Nat. Biotechnol. 34, 547–555 (2016).

21.

Kennedy, S. R. et al. Detecting ultralow-frequency mutations by duplex sequencing. Nat. Protoc. 9, 2586–2606 (2014).

22.

Campbell, B. B. et al. Comprehensive analysis of hypermutation in human cancer. Cell 171, 1042–1056.e10 (2017).

23.

Cibulskis, K. et al. Sensitive detection of somatic point mutations in impure and heterogeneous cancer samples. Nat. Biotechnol. 31, 213–219 (2013).

24.

Spinella, J.-F. et al. SNooPer: a machine learning-based method for somatic variant identification from low-pass next-generation sequencing. BMC Genomics 17, 912 (2016).

25.

Taylor, A. M. et al. Genomic and functional approaches to understanding cancer aneuploidy. Cancer Cell 33, 676–689 (2018).

26.

Reinert, T. et al. Analysis of plasma cell-free DNA by ultradeep sequencing in patients with stages I to III colorectal cancer. JAMA Oncol. 5, 1124–1131 (2019).

27.

Kim, C. G. et al. Effects of microsatellite instability on recurrence patterns and outcomes in colorectal cancers. Br. J. Cancer 115, 25–33 (2016).

28.

Chida, K. et al. Spontaneous regression of transverse colon cancer: a case report. Surg. Case Rep. 3, 65 (2017).

29.

Karakuchi, N. et al. Spontaneous regression of transverse colon cancer with high-frequency microsatellite instability: a case report and literature review. World J. Surg. Oncol. 17, 19 (2019).

30.

Mouliere, F. et al. Enhanced detection of circulating tumor DNA by fragment size analysis. Sci. Transl. Med. 10, eaat4921 (2018).

31.

Jiang, P. et al. Preferred end coordinates and somatic variants as signatures of circulating tumor DNA associated with hepatocellular carcinoma. Proc. Natl Acad. Sci. USA 115, E10925–E10933 (2018).

32.

Jiang, P. et al. Lengthening and shortening of plasma DNA in hepatocellular carcinoma patients. Proc. Natl Acad. Sci. USA 112, E1317–E1325 (2015).

33.

Bauml, J. & Levy, B. Clonal hematopoiesis: a new layer in the liquid biopsy story in lung cancer. Clin. Cancer Res. 24, 4352–4354 (2018).

34.

Razavi, P. et al. High-intensity sequencing reveals the sources of plasma circulating cell-free DNA variants. Nat. Med. 25, 1928–1937 (2019).

35.

Martincorena, I. et al. Somatic mutant clones colonize the human esophagus with age. Science 362, 911–917 (2018).

36.

Yizhak, K. et al. RNA sequence analysis reveals macroscopic somatic clonal expansion across normal tissues. Science 364, eaaw0726 (2019).

37.

Salk, J. J. et al. Ultra-sensitive TP53 sequencing for cancer detection reveals progressive clonal selection in normal tissue over a century of human lifespan. Cell Rep. 28, 132–144 (2019).

38.

Goldstraw, P. et al. The IASLC lung cancer staging project: proposals for revision of the TNM stage groupings in the forthcoming (eighth) edition of the TNM classification for lung cancer. J. Thorac. Oncol. 11, 39–51 (2016).

39.

Hanna, N. Systemic therapy in resectable non-small cell lung cancer. UpToDate https://www.uptodate.com/contents/systemic-therapy-in-resectable-non-small-cell-lung-cancer (2019).

40.

Fox, E. J., Reid-Bayliss, K. S., Emond M. J. & Loeb L. A. Accuracy of next generation sequencing platforms. Next Gener. Seq. Appl. 1, 1000106 (2014).

41.

TruSeq DNA PCR-Free Reference Guide. https://support.illumina.com/content/dam/illumina-support/documents/documentation/chemistry_documentation/samplepreps_truseq/truseq-dna-pcr-free-workflow/truseq-dna-pcr-free-workflow-reference-1000000039279-00.pdf (2017).

42.

Guerrera, F. et al. The influence of tissue ischemia time on RNA integrity and patient-derived xenografts (PDX) engraftment rate in a non-small cell lung cancer (NSCLC) biobank. PLoS ONE 11, e0145100 (2016).

43.

Li, H. & Durbin, R. Fast and accurate short read alignment with Burrows–Wheeler transform. Bioinformatics 25, 1754–1760 (2009).

44.

Jiang, H., Lei, R., Ding, S.-W. & Zhu, S. Skewer: a fast and accurate adapter trimmer for next-generation sequencing paired-end reads. BMC Bioinformatics 15, 182 (2014).

45.

Bergmann, E. A., Chen, B.-J., Arora, K., Vacic, V. & Zody, M. C. Conpair: concordance and contamination estimator for matched tumor-normal pairs. Bioinformatics 32, 3196–3198 (2016).

46.

Saunders, C. T. et al. Strelka: accurate somatic small-variant calling from sequenced tumor-normal sample pairs. Bioinformatics 28, 1811–1817 (2012).

47.

Wilm, A. et al. LoFreq: a sequence-quality aware, ultra-sensitive variant caller for uncovering cell-population heterogeneity from high-throughput sequencing datasets. Nucleic Acids Res. 40, 11189–11201 (2012).

48.

Xi, R., Luquette, J., Hadjipanayis, A., Kim, T.-M. & Park, P. J. BIC-seq: a fast algorithm for detection of copy number alterations based on high-throughput sequencing data. Genome Biol. 11, O10 (2010).

49.

S. T. Kothen-Hill et al. Deep learning mutation prediction enables early stage lung cancer detection in liquid biopsy. ICLR 2018 Conference https://openreview.net/forum?id=H1DkN7ZCZ (2018).

50.

Hadi, K. et al. Novel patterns of complex structural variation revealed across thousands of cancer genome graphs. Preprint at https://www.biorxiv.org/content/10.1101/836296v1 (2019).

51.

Underhill, H. R. et al. Fragment length of circulating tumor DNA. PLoS Genet. 12, e1006162 (2016).
Acknowledgements
We thank the Landau lab and the New York Genome Center computational biology and sequencing teams for help and feedback throughout this work. A.Z. is supported by an EMBO long-term fellowship (ALTF 140-2016). D.A.L. is supported by the Burroughs Wellcome Fund Career Award for Medical Scientists, the Pershing Square Sohn Prize for Young Investigators in Cancer Research and the National Institutes of Health Director's New Innovator Award (DP2-CA239065). This work was supported by the Mark Foundation ASPIRE Award, the American Lung Association Cancer Discovery Award, the Daedalus Fund for Innovation and the Meyer Cancer Center.
Ethics declarations
Competing interests
D.A.L., A.Z., V.A. and S.T.K.H. submitted two patent applications. D.A.L. and A.Z. are co-founders of C2i Genomics. D.A.L. participated in an advisory board for Illumina and has received research support. J.D.W. consulted for Adaptive Biotech, Advaxis, Amgen, Apricity, Array BioPharma, Ascentage Pharma, Astellas, Bayer, Beigene, Bristol Myers Squibb, Celgene, Chugai, Elucida, Eli Lilly, F Star, Genentech, Imvaq, Janssen, Kleo Pharma, Kyowa Hakko Kirin, Linneaus, MedImmune, Merck, Neon Therapuetics, Northern Biologics, Ono, Polaris Pharma, Polynoma, Psioxus, Puretech, Recepta, Takara Bio, Trieza, Turvax, Sellas Life Sciences, Serametrix, Surface Oncology, Syndax and Syntalogic. J.D.W. also received research support from Bristol Myers Squibb, Medimmune, Merck Pharmaceuticals and Genentech. J.D.W. holds equity in Potenza Therapeutics, Tizona Pharmaceuticals, Adaptive Biotechnologies, Elucida, Imvaq, Beigene, Trieza and Linneaus.
Additional information
Peer review information Javier Carmona was the primary editor on this article and managed its editorial process and peer review in collaboration with the rest of the editorial team.
Publisher's note Springer Nature remains neutral with regard to jurisdictional claims in published maps and institutional affiliations.
Supplementary information
About this article
Cite this article
Zviran, A., Schulman, R.C., Shah, M. et al. Genome-wide cell-free DNA mutational integration enables ultra-sensitive cancer monitoring. Nat Med (2020). https://doi.org/10.1038/s41591-020-0915-3
Received:

Accepted:

Published: