Abstract
Among the most urgent public health threats is the worldwide emergence of carbapenem-resistant Enterobacteriaceae1,2,3,4, which are resistant to the antibiotic class of 'last resort'. In the United States and Europe, carbapenem-resistant strains of the Klebsiella pneumoniae ST258 (ref. 5) sequence type are dominant, endemic6,7,8 and associated with high mortality6,9,10. We report the global evolution of pathogenicity in carbapenem-resistant K. pneumoniae, resulting in the repeated convergence of virulence and carbapenem resistance in the United States and Europe, dating back to as early as 2009. We demonstrate that K. pneumoniae can enhance its pathogenicity by adopting two opposing infection programs through easily acquired gain- and loss-of-function mutations. Single-nucleotide polymorphisms in the capsule biosynthesis gene wzc lead to hypercapsule production, which confers phagocytosis resistance, enhanced dissemination and increased mortality in animal models. In contrast, mutations disrupting capsule biosynthesis genes impair capsule production, which enhances epithelial cell invasion, in vitro biofilm formation and persistence in urinary tract infections. These two types of capsule mutants have emerged repeatedly and independently in Europe and the United States, with hypercapsule mutants associated with bloodstream infections and capsule-deficient mutants associated with urinary tract infections. In the latter case, drug-tolerant K. pneumoniae can persist to yield potentially untreatable, persistent infection.
Access options
Subscribe to Journal
Get full journal access for 1 year
$225.00
only $18.75 per issue
All prices are NET prices.
VAT will be added later in the checkout.
Rent or Buy article
Get time limited or full article access on ReadCube.
from$8.99
All prices are NET prices.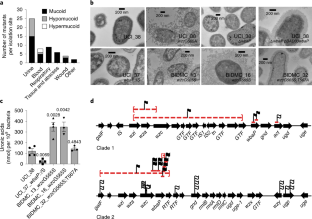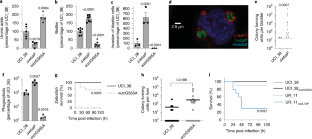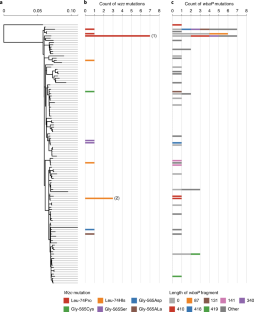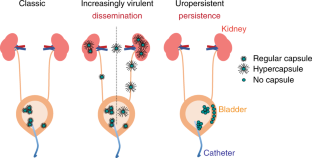 Data availability
Sequencing data from this study can be found in the SRA of the NCBI database under Bioproject accession no. PRJNA506070. All other datasets are available from the corresponding author on reasonable request.
References
1.

Antibiotic Resistance Threats in the United States (Centers for Disease Control and Prevention, 2013).

2.

Rapid Risk Assessment: Carbapenem-resistant Enterobacteriaceae—First update (European Centre for Disease Prevention and Control, 2018).

3.

Pitout, J. D., Nordmann, P. & Poirel, L. Carbapenemase-producing Klebsiella pneumoniae, a key pathogen set for global nosocomial dominance. Antimicrob. Agents Chemother. 59, 5873–5884 (2015).

4.

Antimicrobial Resistance—Global Report on Surveillance (World Health Organization, 2014).

5.

Deleo, F. R. et al. Molecular dissection of the evolution of carbapenem-resistant multilocus sequence type 258 Klebsiella pneumoniae. Proc. Natl Acad. Sci. USA 111, 4988–4993 (2014).

6.

Munoz-Price, L. S. et al. Clinical epidemiology of the global expansion of Klebsiella pneumoniae carbapenemases. Lancet Infect. Dis. 13, 785–796 (2013).

7.

Lee, C. R. et al. Global dissemination of carbapenemase-producing Klebsiella pneumoniae: epidemiology, genetic context, treatment options, and detection methods. Front. Microbiol. 7, 895 (2016).

8.

Bowers, J. R. et al. Genomic analysis of the emergence and rapid global dissemination of the clonal group 258 Klebsiella pneumoniae pandemic. PLoS ONE 10, e0133727 (2015).

9.

Dautzenberg, M. J., Haverkate, M. R., Bonten, M. J. & Bootsma, M. C. Epidemic potential of Escherichia coli ST131 and Klebsiella pneumoniae ST258: a systematic review and meta-analysis. BMJ Open 6, e009971 (2016).

10.

Snitkin, E. S. et al. Tracking a hospital outbreak of carbapenem-resistant Klebsiella pneumoniae with whole-genome sequencing. Sci. Transl. Med. 4, 148ra116 (2012).

11.

Gu, D. et al. A fatal outbreak of ST11 carbapenem-resistant hypervirulent Klebsiella pneumoniae in a Chinese hospital: a molecular epidemiological study. Lancet Infect. Dis. 18, 37–46 (2018).

12.

Lam, M. M. C. et al. Tracking key virulence loci encoding aerobactin and salmochelin siderophore synthesis in Klebsiella pneumoniae. Genome Med. 10, 77 (2018).

13.

Cerqueira, G. C. et al. Multi-institute analysis of carbapenem resistance reveals remarkable diversity, unexplained mechanisms, and limited clonal outbreaks. Proc. Natl Acad. Sci. USA 114, 1135–1140 (2017).

14.

Siu, L. K., Yeh, K. M., Lin, J. C., Fung, C. P. & Chang, F. Y. Klebsiella pneumoniae liver abscess: a new invasive syndrome. Lancet Infect. Dis. 12, 881–887 (2012).

15.

Sahly, H. et al. Capsule impedes adhesion to and invasion of epithelial cells by Klebsiella pneumoniae. Infect. Immun. 68, 6744–6749 (2000).

16.

Domenico, P., Schwartz, S. & Cunha, B. A. Reduction of capsular polysaccharide production in Klebsiella pneumoniae by sodium salicylate. Infect. Immun. 57, 3778–3782 (1989).

17.

Broberg, C. A., Palacios, M. & Miller, V. L. Klebsiella: a long way to go towards understanding this enigmatic jet-setter. F1000Prime Rep. 6, 64 (2014).

18.

Whitfield, C. Biosynthesis and assembly of capsular polysaccharides in Escherichia coli. Annu. Rev. Biochem. 75, 39–68 (2006).

19.

Hunstad, D. A. & Justice, S. S. Intracellular lifestyles and immune evasion strategies of uropathogenic Escherichia coli. Annu. Rev. Microbiol. 64, 203–221 (2010).

20.

Mysorekar, I. U. & Hultgren, S. J. Mechanisms of uropathogenic Escherichia coli persistence and eradication from the urinary tract. Proc. Natl Acad. Sci. USA 103, 14170–14175 (2006).

21.

Flores-Mireles, A. L., Walker, J. N., Caparon, M. & Hultgren, S. J. Urinary tract infections: epidemiology, mechanisms of infection and treatment options. Nat. Rev. Microbiol. 13, 269–284 (2015).

22.

Blango, M. G. & Mulvey, M. A. Persistence of uropathogenic Escherichia coli in the face of multiple antibiotics. Antimicrob. Agents Chemother. 54, 1855–1863 (2010).

23.

Hung, C. S., Dodson, K. W. & Hultgren, S. J. A murine model of urinary tract infection. Nat. Protoc. 4, 1230–1243 (2009).

24.

Lam, M. M. C. et al. Population genomics of hypervirulent Klebsiella pneumoniae clonal-group 23 reveals early emergence and rapid global dissemination. Nat. Commun. 9, 2703 (2018).

25.

Nassif, X., Fournier, J. M., Arondel, J. & Sansonetti, P. J. Mucoid phenotype of Klebsiella pneumoniae is a plasmid-encoded virulence factor. Infect. Immun. 57, 546–552 (1989).

26.

Walker, K. A. et al. A Klebsiella pneumoniae regulatory mutant has reduced capsule expression but retains hypermucoviscosity. MBio 10, e00089-19 (2019).

27.

Gottesman, S. & Stout, V. Regulation of capsular polysaccharide synthesis in Escherichia coli K12. Mol. Microbiol. 5, 1599–1606 (1991).

28.

Geisinger, E. & Isberg, R. R. Antibiotic modulation of capsular exopolysaccharide and virulence in Acinetobacter baumannii. PLoS Pathog. 11, e1004691 (2015).

29.

Fang, C. T., Chuang, Y. P., Shun, C. T., Chang, S. C. & Wang, J. T. A novel virulence gene in Klebsiella pneumoniae strains causing primary liver abscess and septic metastatic complications. J. Exp. Med. 199, 697–705 (2004).

30.

Wozniak, J. E. et al. A nationwide screen of carbapenem-resistant Klebsiella pneumoniae reveals an isolate with enhanced virulence and clinically undetected colistin heteroresistance. Antimicrob. Agents Chemother. 63, e00107-19 (2019).

31.

Ruppe, E. et al. Clonal or not clonal? Investigating hospital outbreaks of KPC-producing Klebsiella pneumoniae with whole-genome sequencing. Clin. Microbiol. Infect. 23, 470–475 (2017).

32.

Spencer, M. D. et al. Whole genome sequencing detects inter-facility transmission of carbapenem-resistant Klebsiella pneumoniae. J. Infect. 78, 187–199 (2019).

33.

Zilberberg, M. D., Nathanson, B. H., Sulham, K., Fan, W. & Shorr, A. F. Carbapenem resistance, inappropriate empiric treatment and outcomes among patients hospitalized with Enterobacteriaceae urinary tract infection, pneumonia and sepsis. BMC Infect. Dis. 17, 279 (2017).

34.

Skurnik, D. et al. Extended-spectrum antibodies protective against carbapenemase-producing Enterobacteriaceae. J. Antimicrob. Chemother. 71, 927–935 (2016).

35.

Russo, T. A. & Marr, C. M. Hypervirulent Klebsiella pneumoniae. Clin. Microbiol. Rev. 32, e00001-19 (2019).

36.

Uhlemann, A. C., Otto, M., Lowy, F. D. & DeLeo, F. R. Evolution of community- and healthcare-associated methicillin-resistant Staphylococcus aureus. Infect. Genet. Evol. 21, 563–574 (2014).

37.

Valentini, M., Gonzalez, D., Mavridou, D. A. & Filloux, A. Lifestyle transitions and adaptive pathogenesis of Pseudomonas aeruginosa. Curr. Opin. Microbiol. 41, 15–20 (2018).

38.

Kobayashi, S. D. et al. Phagocytosis and killing of carbapenem-resistant ST258 Klebsiella pneumoniae by human neutrophils. J. Infect. Dis. 213, 1615–1622 (2016).

39.

Yoshida, K. et al. Role of bacterial capsule in local and systemic inflammatory responses of mice during pulmonary infection with Klebsiella pneumoniae. J. Med. Microbiol. 49, 1003–1010 (2000).

40.

Kobayashi, S. D. & DeLeo, F. R. Re-evaluating the potential of immunoprophylaxis and/or immunotherapy for infections caused by multidrug resistant Klebsiella pneumoniae. Future Microbiol. 13, 1343–1346 (2018).

41.

Edwards, R. A., Keller, L. H. & Schifferli, D. M. Improved allelic exchange vectors and their use to analyze 987P fimbria gene expression. Gene 207, 149–157 (1998).

42.

Gibson, D. G. et al. Enzymatic assembly of DNA molecules up to several hundred kilobases. Nat. Methods 6, 343–345 (2009).

43.

Ferrieres, L. et al. Silent mischief: bacteriophage Mu insertions contaminate products of Escherichia coli random mutagenesis performed using suicidal transposon delivery plasmids mobilized by broad-host-range RP4 conjugative machinery. J. Bacteriol. 192, 6418–6427 (2010).

44.

Guzman, L. M., Belin, D., Carson, M. J. & Beckwith, J. Tight regulation, modulation, and high-level expression by vectors containing the arabinose PBAD promoter. J. Bacteriol. 177, 4121–4130 (1995).

45.

Chang, A. C. & Cohen, S. N. Construction and characterization of amplifiable multicopy DNA cloning vehicles derived from the P15A cryptic miniplasmid. J. Bacteriol. 134, 1141–1156 (1978).

46.

Shaner, N. C. et al. A bright monomeric green fluorescent protein derived from Branchiostoma lanceolatum. Nat. Methods 10, 407–409 (2013).

47.

Crepin, S., Harel, J. & Dozois, C. M. Chromosomal complementation using Tn7 transposon vectors in Enterobacteriaceae. Appl. Environ. Microbiol. 78, 6001–6008 (2012).

48.

Davis, J. H., Rubin, A. J. & Sauer, R. T. Design, construction and characterization of a set of insulated bacterial promoters. Nucleic Acids Res. 39, 1131–1141 (2011).

49.

Coffey, B. M. & Anderson, G. G. Biofilm formation in the 96-well microtiter plate. Methods Mol. Biol. 1149, 631–641 (2014).

50.

Blumenkrantz, N. & Asboe-Hansen, G. New method for quantitative determination of uronic acids. Anal. Biochem. 54, 484–489 (1973).

51.

Hsu, C. R., Lin, T. L., Chen, Y. C., Chou, H. C. & Wang, J. T. The role of Klebsiella pneumoniae rmpA in capsular polysaccharide synthesis and virulence revisited. Microbiology 157, 3446–3457 (2011).

52.

Siguier, P., Perochon, J., Lestrade, L., Mahillon, J. & Chandler, M. ISfinder: the reference centre for bacterial insertion sequences. Nucleic Acids Res. 34, D32–D36 (2006).

53.

Lam, M. M. C. et al. Genetic diversity, mobilisation and spread of the yersiniabactin-encoding mobile element ICEKp in Klebsiella pneumoniae populations. Microb. Genom. 4, e000196 (2018).

54.

Walker, B. J. et al. Pilon: an integrated tool for comprehensive microbial variant detection and genome assembly improvement. PLoS ONE 9, e112963 (2014).

55.

Wyres, K. L. et al. Identification of Klebsiella capsule synthesis loci from whole genome data. Microb. Genom. 2, e000102 (2016).

56.

Sperlea, T. et al. γBOriS: identification of origins of replication in gammaproteobacteria using motif-based machine learning. Preprint at bioRxiv https://doi.org/10.1101/597070 (2019).

57.

Wilm, A. et al. LoFreq: a sequence-quality aware, ultra-sensitive variant caller for uncovering cell-population heterogeneity from high-throughput sequencing datasets. Nucleic Acids Res. 40, 11189–11201 (2012).

58.

Edgar, R. C. MUSCLE: multiple sequence alignment with high accuracy and high throughput. Nucleic Acids Res. 32, 1792–1797 (2004).

59.

Li, H. & Durbin, R. Fast and accurate short read alignment with Burrows–Wheeler transform. Bioinformatics 25, 1754–1760 (2009).

60.

Goris, J. et al. DNA–DNA hybridization values and their relationship to whole-genome sequence similarities. Int. J. Syst. Evol. Microbiol. 57, 81–91 (2007).

61.

Inouye, M. et al. SRST2: rapid genomic surveillance for public health and hospital microbiology labs. Genome Med. 6, 90 (2014).

62.

Arndt, D. et al. PHASTER: a better, faster version of the PHAST phage search tool. Nucleic Acids Res. 44, W16–W21 (2016).

63.

Mulvey, M. A., Schilling, J. D. & Hultgren, S. J. Establishment of a persistent Escherichia coli reservoir during the acute phase of a bladder infection. Infect. Immun. 69, 4572–4579 (2001).

64.

Eto, D. S., Sundsbak, J. L. & Mulvey, M. A. Actin-gated intracellular growth and resurgence of uropathogenic Escherichia coli. Cell Microbiol. 8, 704–717 (2006).
Acknowledgements
We thank L. Van Dijk for his help with the illustration of the phylogenetic analysis and Z. Ackermann-Bloom for advice on imaging. This work was supported by a generous gift from A. and J. Bekenstein and by the National Institute of Allergy and Infectious Diseases of the National Institutes of Health (NIH) under award no. R01AI117043 to D.T.H and award number U19AI110818 to the Broad Institute. C.M.E. was supported by a Research Fellowship from the German Research Foundation (Deutsche Forschungsgemeinschaft) and by a Fund for Medical Discovery Postdoctoral Fellowship from MGH. C.A.R. was supported by the Mexican National Council for Science and Technology and Fundacion Mexico en Harvard. The Microscopy Core of the Program in Membrane Biology was partially supported by a Center for the Study of Inflammatory Bowel Disease grant (no. DK043351) and a Boston Area Diabetes and Endocrinology Research Center award (no. DK057521). The Zeiss LSM 800 Airyscan confocal microscope was purchased using an NIH Shared Instrumentation grant (no. 1S10OD021577-01).
Ethics declarations
Competing interests
The authors declare no competing interests.
Additional information
Peer review information Alison Farrell is the primary editor on this article, and managed its editorial process and peer review in collaboration with the rest of the editorial team.
Publisher's note Springer Nature remains neutral with regard to jurisdictional claims in published maps and institutional affiliations.
Supplementary information
Supplementary Fig. 1 and Supplementary Tables 1–13.
About this article
Cite this article
Ernst, C.M., Braxton, J.R., Rodriguez-Osorio, C.A. et al. Adaptive evolution of virulence and persistence in carbapenem-resistant Klebsiella pneumoniae. Nat Med 26, 705–711 (2020). https://doi.org/10.1038/s41591-020-0825-4
Received:

Accepted:

Published:

Issue Date: