Abstract
Mounting evidence suggests that function and connectivity of the striatum is disrupted in schizophrenia1,2,3,4,5. We have developed a new hypothesis-driven neuroimaging biomarker for schizophrenia identification, prognosis and subtyping based on functional striatal abnormalities (FSA). FSA scores provide a personalized index of striatal dysfunction, ranging from normal to highly pathological. Using inter-site cross-validation on functional magnetic resonance images acquired from seven independent scanners (n = 1,100), FSA distinguished individuals with schizophrenia from healthy controls with an accuracy exceeding 80% (sensitivity, 79.3%; specificity, 81.5%). In two longitudinal cohorts, inter-individual variation in baseline FSA scores was significantly associated with antipsychotic treatment response. FSA revealed a spectrum of severity in striatal dysfunction across neuropsychiatric disorders, where dysfunction was most severe in schizophrenia, milder in bipolar disorder, and indistinguishable from healthy individuals in depression, obsessive-compulsive disorder and attention-deficit hyperactivity disorder. Loci of striatal hyperactivity recapitulated the spatial distribution of dopaminergic function and the expression profiles of polygenic risk for schizophrenia. In conclusion, we have developed a new biomarker to index striatal dysfunction and established its utility in predicting antipsychotic treatment response, clinical stratification and elucidating striatal dysfunction in neuropsychiatric disorders.
Access options
Subscribe to Journal
Get full journal access for 1 year
$59.00
only $4.92 per issue
All prices are NET prices.
VAT will be added later in the checkout.
Tax calculation will be finalised during checkout.
Rent or Buy article
Get time limited or full article access on ReadCube.
from$8.99
All prices are NET prices.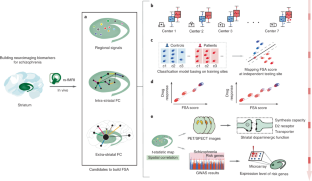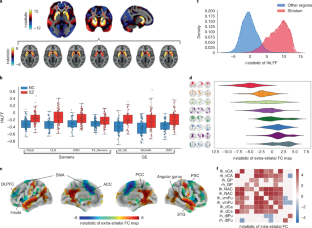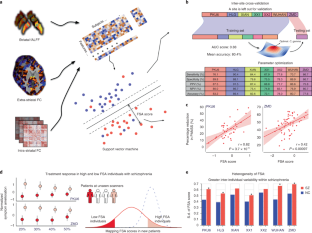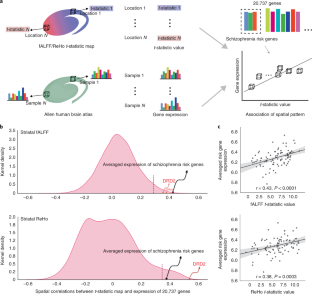 Data availability
The dataset of UCLA Consortium for Neuropsychiatric Phenomics is available at the OpenfMRI database (https://openfmri.org/dataset/ds000030/). The [11C]raclopride PET template can be found in a previous study56. [18F]FDOPA PET and [123I]FP-CIT SPECT templates are available at the NITRC website (http://www.nitrc.org/projects/spmtemplates/). Human gene expression data from the post-mortem tissues from six donors are available at http://human.brain-map.org. Requests for other raw and analyzed data will be promptly reviewed by the Institute of Automation, Chinese Academy of Sciences to verify whether the request is subject to any intellectual property or confidentiality obligations.
References
1.

Simpson, E. H., Kellendonk, C. & Kandel, E. A possible role for the striatum in the pathogenesis of the cognitive symptoms of schizophrenia. Neuron 65, 585–596 (2010).

2.

Howes, O. D. & Kapur, S. The dopamine hypothesis of schizophrenia: version III—the final common pathway. Schizophr. Bull. 35, 549–562 (2009).

3.

Fornito, A. et al. Functional dysconnectivity of corticostriatal circuitry as a risk phenotype for psychosis. JAMA Psychiatry 70, 1143–1151 (2013).

4.

Martino, M. et al. Abnormal resting-state connectivity in a substantia nigra-related striato-thalamo-cortical network in a large sample of first-episode drug-naive patients with schizophrenia. Schizophr. Bull. 44, 419–431 (2018).

5.

McCutcheon, R. A., Abi-Dargham, A. & Howes, O. D. Schizophrenia, dopamine and the striatum: from biology to symptoms. Trends Neurosci. 42, 205–220 (2019).

6.

van Os, J. & Kapur, S. Schizophrenia. Lancet 374, 635–645 (2009).

7.

Kennedy, J. L., Altar, C. A., Taylor, D. L., Degtiar, I. & Hornberger, J. C. The social and economic burden of treatment-resistant schizophrenia: a systematic literature review. Int. Clin. Psychopharmacol. 29, 63–76 (2014).

8.

McCutcheon, R. A., Reis Marques, T. & Howes, O. D. Schizophrenia—an overview. J. Am. Med. Assn. Psychiatry 77, 201–210 (2020).

9.

Howes, O. D. & Kapur, S. A neurobiological hypothesis for the classification of schizophrenia: type A (hyperdopaminergic) and type B (normodopaminergic). Br. J. Psychiatry 205, 1–3 (2014).

10.

Falkai, P. A desperate search for biomarkers in schizophrenia. What is going wrong? World Psychiatry 10, 38–39 (2011).

11.

Sarpal, D. K. et al. Baseline striatal functional connectivity as a predictor of response to antipsychotic drug treatment. Am. J. Psychiatry 173, 69–77 (2016).

12.

White, T. P. et al. Dysfunctional striatal systems in treatment-resistant schizophrenia. Neuropsychopharmacology 41, 1274–1285 (2016).

13.

Lancaster, T. M. et al. Polygenic risk of psychosis and ventral striatal activation during reward processing in healthy adolescents. JAMA Psychiatry 73, 852–861 (2016).

14.

Lancaster, T. M. et al. Structural and functional neuroimaging of polygenic risk for schizophrenia: a recall-by-genotype-based approach. Schizophr. Bull. 45, 405–414 (2019).

15.

Zou, Q. H. et al. An improved approach to detection of amplitude of low-frequency fluctuation (ALFF) for resting-state fMRI: fractional ALFF. J. Neurosci. Methods 172, 137–141 (2008).

16.

Zang, Y., Jiang, T., Lu, Y., He, Y. & Tian, L. Regional homogeneity approach to fMRI data analysis. Neuroimage 22, 394–400 (2004).

17.

Shirer, W. R., Ryali, S., Rykhlevskaia, E., Menon, V. & Greicius, M. D. Decoding subject-driven cognitive states with whole-brain connectivity patterns. Cereb. Cortex 22, 158–165 (2012).

18.

Fan, L. et al. The human Brainnetome Atlas: a new brain atlas based on connectional architecture. Cereb. Cortex 26, 3508–3526 (2016).

19.

Abraham, A. et al. Deriving reproducible biomarkers from multi-site resting-state data: an autism-based example. Neuroimage 147, 736–745 (2017).

20.

Kay, S. R., Fiszbein, A. & Opler, L. A. The positive and negative syndrome scale (PANSS) for schizophrenia. Schizophr. Bull. 13, 261–276 (1987).

21.

Lindenmayer, J. P., Bernstein-Hyman, R. & Grochowski, S. Five-factor model of schizophrenia initial validation. J. Nerv. Ment. Dis. 182, 631–638 (1994).

22.

Kusomi, I., Boku, S. & Takahashi, Y. Psychopharmacology of atypical antipsychotic drugs: from the receptor binding profile to neuroprotection and neurogenesis. Psychiatry Clin. Neurosci. 69, 243–258 (2015).

23.

Cross-Disorder Group of the Psychiatric Genomics Consortium et al. Genetic relationship between five psychiatric disorders estimated from genome-wide SNPs. Nat. Genet. 45, 984–994 (2013).

24.

International Schizophrenia Consortium et al. Common polygenic variation contributes to risk of schizophrenia and bipolar disorder. Nature 460, 748–752 (2009).

25.

Jauhar, S. et al. A test of the transdiagnostic dopamine hypothesis of psychosis using positron emission tomographic imaging in bipolar affective disorder and schizophrenia. JAMA Psychiatry 74, 1206–1213 (2017).

26.

Lichtenstein, P. et al. Common genetic determinants of schizophrenia and bipolar disorder in Swedish families: a population-based study. Lancet 373, 234–239 (2009).

27.

Howes, O. D. et al. The nature of dopamine dysfunction in schizophrenia and what this means for treatment. Arch. Gen. Psychiatry 69, 776–786 (2012).

28.

Chen, K. C. et al. Striatal dopamine transporter availability in drug-naive patients with schizophrenia: a case-control SPECT study with [99mTc]-TRODAT-1 and a meta-analysis. Schizophr. Bull. 39, 378–386 (2013).

29.

Schizophrenia Working Group of the Psychiatric Genomics Consortium Biological insights from 108 schizophrenia-associated genetic loci. Nature 511, 421–427 (2014).

30.

Garcia-Gomez, F. J. et al. Elaboration of the SPM template for the standardization of SPECT images with 123I-ioflupane. Rev. Esp. Med. Nucl. Imagen Mol. 32, 350–356 (2013).

31.

Grecchi, E., Doyle, O. M., Bertoldo, A., Pavese, N. & Turkheimer, F. E. Brain shaving: adaptive detection for brain PET data. Phys. Med. Biol. 59, 2517–2534 (2014).

32.

Hawrylycz, M. J. et al. An anatomically comprehensive atlas of the adult human brain transcriptome. Nature 489, 391–399 (2012).

33.

Watanabe, K., Taskesen, E., van Bochoven, A. & Posthuma, D. Functional mapping and annotation of genetic associations with FUMA. Nat. Commun. 8, 1826 (2017).

34.

Howes, O. D. et al. Treatment-resistant schizophrenia: Treatment Response and Resistance in Psychosis (TRRIP) Working Group consensus guidelines on diagnosis and terminology. Am. J. Psychiatry 174, 216–229 (2017).

35.

Roberts, D. L. & Velligan, D. I. Medication adherence in schizophrenia. Drug Discov. Today Ther. Strateg. 8, 11–15 (2011).

36.

Zhang, J. P. et al. Schizophrenia polygenic risk score as a predictor of antipsychotic efficacy in first-episode psychosis. Am. J. Psychiatry 176, 21–28 (2019).

37.

Frank, J. et al. Identification of increased genetic risk scores for schizophrenia in treatment-resistant patients. Mol. Psychiatry 20, 150–151 (2015).

38.

Kaar, S. J., Natesan, S., McCutcheon, R. & Howes, O. D. Antipsychotics: mechanisms underlying clinical response and side-effects and novel treatment approaches based on pathophysiology. Neuropharmacology, 107704 (2019); https://doi.org/10.1016/j.neuropharm.2019.107704

39.

Valenti, O., Cifelli, P., Gill, K. M. & Grace, A. A. Antipsychotic drugs rapidly induce dopamine neuron depolarization block in a developmental rat model of schizophrenia. J. Neurosci. 31, 12330–12338 (2011).

40.

Jauhar, S. et al. The effects of antipsychotic treatment on presynaptic dopamine synthesis capacity in first-episode psychosis: a positron emission tomography study. Biol. Psychiatry 85, 79–87 (2019).

41.

McNabb, C. B. et al. Functional network dysconnectivity as a biomarker of treatment resistance in schizophrenia. Schizophr. Res. 195, 160–167 (2018).

42.

Hadley, J. A. et al. Ventral tegmental area/midbrain functional connectivity and response to antipsychotic medication in schizophrenia. Neuropsychopharmacology 39, 1020–1030 (2014).

43.

Alonso-Sol¡s, A. et al. Resting-state functional connectivity alterations in the default network of schizophrenia patients with persistent auditory verbal hallucinations. Schizophr. Res. 161, 261–268 (2015).

44.

Friston, K. J., Williams, S., Howard, R., Frackowiak, R. S. & Turner, R. Movement-related effects in fMRI time-series. Magn. Reson. Med. 35, 346–355 (1996).

45.

Xu, K., Liu, Y., Zhan, Y., Ren, J. & Jiang, T. BRANT: a versatile and extendable resting-state fMRI toolkit. Front. Neuroinform. 12, 52 (2018).

46.

Power, J. D., Plitt, M., Laumann, T. O. & Martin, A. Sources and implications of whole-brain fMRI signals in humans. Neuroimage 146, 609–625 (2017).

47.

Duyn, J. H., Leopold, D. A., Maier, A., Scholvinck, M. L. & Ye, F. Q. Neural basis of global resting-state fMRI activity. Proc. Natl Acad. Sci. USA 107, 10238–10243 (2010).

48.

Yang, G. J. et al. Altered global brain signal in schizophrenia. Proc. Natl Acad. Sci. USA 111, 7438–7443 (2014).

49.

Tziortzi, A. C. et al. Connectivity-based functional analysis of dopamine release in the striatum using diffusion-weighted MRI and positron emission tomography. Cereb. Cortex 24, 1165–1177 (2014).

50.

Arbabshirani, M. R., Plis, S., Sui, J. & Calhoun, V. D. Single subject prediction of brain disorders in neuroimaging: promises and pitfalls. Neuroimage 145, 137–165 (2017).

51.

Abraham, A. et al. Machine learning for neuroimaging with scikit-learn. Front. Neuroinform. 8, 14 (2014).

52.

Smyser, C. D. et al. Longitudinal analysis of neural network development in preterm infants. Cereb. Cortex 20, 2852–2862 (2010).

53.

Power, J. D. et al. Functional network organization of the human brain. Neuron 72, 665–678 (2011).

54.

Tzourio-Mazoyer, N. et al. Automated anatomical labeling of activations in SPM using a macroscopic anatomical parcellation of the MNI MRI single-subject brain. Neuroimage 15, 273–289 (2002).

55.

Poldrack, R. A. et al. A phenome-wide examination of neural and cognitive function. Sci. Data 3, 160110 (2016).

56.

Rizzo, G., Veronese, M., Expert, P., Turkheimer, F. E. & Bertoldo, A. MENGA: a new comprehensive tool for the integration of neuroimaging data and the Allen human brain transcriptome atlas. PLoS One 11, e0148744 (2016).

57.

Steiger, J. H. Tests for comparing elements of a correlation matrix. Psychol. Bull. 87, 245–251 (1980).

58.

Romme, I. A. C., de Reus, M. A., Ophoff, R. A., Kahn, R. S. & van den Heuvel, M. P. Connectome disconnectivity and cortical gene expression in patients with schizophrenia. Biol. Psychiatry 81, 495–502 (2017).

59.

Richiardi, J. et al. Correlated gene expression supports synchronous activity in brain networks. Science 348, 1241–1244 (2015).

60.

Ripke, S. et al. Biological insights from 108 schizophrenia-associated genetic loci. Nature 511, 421–427 (2014).
Acknowledgements
We thank C. Y. Wang, T. M. Si, G. L. Gong and M. Li for their critical discussions and comments, N. N. Tian for her assistance with figure drawing, and R. E. Perozzi and E. F. Perozzi for reviewing the English and content of this study. This work was supported by the National Key Basic Research and Development Program (973) (grant 2011CB707800 to T.J.), the National Key Research and Development Plan (grant 2016YFC0904300 to B.L.), the Strategic Priority Research Program of Chinese Academy of Science (grant XDB32020200 to B.L.) and the Natural Science Foundation of China (grant 81771451 to B.L.).
Ethics declarations
Competing interests
The authors declare no competing interests.
Additional information
Peer review information Kate Gao was the primary editor on this article, and managed its editorial process and peer review in collaboration with the rest of the editorial team.
Publisher's note Springer Nature remains neutral with regard to jurisdictional claims in published maps and institutional affiliations.
Supplementary information
Supplementary Figs. 1–14, Tables 1–11 and STARD checklist.
About this article
Cite this article
Li, A., Zalesky, A., Yue, W. et al. A neuroimaging biomarker for striatal dysfunction in schizophrenia. Nat Med 26, 558–565 (2020). https://doi.org/10.1038/s41591-020-0793-8
Received:

Accepted:

Published:

Issue Date: