Liver metastases lead to resistance to immunotherapy through the 'siphoning' of tumor antigen–specific CD8+ T cells into the liver, which results in a systemic 'immune desert' incapable of controlling tumor burden.
This is a preview of subscription content
Access options
Subscribe to Journal
Get full journal access for 1 year
$59.00
only $4.92 per issue
All prices are NET prices.
VAT will be added later in the checkout.
Tax calculation will be finalised during checkout.
Rent or Buy article
Get time limited or full article access on ReadCube.
from$8.99
All prices are NET prices.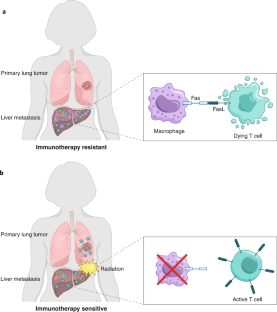 References
1.

Sharma, P., Hu-Lieskovan, S., Wargo, J. A. & Ribas, A. Cell 168, 707–723 (2017).

2.

Yu, J. et al. Nat. Med. https://doi.org/10.1038/s41591-020-1131-x (2020).

3.

Forrester, J. V., Xu, H., Lambe, T. & Cornall, R. Mucosal Immunol. 1, 372–381 (2008).

4.

Medina-Echeverz, J., Eggert, T., Han, M. & Greten, T. F. Cancer Immunol. Immunother. 64, 931–940 (2015).

5.

Qian, B. Z. & Pollard, J. W. Cell 141, 39–51 (2010).

6.

Twyman-Saint Victor, C. et al. Nature 520, 373–377 (2015).

7.

Lee, J. C. et al. Sci. Immunol. 5, eaba0759 (2020).

8.

Finn, R. S. et al. N. Engl. J. Med. 382, 1894–1905 (2020).

9.

Mantovani, A., Marchesi, F., Malesci, A., Laghi, L. & Allavena, P. Nat. Rev. Clin. Oncol. 14, 399–416 (2017).

10.

Villanueva, A. N. Engl. J. Med. 380, 1450–1462 (2019).

11.

Ringelhan, M., Pfister, D., O'Connor, T., Pikarsky, E. & Heikenwalder, M. Nat. Immunol. 19, 222–232 (2018).
Ethics declarations
Competing interests
The authors declare no competing interests.
About this article
Cite this article
Lindblad, K.E., Lujambio, A. Liver metastases inhibit immunotherapy efficacy. Nat Med 27, 25–27 (2021). https://doi.org/10.1038/s41591-020-01190-9
Further reading
Elias A. T. Koch
Anne Petzold
Markus V. Heppt

Cancer Immunology, Immunotherapy (2021)