Abstract
De novo mutations arising on the paternal chromosome make the largest known contribution to autism risk, and correlate with paternal age at the time of conception. The recurrence risk for autism spectrum disorders is substantial, leading many families to decline future pregnancies, but the potential impact of assessing parental gonadal mosaicism has not been considered. We measured sperm mosaicism using deep-whole-genome sequencing, for variants both present in an offspring and evident only in father's sperm, and identified single-nucleotide, structural and short tandem-repeat variants. We found that mosaicism quantification can stratify autism spectrum disorders recurrence risk due to de novo mutations into a vast majority with near 0% recurrence and a small fraction with a substantially higher and quantifiable risk, and we identify novel mosaic variants at risk for transmission to a future offspring. This suggests, therefore, that genetic counseling would benefit from the addition of sperm mosaicism assessment.
This is a preview of subscription content
Access options
Subscribe to Nature+
Get immediate online access to the entire Nature family of 50+ journals
Subscribe to Journal
Get full journal access for 1 year
$59.00
only $4.92 per issue
All prices are NET prices.
VAT will be added later in the checkout.
Tax calculation will be finalised during checkout.
Buy article
Get time limited or full article access on ReadCube.
$32.00
All prices are NET prices.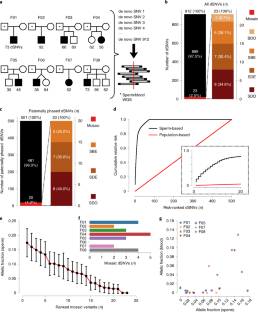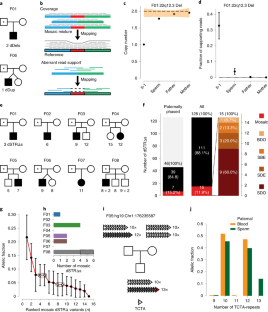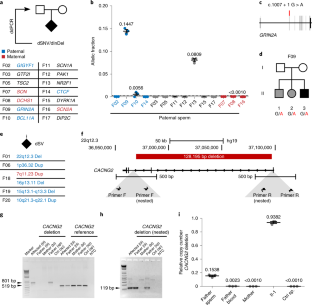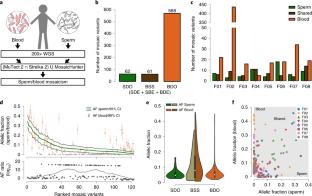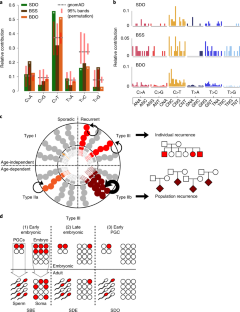 Data availability
Aligned BAM files generated for this study through deep WGS or TAS are available on SRA (accession no. PRJNA588332). WGS data used for de novo calling are available through the NIMH Data Archive (NDA; collection ID: 2019). Long-read sequencing data are likewise available on NDA (collection ID: 2795). NDA access is regulated by the standard organizational process and is subject to review by NDA. Data are also available through the corresponding authors upon reasonable request. Additionally, summary tables of the data are included as Supplementary Information.
Code availability
Algorithms used for mosaic variant detection were published previously. Any custom code is available through the corresponding authors upon reasonable request.
References
Iossifov, I. et al. The contribution of de novo coding mutations to autism spectrum disorder. Nature 515, 216–221 (2014).

Turner, T. N. et al. Genomic patterns of de novo mutation in simplex autism. Cell 171, 710–722 e712 (2017).

O'Roak, B. J. et al. Sporadic autism exomes reveal a highly interconnected protein network of de novo mutations. Nature 485, 246–250 (2012).

Neale, B. M. et al. Patterns and rates of exonic de novo mutations in autism spectrum disorders. Nature 485, 242–245 (2012).

Kong, A. et al. Rate of de novo mutations and the importance of father's age to disease risk. Nature 488, 471–475 (2012).

Jonsson, H. et al. Parental influence on human germline de novo mutations in 1,548 trios from Iceland. Nature 549, 519–522 (2017).

Campbell, I. M. et al. Parent of origin, mosaicism, and recurrence risk: probabilistic modeling explains the broken symmetry of transmission genetics. Am. J. Hum. Genet. 95, 345–359 (2014).

Acuna-Hidalgo, R., Veltman, J. A. & Hoischen, A. New insights into the generation and role of de novo mutations in health and disease. Genome Biol. 17, 241 (2016).

Freed, D., Stevens, E. L. & Pevsner, J. Somatic mosaicism in the human genome. Genes (Basel) 5, 1064–1094 (2014).

Jonsson, H. et al. Multiple transmissions of de novo mutations in families. Nat. Genet. 50, 1674–1680 (2018).

Rahbari, R. et al. Timing, rates and spectra of human germline mutation. Nat. Genet. 48, 126–133 (2016).

Brandler, W. M. et al. Paternally inherited cis-regulatory structural variants are associated with autism. Science 360, 327–331 (2018).

Brandler, W. M. et al. Frequency and complexity of de novo structural mutation in autism. Am. J. Hum. Genet. 98, 667–679 (2016).

Huang, A. Y. et al. Distinctive types of postzygotic single-nucleotide mosaicisms in healthy individuals revealed by genome-wide profiling of multiple organs. PLoS Genet. 14, e1007395 (2018).

Carvill, G. L. et al. GRIN2A mutations cause epilepsy-aphasia spectrum disorders. Nat. Genet. 45, 1073–1076 (2013).

Lemke, J. R. et al. Mutations in GRIN2A cause idiopathic focal epilepsy with rolandic spikes. Nat. Genet. 45, 1067–1072 (2013).

Turner, D. J. et al. Germline rates of de novo meiotic deletions and duplications causing several genomic disorders. Nat. Genet. 40, 90–95 (2008).

Hehir-Kwa, J. Y. et al. De novo copy number variants associated with intellectual disability have a paternal origin and age bias. J. Med. Genet. 48, 776–778 (2011).

Escaramis, G., Docampo, E. & Rabionet, R. A decade of structural variants: description, history and methods to detect structural variation. Brief. Funct. Genomics 14, 305–314 (2015).

Cibulskis, K. et al. Sensitive detection of somatic point mutations in impure and heterogeneous cancer samples. Nat. Biotechnol. 31, 213–219 (2013).

Kim, S. et al. Strelka2: fast and accurate calling of germline and somatic variants. Nat. Methods 15, 591–594 (2018).

Huang, A. Y. et al. MosaicHunter: accurate detection of postzygotic single-nucleotide mosaicism through next-generation sequencing of unpaired, trio, and paired samples. Nucleic Acids Res. 45, e76 (2017).

Jaiswal, S. et al. Age-related clonal hematopoiesis associated with adverse outcomes. N. Engl. J. Med. 371, 2488–2498 (2014).

Gao, Z. et al. Overlooked roles of DNA damage and maternal age in generating human germline mutations. Proc. Natl Acad. Sci. USA 116, 9491–9500 (2019).

Bernkopf, M. et al. Quantification of transmission risk in a male patient with a FLNB mosaic mutation causing Larsen syndrome: implications for genetic counseling in postzygotic mosaicism cases. Hum. Mutat. 38, 1360–1364 (2017).

Hancarova, M. et al. Parental gonadal but not somatic mosaicism leading to de novo NFIX variants shared by two brothers with Malan syndrome. Am. J. Med. Genet. A 179, 2119–2123 (2019).

Wilbe, M. et al. A novel approach using long-read sequencing and ddPCR to investigate gonadal mosaicism and estimate recurrence risk in two families with developmental disorders. Prenat. Diagn. 37, 1146–1154 (2017).

Yang, X. et al. Genomic mosaicism in paternal sperm and multiple parental tissues in a Dravet syndrome cohort. Sci. Rep. 7, 15677 (2017).

Goriely, A. & Wilkie, A. O. Paternal age effect mutations and selfish spermatogonial selection: causes and consequences for human disease. Am. J. Hum. Genet. 90, 175–200 (2012).

Hamdan, F. F. et al. Identification of a novel in-frame de novo mutation in SPTAN1 in intellectual disability and pontocerebellar atrophy. Eur. J. Hum. Genet. 20, 796–800 (2012).

Schwarz, J. M., Rodelsperger, C., Schuelke, M. & Seelow, D. MutationTaster evaluates disease-causing potential of sequence alterations. Nat. Methods 7, 575–576 (2010).

Pejaver, V. et al. MutPred2: inferring the molecular and phenotypic impact of amino acid variants. Preprint at bioRxiv https://doi.org/10.1101/134981 (2017).

Cooper, D. N., Krawczak, M., Polychronakos, C., Tyler-Smith, C. & Kehrer-Sawatzki, H. Where genotype is not predictive of phenotype: towards an understanding of the molecular basis of reduced penetrance in human inherited disease. Hum. Genet. 132, 1077–1130 (2013).

Snyder, M. W., Adey, A., Kitzman, J. O. & Shendure, J. Haplotype-resolved genome sequencing: experimental methods and applications. Nat. Rev. Genet. 16, 344–358 (2015).

Browning, S. R. & Browning, B. L. Haplotype phasing: existing methods and new developments. Nat. Rev. Genet. 12, 703–714 (2011).

Xia, Y., Liu, Y., Deng, M. & Xi, R. Pysim-sv: a package for simulating structural variation data with GC-biases. BMC Bioinformatics 18, 53 (2017).

Michaelson, J. J. et al. Whole-genome sequencing in autism identifies hot spots for de novo germline mutation. Cell 151, 1431–1442 (2012).

Lek, M. et al. Analysis of protein-coding genetic variation in 60,706 humans. Nature 536, 285–291 (2016).

Krupp, D. R. et al. Exonic mosaic mutations contribute risk for autism spectrum disorder. Am. J. Hum. Genet. 101, 369–390 (2017).

Wu, H., de Gannes, M. K., Luchetti, G. & Pilsner, J. R. Rapid method for the isolation of mammalian sperm DNA. Biotechniques 58, 293–300 (2015).

Regan, J. F. et al. A rapid molecular approach for chromosomal phasing. PloS ONE 10, e0118270 (2015).

Untergasser, A. et al. Primer3Plus, an enhanced web interface to Primer3. Nucleic Acids Res. 35, W71–W74 (2007).

Untergasser, A. et al. Primer3-new capabilities and interfaces. Nucleic Acids Res. 40, e115 (2012).

Koressaar, T. & Remm, M. Enhancements and modifications of primer design program Primer3. Bioinformatics 23, 1289–1291 (2007).

Xu, X. et al. Amplicon resequencing identified parental mosaicism for approximately 10% of 'de novo' SCN1A mutations in children with Dravet syndrome. Hum. Mutat. 36, 861–872 (2015).

Karczewski, K. J. et al. Variation across 141,456 human exomes and genomes reveals the spectrum of loss-of-function intolerance across human protein-coding genes. Preprint at bioRxiv https://doi.org/10.1101/531210 (2019).

Goss, P. J. & Lewontin, R. C. Detecting heterogeneity of substitution along DNA and protein sequences. Genetics 143, 589–602 (1996).

Alexandrov, L. B. et al. Signatures of mutational processes in human cancer. Nature 500, 415–421 (2013).

Collins, R. L., Stone, M. R., Brand, H., Glessner, J. T. & Talkowski, M. E. CNView: a visualization and annotation tool for copy number variation from whole-genome sequencing. Preprint at bioRxiv https://doi.org/10.1101/049536 (2016).

Willems, T. et al. Genome-wide profiling of heritable and de novo STR variations. Nat. Methods 14, 590–592 (2017).

Bailey, J. A. et al. Recent segmental duplications in the human genome. Science 297, 1003–1007 (2002).

Karolchik, D. et al. The UCSC table browser data retrieval tool. Nucleic Acids Res. 32, D493–D496 (2004).

Gervais, A. L., Marques, M. & Gaudreau, L. PCRTiler: automated design of tiled and specific PCR primer pairs. Nucleic Acids Res. 38, W308–W312 (2010).
Acknowledgements
We thank the participants in this study for their contribution. M.W.B. was supported by an EMBO Long-Term Fellowship (no. ALTF 174-2015), which is co-funded by the Marie Curie Actions of the European Commission (nos. LTFCOFUND2013 and GA-2013-609409), and an Erwin Schrödinger Fellowship by the Austrian Science Fund (no. J 4197-B30). This study was supported by grants to J.G.G. from the NIH (nos. U01MH108898 and R01NS083823); the Simons Foundation Autism Research Initiative to J.G.G. (no. 571583), J.S. and M. Wigler (laboratory leader for A.B.M. and Z.W.); the NIH (nos. MH076431 and MH113715) to J.S.; and the Howard Hughes Medical Institute to J.G.G. Sequencing support was provided by the Rady Children's Institute for Genomic Medicine and ONP. O.D. acknowledges support from the Silverman Family Foundation and Finding a Cure for Epilepsy (FACES) and Seizures. We thank B. Hamilton, N. Chi, V. Stanley, A. Marsh, M. Wigler and L. Alexandrov for suggestions. We thank R. Sinkovits, A. Majumdar, S. Strande and the San Diego Supercomputer Center for hosting the computing infrastructure necessary for completing this project.
Ethics declarations
Competing interests
M.W.B., D.A., M.K., K.N.J., W.M.B., J.S. and J.G.G. are inventors on a provisional patent (PCT ref. no. SD2017-181-2PCT) filed by UC, San Diego, titled 'Assessing risk of de novo mutations in males'.
Additional information
Peer review information Kate Gao was the primary editor on this article and managed its editorial process and peer review in collaboration with the rest of the editorial team.
Publisher's note Springer Nature remains neutral with regard to jurisdictional claims in published maps and institutional affiliations.
Supplementary information
Supplementary text, Tables 1 and 2 and additional information.
About this article
Cite this article
Breuss, M.W., Antaki, D., George, R.D. et al. Autism risk in offspring can be assessed through quantification of male sperm mosaicism. Nat Med 26, 143–150 (2020). https://doi.org/10.1038/s41591-019-0711-0
Received:

Accepted:

Published:

Issue Date:

DOI: https://doi.org/10.1038/s41591-019-0711-0