Abstract
Celastrol, a pentacyclic triterpene, is the most potent antiobesity agent that has been reported thus far1. The mechanism of celastrol's leptin-sensitizing and antiobesity effects has not yet been elucidated. In this study, we identified interleukin-1 receptor 1 (IL1R1) as a mediator of celastrol's action by using temporally resolved analysis of the hypothalamic transcriptome in celastrol-treated DIO, lean, and db/db mice. We demonstrate that IL1R1-deficient mice are completely resistant to the effects of celastrol in leptin sensitization and treatment of obesity, diabetes, and nonalcoholic steatohepatitis. Thus, we conclude that IL1R1 is a gatekeeper for celastrol's metabolic actions.
Access options
Subscribe to Journal
Get full journal access for 1 year
$209.00
only $17.42 per issue
All prices are NET prices.
VAT will be added later in the checkout.
Rent or Buy article
Get time limited or full article access on ReadCube.
from$8.99
All prices are NET prices.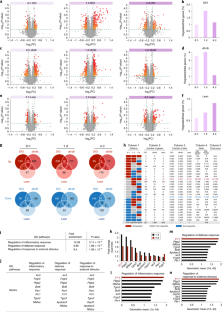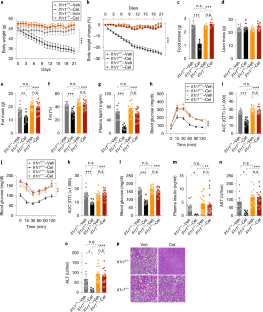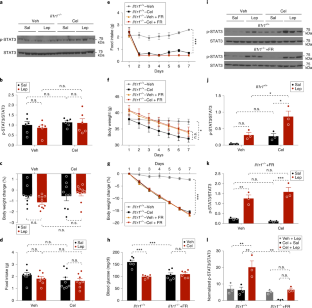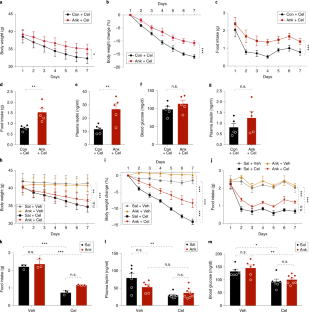 Data availability
Raw data from the mouse hypothalamic microarray analysis are available from the Gene Expression Omnibus (GEO) under accession numbers GSE124353 (DIO mice), GSE124355 (db/db mice), and GSE124356 (lean mice). The source images for p-STAT3 staining can be found at https://figshare.com/s/0741ab007eefdf3f6605. All other data that support the findings of this study are available from the corresponding author upon reasonable request.
References
1.

Liu, J., Lee, J., Salazar Hernandez, M. A., Mazitschek, R. & Ozcan, U. Treatment of obesity with celastrol. Cell 161, 999–1011 (2015).

2.

Ozcan, L. et al. Endoplasmic reticulum stress plays a central role in development of leptin resistance. Cell Metab. 9, 35–51 (2009).

3.

Ozcan, U. et al. Endoplasmic reticulum stress links obesity, insulin action, and type 2 diabetes. Science 306, 457–461 (2004).

4.

Lee, J. & Ozcan, U. Unfolded protein response signaling and metabolic diseases. J. Biol. Chem. 289, 1203–1211 (2014).

5.

Williams, K. W. et al. Xbp1s in Pomc neurons connects ER stress with energy balance and glucose homeostasis. Cell Metab. 20, 471–482 (2014).

6.

Dietrich, M. O. & Horvath, T. L. Hypothalamic control of energy balance: insights into the role of synaptic plasticity. Trends Neurosci. 36, 65–73 (2013).

7.

Pan, W. W. & Myers, M. G. Jr. Leptin and the maintenance of elevated body weight. Nat. Rev. Neurosci. 19, 95–105 (2018).

8.

Vasilyev, F. F., Silkov, A. N. & Sennikov, S. V. Relationship between interleukin-1 type 1 and 2 receptor gene polymorphisms and the expression level of membrane-bound receptors. Cell. Mol. Immunol. 12, 222–230 (2015).

9.

Sims, J. E. et al. Interleukin 1 signaling occurs exclusively via the type I receptor. Proc. Natl Acad. Sci. USA 90, 6155–6159 (1993).

10.

Garber, C. et al. Astrocytes decrease adult neurogenesis during virus-induced memory dysfunction via IL-1. Nat. Immunol. 19, 151–161 (2018).

11.

Pang, I. K., Ichinohe, T. & Iwasaki, A. IL-1R signaling in dendritic cells replaces pattern-recognition receptors in promoting CD8+ T cell responses to influenza A virus. Nat. Immunol. 14, 246–253 (2013).

12.

Garcia, M. C. et al. Mature-onset obesity in interleukin-1 receptor I knockout mice. Diabetes 55, 1205–1213 (2006).

13.

Glaccum, M. B. et al. Phenotypic and functional characterization of mice that lack the type I receptor for IL-1. J. Immunol. 159, 3364–3371 (1997).

14.

Abbate, A. et al. Anakinra, a recombinant human interleukin-1 receptor antagonist, inhibits apoptosis in experimental acute myocardial infarction. Circulation 117, 2670–2683 (2008).

15.

Fox, E. et al. The serum and cerebrospinal fluid pharmacokinetics of anakinra after intravenous administration to non-human primates. J. Neuroimmunol. 223, 138–140 (2010).

16.

Peelman, F., Zabeau, L., Moharana, K., Savvides, S. N. & Tavernier, J. 20 years of leptin: insights into signaling assemblies of the leptin receptor. J. Endocrinol. 223, T9–T23 (2014).

17.

Frederich, R. C. et al. Leptin levels reflect body lipid content in mice: evidence for diet-induced resistance to leptin action. Nat. Med. 1, 1311–1314 (1995).

18.

Liu, J. et al. Inflammation improves glucose homeostasis through IKKβ–XBP1s interaction. Cell 167, 1052–1066 (2016).

19.

Lee, J. et al. p38 MAPK-mediated regulation of Xbp1s is crucial for glucose homeostasis. Nat. Med. 17, 1251–1260 (2011).

20.

Myers, M. G. Jr, Leibel, R. L., Seeley, R. J. & Schwartz, M. W. Obesity and leptin resistance: distinguishing cause from effect. Trends Endocrinol. Metab. 21, 643–651 (2010).

21.

Schwartz, M. W. & Baskin, D. G. Leptin and the brain: then and now. J. Clin. Invest. 123, 2344–2345 (2013).

22.

Gardner, B. M., Pincus, D., Gotthardt, K., Gallagher, C. M. & Walter, P. Endoplasmic reticulum stress sensing in the unfolded protein response. Cold Spring Harb. Perspect. Biol. 5, a013169 (2013).

23.

Joyce, B. R. et al. The unfolded protein response in the protozoan parasite Toxoplasma gondii features translational and transcriptional control. Eukaryot. Cell 12, 979–989 (2013).

24.

Iurlaro, R. et al. Glucose deprivation induces ATF4-mediated apoptosis through TRAIL death receptors. Mol. Cell. Biol. 37, e00479-16 (2017).

25.

Lee, J. et al. Withaferin A is a leptin sensitizer with strong antidiabetic properties in mice. Nat. Med. 22, 1023–1032 (2016).

26.

O'Neill, L. A. The interleukin-1 receptor/Toll-like receptor superfamily: 10 years of progress. Immunol. Rev. 226, 10–18 (2008).

27.

O'Neill, L. A. J. & Dinarello, C. A. The IL-1 receptor/Toll-like receptor superfamily: crucial receptors for inflammation and host defense. Immunol. Today 21, 206–209 (2000).

28.

Gregor, M. F. & Hotamisligil, G. S. Inflammatory mechanisms in obesity. Annu. Rev. Immunol. 29, 415–445 (2011).

29.

Saltiel, A. R. & Olefsky, J. M. Inflammatory mechanisms linking obesity and metabolic disease. J. Clin. Invest. 127, 1–4 (2017).

30.

Villanueva, E. C. & Myers, M. G.Jr. Leptin receptor signaling and the regulation of mammalian physiology. Int. J. Obes. 32(Suppl. 7), S8–S12 (2008).

31.

McGillicuddy, F. C. et al. Long-term exposure to a high-fat diet results in the development of glucose intolerance and insulin resistance in interleukin-1 receptor I–deficient mice. Am. J. Physiol. Endocrinol. Metab. 305, E834–E844 (2013).

32.

Copps, K. D. et al. Irs1 serine 307 promotes insulin sensitivity in mice. Cell Metab. 11, 84–92 (2010).

33.

Wernstedt Asterholm, I. et al. Adipocyte inflammation is essential for healthy adipose tissue expansion and remodeling. Cell Metab. 20, 103–118 (2014).

34.

Jiao, P. et al. Constitutive activation of IKKβ in adipose tissue prevents diet-induced obesity in mice. Endocrinology 153, 154–165 (2012).

35.

Awazawa, M. et al. Adiponectin enhances insulin sensitivity by increasing hepatic IRS-2 expression via a macrophage-derived IL-6-dependent pathway. Cell Metab. 13, 401–412 (2011).

36.

Sadagurski, M. et al. Human IL6 enhances leptin action in mice. Diabetologia 53, 525–535 (2010).
Acknowledgements
This work was mainly supported by the funds provided to U.O. from the Department of Medicine, the Smith President's Innovation Award from Boston Children's Hospital, and grants R01DK098496 and R56DK098496 provided to U.O. by the National Institutes of Health, as well as by support from the Fidelity Biosciences Research Initiative.
Ethics declarations
Competing interests
U.O. is a scientific founder, shareholder, and member of the scientific advisory board and board of directors of ERX Pharmaceuticals.
Additional information
Publisher's note: Springer Nature remains neutral with regard to jurisdictional claims in published maps and institutional affiliations.
Supplementary information
About this article
Cite this article
Feng, X., Guan, D., Auen, T. et al. IL1R1 is required for celastrol's leptin-sensitization and antiobesity effects. Nat Med 25, 575–582 (2019). https://doi.org/10.1038/s41591-019-0358-x
Received:

Accepted:

Published:

Issue Date: