Abstract
Hutchinson–Gilford progeria syndrome (HGPS) is a rare lethal genetic disorder characterized by symptoms reminiscent of accelerated aging. The major underlying genetic cause is a substitution mutation in the gene coding for lamin A, causing the production of a toxic isoform called progerin. Here we show that reduction of lamin A/progerin by a single-dose systemic administration of adeno-associated virus-delivered CRISPR–Cas9 components suppresses HGPS in a mouse model.
Access options
Subscribe to Journal
Get full journal access for 1 year
$209.00
only $17.42 per issue
All prices are NET prices.
VAT will be added later in the checkout.
Rent or Buy article
Get time limited or full article access on ReadCube.
from$8.99
All prices are NET prices.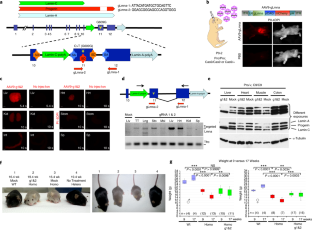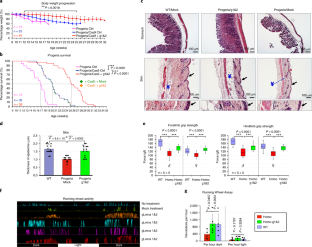 Data availability
The accession number for the RNA-Seq data reported in this paper is NCBI GEO: GSE122865.
References
1.

Worman, H. J., Fong, L. G., Muchir, A. & Young, S. G. J. Clin. Invest. 119, 1825–1836 (2009).

2.

Broers, J. L., Ramaekers, F. C., Bonne, G., Yaou, R. B. & Hutchison, C. J. Physiol. Rev. 86, 967–1008 (2006).

3.

Kubben, N. & Misteli, T. Nat. Rev. Mol. Cell Biol. 18, 595–609 (2017).

4.

Gordon, L. B., Rothman, F. G., Lopez-Otin, C. & Misteli, T. Cell 156, 400–407 (2014).

5.

Ahmed, M. S., Ikram, S., Bibi, N. & Mir, A. Mol. Neurobiol. 55, 4417–4427 (2018).

6.

Gonzalo, S., Kreienkamp, R. & Askjaer, P. Ageing Res. Rev. 33, 18–29 (2017).

7.

Gordon, L. B. et al. Circulation 130, 27–34 (2014).

8.

Gordon, L. B. et al. GeneReviews® [Internet] (NCBI Bookshelf, 2003).

9.

Young, S. G., Yang, S. H., Davies, B. S., Jung, H. J. & Fong, L. G. Sci. Transl. Med. 5, 171ps3 (2013).

10.

Vidak, S. & Foisner, R. Histochem. Cell. Biol. 145, 401–417 (2016).

11.

De Sandre-Giovannoli, A. et al. Science 300, 2055 (2003).

12.

Eriksson, M. et al. Nature 423, 293–298 (2003).

13.

Buchwalter, A. & Hetzer, M. W. Nat. Commun. 8, 328 (2017).

14.

Osorio, F. G. et al. Sci. Transl. Med. 3, 106ra107 (2011).

15.

Fong, L. G. et al. J. Clin. Invest. 116, 743–752 (2006).

16.

Lopez-Mejia, I. C. et al. EMBO Rep. 15, 529–539 (2014).

17.

Olaya Santiago-Fernández, F. G. O. et al. Nat. Med. (in the press).

18.

Ocampo, A. et al. Cell 167, 1719–1733 e12 (2016).

19.

Yang, S. H. et al. Hum. Mol. Genet. 24, 2826–2840 (2015).

20.

Liao, H. K. et al. Cell 171, 1495–1507 e15 (2017).

21.

Dobin, A. et al. Bioinformatics 29, 15–21 (2013).
Acknowledgements
We thank A. Ocampo for discussions throughout the study and M. Schwarz for administrative support. We are grateful to G. Sancar and Ronald Evans Lab for providing the running wheel equipment. E.B. was partially funded by the Catharina Foundation. P.R. was partially supported by the Muscular Dystrophy Association. G.E. was partially funded by NIH-NCI CCSG: P30 014195 and by the Helmsley Trust. Work in the laboratory of J.C.I.B. was supported by The Progeria Research Foundation, Universidad Católica San Antonio de Murcia (UCAM), Fundacion Dr. Pedro Guillen, the G. Harold and Leila Y. Mathers Charitable Foundation, The Glenn Foundation and The Moxie Foundation.
Ethics declarations
Competing interests
The authors declare no competing interests.
Additional information
Publisher's note: Springer Nature remains neutral with regard to jurisdictional claims in published maps and institutional affiliations.
Supplementary information
About this article
Cite this article
Beyret, E., Liao, H., Yamamoto, M. et al. Single-dose CRISPR–Cas9 therapy extends lifespan of mice with Hutchinson–Gilford progeria syndrome. Nat Med 25, 419–422 (2019). https://doi.org/10.1038/s41591-019-0343-4
Received:

Accepted:

Published:

Issue Date: