Abstract
We identified genetic mutations in CD19 and loss of heterozygosity at the time of CD19– relapse to chimeric antigen receptor (CAR) therapy. The mutations are present in the vast majority of resistant tumor cells and are predicted to lead to a truncated protein with a nonfunctional or absent transmembrane domain and consequently to a loss of surface antigen. This irreversible loss of CD19 advocates for an alternative targeting or combination CAR approach.
Access options
Subscribe to Journal
Get full journal access for 1 year
$59.00
only $4.92 per issue
All prices are NET prices.
VAT will be added later in the checkout.
Tax calculation will be finalised during checkout.
Rent or Buy article
Get time limited or full article access on ReadCube.
from$8.99
All prices are NET prices.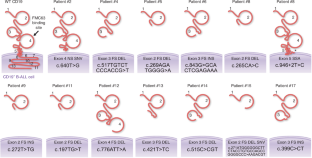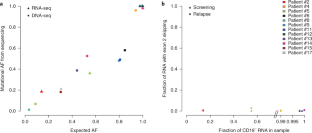 References
1.

Grupp, S. A. et al. Blood 122, 67 (2013).

2.

Maude, S. L. et al. N. Engl. J. Med. 378, 439–448 (2018).

3.

Maude, S. L. et al. Blood 128, 2801 (2016).

4.

Buechner, J. et al. EHA 17, abstr. S476 (2017).

5.

Wang, Z., Wu, Z., Liu, Y. & Han, W. J. Hematol. Oncol. 10, 53 (2017).

6.

Ruella, M. & Maus, M. V. Comput. Struct. Biotechnol. J. 14, 357–362 (2016).

7.

Riester, M. et al. Source Code Biol. Med. 11, 13 (2016).

8.

Sotillo, E. et al. Cancer Discov. 5, 1282–1295 (2015).

9.

Shen, S. et al. Proc. Natl. Acad. Sci. USA 111, E5593–E5601 (2014).

10.

Jacoby, E. et al. Nat. Commun. 7, 12320 (2016).

11.

Gardner, R. et al. Blood 127, 2406–2410 (2016).

12.

Sommermeyer, D. et al. Leukemia 31, 2191–2199 (2017).

13.

Shah, N. N. et al. Blood 128, 650 (2016).

14.

Topp, M. S. et al. J. Clin. Oncol. 32, 4134–4140 (2014).

15.

Zugmaier, G. et al. Blood 126, 2578–2584 (2015).

16.

Cibulskis, K. et al. Nat. Biotechnol. 31, 213–219 (2013).

17.

Ye, K., Schulz, M. H., Long, Q., Apweiler, R. & Ning, Z. Bioinformatics 25, 2865–2871 (2009).

18.

Sherry, S. T. et al. Nucleic Acids Res. 29, 308–311 (2001).

19.

Forbes, S. A. et al. Nucleic Acids Res. 43, D805–D811 (2015).

20.

Li, H. & Durbin, R. Bioinformatics 25, 1754–1760 (2009).

21.

McKenna, A. et al. Genome Res. 20, 1297–1303 (2010).

22.

DePristo, M. A. et al. Nat. Genet. 43, 491–498 (2011).
Acknowledgements
The authors thank the patients and their families for participating in these clinical trials and A. Abrams for figure design.
Ethics declarations
Competing interests
The research samples used in this manuscript come from patients treated on clinical trials conducted by Novartis. J.E.L., M.Q., H. Bittencourt, S.M.D, and S.A.G. consult for Novartis. E.J.O., X.H., C.T., P.A.W., R.J.L., M.R., J.L.B., H.Bitter, M.M., P.P., S.P., J.A.E., and W.W. are employed by Novartis or were employed by Novartis at the time of manuscript preparation.
Additional information
Publisher's note: Springer Nature remains neutral with regard to jurisdictional claims in published maps and institutional affiliations.
Supplementary information
Supplementary Figures 1–4 and Supplementary Tables 1–6
Supplementary Data Table 1
About this article
Cite this article
Orlando, E.J., Han, X., Tribouley, C. et al. Genetic mechanisms of target antigen loss in CAR19 therapy of acute lymphoblastic leukemia. Nat Med 24, 1504–1506 (2018). https://doi.org/10.1038/s41591-018-0146-z
Received:

Accepted:

Published:

Issue Date: