A metastatic hormone receptor–positive breast cancer, usually resistant to immunotherapy, is successfully treated with tumor-infiltrating lymphocytes enriched for neoantigen reactivity, underscoring the broad potential of this immunotherapeutic approach.
Access options
Subscribe to Journal
Get full journal access for 1 year
$59.00
only $4.92 per issue
All prices are NET prices.
VAT will be added later in the checkout.
Tax calculation will be finalised during checkout.
Rent or Buy article
Get time limited or full article access on ReadCube.
from$8.99
All prices are NET prices.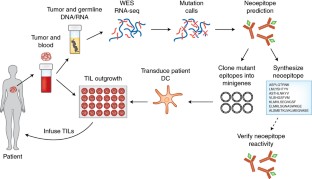 References
1.

Campbell, B. B. et al. Cell 171, 1042–1056.e1010 (2017).

2.

Alvarez, B., Barra, C., Nielsen, M. & Andreatta, M. Proteomics https://doi.org/10.1002/pmic.201700252 (2018).

3.

Efremova, M., Finotello, F., Rieder, D. & Trajanoski, Z. Front. Immunol. 8, 1679 (2017).

4.

Dudley, M. E. et al. Science 298, 850–854 (2002).

5.

Rosenberg, S. A. Nat. Rev. Clin. Oncol. 8, 577–585 (2011).

6.

Goodman, A. M. et al. Mol. Cancer Ther. 16, 2598–2608 (2017).

7.

Schumacher, T. N. & Hacohen, N. Curr. Opin. Immunol. 41, 98–103 (2016).

8.

Zacharakis, N. et al. Nat. Med. https://doi.org/10.1038/s41591-018-0040-8 (2018).

9.

Bobisse, S. et al. Nat. Commun. 9, 1092 (2018).

10.

Robbins, P. F. et al. Nat. Med. 19, 747–752 (2013).

11.

Kreiter, S. et al. Nature 520, 692–696 (2015).

12.

Chowell, D. et al. Science 359, 582–587 (2018).
Acknowledgements
The author thanks all colleagues and scientists who over the years have shared ideas and concepts and have worked diligently to develop cell therapy and vaccination for cancer, bringing it to the forefront of immunotherapy.
Ethics declarations
Competing interests
The author declares no competing interests.
About this article
Cite this article
Radvanyi, L.G. Targeting the cancer mutanome of breast cancer. Nat Med 24, 703–704 (2018). https://doi.org/10.1038/s41591-018-0065-z
Further reading
Xuan Huang

,

Xu Sun

,

Weili Wang

,

Qing Shen

,

Qian Shen

,

Xuna Tang

&

Jinjun Shao

Journal of Materials Chemistry B (2021)

Archives of Medical Research (2019)

Song Zhu

,

Jizhong Wang

,

Yutian He

,

Nan Meng

&

Guang-Rong Yan

Frontiers in Pharmacology (2018)