When transformed cells emerge in an epithelium, their elevated class I MHC expression signals to normal neighboring epithelial cells, which respond by inducing their apical extrusion as a tumor-suppressive mechanism.
This is a preview of subscription content
Access options
Subscribe to Journal
Get full journal access for 1 year
$59.00
only $4.92 per issue
All prices are NET prices.
VAT will be added later in the checkout.
Tax calculation will be finalised during checkout.
Rent or Buy article
Get time limited or full article access on ReadCube.
from$8.99
All prices are NET prices.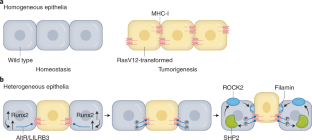 References
1.

Ayakawa, S. et al. Nat. Immunol. https://doi.org/10.1038/s41590-021-01045-6 (2021).

2.

Kon, S. & Fujita, Y. Dev. Biol. 476, 112–116 (2021).

3.

Bowling, S., Lawlor, K. & Rodriguez, T. A. Development 146, dev167486 (2019).

4.

Kajita, M. et al. Nat. Commun. 5, 4428 (2014).

5.

Franceschi, R. T. & Xiao, G. J. Cell. Biochem. 88, 446–454 (2003).

6.

Takai, T. Immunology 115, 433–440 (2005).

7.

Meyer, S. N. et al. Science 346, 1258236 (2014).

8.

Germani, F., Hain, D., Sternlicht, D., Moreno, E. & Basler, K. eLife 7, e39939 (2018).

9.

Katsukawa, M., Ohsawa, S., Zhang, L., Yan, Y. & Igaki, T. Curr. Biol. 28, 1756–1767.e1756 (2018).
Ethics declarations
Competing interests
The authors declare no competing interests.
About this article
Cite this article
Lima, A., Rodriguez, T.A. MHC-I presents: tumor surveillance in the epithelia by cell competition. Nat Immunol 22, 1358–1360 (2021). https://doi.org/10.1038/s41590-021-01053-6