Abstract
Antigen stimulation (signal 1) triggers B cell proliferation and primes B cells to recruit, engage and respond to T cell help (signal 2). Failure to receive signal 2 within a defined time window results in B cell apoptosis, yet the mechanisms that enforce dependence on co-stimulation are incompletely understood. Nr4a1–3 encode a small family of orphan nuclear receptors that are rapidly induced by B cell antigen receptor stimulation. Here, we show that Nr4a1 and Nr4a3 play partially redundant roles to restrain B cell responses to antigen in the absence of co-stimulation and do so, in part, by repressing the expression of BATF and, consequently, MYC. The NR4A family also restrains B cell access to T cell help by repressing expression of the T cell chemokines CCL3 and CCL4, as well as CD86 and ICAM1. Such NR4A-mediated regulation plays a role specifically under conditions of competition for limiting T cell help.
Access options
Subscribe to Journal
Get full journal access for 1 year
$209.00
only $17.42 per issue
All prices are NET prices.
VAT will be added later in the checkout.
Rent or Buy article
Get time limited or full article access on ReadCube.
from$8.99
All prices are NET prices.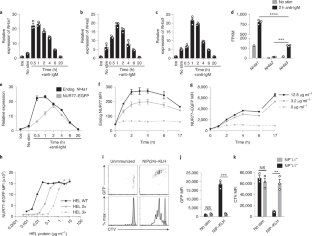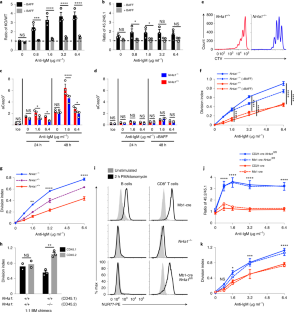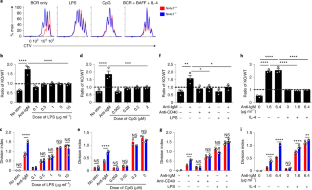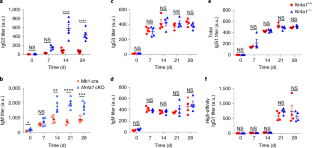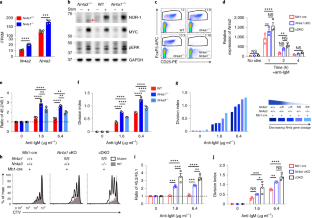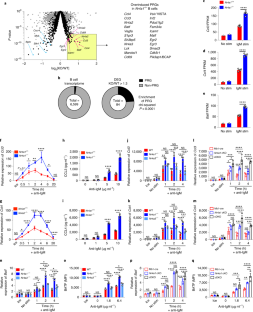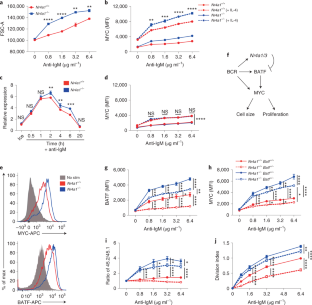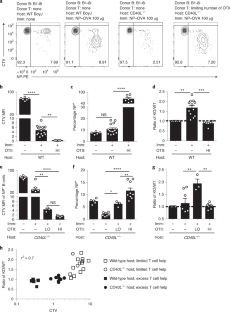 Data availability
Raw and processed data files for the RNA-seq analyses (corresponding to Fig. 6a,b) have been deposited in the NCBI Gene Expression Omnibus under accession code GSE146747 and are provided in Supplementary Data 1. All other data that support the findings of this study are available from the corresponding author upon request. Source data are provided with this paper.
References
1.

Bretscher, P. & Cohn, M. A theory of self–nonself discrimination. Science 169, 1042–1049 (1970).

2.

Cyster, J. G. & Allen, C. D. C. B cell responses: cell interaction dynamics and decisions. Cell 177, 524–540 (2019).

3.

Damdinsuren, B. et al. Single round of antigen receptor signaling programs naive B cells to receive T cell help. Immunity 32, 355–366 (2010).

4.

Turner, J. S., Marthi, M., Benet, Z. L. & Grigorova, I. Transiently antigen-primed B cells return to naive-like state in absence of T-cell help. Nat. Commun. 8, 15072 (2017).

5.

Akkaya, M. et al. Second signals rescue B cells from activation-induced mitochondrial dysfunction and death. Nat. Immunol. 19, 871–884 (2018).

6.

Winoto, A. & Littman, D. R. Nuclear hormone receptors in T lymphocytes. Cell 109, S57–S66 (2002).

7.

Lin, B. et al. Conversion of Bcl-2 from protector to killer by interaction with nuclear orphan receptor Nur77/TR3. Cell 116, 527–540 (2004).

8.

Thompson, J. & Winoto, A. During negative selection, Nur77 family proteins translocate to mitochondria where they associate with Bcl-2 and expose its proapoptotic BH3 domain. J. Exp. Med. 205, 1029–1036 (2008).

9.

Calnan, B. J., Szychowski, S., Chan, F. K., Cado, D. & Winoto, A. A role for the orphan steroid receptor Nur77 in apoptosis accompanying antigen-induced negative selection. Immunity 3, 273–282 (1995).

10.

Sekiya, T. et al. Nr4a receptors are essential for thymic regulatory T cell development and immune homeostasis. Nat. Immunol. 14, 230–237 (2013).

11.

Chen, J. et al. NR4A transcription factors limit CAR T cell function in solid tumours. Nature 567, 530–534 (2019).

12.

Liu, X. et al. Genome-wide analysis identifies NR4A1 as a key mediator of T cell dysfunction. Nature 567, 525–529 (2019).

13.

Cheng, L. E. C., Chan, F. K., Cado, D. & Winoto, A. Functional redundancy of the Nur77 and Nor-1 orphan steroid receptors in T-cell apoptosis. EMBO J. 16, 1865–1875 (1997).

14.

Moran, A. E. et al. T cell receptor signal strength in Treg and iNKT cell development demonstrated by a novel fluorescent reporter mouse. J. Exp. Med. 208, 1279–1289 (2011).

15.

Mullican, S. E. et al. Abrogation of nuclear receptors Nr4a3 and Nr4a1 leads to development of acute myeloid leukemia. Nat. Med. 13, 730–735 (2007).

16.

Mueller, J., Matloubian, M. & Zikherman, J. Cutting edge: an in vivo reporter reveals active B cell receptor signaling in the germinal center. J. Immunol. 194, 2993–2997 (2015).

17.

Zikherman, J., Parameswaran, R. & Weiss, A. Endogenous antigen tunes the responsiveness of naive B cells but not T cells. Nature 489, 160–164 (2012).

18.

Noviski, M. et al. Optimal development of mature B cells requires recognition of endogenous antigens. J. Immunol. 203, 418–428 (2019).

19.

Tan, C. et al. Nur77 links chronic antigen stimulation to B cell tolerance by restricting the survival of self-reactive B cells in the periphery. J. Immunol. 202, 2907–2923 (2019).

20.

Huang, B., Pei, H. Z., Chang, H. W. & Baek, S. H. The E3 ubiquitin ligase Trim13 regulates Nur77 stability via casein kinase 2α. Sci. Rep. 8, 13895 (2018).

21.

Paus, D. et al. Antigen recognition strength regulates the choice between extrafollicular plasma cell and germinal center B cell differentiation. J. Exp. Med. 203, 1081–1091 (2006).

22.

Sonoda, E. et al. B cell development under the condition of allelic inclusion. Immunity 6, 225–233 (1997).

23.

Lee, S. L. et al. Unimpaired thymic and peripheral T cell death in mice lacking the nuclear receptor NGFI-B (Nur77). Science 269, 532–535 (1995).

24.

Hobeika, E. et al. Testing gene function early in the B cell lineage in mb1-cre mice. Proc. Natl Acad. Sci. USA 103, 13789–13794 (2006).

25.

Kraus, M., Alimzhanov, M. B., Rajewsky, N. & Rajewsky, K. Survival of resting mature B lymphocytes depends on BCR signaling via the Igα/β heterodimer. Cell 117, 787–800 (2004).

26.

Huizar, J., Tan, C., Noviski, M., Mueller, J. L. & Zikherman, J. Nur77 is upregulated in B-1a cells by chronic self-antigen stimulation and limits generation of natural IgM plasma cells. Immunohorizons 1, 188–197 (2017).

27.

Fowler, T. et al. Divergence of transcriptional landscape occurs early in B cell activation. Epigenet. Chromatin 8, 20 (2015).

28.

Zaretsky, I. et al. ICAMs support B cell interactions with T follicular helper cells and promote clonal selection. J. Exp. Med. 214, 3435–3448 (2017).

29.

Shiow, L. R. et al. CD69 acts downstream of interferon-α/β to inhibit S1P1 and lymphocyte egress from lymphoid organs. Nature 440, 540–544 (2006).

30.

Li, S. et al. The transcription factors Egr2 and Egr3 are essential for the control of inflammation and antigen-induced proliferation of B and T cells. Immunity 37, 685–696 (2012).

31.

Betz, B. C. et al. Batf coordinates multiple aspects of B and T cell function required for normal antibody responses. J. Exp. Med. 207, 933–942 (2010).

32.

Taub, D. D., Conlon, K., Lloyd, A. R., Oppenheim, J. J. & Kelvin, D. J. Preferential migration of activated CD4+ and CD8+ T cells in response to MIP-1α and MIP-1β. Science 260, 355–358 (1993).

33.

Shrestha, B. et al. B cell-derived vascular endothelial growth factor A promotes lymphangiogenesis and high endothelial venule expansion in lymph nodes. J. Immunol. 184, 4819–4826 (2010).

34.

Krzysiek, R. et al. Antigen receptor engagement selectively induces macrophage inflammatory protein-1 α (MIP-1α) and MIP-1β chemokine production in human B cells. J. Immunol. 162, 4455–4463 (1999).

35.

Nowyhed, H. N., Huynh, T. R., Thomas, G. D., Blatchley, A. & Hedrick, C. C. Cutting edge: the orphan nuclear receptor Nr4a1 regulates CD8+ T cell expansion and effector function through direct repression of Irf4. J. Immunol. 195, 3515–3519 (2015).

36.

Finkin, S., Hartweger, H., Oliveira, T. Y., Kara, E. E. & Nussenzweig, M. C. Protein amounts of the MYC transcription factor determine germinal center B cell division capacity. Immunity 51, 324–336.e5 (2019).

37.

Caro-Maldonado, A. et al. Metabolic reprogramming is required for antibody production that is suppressed in anergic but exaggerated in chronically BAFF-exposed B cells. J. Immunol. 192, 3626–3636 (2014).

38.

Heinzel, S. et al. A Myc-dependent division timer complements a cell-death timer to regulate T cell and B cell responses. Nat. Immunol. 18, 96–103 (2017).

39.

Ma, Y. et al. CRISPR/Cas9 screens reveal Epstein–Barr virus-transformed B cell host dependency factors. Cell Host Microbe 21, 580–591.e7 (2017).

40.

Inoue, T. et al. The transcription factor Foxo1 controls germinal center B cell proliferation in response to T cell help. J. Exp. Med. 214, 1181–1198 (2017).

41.

Wingate, A. D. & Arthur, J. S. Post-translational control of Nur77. Biochem. Soc. Trans. 34, 1107–1109 (2006).

42.

Masuyama, N. et al. Akt inhibits the orphan nuclear receptor Nur77 and T-cell apoptosis. J. Biol. Chem. 276, 32799–32805 (2001).

43.

Pekarsky, Y. et al. Akt phosphorylates and regulates the orphan nuclear receptor Nur77. Proc. Natl Acad. Sci. USA 98, 3690–3694 (2001).

44.

Glasmacher, E. et al. A genomic regulatory element that directs assembly and function of immune-specific AP-1–IRF complexes. Science 338, 975–980 (2012).

45.

Li, P. et al. BATF–JUN is critical for IRF4-mediated transcription in T cells. Nature 490, 543–546 (2012).

46.

Schraml, B. U. et al. The AP-1 transcription factor Batf controls TH17 differentiation. Nature 460, 405–409 (2009).

47.

Thomas, M. D., Kremer, C. S., Ravichandran, K. S., Rajewsky, K. & Bender, T. P. c-Myb is critical for B cell development and maintenance of follicular B cells. Immunity 23, 275–286 (2005).

48.

Schwickert, T. A. et al. A dynamic T cell–limited checkpoint regulates affinity-dependent B cell entry into the germinal center. J. Exp. Med. 208, 1243–1252 (2011).

49.

Kuraoka, M. et al. Complex antigens drive permissive clonal selection in germinal centers. Immunity 44, 542–552 (2016).

50.

Zhan, Y. et al. Cytosporone B is an agonist for nuclear orphan receptor Nur77. Nat. Chem. Biol. 4, 548–556 (2008).

51.

Zhan, Y. et al. The orphan nuclear receptor Nur77 regulates LKB1 localization and activates AMPK. Nat. Chem. Biol. 8, 897–904 (2012).

52.

Goodnow, C. C. et al. Altered immunoglobulin expression and functional silencing of self-reactive B lymphocytes in transgenic mice. Nature 334, 676–682 (1988).

53.

Barnden, M. J., Allison, J., Heath, W. R. & Carbone, F. R. Defective TCR expression in transgenic mice constructed using cDNA-based α- and β-chain genes under the control of heterologous regulatory elements. Immunol. Cell Biol. 76, 34–40 (1998).

54.

Renshaw, B. R. et al. Humoral immune responses in CD40 ligand–deficient mice. J. Exp. Med. 180, 1889–1900 (1994).

55.

Mombaerts, P. et al. Mutations in T-cell antigen receptor genes α and β block thymocyte development at different stages. Nature 360, 225–231 (1992).

56.

Wholey, W. Y. et al. Synthetic liposomal mimics of biological viruses for the study of immune responses to infection and vaccination. Bioconjug. Chem. 31, 685–697 (2020).
Acknowledgements
We thank our funders: NIAID 5T32AI007334-28 (C.T.), the HHMI Medical Research Fellows program (J.H.), NIAMS R01AR069520 (J.Z.) the Rheumatology Research Foundation Innovative Research Award (J.Z.), and the Uehara Memorial Foundation Research Fellowship (R.H.). A.M. holds a Career Award for Medical Scientists from the Burroughs Wellcome Fund, is an investigator at the Chan Zuckerberg Biohub and is a recipient of The Cancer Research Institute Lloyd J. Old STAR grant. A.M. has received funds from the Innovative Genomics Institute and Parker Institute for Cancer Immunotherapy.
Ethics declarations
Competing interests
A.M. is a co-founder of Arsenal BioSciences and Spotlight Therapeutics and serves on their boards of directors and scientific advisory boards. A.M. has served as an advisor to Juno Therapeutics, was a member of the scientific advisory board at PACT Pharma and was an advisor to Trizell. A.M. owns stock in Arsenal BioSciences, Spotlight Therapeutics and PACT Pharma. The Marson Laboratory has received sponsored research support from Juno Therapeutics, Epinomics, Sanofi, GlaxoSmithKline, Gilead and Anthem Blue Cross Blue Shield. J.Z. serves as a scientific consultant for Walking Fish Therapeutics.
Additional information
Peer review information Peer reviewer reports are available. L. A. Dempsey was the primary editor on this article and managed its editorial process and peer review in collaboration with the rest of the editorial team.
Publisher's note Springer Nature remains neutral with regard to jurisdictional claims in published maps and institutional affiliations.
Supplementary information
Source data
Unprocessed western blots corresponding to Fig. 5b.
Unprocessed western blots corresponding to Extended Data Fig. 5i.
About this article
Cite this article
Tan, C., Hiwa, R., Mueller, J.L. et al. NR4A nuclear receptors restrain B cell responses to antigen when second signals are absent or limiting. Nat Immunol 21, 1267–1279 (2020). https://doi.org/10.1038/s41590-020-0765-7
Received:

Accepted:

Published:

Issue Date:
Further reading
B. M. Reipert

,

B. Gangadharan

,

C. J. Hofbauer

,

V. Berg

,

H. Schweiger

,

J. Bowen

,

J. Blatny

,

K. Fijnvandraat

,

E. S. Mullins

,

J. Klintman

,

C. Male

,

C. McGuinn

,

S. L. Meeks

,

V. C. Radulescu

,

M. V. Ragni

,

M. Recht

,

A. D. Shapiro

,

J. M. Staber

,

H. M. Yaish

,

E. Santagostino

&

D. L. Brown

Blood Advances (2020)

Louisa Hill

&

Tanja A. Schwickert

Nature Immunology (2020)