Abstract
Plasmodium parasite–specific antibodies are critical for protection against malaria, yet the development of long-lived and effective humoral immunity against Plasmodium takes many years and multiple rounds of infection and cure. Here, we report that the rapid development of short-lived plasmablasts during experimental malaria unexpectedly hindered parasite control by impeding germinal center responses. Metabolic hyperactivity of plasmablasts resulted in nutrient deprivation of the germinal center reaction, limiting the generation of memory B cell and long-lived plasma cell responses. Therapeutic administration of a single amino acid to experimentally infected mice was sufficient to overcome the metabolic constraints imposed by plasmablasts and enhanced parasite clearance and the formation of protective humoral immune memory responses. Thus, our studies not only challenge the current model describing the role and function of blood-stage Plasmodium-induced plasmablasts but they also reveal new targets and strategies to improve anti-Plasmodium humoral immunity.
Access options
Subscribe to Journal
Get full journal access for 1 year
$209.00
only $17.42 per issue
All prices are NET prices.
VAT will be added later in the checkout.
Rent or Buy article
Get time limited or full article access on ReadCube.
from$8.99
All prices are NET prices.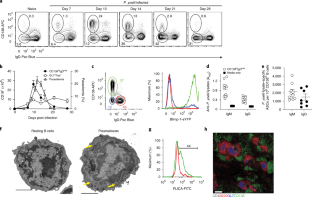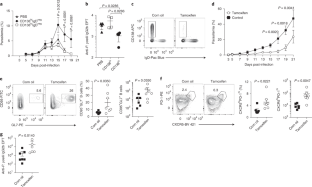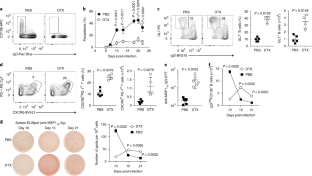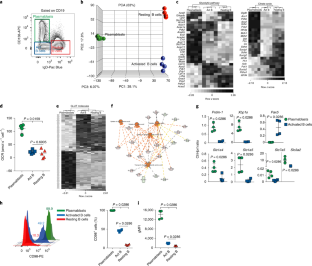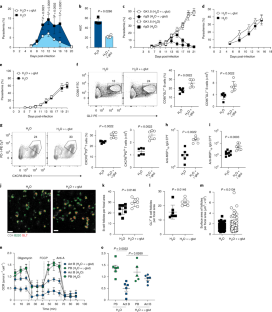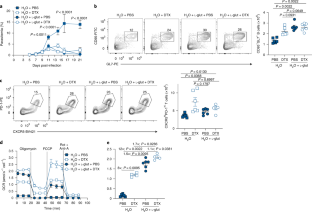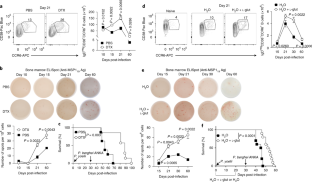 References
1.

Nutt, S. L., Hodgkin, P. D., Tarlinton, D. M. & Corcoran, L. M. The generation of antibody-secreting plasma cells. Nat. Rev. Immunol. 15, 160–171 (2015).

2.

Inoue, T., Moran, I., Shinnakasu, R., Phan, T. G. & Kurosaki, T. Generation of memory B cells and their reactivation. Immunol. Rev. 283, 138–149 (2018).

3.

Martin, F., Oliver, A. M. & Kearney, J. F. Marginal zone and B1 B cells unite in the early response against T-independent blood-borne particulate antigens. Immunity 14, 617–629 (2001).

4.

Racine, R., Chatterjee, M. & Winslow, G. M. CD11c expression identifies a population of extrafollicular antigen-specific splenic plasmablasts responsible for CD4 T-independent antibody responses during intracellular bacterial infection. J. Immunol. 181, 1375–1385 (2008).

5.

Slifka, M. K., Antia, R., Whitmire, J. K. & Ahmed, R. Humoral immunity due to long-lived plasma cells. Immunity 8, 363–372 (1998).

6.

World Malaria Report 2018 (World Health Organization, 2018); https://www.who.int/malaria/publications/world-malaria-report-2018/en/

7.

Cohen, S., McGregor, I. A. & Carrington, S. Gamma-globulin and acquired immunity to human malaria. Nature 192, 733–737 (1961).

8.

Changrob, S. et al. Persistence of long-lived memory B cells specific to Duffy binding protein in individuals exposed to Plasmodium vivax. Sci. Rep. 8, 8347 (2018).

9.

Longley, R. J. et al. Naturally acquired antibody responses to more than 300 Plasmodium vivax proteins in three geographic regions. PLoS Negl. Trop. Dis. 11, e0005888 (2017).

10.

Ndungu, F. M. et al. Long-lived Plasmodium falciparum specific memory B cells in naturally exposed Swedish travelers. Eur. J. Immunol. 43, 2919–2929 (2013).

11.

Crompton, P. D. et al. A prospective analysis of the Ab response to Plasmodium falciparum before and after a malaria season by protein microarray. Proc. Natl Acad. Sci. USA 107, 6958–6963 (2010).

12.

Tran, T. M. et al. An intensive longitudinal cohort study of Malian children and adults reveals no evidence of acquired immunity to Plasmodium falciparum infection. Clin. Infect. Dis. 57, 40–47 (2013).

13.

Obeng-Adjei, N. et al. Circulating Th1-cell-type Tfh cells that exhibit impaired B cell help are preferentially activated during acute malaria in children. Cell Rep. 13, 425–439 (2015).

14.

Kurup, S. P. et al. Regulatory T cells impede acute and long-term immunity to blood-stage malaria through CTLA-4. Nat. Med. 23, 1220–1225 (2017).

15.

Walther, M. et al. Upregulation of TGF-β, FOXP3, and CD4+CD25+ regulatory T cells correlates with more rapid parasite growth in human malaria infection. Immunity 23, 287–296 (2005).

16.

Weiss, G. E. et al. Atypical memory B cells are greatly expanded in individuals living in a malaria-endemic area. J. Immunol. 183, 2176–2182 (2009).

17.

Obeng-Adjei, N. et al. Malaria-induced interferon-γ drives the expansion of Tbethi atypical memory B cells. PLoS Pathog. 13, e1006576 (2017).

18.

Portugal, S. et al. Malaria-associated atypical memory B cells exhibit markedly reduced B cell receptor signaling and effector function. Elife 4, e07218 (2015).

19.

Sullivan, R. T. et al. FCRL5 delineates functionally impaired memory B cells associated with Plasmodium falciparum exposure. PLoS Pathog. 11, e1004894 (2015).

20.

Ryg-Cornejo, V. et al. Severe malaria infections impair germinal center responses by inhibiting T follicular helper cell differentiation. Cell Rep. 14, 68–81 (2016).

21.

Keitany, G. J. et al. Blood stage malaria disrupts humoral immunity to the pre-erythrocytic stage circumsporozoite protein. Cell Rep. 17, 3193–3205 (2016).

22.

Butler, N. S. et al. Therapeutic blockade of PD-L1 and LAG-3 rapidly clears established blood-stage Plasmodium infection. Nat. Immunol. 13, 188–195 (2011).

23.

Horne-Debets, J. M. et al. PD-1 dependent exhaustion of CD8+ T cells drives chronic malaria. Cell Rep. 5, 1204–1213 (2013).

24.

Guthmiller, J. J., Graham, A. C., Zander, R. A., Pope, R. L. & Butler, N. S. Cutting edge: IL-10 is essential for the generation of germinal center B cell responses and anti-Plasmodium humoral immunity. J. Immunol. 198, 617–622 (2017).

25.

Krishnamurty, A. T. et al. Somatically hypermutated plasmodium-specific IgM+ memory B cells are rapid, plastic, early responders upon malaria rechallenge. Immunity 45, 402–414 (2016).

26.

Shaffer, A. L. et al. Blimp-1 orchestrates plasma cell differentiation by extinguishing the mature B cell gene expression program. Immunity 17, 51–62 (2002).

27.

William, J., Euler, C. & Shlomchik, M. J. Short-lived plasmablasts dominate the early spontaneous rheumatoid factor response: differentiation pathways, hypermutating cell types, and affinity maturation outside the germinal center. J. Immunol. 174, 6879–6887 (2005).

28.

Tellier, J. et al. Blimp-1 controls plasma cell function through the regulation of immunoglobulin secretion and the unfolded protein response. Nat. Immunol. 17, 323–330 (2016).

29.

Meding, S. J., Cheng, S. C., Simon-Haarhaus, B. & Langhorne, J. Role of gamma interferon during infection with Plasmodium chabaudi chabaudi. Infect. Immun. 58, 3671–3678 (1990).

30.

Su, Z. & Stevenson, M. M. Central role of endogenous gamma interferon in protective immunity against blood-stage Plasmodium chabaudi AS infection. Infect. Immun. 68, 4399–4406 (2000).

31.

Reimold, A. M. et al. Plasma cell differentiation requires the transcription factor XBP-1. Nature 412, 300–307 (2001).

32.

Boothby, M. & Rickert, R. C. Metabolic regulation of the immune humoral response. Immunity 46, 743–755 (2017).

33.

Cantor, J. et al. CD98hc facilitates B cell proliferation and adaptive humoral immunity. Nat. Immunol. 10, 412–419 (2009).

34.

Cordy, R. J. et al. Distinct amino acid and lipid perturbations characterize acute versus chronic malaria. JCI Insight 4, e125156 (2019).

35.

Suan, D. et al. CCR6 defines memory B cell precursors in mouse and human germinal centers, revealing light-zone location and predominant low antigen affinity. Immunity 47, 1142–1153.e4 (2017).

36.

Alugupalli, K. R. et al. B1b lymphocytes confer T cell-independent long-lasting immunity. Immunity 21, 379–390 (2004).

37.

Haas, K. M., Poe, J. C., Steeber, D. A. & Tedder, T. F. B-1a and B-1b cells exhibit distinct developmental requirements and have unique functional roles in innate and adaptive immunity to S. pneumoniae. Immunity 23, 7–18 (2005).

38.

Pelletier, N. et al. Plasma cells negatively regulate the follicular helper T cell program. Nat. Immunol. 11, 1110–1118 (2010).

39.

Khan, A. R. et al. PD-L1hi B cells are critical regulators of humoral immunity. Nat. Commun. 6, 5997 (2015).

40.

Matsumoto, M. et al. Interleukin-10-producing plasmablasts exert regulatory function in autoimmune inflammation. Immunity 41, 1040–1051 (2014).

41.

Clark, E. H. et al. Plasmodium falciparum malaria in the Peruvian Amazon, a region of low transmission, is associated with immunologic memory. Infect. Immun. 80, 1583–1592 (2012).

42.

Labak, C. M. et al. Glucose transport: meeting the metabolic demands of cancer, and applications in glioblastoma treatment. Am. J. Cancer Res. 6, 1599–1608 (2016).

43.

Lam, W. Y. et al. Metabolic and transcriptional modules independently diversify plasma cell lifespan and function. Cell Rep. 24, 2479–2492.e6 (2018).

44.

Chapuis, N., Poulain, L., Birsen, R., Tamburini, J. & Bouscary, D. Rationale for targeting deregulated metabolic pathways as a therapeutic strategy in acute myeloid leukemia. Front. Oncol. 9, 405 (2019).

45.

Zhu, X., Pan, Y., Li, Y., Cui, L. & Cao, Y. Supplement of l-arg improves protective immunity during early-stage Plasmodium yoelii 17XL infection. Parasite Immunol. 34, 412–420 (2012).

46.

Gordon, E. B. et al. Targeting glutamine metabolism rescues mice from late-stage cerebral malaria. Proc. Natl Acad. Sci. USA 112, 13075–13080 (2015).

47.

Miyakoda, M. et al. Malaria-specific and nonspecific activation of CD8+ T cells during blood stage of Plasmodium berghei infection. J. Immunol. 181, 1420–1428 (2008).

48.

McCarthy, J. S. et al. A pilot randomised trial of induced blood-stage Plasmodium falciparum infections in healthy volunteers for testing efficacy of new antimalarial drugs. PLoS ONE 6, e21914 (2011).

49.

Rockett, R. J. et al. A real-time, quantitative PCR method using hydrolysis probes for the monitoring of Plasmodium falciparum load in experimentally infected human volunteers. Malar. J. 10, 48 (2011).

50.

Collins, K. A. et al. A controlled human malaria infection model enabling evaluation of transmission-blocking interventions. J. Clin. Invest. 128, 1551–1562 (2018).

51.

Montes de Oca, M. et al. Type I interferons regulate immune responses in humans with blood-stage Plasmodium falciparum infection. Cell Rep. 17, 399–412 (2016).

52.

Malleret, B. et al. A rapid and robust tri-color flow cytometry assay for monitoring malaria parasite development. Sci. Rep. 1, 118 (2011).

53.

Villarino, N. F. et al. Composition of the gut microbiota modulates the severity of malaria. Proc. Natl Acad. Sci. USA 113, 2235–2240 (2016).

54.

Dobin, A. et al. STAR: ultrafast universal RNA-Seq aligner. Bioinformatics 29, 15–21 (2013).

55.

Liao, Y., Smyth, G. K. & Shi, W. featureCounts: an efficient general purpose program for assigning sequence reads to genomic features. Bioinformatics 30, 923–930 (2014).

56.

Gray, L. R. et al. Hepatic mitochondrial pyruvate carrier 1 is required for efficient regulation of gluconeogenesis and whole-body glucose homeostasis. Cell Metab. 22, 669–681 (2015).
Acknowledgements
We thank members of the University of Iowa Butler laboratory for assistance and helpful discussions, F. Lund (University of Alabama, Birmingham) for the μS–/– mice, T. Honjo (Kyoto University) for the Aicda–/– mice, T. Waldschmidt (University of Iowa) for the clone MR-1 antibody, J. Harty and S. Perlman (University of Iowa) for critical reading of the manuscript and helpful discussions, A. Pewa, E. Taylor and A. Rauckhorst (University of Iowa) for assistance with the metabolic measurements, G. Beuttener and B. Wagner (University of Iowa) for the metabolic flux assays, and members of the University of Iowa Flow Cytometry Facility for cell sorting. The research reported in this publication was supported by the NCI (grant number P30CA086862) and the National Center for Research Resources of the NIH (grant number S10OD016199). J.J.G. was supported by a Predoctoral Fellowship from the American Heart Association (grant number 16PRE27660002). F.A.S. was supported by the NIH (grant number T32 AI007485). K.J.R. was supported by the NIH (T32 GM067795). W.J.M. was supported by the NIH (grant numbers AI134733 and AI139902). H.-H.X. was supported by the NIH (grant numbers AI121080 and AI139874) and the Veteran Affairs BLR&D Merit Review Program (BX002903). C.R.E. was supported by an NHMRC Senior Research Fellowship (grant number 1154265) and an NHMRC Program grant (grant number 1132975). J.S.M. was supported by an NHMRC Program grant (grant number 1132975) and an NHMRC Practitioner Fellowship (grant number 1135955). M.J.B. was supported by an NHMRC Career Development Fellowship (grant number 1141632) and an NHMRC Project Grant (grant number 1141278). N.S.B. was supported by the NIH (grant numbers AI125446, AI127481 and AI139902). We thank the participants involved in the malaria VISs, Q-Pharm staff and the Medicine for Malaria Venture for funding the clinical trials.
Ethics declarations
Competing interests
The authors declare no competing interests.
Additional information
Peer review information L. A. Dempsey was the primary editor on this article and managed its editorial process and peer review in collaboration with the rest of the editorial team.
Publisher's note Springer Nature remains neutral with regard to jurisdictional claims in published maps and institutional affiliations.
Supplementary information
Supplementary Tables 1–6.
About this article
Cite this article
Vijay, R., Guthmiller, J.J., Sturtz, A.J. et al. Infection-induced plasmablasts are a nutrient sink that impairs humoral immunity to malaria. Nat Immunol 21, 790–801 (2020). https://doi.org/10.1038/s41590-020-0678-5
Received:

Accepted:

Published:

Issue Date: