Abstract
Increasing age alters innate immune–mediated responses; however, the mechanisms underpinning these changes in humans are not fully understood. Using a human dermal model of acute inflammation, we found that, although inflammatory onset is similar between young and elderly individuals, the resolution phase was substantially impaired in elderly individuals. This arose from a reduction in T cell immunoglobulin mucin receptor-4 (TIM-4), a phosphatidylserine receptor expressed on macrophages that enables the engulfment of apoptotic bodies, so-called efferocytosis. Reduced TIM-4 in elderly individuals was caused by an elevation in macrophage p38 mitogen-activated protein kinase (MAPK) activity. Administering an orally active p38 inhibitor to elderly individuals rescued TIM-4 expression, cleared apoptotic bodies and restored a macrophage resolution phenotype. Thus, inhibiting p38 in elderly individuals rejuvenated their resolution response to be more similar to that of younger people. This is the first resolution defect identified in humans that has been successfully reversed, thereby highlighting the tractability of targeting pro-resolution biology to treat diseases driven by chronic inflammation.
Access options
Subscribe to Journal
Get full journal access for 1 year
$59.00
only $4.92 per issue
All prices are NET prices.
VAT will be added later in the checkout.
Tax calculation will be finalised during checkout.
Rent or Buy article
Get time limited or full article access on ReadCube.
from$8.99
All prices are NET prices.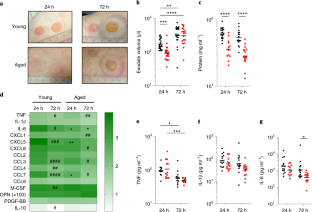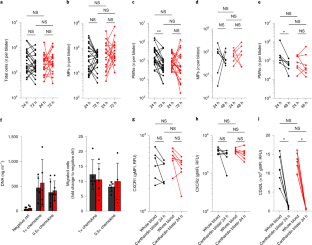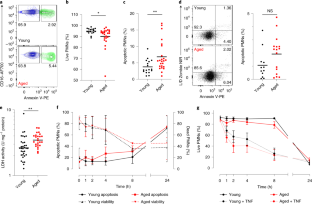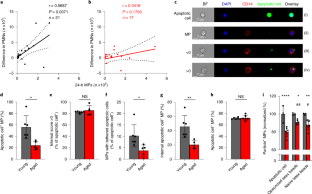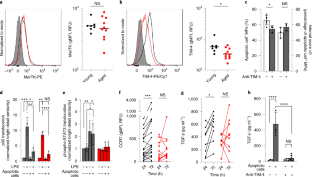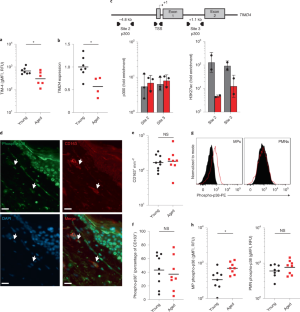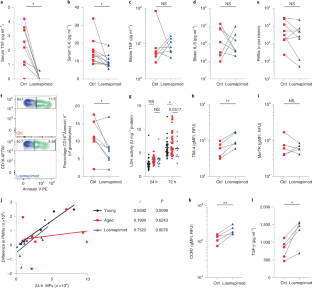 Data availability
The data supporting the findings of this study are available from the corresponding author upon request.
References
1.

Partridge, L., Deelen, J. & Slagboom, P. E. Facing up to the global challenges of ageing. Nature 561, 45–56 (2018).

2.

Goodwin, K., Viboud, C. & Simonsen, L. Antibody response to influenza vaccination in the elderly: a quantitative review. Vaccine 24, 1159–1169 (2006).

3.

Shaw, A. C., Goldstein, D. R. & Montgomery, R. R. Age-dependent dysregulation of innate immunity. Nat. Rev. Immunol. 13, 875–887 (2013).

4.

Franceschi, C. et al. Inflamm-aging. An evolutionary perspective on immunosenescence. Ann. N. Y. Acad. Sci. 908, 244–254 (2000).

5.

Savill, J. et al. Macrophage phagocytosis of aging neutrophils in inflammation. Programmed cell death in the neutrophil leads to its recognition by macrophages. J. Clin. Invest. 83, 865–875 (1989).

6.

Franceschi, C., Garagnani, P., Vitale, G., Capri, M. & Salvioli, S. Inflammaging and 'garb-aging'. Trends Endocrinol. Metab. 28, 199–212 (2017).

7.

Piérard-Franchimont, C. & Piérard, G. Cantharidin-induced acantholysis. Am. J. Dermatopathol. 10, 419–423 (1988).

8.

Jenner, W. et al. Characterisation of leukocytes in a human skin blister model of acute inflammation and resolution. PLoS ONE 9, e89375 (2014).

9.

Fond, A. M. & Ravichandran, K. S. Clearance of dying cells by phagocytes: mechanisms and implications for disease pathogenesis. Adv. Exp. Med. Biol. 930, 25–49 (2016).

10.

Segawa, K. & Nagata, S. An apoptotic 'eat me' signal: phosphatidylserine exposure. Trends Cell Biol. 25, 639–650 (2015).

11.

Nishi, C., Toda, S., Segawa, K. & Nagata, S. Tim4- and MerTK-mediated engulfment of apoptotic cells by mouse resident peritoneal macrophages. Mol. Cell. Biol. 34, 1512–1520 (2014).

12.

Tibrewal, N. et al. Autophosphorylation docking site Tyr-867 in Mer receptor tyrosine kinase allows for dissociation of multiple signaling pathways for phagocytosis of apoptotic cells and down-modulation of lipopolysaccharide-inducible NF-κB transcriptional activation. J. Biol. Chem. 283, 3618–3627 (2008).

13.

Miyanishi, M. et al. Identification of Tim4 as a phosphatidylserine receptor. Nature 450, 435–439 (2007).

14.

Park, D., Hochreiter-Hufford, A. & Ravichandran, K. S. The phosphatidylserine receptor TIM-4 does not mediate direct signaling. Curr. Biol. 19, 346–351 (2009).

15.

Bonnefoy, F. et al. Apoptotic cell infusion treats ongoing collagen-induced arthritis, even in the presence of methotrexate, and is synergic with anti-TNF therapy. Arthritis Res. Ther. 18, 184 (2016).

16.

Kojima, Y. et al. CD47-blocking antibodies restore phagocytosis and prevent atherosclerosis. Nature 536, 86–90 (2016).

17.

Fadok, V. et al. Macrophages that have ingested apoptotic cells in vitro inhibit proinflammatory cytokine production through autocrine/paracrine mechanisms involving TGF-beta, PGE2, and PAF. J. Clin. Invest. 101, 890–898 (1998).

18.

Huynh, M.-L. N., Fadok, V. A. & Henson, P. M. Phosphatidylserine-dependent ingestion of apoptotic cells promotes TGF-β1 secretion and the resolution of inflammation. J. Clin. Invest. 109, 41–50 (2002).

19.

Yi, Z. et al. A novel role for c-Src and STAT3 in apoptotic cell-mediated MerTK-dependent immunoregulation of dendritic cells. Blood 114, 3191–3198 (2009).

20.

Soki, F. N. et al. Polarization of prostate cancer-associated macrophages is induced by milk fat globule-EGF factor 8 (MFG-E8)-mediated efferocytosis. J. Biol. Chem. 289, 24560–24572 (2014).

21.

Hilligan, K. L., Connor, L. M., Schmidt, A. J. & Ronchese, F. Activation-induced TIM-4 expression identifies differential responsiveness of intestinal CD103+ CD11b+ dendritic cells to a mucosal adjuvant. PLoS ONE 11, e0158775 (2016).

22.

Yang, B. et al. Histone acetyltransferease p300 modulates TIM4 expression in dendritic cells. Sci. Rep. 6, 21336 (2016).

23.

Feng, B.-S. et al. Disruption of T-cell immunoglobulin and mucin domain molecule (TIM)-1/TIM4 interaction as a therapeutic strategy in a dendritic cell-induced peanut allergy model. J. Allergy Clin. Immunol. 122, 55–61.e7 (2008).

24.

Wang, Q.-E. et al. p38 MAPK- and Akt-mediated p300 phosphorylation regulates its degradation to facilitate nucleotide excision repair. Nucleic Acids Res. 41, 1722–1733 (2013).

25.

Poizat, C., Puri, P. L., Bai, Y. & Kedes, L. Phosphorylation-dependent degradation of p300 by doxorubicin-activated p38 mitogen-activated protein kinase in cardiac cells. Mol. Cell. Biol. 25, 2673–2687 (2005).

26.

Campisi, J. Aging, cellular senescence, and cancer. Annu. Rev. Physiol. 75, 685–705 (2013).

27.

Bewley, M. A. et al. Differential effects of p38, MAPK, PI3K or Rho kinase inhibitors on bacterial phagocytosis and efferocytosis by macrophages in COPD. PLoS ONE 11, e0163139 (2016).

28.

Fullerton, J. N. & Gilroy, D. W. Resolution of inflammation: a new therapeutic frontier. Nat. Rev. Drug Discov. 15, 551–567 (2016).

29.

Gilroy, D. & De Maeyer, R. New insights into the resolution of inflammation. Semin. Immunol. 27, 161–168 (2015).

30.

Laplante, P. et al. MFG-E8 reprogramming of macrophages promotes wound healing by increased bFGF production and fibroblast functions. J. Invest. Dermatol. 137, 2005–2013 (2017).

31.

Khanna, S. et al. Macrophage dysfunction impairs resolution of inflammation in the wounds of diabetic mice. PLoS ONE 5, e9539 (2010).

32.

Newson, J. et al. Inflammatory resolution triggers a prolonged phase of immune suppression through COX-1/mPGES-1-derived prostaglandin E2. Cell Rep. 20, 3162–3175 (2017).

33.

Newson, J. et al. Resolution of acute inflammation bridges the gap between innate and adaptive immunity. Blood 124, 1748–1764 (2014).

34.

Gaipl, U. S. et al. Clearance of apoptotic cells in human SLE. Curr. Dir. Autoimmun. 9, 173–187 (2006).

35.

Nagata, S., Hanayama, R. & Kawane, K. Autoimmunity and the clearance of dead cells. Cell 140, 619–630 (2010).

36.

Fulop, T. et al. Signal transduction and functional changes in neutrophils with aging. Aging Cell 3, 217–226 (2004).

37.

Tortorella, C. et al. Spontaneous and Fas-induced apoptotic cell death in aged neutrophils. J. Clin. Immunol. 18, 321–329 (1998).

38.

Arnardottir, H. H., Dalli, J., Colas, R. A., Shinohara, M. & Serhan, C. N. Aging delays resolution of acute inflammation in mice: reprogramming the host response with novel nano-proresolving medicines. J. Immunol. 193, 4235–4244 (2014).

39.

Biasi, D. et al. Neutrophil migration, oxidative metabolism, and adhesion in elderly and young subjects. Inflammation 20, 673–681 (1996).

40.

Senn, H., Holland, J. F. & Banerjee, T. Kinetic and comparative studies on localized leukocyte mobilization in normal man. J. Lab. Clin. Med. 74, 742–756 (1969).

41.

Larbi, A. et al. The role of the MAPK pathway alterations in GM-CSF modulated human neutrophil apoptosis with aging. Immun. Ageing 2, 6 (2005).

42.

Sheth, K., Friel, J., Nolan, B. & Bankey, P. Inhibition of p38 mitogen activated protein kinase increases lipopolysaccharide induced inhibition of apoptosis in neutrophils by activating extracellular signal-regulated kinase. Surgery 130, 242–248 (2001).

43.

Frasch, C. S. et al. p38 mitogen-activated protein kinase-dependent and -independent intracellular signal transduction pathways leading to apoptosis in human neutrophils. J. Biol. Chem. 273, 8389–8397 (1998).

44.

Smart, S. J. & Casale, T. B. TNF-alpha-induced transendothelial neutrophil migration is IL-8 dependent. Am. J. Physiol. 266, L238–L245 (1994).

45.

Moser, R., Schleiffenbaum, B., Groscurth, P. & Fehr, J. Interleukin 1 and tumor necrosis factor stimulate human vascular endothelial cells to promote transendothelial neutrophil passage. J. Clin. Invest. 83, 444–455 (1989).

46.

Frisch, B. et al. Aged marrow macrophages expand platelet-biased hematopoietic stem cells via interleukin1B. JCI Insight 4, e124213 (2019).

47.

Foks, A. C. et al. Blockade of Tim-1 and Tim-4 enhances atherosclerosis in low-density lipoprotein receptor-deficient mice. Arterioscler. Thromb. Vasc. Biol. 36, 456–465 (2016).

48.

Albacker, L. et al. TIM-4, expressed by medullary macrophages, regulates respiratory tolerance by mediating phagocytosis of antigen-specific T cells. Mucosal Immunol. 6, 580–590 (2013).

49.

Wong, K. et al. Phosphatidylserine receptor Tim-4 is essential for the maintenance of the homeostatic state of resident peritoneal macrophages. Proc. Natl Acad. Sci. USA 107, 8712–8717 (2010).

50.

Vukmanovic-Stejic, M. et al. Enhancement of cutaneous immunity during aging by blocking p38 mitogen-activated protein (MAP) kinase-induced inflammation. J. Allergy Clin. Immun. 142, 844–856 (2018).

51.

Jenner, W. J. & Gilroy, D. W. Assessment of leukocyte trafficking in humans using the cantharidin blister model. JRSM Cardiovasc. Dis. 1, cvd.2012.012009 (2012).

52.

Dinh, P. H. D. et al. Validation of the cantharidin-induced skin blister as an in vivo model of inflammation. Br. J. Clin. Pharmacol. 72, 912–920 (2011).

53.

Watz, H., Barnacle, H., Hartley, B. F. & Chan, R. Efficacy and safety of the p38 MAPK inhibitor losmapimod for patients with chronic obstructive pulmonary disease: a randomised, double-blind, placebo-controlled trial. Lancet Respir. Med. 2, 63–72 (2014).

54.

Fehr, S. et al. Impact of p38 MAP kinase inhibitors on LPS-induced release of TNF-α in whole blood and primary cells from different species. Cell. Physiol. Biochem. 36, 2237–2249 (2015).

55.

Pourcet, B. et al. LXRα regulates macrophage arginase 1 through PU.1 and interferon regulatory factor 8. Circ. Res. 109, 492–501 (2011).
Acknowledgements
We thank all the volunteers who participated in this study; M. Berkeley and M. Harries for assistance with recruitment; and V. Birault, I. Laws, R. Glaser, L. Sarov-Blat and R. Henderson from GSK for the provision of losmapimod (MRC Industry Collaboration Agreement)—specifically the losmapimod team at GSK for organizing the dispatch of the clinical supply of the drug in this investigator-led study. We thank our colleagues for invaluable discussion, especially E. Chambers. R.P.H.M. was funded by an AstraZeneca-MRC Industrial CASE PhD studentship (no. MR/J006610/1), jointly awarded to D.W.G. (UCL) and M.U. (AstraZeneca), and supported by the National Institute for Health Research University College London Hospitals Biomedical Research Centre. R.C.M. was funded by the MRC Grand Challenge in Experimental Medicine grant no. MR/M003833/1 awarded to A.N.A. and D.W.G. D.R.G. was funded by the National Institutes of Health (grant nos. R01AG028082, R01HL127687 and R01HL127687). D.W.G. was further funded by the Wellcome Trust.
Ethics declarations
Competing interests
M.U. is an employee of AstraZeneca and holds shares in the company. The other authors declare no competing interests.
Additional information
Peer review information Zoltan Fehervari was the primary editor on this article and managed its editorial process and peer review in collaboration with the rest of the editorial team.
Publisher's note Springer Nature remains neutral with regard to jurisdictional claims in published maps and institutional affiliations.
Supplementary information
Supplementary Tables 1–3.
About this article
Cite this article
De Maeyer, R.P.H., van de Merwe, R.C., Louie, R. et al. Blocking elevated p38 MAPK restores efferocytosis and inflammatory resolution in the elderly. Nat Immunol 21, 615–625 (2020). https://doi.org/10.1038/s41590-020-0646-0
Received:

Accepted:

Published:

Issue Date: