Abstract
During the germinal center (GC) reaction, B cells undergo extensive redistribution of cohesin complex and three-dimensional reorganization of their genomes. Yet, the significance of cohesin and architectural programming in the humoral immune response is unknown. Herein we report that homozygous deletion of Smc3, encoding the cohesin ATPase subunit, abrogated GC formation, while, in marked contrast, Smc3 haploinsufficiency resulted in GC hyperplasia, skewing of GC polarity and impaired plasma cell (PC) differentiation. Genome-wide chromosomal conformation and transcriptional profiling revealed defects in GC B cell terminal differentiation programs controlled by the lymphoma epigenetic tumor suppressors Tet2 and Kmt2d and failure of Smc3-haploinsufficient GC B cells to switch from B cell- to PC-defining transcription factors. Smc3 haploinsufficiency preferentially impaired the connectivity of enhancer elements controlling various lymphoma tumor suppressor genes, and, accordingly, Smc3 haploinsufficiency accelerated lymphomagenesis in mice with constitutive Bcl6 expression. Collectively, our data indicate a dose-dependent function for cohesin in humoral immunity to facilitate the B cell to PC phenotypic switch while restricting malignant transformation.
Access options
Subscribe to Journal
Get full journal access for 1 year
$209.00
only $17.42 per issue
All prices are NET prices.
VAT will be added later in the checkout.
Rent or Buy article
Get time limited or full article access on ReadCube.
from$8.99
All prices are NET prices.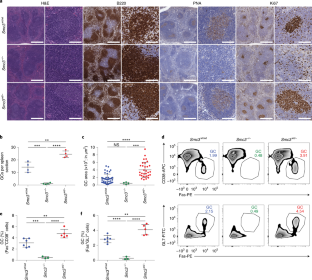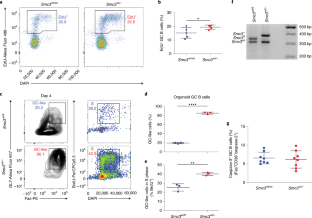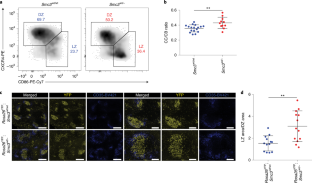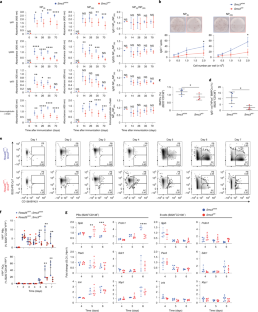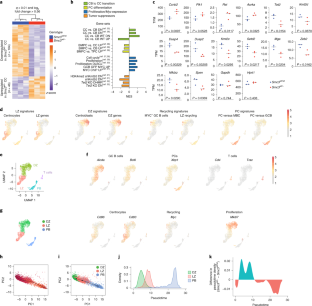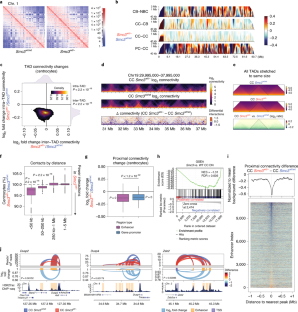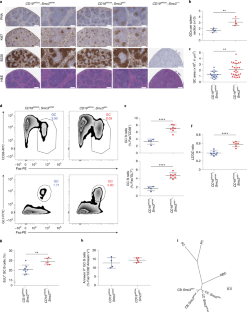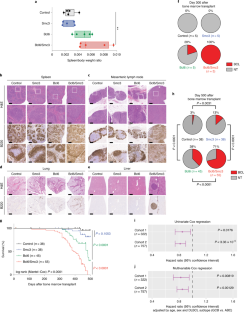 Data availability
Datasets generated in this manuscript were deposited in the NCBI Gene Expression Omnibus under the accession number GSE143852. Source data are provided with this paper.
References
1.

Mesin, L., Ersching, J. & Victora, G. D. Germinal center B cell dynamics. Immunity 45, 471–482 (2016).

2.

Mlynarczyk, C., Fontan, L. & Melnick, A. Germinal center-derived lymphomas: the darkest side of humoral immunity. Immunol. Rev. 288, 214–239 (2019).

3.

Shapiro-Shelef, M. & Calame, K. Regulation of plasma-cell development. Nat. Rev. Immunol. 5, 230–242 (2005).

4.

Nutt, S. L., Taubenheim, N., Hasbold, J., Corcoran, L. M. & Hodgkin, P. D. The genetic network controlling plasma cell differentiation. Semin. Immunol. 23, 341–349 (2011).

5.

Dekker, J., Marti-Renom, M. A. & Mirny, L. A. Exploring the three-dimensional organization of genomes: interpreting chromatin interaction data. Nat. Rev. Genet. 14, 390–403 (2013).

6.

Yu, M. & Ren, B. The three-dimensional organization of mammalian genomes. Annu. Rev. Cell Dev. Biol. 33, 265–289 (2017).

7.

Dixon, J. R. et al. Topological domains in mammalian genomes identified by analysis of chromatin interactions. Nature 485, 376–380 (2012).

8.

Jin, F. et al. A high-resolution map of the three-dimensional chromatin interactome in human cells. Nature 503, 290–294 (2013).

9.

Kagey, M. H. et al. Mediator and cohesin connect gene expression and chromatin architecture. Nature 467, 430–435 (2010).

10.

Losada, A. Cohesin in cancer: chromosome segregation and beyond. Nat. Rev. Cancer 14, 389–393 (2014).

11.

Peters, J. M., Tedeschi, A. & Schmitz, J. The cohesin complex and its roles in chromosome biology. Genes Dev. 22, 3089–3114 (2008).

12.

Ladurner, R. et al. Cohesin's ATPase activity couples cohesin loading onto DNA with Smc3 acetylation. Curr. Biol. 24, 2228–2237 (2014).

13.

Hu, B. et al. ATP hydrolysis is required for relocating cohesin from sites occupied by its Scc2/4 loading complex. Curr. Biol. 21, 12–24 (2011).

14.

White, J. K. et al. Genome-wide generation and systematic phenotyping of knockout mice reveals new roles for many genes. Cell 154, 452–464 (2013).

15.

Liu, J. & Krantz, I. D. Cornelia de Lange syndrome, cohesin, and beyond. Clin. Genet. 76, 303–314 (2009).

16.

Casola, S. et al. Tracking germinal center B cells expressing germ-line immunoglobulin γ1 transcripts by conditional gene targeting. Proc. Natl Acad. Sci. USA 103, 7396–7401 (2006).

17.

Viny, A. D. et al. Dose-dependent role of the cohesin complex in normal and malignant hematopoiesis. J. Exp. Med. 212, 1819–1832 (2015).

18.

Beguelin, W. et al. EZH2 enables germinal centre formation through epigenetic silencing of CDKN1A and an Rb–E2F1 feedback loop. Nat. Commun. 8, 877 (2017).

19.

Thomas-Claudepierre, A. S. et al. The cohesin complex regulates immunoglobulin class switch recombination. J. Exp. Med. 210, 2495–2502 (2013).

20.

Zhang, X. et al. Fundamental roles of chromatin loop extrusion in antibody class switching. Nature 575, 385–389 (2019).

21.

Ortega-Molina, A. et al. The histone lysine methyltransferase KMT2D sustains a gene expression program that represses B cell lymphoma development. Nat. Med. 21, 1199–1208 (2015).

22.

Soro, P. G. et al. Differential involvement of the transcription factor Blimp-1 in T cell-independent and -dependent B cell differentiation to plasma cells. J. Immunol. 163, 611–617 (1999).

23.

Scharer, C. D., Barwick, B. G., Guo, M., Bally, A. P. R. & Boss, J. M. Plasma cell differentiation is controlled by multiple cell division-coupled epigenetic programs. Nat. Commun. 9, 1698 (2018).

24.

Klein, U. et al. Transcription factor IRF4 controls plasma cell differentiation and class-switch recombination. Nat. Immunol. 7, 773–782 (2006).

25.

Victora, G. D. et al. Identification of human germinal center light and dark zone cells and their relationship to human B-cell lymphomas. Blood 120, 2240–2248 (2012).

26.

Agirre, X. et al. Long non-coding RNAs discriminate the stages and gene regulatory states of human humoral immune response. Nat. Commun. 10, 821 (2019).

27.

Cho, R. J. et al. Transcriptional regulation and function during the human cell cycle. Nat. Genet. 27, 48–54 (2001).

28.

Whitfield, M. L. et al. Identification of genes periodically expressed in the human cell cycle and their expression in tumors. Mol. Biol. Cell 13, 1977–2000 (2002).

29.

Su, A. I. et al. A gene atlas of the mouse and human protein-encoding transcriptomes. Proc. Natl Acad. Sci. USA 101, 6062–6067 (2004).

30.

Rosenwald, A. et al. The use of molecular profiling to predict survival after chemotherapy for diffuse large-B-cell lymphoma. N. Engl. J. Med. 346, 1937–1947 (2002).

31.

Zeller, K. I. et al. Global mapping of c-Myc binding sites and target gene networks in human B cells. Proc. Natl Acad. Sci. USA 103, 17834–17839 (2006).

32.

Dominguez, P. M. et al. TET2 deficiency causes germinal center hyperplasia, impairs plasma cell differentiation, and promotes B-cell lymphomagenesis. Cancer Discov. 8, 1632–1653 (2018).

33.

Victora, G. D. et al. Germinal center dynamics revealed by multiphoton microscopy with a photoactivatable fluorescent reporter. Cell 143, 592–605 (2010).

34.

Ersching, J. et al. Germinal center selection and affinity maturation require dynamic regulation of mTORC1 kinase. Immunity 46, 1045–1058 (2017).

35.

Dominguez-Sola, D. et al. The proto-oncogene MYC is required for selection in the germinal center and cyclic reentry. Nat. Immunol. 13, 1083–1091 (2012).

36.

Rao, S. S. et al. A 3D map of the human genome at kilobase resolution reveals principles of chromatin looping. Cell 159, 1665–1680 (2014).

37.

Rickert, R. C., Roes, J. & Rajewsky, K. B lymphocyte-specific, Cre-mediated mutagenesis in mice. Nucleic Acids Res. 25, 1317–1318 (1997).

38.

Jiang, Y. et al. CREBBP inactivation promotes the development of HDAC3-dependent lymphomas. Cancer Discov. 7, 38–53 (2017).

39.

Hummel, M. et al. A biologic definition of Burkitt's lymphoma from transcriptional and genomic profiling. N. Engl. J. Med. 354, 2419–2430 (2006).

40.

Jais, J. P. et al. The expression of 16 genes related to the cell of origin and immune response predicts survival in elderly patients with diffuse large B-cell lymphoma treated with CHOP and rituximab. Leukemia 22, 1917–1924 (2008).

41.

Lenz, G. et al. Stromal gene signatures in large-B-cell lymphomas. N. Engl. J. Med. 359, 2313–2323 (2008).

42.

Shaknovich, R. et al. DNA methylation signatures define molecular subtypes of diffuse large B-cell lymphoma. Blood 116, e81–e89 (2010).

43.

Lin, Y. C. et al. Global changes in the nuclear positioning of genes and intra- and interdomain genomic interactions that orchestrate B cell fate. Nat. Immunol. 13, 1196–1204 (2012).

44.

Bunting, K. L. et al. Multi-tiered reorganization of the genome during B cell affinity maturation anchored by a germinal center-specific locus control region. Immunity 45, 497–512 (2016).

45.

Johanson, T. M. et al. Transcription-factor-mediated supervision of global genome architecture maintains B cell identity. Nat. Immunol. 19, 1257–1264 (2018).

46.

Ise, W. & Kurosaki, T. Plasma cell differentiation during the germinal center reaction. Immunol. Rev. 288, 64–74 (2019).

47.

Mazumdar, C. et al. Leukemia-associated cohesin mutants dominantly enforce stem cell programs and impair human hematopoietic progenitor differentiation. Cell Stem Cell 17, 675–688 (2015).

48.

Mullenders, J. et al. Cohesin loss alters adult hematopoietic stem cell homeostasis, leading to myeloproliferative neoplasms. J. Exp. Med. 212, 1833–1850 (2015).

49.

Davidson, I. F. et al. DNA loop extrusion by human cohesin. Science 366, 1338–1345 (2019).

50.

Kim, Y., Shi, Z., Zhang, H., Finkelstein, I. J. & Yu, H. Human cohesin compacts DNA by loop extrusion. Science 366, 1345–1349 (2019).

51.

Zhang, J. et al. Disruption of KMT2D perturbs germinal center B cell development and promotes lymphomagenesis. Nat. Med. 21, 1190–1198 (2015).

52.

Deng, W. et al. Controlling long-range genomic interactions at a native locus by targeted tethering of a looping factor. Cell 149, 1233–1244 (2012).

53.

Groschel, S. et al. A single oncogenic enhancer rearrangement causes concomitant EVI1 and GATA2 deregulation in leukemia. Cell 157, 369–381 (2014).

54.

Rao, S. S. P. et al. Cohesin loss eliminates all loop domains. Cell 171, 305–320 (2017).

55.

Fudenberg, G., Abdennur, N., Imakaev, M., Goloborodko, A. & Mirny, L. A. Emerging evidence of chromosome folding by loop extrusion. Cold Spring Harb. Symp. Quant. Biol. 82, 45–55 (2017).

56.

Cuartero, S. et al. Control of inducible gene expression links cohesin to hematopoietic progenitor self-renewal and differentiation. Nat. Immunol. 19, 932–941 (2018).

57.

Sasca, D. et al. Cohesin-dependent regulation of gene expression during differentiation is lost in cohesin-mutated myeloid malignancies. Blood 134, 2195–2208 (2019).

58.

De Koninck, M. & Losada, A. Cohesin mutations in cancer. Cold Spring Harb. Perspect. Med. 6, a026476 (2016).

59.

Srinivas, S. et al. Cre reporter strains produced by targeted insertion of EYFP and ECFP into the ROSA26 locus. BMC Dev. Biol. 1, 4 (2001).

60.

Cattoretti, G. et al. Deregulated BCL6 expression recapitulates the pathogenesis of human diffuse large B cell lymphomas in mice. Cancer Cell 7, 445–455 (2005).

61.

Silverman, J., Suckow, M. A. & Murthy, S. The IACUC Handbook 3rd edn (CRC Press, Taylor & Francis Group, 2014).

62.

Harrow, J. et al. GENCODE: the reference human genome annotation for The ENCODE Project. Genome Res. 22, 1760–1774 (2012).

63.

Dobin, A. et al. STAR: ultrafast universal RNA-seq aligner. Bioinformatics 29, 15–21 (2013).

64.

Liao, Y., Smyth, G. K. & Shi, W. featureCounts: an efficient general purpose program for assigning sequence reads to genomic features. Bioinformatics 30, 923–930 (2014).

65.

Li, B., Ruotti, V., Stewart, R. M., Thomson, J. A. & Dewey, C. N. RNA-seq gene expression estimation with read mapping uncertainty. Bioinformatics 26, 493–500 (2010).

66.

Love, M. I., Huber, W. & Anders, S. Moderated estimation of fold change and dispersion for RNA-seq data with DESeq2. Genome Biol. 15, 550 (2014).

67.

Subramanian, A. et al. Gene set enrichment analysis: a knowledge-based approach for interpreting genome-wide expression profiles. Proc. Natl Acad. Sci. USA 102, 15545–15550 (2005).

68.

Sergushichev, A. A. An algorithm for fast preranked gene set enrichment analysis using cumulative statistic calculation. Preprint at bioRxiv https://doi.org/10.1101/060012 (2016).

69.

Liberzon, A. et al. Molecular signatures database (MSigDB) 3.0. Bioinformatics 27, 1739–1740 (2011).

70.

Langmead, B. & Salzberg, S. L. Fast gapped-read alignment with Bowtie 2. Nat. Methods 9, 357–359 (2012).

71.

Lazaris, C., Kelly, S., Ntziachristos, P., Aifantis, I. & Tsirigos, A. HiC-bench: comprehensive and reproducible Hi-C data analysis designed for parameter exploration and benchmarking. BMC Genomics 18, 22 (2017).

72.

Wolff, J. et al. Galaxy HiCExplorer: a web server for reproducible Hi-C data analysis, quality control and visualization. Nucleic Acids Res. 46, W11–W16 (2018).

73.

Imakaev, M. et al. Iterative correction of Hi-C data reveals hallmarks of chromosome organization. Nat. Methods 9, 999–1003 (2012).

74.

Zheng, X. & Zheng, Y. CscoreTool: fast Hi-C compartment analysis at high resolution. Bioinformatics 34, 1568–1570 (2018).

75.

Crane, E. et al. Condensin-driven remodelling of X chromosome topology during dosage compensation. Nature 523, 240–244 (2015).

76.

van Galen, P. et al. A multiplexed system for quantitative comparisons of chromatin landscapes. Mol. Cell 61, 170–180 (2016).

77.

Girardot, C., Scholtalbers, J., Sauer, S., Su, S. Y. & Furlong, E. E. Je, a versatile suite to handle multiplexed NGS libraries with unique molecular identifiers. BMC Bioinformatics 17, 419 (2016).

78.

Li, H. & Durbin, R. Fast and accurate short read alignment with Burrows–Wheeler transform. Bioinformatics 25, 1754–1760 (2009).

79.

Stuart, T. et al. Comprehensive integration of single-cell data. Cell 177, 1888–1902 (2019).

80.

Street, K. et al. Slingshot: cell lineage and pseudotime inference for single-cell transcriptomics. BMC Genomics 19, 477 (2018).
Acknowledgements
We thank J. Yan and B. Ren (University of California, San Diego) for their help in setting up the in situ Hi-C protocol. Sequencing was performed in the Epigenomics Core and the Genomics Core at Weill Cornell Medicine. The authors thank J. McCormick and T. Baumgartner from the Flow Cytometry Core Facility at Weill Cornell Medicine and G. Nanjangud from the Molecular Genetics Core at Memorial Sloan Kettering Cancer Center for expert assistance with protocols. A.M.M. is supported by NCI/NIH R35 CA220499, NCI/NIH P01 CA229086-01A1 (together with A.T.), LLS-SCOR 7012-16, LLS-TRP 6572-19, the Samuel Waxman Cancer Research Foundation, the Follicular Lymphoma Consortium and the Chemotherapy Foundation. M.A.R. was a recipient of a postdoctoral fellowship grant from the Lymphoma Research Foundation and is funded by an NHLBI 5 T32 HL135465-3 training grant. O.E. is supported by NIH grants UL1TR002384 and R01 CA194547 and LLS-SCOR grants 180078-02 and 7021-20. R.L.L. was supported by NCI P30 CA008748, NCI R35 CA197594-01A1, NCI R01 CA216421 and NCI PS-OC U54 CA143869-05. A.D.V. is supported by NCI K08 CA215317, the William Raveis Charitable Fund Fellowship of the Damon Runyon Cancer Research Foundation (DRG 117-15) and an Evans MDS Young Investigator grant from the Edward P. Evans Foundation. C.E.M. thanks the Scientific Computing Unit, XSEDE Supercomputing Resources as well as the Starr Cancer Consortium (I7-A765, I9-A9-071 and I13-0052) and acknowledges funding from the WorldQuant Foundation, The Pershing Square Sohn Cancer Research Alliance, the NIH (grants R01 CA249054, R01 AI151059, P01 CA214274, R01 AI125416-03 and R21 AI129851-02) and Leukemia and Lymphoma Society grants LLS 9238-16 and LLS MCL-982. A.T. is funded by American Cancer Society RSG-15-189-01-RMC, a St. Baldrick's Scholar Award and NCI/NIH Cancer Center Support Grant P30 CA016087.
Ethics declarations
Competing interests
A.M.M. receives research funding from Janssen Pharmaceuticals, Sanofi and Daiichi Sankyo, has consulted for Epizyme and Constellation and is on the scientific advisory board of KDAC pharmaceuticals. R.L.L. is on the supervisory board of Qiagen and was on the scientific advisory board of Loxo, Imago, Mana, Auron, C4 Therapeutics and Isoplexis, which include equity interest. R.L.L. receives research support from and consulted for Celgene and Roche and consults for Incyte, Lilly, Janssen, Astellas, Morphosys and Novartis. R.L.L. receives research support from Prelude and has received honoraria from AstraZeneca, Roche, Lilly and Amgen for invited lectures and from Gilead for grant reviews. O.E. is supported by Janssen and Eli Lilly research grants. O.E. is a scientific advisor and equity holder in Freenome, Owkin, Volastra Therapeutics and One Three Biotech. C.E.M. is a cofounder and board member for Biotia and Onegevity Health as well as an advisor or compensated speaker for Abbvie, Acuamark Diagnostics, ArcBio, Bio-Rad, DNA Genotek, Genialis, Genpro, Karius, Illumina, New England BioLabs, Qiagen, Whole Biome and Zymo Research. C.M. is a consultant and analyst for Onegevity Health. M.A.R., C.R.C., M.F.C., D.K., B.B., A.K., A.D.V., M.R.T., D.R.M., A.S.D., X.W., W.B., M.T.C.F., H.S., Z.C. and A.T. have no relevant competing interests to declare.
Additional information
Peer review information Peer reviewer reports are available. L. A. Dempsey was the primary editor on this article and managed its editorial process and peer review in collaboration with the rest of the editorial team.
Publisher's note Springer Nature remains neutral with regard to jurisdictional claims in published maps and institutional affiliations.
Supplementary information
Supplementary Tables 1–4.
About this article
Cite this article
Rivas, M.A., Meydan, C., Chin, C.R. et al. Smc3 dosage regulates B cell transit through germinal centers and restricts their malignant transformation. Nat Immunol 22, 240–253 (2021). https://doi.org/10.1038/s41590-020-00827-8
Received:

Accepted:

Published:

Issue Date: