Abstract
Stimulator of interferon genes (STING) is an endoplasmic reticulum (ER) signaling adaptor that is essential for the type I interferon response to DNA pathogens. Aberrant activation of STING is linked to the pathology of autoimmune and autoinflammatory diseases. The rate-limiting step for the activation of STING is its translocation from the ER to the ER-Golgi intermediate compartment. Here, we found that deficiency in the Ca2+ sensor stromal interaction molecule 1 (STIM1) caused spontaneous activation of STING and enhanced expression of type I interferons under resting conditions in mice and a patient with combined immunodeficiency. Mechanistically, STIM1 associated with STING to retain it in the ER membrane, and coexpression of full-length STIM1 or a STING-interacting fragment of STIM1 suppressed the function of dominant STING mutants that cause autoinflammatory diseases. Furthermore, deficiency in STIM1 strongly enhanced the expression of type I interferons after viral infection and prevented the lethality of infection with a DNA virus in vivo. This work delineates a STIM1-STING circuit that maintains the resting state of the STING pathway.
Access options
Subscribe to Journal
Get full journal access for 1 year
$59.00
only $4.92 per issue
All prices are NET prices.
VAT will be added later in the checkout.
Tax calculation will be finalised during checkout.
Rent or Buy article
Get time limited or full article access on ReadCube.
from$8.99
All prices are NET prices.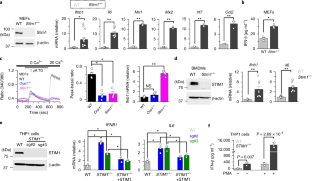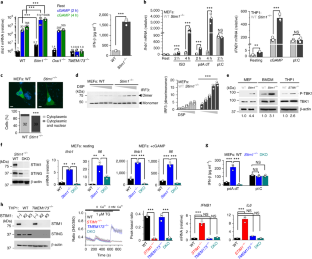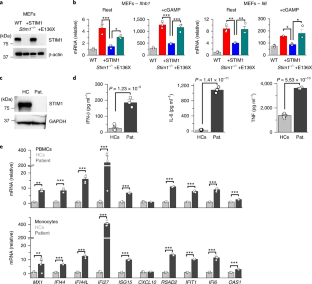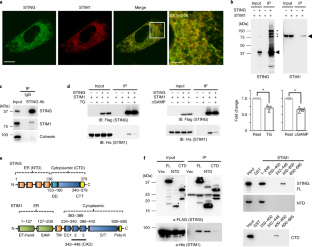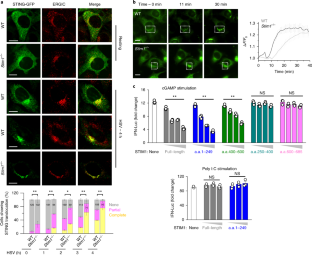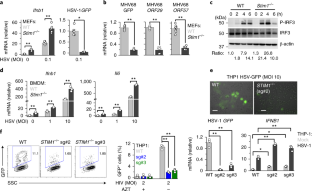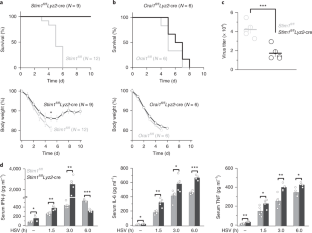 Data availability
The data that support the findings of this study are available from the corresponding authors upon request. The manuscript describing the clinical phenotype of the STIM1 patient is available from OSR Preprints (https://doi.org/10.31219/osf.io/4duxt).
References
1.

Ishikawa, H. & Barber, G. N. STING is an endoplasmic reticulum adaptor that facilitates innate immune signalling. Nature 455, 674–678 (2008).

2.

Zhong, B. et al. The adaptor protein MITA links virus-sensing receptors to IRF3 transcription factor activation. Immunity 29, 538–550 (2008).

3.

Sun, W. et al. ERIS, an endoplasmic reticulum IFN stimulator, activates innate immune signaling through dimerization. Proc. Natl Acad. Sci. USA 106, 8653–8658 (2009).

4.

Barber, G. N. STING: infection, inflammation and cancer. Nat. Rev. Immunol. 15, 760–770 (2015).

5.

Chen, Q., Sun, L. & Chen, Z. J. Regulation and function of the cGAS-STING pathway of cytosolic DNA sensing. Nat. Immunol. 17, 1142–1149 (2016).

6.

Li, T. & Chen, Z. J. The cGAS-cGAMP-STING pathway connects DNA damage to inflammation, senescence, and cancer. J. Exp. Med. 17, 1142–1149 (2018).

7.

Li, Y., Wilson, H. L. & Kiss-Toth, E. Regulating STING in health and disease. J. Inflamm. (Lond.) 14, 11 (2017).

8.

Yan, N., Regalado-Magdos, A. D., Stiggelbout, B., Lee-Kirsch, M. A. & Lieberman, J. The cytosolic exonuclease TREX1 inhibits the innate immune response to human immunodeficiency virus type 1. Nat. Immunol. 11, 1005–1013 (2010).

9.

Ahn, J., Gutman, D., Saijo, S. & Barber, G. N. STING manifests self DNA-dependent inflammatory disease. Proc. Natl Acad. Sci. USA 109, 19386–19391 (2012).

10.

Crow, Y. J. & Manel, N. Aicardi–Goutieres syndrome and the type I interferonopathies. Nat. Rev. Immunol. 15, 429–440 (2015).

11.

Liu, Y. et al. Activated STING in a vascular and pulmonary syndrome. N. Engl. J. Med. 371, 507–518 (2014).

12.

Melki, I. et al. Disease-associated mutations identify a novel region in human STING necessary for the control of type I interferon signaling. J. Allergy Clin. Immunol. 140, 543–552.e545 (2017).

13.

Jeremiah, N. et al. Inherited STING-activating mutation underlies a familial inflammatory syndrome with lupus-like manifestations. J. Clin. Invest. 124, 5516–5520 (2014).

14.

Dobbs, N. et al. STING activation by translocation from the ER is associated with infection and autoinflammatory disease. Cell Host Microbe 18, 157–168 (2015).

15.

Zhang, X. et al. Cyclic GMP-AMP containing mixed phosphodiester linkages is an endogenous high-affinity ligand for STING. Mol. Cell 51, 226–235 (2013).

16.

Prakriya, M. & Lewis, R. S. Store-operated calcium channels. Physiol. Rev. 95, 1383–1436 (2015).

17.

Feske, S., Skolnik, E. Y. & Prakriya, M. Ion channels and transporters in lymphocyte function and immunity. Nat. Rev. Immunol. 12, 532–547 (2012).

18.

Baba, Y. & Kurosaki, T. Role of calcium signaling in B cell activation and biology. Curr. Top. Microbiol. Immunol. 393, 143–174 (2016).

19.

Srikanth, S., Woo, J. S., Sun, Z. & Gwack, Y. Immunological disorders: regulation of Ca2+ signaling in T lymphocytes. Adv. Exp. Med. Biol. 993, 397–424 (2017).

20.

Lacruz, R. S. & Feske, S. Diseases caused by mutations in ORAI1 and STIM1. Ann. N. Y. Acad. Sci. 1356, 45–79 (2015).

21.

Notarangelo, L. D., Kim, M. S., Walter, J. E. & Lee, Y. N. Human RAG mutations: biochemistry and clinical implications. Nat. Rev. Immunol. 16, 234–246 (2016).

22.

Brandman, O., Liou, J., Park, W. S. & Meyer, T. STIM2 is a feedback regulator that stabilizes basal cytosolic and endoplasmic reticulum Ca2+ levels. Cell 131, 1327–1339 (2007).

23.

Soboloff, J., Rothberg, B. S., Madesh, M. & Gill, D. L. STIM proteins: dynamic calcium signal transducers. Nat. Rev. Mol. Cell Biol. 13, 549–565 (2012).

24.

Picard, C. et al. STIM1 mutation associated with a syndrome of immunodeficiency and autoimmunity. N. Engl. J. Med. 360, 1971–1980 (2009).

25.

Rice, A. et al. A report of novel STIM1 deficiency and 6 year follow up of two previous cases associated with mild immunological phenotype. Preprint at https://doi.org/10.31219/osf.io/4duxt (2018).

26.

Guo, H. et al. NLRX1 sequesters STING to negatively regulate the interferon response, thereby facilitating the replication of HIV-1 and DNA viruses. Cell Host Microbe 19, 515–528 (2016).

27.

Saitoh, T. et al. Atg9a controls dsDNA-driven dynamic translocation of STING and the innate immune response. Proc. Natl Acad. Sci. USA 106, 20842–20846 (2009).

28.

Lau, L., Gray, E. E., Brunette, R. L. & Stetson, D. B. DNA tumor virus oncogenes antagonize the cGAS-STING DNA-sensing pathway. Science 350, 568–571 (2015).

29.

Yuan, J. P. et al. SOAR and the polybasic STIM1 domains gate and regulate Orai channels. Nat. Cell Biol. 11, 337–343 (2009).

30.

Ishikawa, H., Ma, Z. & Barber, G. N. STING regulates intracellular DNA-mediated, type I interferon-dependent innate immunity. Nature 461, 788–792 (2009).

31.

Mukai, K. et al. Activation of STING requires palmitoylation at the Golgi. Nat. Commun. 7, 11932 (2016).

32.

Ouyang, S. et al. Structural analysis of the STING adaptor protein reveals a hydrophobic dimer interface and mode of cyclic di-GMP binding. Immunity 36, 1073–1086 (2012).

33.

Gao, D. et al. Cyclic GMP-AMP synthase is an innate immune sensor of HIV and other retroviruses. Science 341, 903–906 (2013).

34.

Cheshenko, N. et al. Herpes simplex virus triggers activation of calcium-signaling pathways. J. Cell Biol. 163, 283–293 (2003).

35.

Zhong, B. et al. The ubiquitin ligase RNF5 regulates antiviral responses by mediating degradation of the adaptor protein MITA. Immunity 30, 397–407 (2009).

36.

Wang, Y. et al. TRIM30alpha is a negative-feedback regulator of the intracellular DNA and DNA virus-triggered response by targeting STING. PLoS Pathog. 11, e1005012 (2015).

37.

Srikanth, S. et al. A novel EF-hand protein, CRACR2A, is a cytosolic Ca2+ sensor that stabilizes CRAC channels in T cells. Nat. Cell Biol. 12, 436–446 (2010).

38.

Gwack, Y. et al. Hair loss and defective T- and B-cell function in mice lacking ORAI1. Mol. Cell. Biol. 28, 5209–5222 (2008).

39.

Stetson, D. B. & Medzhitov, R. Recognition of cytosolic DNA activates an IRF3-dependent innate immune response. Immunity 24, 93–103 (2006).

40.

Srikanth, S., Jung, H. J., Ribalet, B. & Gwack, Y. The intracellular loop of Orai1 plays a central role in fast inactivation of Ca2+ release-activated Ca2+ channels. J. Biol. Chem. 285, 5066–5075 (2010).
Acknowledgements
We thank S. Bensinger (UCLA) for sharing THP1 cells, and X. Liu and S. Smale (UCLA) for BMDM differentiation protocols and reagents. We thank N.-H. Park, K.-H. Shin, M.K. Kang, R. Kim, Y. Wang, and T.M. Vondriska for sharing their confocal imaging facilities. We thank J.-L. Casanova (Rockefeller University) for providing STIM1 patient B cell line. This work was supported by the National Institutes of Health grants AI083432 and DE028432 (Y.G.) and AI130653 (S. Srikanth). This work was also supported in part by CA180779, CA200422, AI073099, AI116585, AI129496, AI140705, DE023926, DE027888, the Fletcher Jones Foundation, and the Whittier Foundation (J.U.J.).
Ethics declarations
Competing interests
The authors declare no competing interests.
Additional information
Publisher's note: Springer Nature remains neutral with regard to jurisdictional claims in published maps and institutional affiliations.
Integrated supplementary information
Supplementary information
Supplementary Figures 1–7, Supplementary Table 1
About this article
Cite this article
Srikanth, S., Woo, J.S., Wu, B. et al. The Ca2+ sensor STIM1 regulates the type I interferon response by retaining the signaling adaptor STING at the endoplasmic reticulum. Nat Immunol 20, 152–162 (2019). https://doi.org/10.1038/s41590-018-0287-8
Received:

Accepted:

Published:

Issue Date: