Abstract
The T cell antigen receptor (TCR) expressed on thymocytes interacts with self-peptide major histocompatibility complex (pMHC) ligands to signal apoptosis or survival. Here, we found that negative-selection ligands induced thymocytes to exert forces on the TCR and the co-receptor CD8 and formed cooperative TCR–pMHC–CD8 trimolecular 'catch bonds', whereas positive-selection ligands induced less sustained thymocyte forces on TCR and CD8 and formed shorter-lived, independent TCR–pMHC and pMHC–CD8 bimolecular 'slip bonds'. Catch bonds were not intrinsic to either the TCR–pMHC or the pMHC–CD8 arm of the trans (cross-junctional) heterodimer but resulted from coupling of the extracellular pMHC–CD8 interaction to the intracellular interaction of CD8 with TCR–CD3 via associated kinases to form a cis (lateral) heterodimer capable of inside-out signaling. We suggest that the coupled trans–cis heterodimeric interactions form a mechanotransduction loop that reinforces negative-selection signaling that is distinct from positive-selection signaling in the thymus.
Your institute does not have access to this article
Relevant articles
Open Access articles citing this article.
Apurba Paul

&

Joshua Alper

Scientific Reports Open Access 07 January 2022

Wei Hu

,

Yong Zhang

…

Wei Chen

Cell Research Open Access 31 August 2021

Kaitao Li

,

Zhou Yuan

…

Cheng Zhu

Nature Communications Open Access 12 May 2021
Access options
Subscribe to Nature+
Get immediate online access to the entire Nature family of 50+ journals
Subscribe to Journal
Get full journal access for 1 year
$59.00
only $4.92 per issue
All prices are NET prices.
VAT will be added later in the checkout.
Tax calculation will be finalised during checkout.
Buy article
Get time limited or full article access on ReadCube.
$32.00
All prices are NET prices.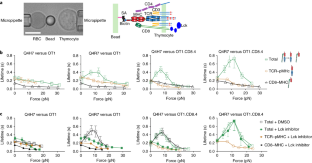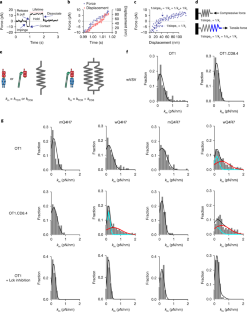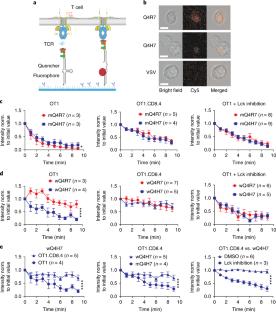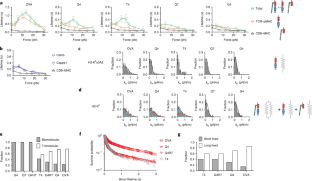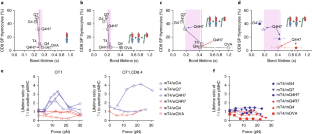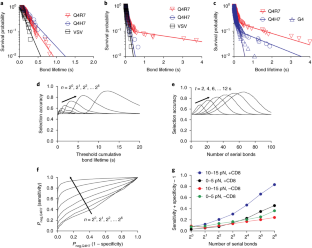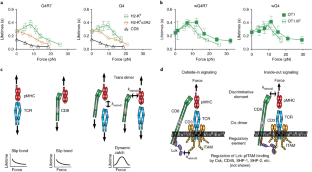 Data availability
The data that support the findings of this study are available from the corresponding author upon reasonable request.
References
Rudolph, M. G., Stanfield, R. L. & Wilson, I. A. How TCRs bind MHCs, peptides, and coreceptors. Annu. Rev. Immunol. 24, 419–466 (2006).

Stepanek, O. et al. Coreceptor scanning by the T cell receptor provides a mechanism for T cell tolerance. Cell 159, 333–345 (2014).

Palmer, E. & Naeher, D. Affinity threshold for thymic selection through a T-cell receptor-co-receptor zipper. Nat. Rev. Immunol. 9, 207–213 (2009).

Daniels, M. A. et al. Thymic selection threshold defined by compartmentalization of Ras/MAPK signalling. Nature 444, 724–729 (2006).

Huang, J. et al. The kinetics of two-dimensional TCR and pMHC interactions determine T-cell responsiveness. Nature 464, 932–936 (2010).

Huppa, J. B. et al. TCR–peptide–MHC interactions in situ show accelerated kinetics and increased affinity. Nature 463, 963–967 (2010).

Jiang, N. et al. Two-stage cooperative T cell receptor-peptide major histocompatibility complex-CD8 trimolecular interactions amplify antigen discrimination. Immunity 34, 13–23 (2011).

Martinez, R. J., Andargachew, R., Martinez, H. A. & Evavold, B. D. Low-affinity CD4+ T cells are major responders in the primary immune response. Nat. Commun. 7, 13848 (2016).

Liu, B., Chen, W., Evavold, B. D. & Zhu, C. Accumulation of dynamic catch bonds between TCR and agonist peptide-MHC triggers T cell signaling. Cell 157, 357–368 (2014).

Hong, J. et al. Force-regulated in situ TCR-peptide-bound MHC class II kinetics determine functions of CD4+ T cells. J. Immunol. 195, 3557–3564 (2015).

Das, D. K. et al. Force-dependent transition in the T-cell receptor β-subunit allosterically regulates peptide discrimination and pMHC bond lifetime. Proc. Natl. Acad. Sci. USA 112, 1517–1522 (2015).

Liu, Y. et al. DNA-based nanoparticle tension sensors reveal that T-cell receptors transmit defined pN forces to their antigens for enhanced fidelity. Proc. Natl. Acad. Sci. USA 113, 5610–5615 (2016).

Sarangapani, K. K., Marshall, B. T., McEver, R. P. & Zhu, C. Molecular stiffness of selectins. J. Biol. Chem. 286, 9567–9576 (2011).

Erman, B. et al. Coreceptor signal strength regulates positive selection but does not determine CD4/CD8 lineage choice in a physiologic in vivo model. J. Immunol. 177, 6613–6625 (2006).

Hui, E. & Vale, R. D. In vitro membrane reconstitution of the T-cell receptor proximal signaling network. Nat. Struct. Mol. Biol. 21, 133–142 (2014).

Fiore, V. F., Ju, L., Chen, Y., Zhu, C. & Barker, T. H. Dynamic catch of a Thy-1–α5β1+syndecan-4 trimolecular complex. Nat. Commun. 5, 4886 (2014).

Chen, W., Lou, J., Evans, E. A. & Zhu, C. Observing force-regulated conformational changes and ligand dissociation from a single integrin on cells. J. Cell Biol. 199, 497–512 (2012).

Bashour, K. T. et al. CD28 and CD3 have complementary roles in T-cell traction forces. Proc. Natl. Acad. Sci. USA 111, 2241–2246 (2014).

Zhang, Y., Ge, C., Zhu, C. & Salaita, K. DNA-based digital tension probes reveal integrin forces during early cell adhesion. Nat. Commun. 5, 5167 (2014).

Hogquist, K. A. et al. Identification of a naturally occurring ligand for thymic positive selection. Immunity 6, 389–399 (1997).

Santori, F. R. et al. Rare, structurally homologous self-peptides promote thymocyte positive selection. Immunity 17, 131–142 (2002).

Ju, L., Dong, J. F., Cruz, M. A. & Zhu, C. The N-terminal flanking region of the A1 domain regulates the force-dependent binding of von Willebrand factor to platelet glycoprotein Ibα. J. Biol. Chem. 288, 32289–32301 (2013).

Dustin, M. L. T-cell activation through immunological synapses and kinapses. Immunol. Rev. 221, 77–89 (2008).

Chen, W., Evans, E. A., McEver, R. P. & Zhu, C. Monitoring receptor-ligand interactions between surfaces by thermal fluctuations. Biophys. J. 94, 694–701 (2008).

Chesla, S. E., Selvaraj, P. & Zhu, C. Measuring two-dimensional receptor-ligand binding kinetics by micropipette. Biophys. J. 75, 1553–1572 (1998).

Dushek, O. & van der Merwe, P. A. An induced rebinding model of antigen discrimination. Trends Immunol. 35, 153–158 (2014).

Hwang, S. et al. TCR ITAM multiplicity is required for the generation of follicular helper T-cells. Nat. Commun. 6, 6982 (2015).

Hwang, S. et al. Reduced TCR signaling potential impairs negative selection but does not result in autoimmune disease. J. Exp. Med. 209, 1781–1795 (2012).

Nika, K. et al. Constitutively active Lck kinase in T cells drives antigen receptor signal transduction. Immunity 32, 766–777 (2010).

Thome, M., Duplay, P., Guttinger, M. & Acuto, O. Syk and ZAP-70 mediate recruitment of p56lck/CD4 to the activated T cell receptor/CD3/zeta complex. J. Exp. Med. 181, 1997–2006 (1995).

Manz, B. N. et al. Small molecule inhibition of Csk alters affinity recognition by T cells. eLife 4, e08088 (2015).

Kinashi, T. Intracellular signalling controlling integrin activation in lymphocytes. Nat. Rev. Immunol. 5, 546–559 (2005).

Yachi, P. P., Ampudia, J., Zal, T. & Gascoigne, N. R. Altered peptide ligands induce delayed CD8-T cell receptor interaction: a role for CD8 in distinguishing antigen quality. Immunity 25, 203–211 (2006).

Arcaro, A. et al. CD8beta endows CD8 with efficient coreceptor function by coupling T cell receptor/CD3 to raft-associated CD8/p56(lck) complexes. J. Exp. Med. 194, 1485–1495 (2001).

Doucey, M. A. et al. CD3 delta establishes a functional link between the T cell receptor and CD8. J. Biol. Chem. 278, 3257–3264 (2003).

Thome, M., Germain, V., DiSanto, J. P. & Acuto, O. The p56lck SH2 domain mediates recruitment of CD8/p56lck to the activated T cell receptor/CD3/zeta complex. Eur. J. Immunol. 26, 2093–2100 (1996).

Straus, D. B., Chan, A. C., Patai, B. & Weiss, A. SH2 domain function is essential for the role of the Lck tyrosine kinase in T cell receptor signal transduction. J. Biol. Chem. 271, 9976–9981 (1996).

Lo, W. L. et al. Lck promotes Zap70-dependent LAT phosphorylation by bridging Zap70 to LAT. Nat. Immunol. 19, 733–741 (2018).

Goldrath, A. W., Hogquist, K. A. & Bevan, M. J. CD8 lineage commitment in the absence of CD8. Immunity 6, 633–642 (1997).

Lou, J. & Zhu, C. A structure-based sliding-rebinding mechanism for catch bonds. Biophys. J. 92, 1471–1485 (2007).

Alam, S. M. et al. T-cell-receptor affinity and thymocyte positive selection. Nature 381, 616–620 (1996).

Artyomov, M. N., Lis, M., Devadas, S., Davis, M. M. & Chakraborty, A. K. CD4 and CD8 binding to MHC molecules primarily acts to enhance Lck delivery. Proc. Natl. Acad. Sci. USA 107, 16916–16921 (2010).

Feng, Y. et al. Mechanosensing drives acuity of αβ T-cell recognition. Proc. Natl. Acad. Sci. USA 114, E8204–E8213 (2017).

Van Laethem, F., Tikhonova, A. N. & Singer, A. MHC restriction is imposed on a diverse T cell receptor repertoire by CD4 and CD8 co-receptors during thymic selection. Trends Immunol. 33, 437–441 (2012).

Le Borgne, M. et al. The impact of negative selection on thymocyte migration in the medulla. Nat. Immunol. 10, 823–830 (2009).

Sauer, K., Huang, Y. H., Lin, H., Sandberg, M. & Mayr, G. W. Phosphoinositide and inositol phosphate analysis in lymphocyte activation. Curr. Protoc. Immunol. 87, 11.11.1 (2009).

Puls, K. L., Hogquist, K. A., Reilly, N. & Wright, M. D. CD53, a thymocyte selection marker whose induction requires a lower affinity TCR-MHC interaction than CD69, but is up-regulated with slower kinetics. Int. Immunol. 14, 249–258 (2002).

Nathenson, S. G., Geliebter, J., Pfaffenbach, G. M. & Zeff, R. A. Murine major histocompatibility complex class-I mutants: molecular analysis and structure-function implications. Annu. Rev. Immunol. 4, 471–502 (1986).

Degano, M. et al. A functional hot spot for antigen recognition in a superagonist TCR/MHC complex. Immunity 12, 251–261 (2000).

Tallquist, M. D., Yun, T. J. & Pease, L. R. A single T cell receptor recognizes structurally distinct MHC/peptide complexes with high specificity. J. Exp. Med. 184, 1017–1026 (1996).

Huang, J., Edwards, L. J., Evavold, B. D. & Zhu, C. Kinetics of MHC-CD8 interaction at the T cell membrane. J. Immunol. 179, 7653–7662 (2007).

Marshall, B. T. et al. Direct observation of catch bonds involving cell-adhesion molecules. Nature 423, 190–193 (2003).

Hailman, E. & Allen, P. M. Inefficient cell spreading and cytoskeletal polarization by CD4+CD8+ thymocytes: regulation by the thymic environment. J. Immunol. 175, 4847–4857 (2005).

Hailman, E., Burack, W. R., Shaw, A. S., Dustin, M. L. & Allen, P. M. Immature CD4+CD8+ thymocytes form a multifocal immunological synapse with sustained tyrosine phosphorylation. Immunity 16, 839–848 (2002).

R Core Team. R: A Language and Environment for Statistical Computing (R Foundation for Statistical Computing, 2017).
Acknowledgements
We thank L. Lawrence for maintaining the mouse colonies; L. Doudy for thymocyte purification; W. Chen and Z. Li for assistance with experiments and discussions; and the NIH Tetramer Core Facility at Emory University for providing the pMHC monomers. This work was supported by NIH grants CA214354 and AI124680 (to C.Z.), and NS071518 and AI096879 (to B.D.E.).
Ethics declarations
Competing interests
The authors declare no competing interests.
Integrated supplementary information
Supplementary information
About this article
Cite this article
Hong, J., Ge, C., Jothikumar, P. et al. A TCR mechanotransduction signaling loop induces negative selection in the thymus. Nat Immunol 19, 1379–1390 (2018). https://doi.org/10.1038/s41590-018-0259-z
Received:

Accepted:

Published:

Issue Date:

DOI: https://doi.org/10.1038/s41590-018-0259-z