Abstract
Prolonged activation of interferon–STAT1 signaling is closely related to inflammatory autoimmune disorders, and therefore the identification of negative regulators of these pathways is important. Through high-content screening of 115 mouse RING-domain E3 ligases, we identified the E3 ubiquitin ligase RNF2 as a potent inhibitor of interferon-dependent antiviral responses. RNF2 deficiency substantially enhanced interferon-stimulated gene (ISG) expression and antiviral responses. Mechanistically, nuclear RNF2 directly bound to STAT1 after interferon stimulation and increased K33-linked polyubiquitination of the DNA-binding domain of STAT1 at position K379, in addition to promoting the disassociation of STAT1/STAT2 from DNA and consequently suppressing ISG transcription. Our study provides insight into the regulation of interferon-dependent responses via a previously unrecognized post-translational modification of STAT1 in the nucleus.
Access options
Subscribe to Journal
Get full journal access for 1 year
$225.00
only $18.75 per issue
All prices are NET prices.
VAT will be added later in the checkout.
Rent or Buy article
Get time limited or full article access on ReadCube.
from$8.99
All prices are NET prices.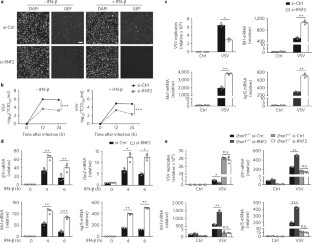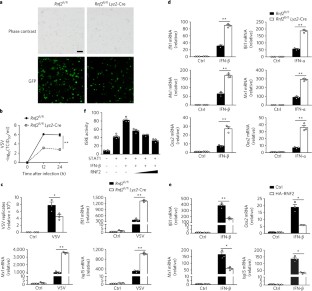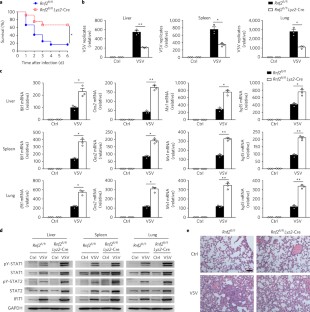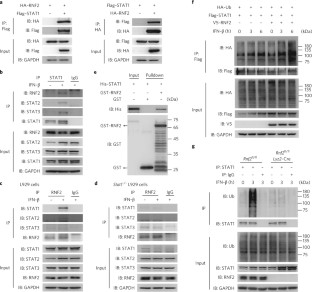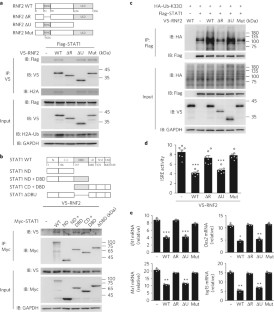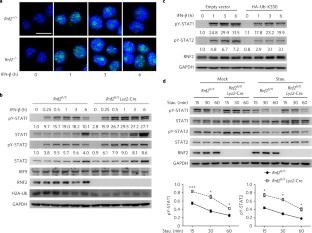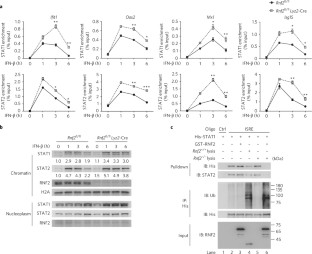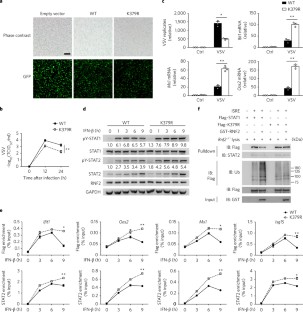 References
1.

Stark, G. R. & Darnell, J. E. Jr. The JAK-STAT pathway at twenty. Immunity 36, 503–514 (2012).

2.

McNab, F., Mayer-Barber, K., Sher, A., Wack, A. & O'Garra, A. Type I interferons in infectious disease. Nat. Rev. Immunol. 15, 87–103 (2015).

3.

Wilson, E. B. et al. Blockade of chronic type I interferon signaling to control persistent LCMV infection. Science 340, 202–207 (2013).

4.

Teijaro, J. R. et al. Persistent LCMV infection is controlled by blockade of type I interferon signaling. Science 340, 207–211 (2013).

5.

Ivashkiv, L. B. & Donlin, L. T. Regulation of type I interferon responses. Nat. Rev. Immunol. 14, 36–49 (2014).

6.

Porritt, R. A. & Hertzog, P. J. Dynamic control of type I IFN signalling by an integrated network of negative regulators. Trends Immunol. 36, 150–160 (2015).

7.

Bancerek, J. et al. CDK8 kinase phosphorylates transcription factor STAT1 to selectively regulate the interferon response. Immunity 38, 250–262 (2013).

8.

Krämer, O. H. et al. A phosphorylation-acetylation switch regulates STAT1 signaling. Genes Dev. 23, 223–235 (2009).

9.

Tanaka, T., Soriano, M. A. & Grusby, M. J. SLIM is a nuclear ubiquitin E3 ligase that negatively regulates STAT signaling. Immunity 22, 729–736 (2005).

10.

Chen, K. et al. Methyltransferase SETD2-mediated methylation of STAT1 is critical for interferon antiviral activity. Cell 170, 492–506 (2017).

11.

Jiang, X. & Chen, Z. J. The role of ubiquitylation in immune defence and pathogen evasion. Nat. Rev. Immunol. 12, 35–48 (2011).

12.

Lawrence, D. W. & Kornbluth, J. E3 ubiquitin ligase NKLAM ubiquitinates STAT1 and positively regulates STAT1-mediated transcriptional activity. Cell. Signal. 28, 1833–1841 (2016).

13.

Yuan, C., Qi, J., Zhao, X. & Gao, C. Smurf1 protein negatively regulates interferon-γ signaling through promoting STAT1 protein ubiquitination and degradation. J. Biol. Chem. 287, 17006–17015 (2012).

14.

Versteeg, G. A. et al. The E3-ligase TRIM family of proteins regulates signaling pathways triggered by innate immune pattern-recognition receptors. Immunity 38, 384–398 (2013).

15.

Simon, J. A. & Kingston, R. E. Occupying chromatin: Polycomb mechanisms for getting to genomic targets, stopping transcriptional traffic, and staying put. Mol. Cell 49, 808–824 (2013).

16.

Kondo, T. et al. Polycomb potentiates Meis2 activation in midbrain by mediating interaction of the promoter with a tissue-specific enhancer. Dev. Cell 28, 94–101 (2014).

17.

Rai, K. et al. Dual roles of RNF2 in melanoma progression. Cancer Discov 5, 1314–1327 (2015).

18.

Arimoto, K. et al. Negative regulation of the RIG-I signaling by the ubiquitin ligase RNF125. Proc. Natl. Acad. Sci. USA 104, 7500–7505 (2007).

19.

Wang, W. et al. RNF122 suppresses antiviral type I interferon production by targeting RIG-I CARDs to mediate RIG-I degradation. Proc. Natl. Acad. Sci. USA 113, 9581–9586 (2016).

20.

Voncken, J. W. et al. Rnf2 (Ring1b) deficiency causes gastrulation arrest and cell cycle inhibition. Proc. Natl. Acad. Sci. USA 100, 2468–2473 (2003).

21.

Suzuki, M. et al. Involvement of the Polycomb-group gene Ring1B in the specification of the anterior-posterior axis in mice. Development 129, 4171–4183 (2002).

22.

McBride, K. M., Banninger, G., McDonald, C. & Reich, N. C. Regulated nuclear import of the STAT1 transcription factor by direct binding of importin-α. EMBO J. 21, 1754–1763 (2002).

23.

Elderkin, S. et al. A phosphorylated form of Mel-18 targets the Ring1B histone H2A ubiquitin ligase to chromatin. Mol. Cell 28, 107–120 (2007).

24.

Meyer, T., Marg, A., Lemke, P., Wiesner, B. & Vinkemeier, U. DNA binding controls inactivation and nuclear accumulation of the transcription factor Stat1. Genes Dev. 17, 1992–2005 (2003).

25.

Banninger, G. & Reich, N. C. STAT2 nuclear trafficking. J. Biol. Chem. 279, 39199–39206 (2004).

26.

Endoh, M. et al. Histone H2A mono-ubiquitination is a crucial step to mediate PRC1-dependent repression of developmental genes to maintain ES cell identity. PLoS Genet. 8, e1002774 (2012).

27.

Eskeland, R. et al. Ring1B compacts chromatin structure and represses gene expression independent of histone ubiquitination. Mol. Cell 38, 452–464 (2010).

28.

Zhou, W. et al. Histone H2A monoubiquitination represses transcription by inhibiting RNA polymerase II transcriptional elongation. Mol. Cell 29, 69–80 (2008).

29.

Wauman, J., De Ceuninck, L., Vanderroost, N., Lievens, S. & Tavernier, J. RNF41 (Nrdp1) controls type 1 cytokine receptor degradation and ectodomain shedding. J. Cell Sci. 124, 921–932 (2011).

30.

Grinde, B., Hetland, G. & Johnson, E. Effects on gene expression and viral load of a medicinal extract from Agaricus blazei in patients with chronic hepatitis C infection. Int. Immunopharmacol. 6, 1311–1314 (2006).

31.

Luesch, H. et al. A functional genomics approach to the mode of action of apratoxin A. Nat. Chem. Biol. 2, 158–167 (2006).

32.

Toubiana, J. et al. Heterozygous STAT1 gain-of-function mutations underlie an unexpectedly broad clinical phenotype. Blood 127, 3154–3164 (2016).

33.

Mizoguchi, Y. et al. Simple diagnosis of STAT1 gain-of-function alleles in patients with chronic mucocutaneous candidiasis. J. Leukoc. Biol. 95, 667–676 (2014).

34.

Takezaki, S. et al. Chronic mucocutaneous candidiasis caused by a gain-of-function mutation in the STAT1 DNA-binding domain. J. Immunol. 189, 1521–1526 (2012).

35.

Rosas-Murrieta, N. H., Herrera-Camacho, I., Palma-Ocampo, H., Santos-López, G. & Reyes-Leyva, J. Interaction of mumps virus V protein variants with STAT1-STAT2 heterodimer: experimental and theoretical studies. Virol. J. 7, 263 (2010).

36.

Huang, H. et al. K33-linked polyubiquitination of T cell receptor-ζ regulates proteolysis-independent T cell signaling. Immunity 33, 60–70 (2010).

37.

Yang, M. et al. K33-linked polyubiquitination of Zap70 by Nrdp1 controls CD8+ T cell activation. Nat. Immunol. 16, 1253–1262 (2015).

38.

Yuan, W. C. et al. K33-linked polyubiquitination of Coronin 7 by Cul3-KLHL20 ubiquitin E3 ligase regulates protein trafficking. Mol. Cell 54, 586–600 (2014).

39.

Meng, J. et al. Rb selectively inhibits innate IFN-b production by enhancing deacetylation of IFN-β promoter through HDAC1 and HDAC8. J. Autoimmun. 73, 42–53 (2016).

40.

Xia, M. et al. Histone methyltransferase Ash1l suppresses interleukin-6 production and inflammatory autoimmune diseases by inducing the ubiquitin-editing enzyme A20. Immunity 39, 470–481 (2013).
Acknowledgements
This work is supported by the National Natural Science Foundation of China (grants 81788104 and 31390431 to X.C.), the National Key Basic Research Program of China (grant 2013CB530503 to X.C.; grant 2013CB944903 to M.J.), the National 135 Mega Program of China (grant 2017ZX10102032-001 to X.C.) and the CAMS Innovation Fund for Medical Sciences (grant 2016-12M-1-003 to X.C.).
Ethics declarations
Competing interests
The authors declare no competing financial interests.
Additional information
Publisher's note: Springer Nature remains neutral with regard to jurisdictional claims in published maps and institutional affiliations.
Integrated supplementary information
Supplementary information
Supplementary Figures 1-8
About this article
Cite this article
Liu, S., Jiang, M., Wang, W. et al. Nuclear RNF2 inhibits interferon function by promoting K33-linked STAT1 disassociation from DNA. Nat Immunol 19, 41–52 (2018). https://doi.org/10.1038/s41590-017-0003-0
Received:

Accepted:

Published:

Issue Date: