Abstract
Reversible protein phosphorylation is an important mechanism for regulating (dis)assembly of biomolecular condensates. However, condensate-specific phosphosites remain largely unknown, thereby limiting our understanding of the underlying mechanisms. Here, we combine solubility proteome profiling with phosphoproteomics to quantitatively map several hundred phosphosites enriched in either soluble or condensate-bound protein subpopulations, including a subset of phosphosites modulating protein–RNA interactions. We show that multi-phosphorylation of the C-terminal disordered segment of heteronuclear ribonucleoprotein A1 (HNRNPA1), a key RNA-splicing factor, reduces its ability to locate to nuclear clusters. For nucleophosmin 1 (NPM1), an essential nucleolar protein, we show that phosphorylation of S254 and S260 is crucial for lowering its partitioning to the nucleolus and additional phosphorylation of distal sites enhances its retention in the nucleoplasm. These phosphorylation events decrease RNA and protein interactions of NPM1 to regulate its condensation. Our dataset is a rich resource for systematically uncovering the phosphoregulation of biomolecular condensates.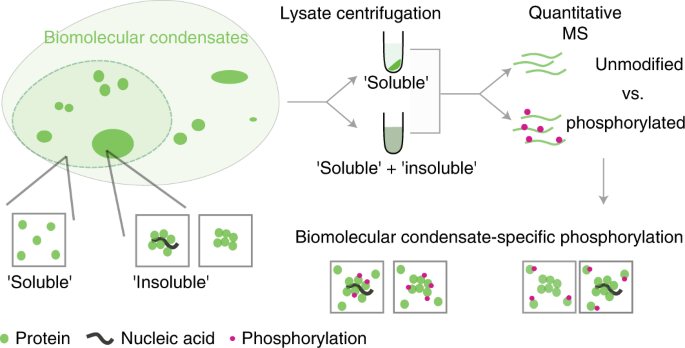 Data availability
All raw MS data have been deposited in PRIDE. Data are available via ProteomeXchange with the identifier PXD027769. Source data are provided with this paper.
References
Banani, S. F. et al. Compositional control of phase-separated cellular bodies. Cell 166, 651–663 (2016).

Shin, Y. & Brangwynne, C. P. Liquid phase condensation in cell physiology and disease. Science 357, eaaf4382 (2017).

Banani, S. F., Lee, H. O., Hyman, A. A. & Rosen, M. K. Biomolecular condensates: organizers of cellular biochemistry. Nat. Rev. Mol. Cell Biol. 18, 285–298 (2017).

Brangwynne, C. P. et al. Germline P granules are liquid droplets that localize by controlled dissolution/condensation. Science 324, 1729–1732 (2009).

Kato, M. et al. Cell-free formation of RNA granules: low complexity sequence domains form dynamic fibers within hydrogels. Cell 149, 753–767 (2012).

Hofweber, M. & Dormann, D. Friend or foe—post-translational modifications as regulators of phase separation and RNP granule dynamics. J. Biol. Chem. 294, 7137–7150 (2019).

Bah, A. & Forman-Kay, J. D. Modulation of intrinsically disordered protein function by post-translational modifications. J. Biol. Chem. 291, 6696–6705 (2016).

Needham, E. J., Parker, B. L., Burykin, T., James, D. E. & Humphrey, S. J. Illuminating the dark phosphoproteome. Sci. Signal. 12, eaau8645 (2019).

Monahan, Z. et al. Phosphorylation of the FUS low-complexity domain disrupts phase separation, aggregation, and toxicity. EMBO J. 36, 2951–2967 (2017).

Tsang, B. et al. Phosphoregulated FMRP phase separation models activity-dependent translation through bidirectional control of mRNA granule formation. Proc. Natl Acad. Sci. USA 116, 4218–4227 (2019).

Riback, J. A. et al. Composition-dependent thermodynamics of intracellular phase separation. Nature 581, 209–214 (2020).

Freibaum, B. D., Messing, J., Yang, P., Kim, H. J. & Taylor, J. P. High-fidelity reconstitution of stress granules and nucleoli in mammalian cellular lysate. J. Cell Biol. 220, e202009079 (2021).

Potel, C. M. et al. Impact of phosphorylation on thermal stability of proteins. Nat. Methods 18, 757–759 (2021).

Sridharan, S. et al. Proteome-wide solubility and thermal stability profiling reveals distinct regulatory roles for ATP. Nat. Commun. 10, 1155 (2019).

Werner, T. et al. Ion coalescence of neutron encoded TMT 10-plex reporter ions. Anal. Chem. 86, 3594–3601 (2014).

Perez-Gonzalez, A. et al. hCLE/C14orf166 associates with DDX1–HSPC117–FAM98B in a novel transcription-dependent shuttling RNA-transporting complex. PLoS ONE 9, e90957 (2014).

Ozeki, K. et al. FAM98A is localized to stress granules and associates with multiple stress granule-localized proteins. Mol. Cell. Biochem. 451, 107–115 (2019).

You, K. et al. PhaSepDB: a database of liquid–liquid phase separation related proteins. Nucleic Acids Res. 48, D354–D359 (2020).

Ochoa, D. et al. An atlas of human kinase regulation. Mol. Syst. Biol. 12, 888 (2016).

Bachman, J. A., Gyori, B. M. & Sorger, P. K. Assembling a phosphoproteomic knowledge base using ProtMapper to normalize phosphosite information from databases and text mining. Preprint at bioRxiv https://doi.org/10.1101/822668 (2019).

Herr, P. et al. Cell cycle profiling reveals protein oscillation, phosphorylation, and localization dynamics. Mol. Cell. Proteomics 19, 608–623 (2020).

Laflamme, G. & Mekhail, K. Biomolecular condensates as arbiters of biochemical reactions inside the nucleus. Commun. Biol. 3, 773 (2020).

Hernandez-Armenta, C., Ochoa, D., Goncalves, E., Saez-Rodriguez, J. & Beltrao, P. Benchmarking substrate-based kinase activity inference using phosphoproteomic data. Bioinformatics 33, 1845–1851 (2017).

Hearst, S. M. et al. Cajal-body formation correlates with differential coilin phosphorylation in primary and transformed cell lines. J. Cell Sci. 122, 1872–1881 (2009).

Schneider, M. et al. Human PRP4 kinase is required for stable tri-snRNP association during spliceosomal B complex formation. Nat. Struct. Mol. Biol. 17, 216–221 (2010).

Iakoucheva, L. M. et al. The importance of intrinsic disorder for protein phosphorylation. Nucleic Acids Res. 32, 1037–1049 (2004).

Uversky, V. N., Gillespie, J. R. & Fink, A. L. Why are 'natively unfolded' proteins unstructured under physiologic conditions? Proteins 41, 415–427 (2000).

Das, R. K. & Pappu, R. V. Conformations of intrinsically disordered proteins are influenced by linear sequence distributions of oppositely charged residues. Proc. Natl Acad. Sci. USA 110, 13392–13397 (2013).

Roy, R. et al. hnRNPA1 couples nuclear export and translation of specific mRNAs downstream of FGF-2/S6K2 signalling. Nucleic Acids Res. 42, 12483–12497 (2014).

Allemand, E. et al. Regulation of heterogenous nuclear ribonucleoprotein A1 transport by phosphorylation in cells stressed by osmotic shock. Proc. Natl Acad. Sci. USA 102, 3605–3610 (2005).

Potel, C. M., Lemeer, S. & Heck, A. J. R. Phosphopeptide fragmentation and site localization by mass spectrometry: an update. Anal. Chem. 91, 126–141 (2019).

Hernandez-Verdun, D. Assembly and disassembly of the nucleolus during the cell cycle. Nucleus 2, 189–194 (2011).

Mitrea, D. M. et al. Nucleophosmin integrates within the nucleolus via multi-modal interactions with proteins displaying R-rich linear motifs and rRNA. eLife 5, e13571 (2016).

Poser, I. et al. BAC TransgeneOmics: a high-throughput method for exploration of protein function in mammals. Nat. Methods 5, 409–415 (2008).

Huttlin, E. L. et al. The bioplex network: a systematic exploration of the human interactome. Cell 162, 425–440 (2015).

Saha, S. & Hyman, A. A. RNA gets in phase. J. Cell Biol. 216, 2235–2237 (2017).

Berry, J., Weber, S. C., Vaidya, N., Haataja, M. & Brangwynne, C. P. RNA transcription modulates phase transition-driven nuclear body assembly. Proc. Natl Acad. Sci. USA 112, E5237–E5245 (2015).

Maharana, S. et al. RNA buffers the phase separation behavior of prion-like RNA binding proteins. Science 360, 918–921 (2018).

Reineke, L. C. et al. Casein kinase 2 is linked to stress granule dynamics through phosphorylation of the stress granule nucleating protein G3BP1. Mol. Cell. Biol. 37, e00596-16 (2017).

Rai, A. K., Chen, J. X., Selbach, M. & Pelkmans, L. Kinase-controlled phase transition of membraneless organelles in mitosis. Nature 559, 211–216 (2018).

Kundinger, S. R. et al. Phosphorylation regulates arginine-rich RNA-binding protein solubility and oligomerization. J. Biol. Chem. 297, 101306 (2021).

Bah, A. et al. Folding of an intrinsically disordered protein by phosphorylation as a regulatory switch. Nature 519, 106–109 (2015).

Baker, J. M. et al. CFTR regulatory region interacts with NBD1 predominantly via multiple transient helices. Nat. Struct. Mol. Biol. 14, 738–745 (2007).

van der Lee, R. et al. Classification of intrinsically disordered regions and proteins. Chem. Rev. 114, 6589–6631 (2014).

Das, R. K., Ruff, K. M. & Pappu, R. V. Relating sequence encoded information to form and function of intrinsically disordered proteins. Curr. Opin. Struct. Biol. 32, 102–112 (2015).

Holehouse, A. S., Das, R. K., Ahad, J. N., Richardson, M. O. & Pappu, R. V. CIDER: resources to analyze sequence–ensemble relationships of intrinsically disordered proteins. Biophys. J. 112, 16–21 (2017).

Wang, J. et al. A molecular grammar governing the driving forces for phase separation of prion-like RNA binding proteins. Cell 174, 688–699 (2018).

Jin, F. & Grater, F. How multisite phosphorylation impacts the conformations of intrinsically disordered proteins. PLoS Comput. Biol. 17, e1008939 (2021).

Nosella, M. L. et al. O-linked-N-acetylglucosaminylation of the RNA-binding protein EWS N-terminal low complexity region reduces phase separation and enhances condensate dynamics. J. Am. Chem. Soc. 143, 11520–11534 (2021).

Alquezar, C., Arya, S. & Kao, A. W. Tau post-translational modifications: dynamic transformers of tau function, degradation, and aggregation. Front. Neurol. 11, 595532 (2020).

Hughes, C. S. et al. Single-pot, solid-phase-enhanced sample preparation for proteomics experiments. Nat. Protoc. 14, 68–85 (2019).

Cox, J. & Mann, M. MaxQuant enables high peptide identification rates, individualized p.p.b.-range mass accuracies and proteome-wide protein quantification. Nat. Biotechnol. 26, 1367–1372 (2008).

Huber, W., von Heydebreck, A., Sultmann, H., Poustka, A. & Vingron, M. Variance stabilization applied to microarray data calibration and to the quantification of differential expression. Bioinformatics 18, S96–S104 (2002).

Ritchie, M. E. et al. limma powers differential expression analyses for RNA-sequencing and microarray studies. Nucleic Acids Res. 43, e47 (2015).

Brennan, P. drawProteins: a Bioconductor/R package for reproducible and programmatic generation of protein schematics. F1000Res 7, 1105 (2018).

Osorio, D., Rondón-Villarreal, P. & Torres, R. Peptides: a package for data mining of antimicrobial peptides. R J. 7, 4–14 (2015).

Wisniewski, J. R., Hein, M. Y., Cox, J. & Mann, M. A 'proteomic ruler' for protein copy number and concentration estimation without spike-in standards. Mol. Cell. Proteomics 13, 3497–3506 (2014).

Oates, M. E. et al. D2P2: database of disordered protein predictions. Nucleic Acids Res. 41, D508–D516 (2013).

Yu, G., Wang, L. G., Han, Y. & He, Q. Y. clusterProfiler: an R package for comparing biological themes among gene clusters. OMICS 16, 284–287 (2012).

Huang da, W., Sherman, B. T. & Lempicki, R. A. Systematic and integrative analysis of large gene lists using DAVID bioinformatics resources. Nat. Protoc. 4, 44–57 (2009).

Sommer, C., Hoefler, R., Samwer, M. & Gerlich, D. W. A deep learning and novelty detection framework for rapid phenotyping in high-content screening. Mol. Biol. Cell 28, 3428–3436 (2017).
Acknowledgements
We thank A. Mateus for insightful discussions and feedback on the manuscript, A. Hyman (MPI Dresden, Germany) for kindly providing the GFP–NPM1 BAC cell line and the GFP–HNRNPA1-encoding plasmid, members of the Savitski and Cuylen team for helpful discussions and the Proteomics Core Facility at the EMBL for expert help. S.S. was supported by the European Research Council Grant DECODE under grant agreement no. 810296. A.H.-A. has received a PhD fellowship from the Boehringer Ingelheim Fonds. C.M.P. is supported by a fellowship from the EMBL Interdisciplinary Postdoctoral (EI3POD) program under Marie Skłodowska-Curie Actions COFUND (grant number 664726).
Ethics declarations
Competing interests
M.B. is an employer and shareholder of Cellzome, GlaxoSmithKline. The remaining authors declare no competing interests.
Peer review
Peer review information
Nature Chemical Biology thanks Diana Mitrea, Judit Villén and the other, anonymous, reviewer(s) for their contribution to the peer review of this work.
Additional information
Publisher's note Springer Nature remains neutral with regard to jurisdictional claims in published maps and institutional affiliations.
Supplementary information
Rights and permissions
Open Access This article is licensed under a Creative Commons Attribution 4.0 International License, which permits use, sharing, adaptation, distribution and reproduction in any medium or format, as long as you give appropriate credit to the original author(s) and the source, provide a link to the Creative Commons license, and indicate if changes were made. The images or other third party material in this article are included in the article's Creative Commons license, unless indicated otherwise in a credit line to the material. If material is not included in the article's Creative Commons license and your intended use is not permitted by statutory regulation or exceeds the permitted use, you will need to obtain permission directly from the copyright holder. To view a copy of this license, visit http://creativecommons.org/licenses/by/4.0/.
About this article
Cite this article
Sridharan, S., Hernandez-Armendariz, A., Kurzawa, N. et al. Systematic discovery of biomolecular condensate-specific protein phosphorylation. Nat Chem Biol 18, 1104–1114 (2022). https://doi.org/10.1038/s41589-022-01062-y
Received:

Accepted:

Published:

Issue Date:

DOI: https://doi.org/10.1038/s41589-022-01062-y
This article is cited by
Kamran Rizzolo
Diana M. Mitrea

Nature Chemical Biology (2022)