Abstract
Membraneless organelles formed by liquid–liquid phase separation of proteins or nucleic acids are involved in diverse biological processes in eukaryotes. However, such cellular compartments have yet to be discovered or created synthetically in prokaryotes. Here, we report the formation of liquid protein condensates inside the cells of prokaryotic Escherichia coli upon heterologous overexpression of intrinsically disordered proteins such as spider silk and resilin. In vitro reconstitution under conditions that mimic intracellular physiologically crowding environments of E. coli revealed that the condensates are formed via liquid–liquid phase separation. We also show functionalization of these condensates via targeted colocalization of cargo proteins to create functional membraneless compartments able to fluoresce and to catalyze biochemical reactions. The ability to form and functionalize membraneless compartments may serve as a versatile tool to develop artificial organelles with on-demand functions in prokaryotes for applications in synthetic biology.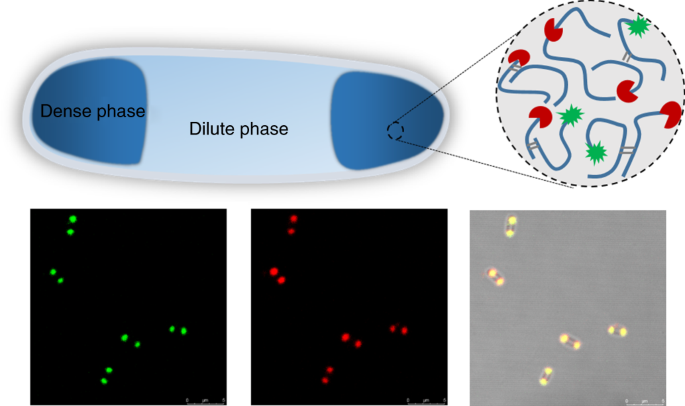 Relevant articles
Open Access articles citing this article.
Wei Tan

,

Sihua Cheng

…

Wei Zhao

Nature Communications Open Access 23 November 2022

Zi-Xu Zhang

,

Fang-Tong Nong

…

Xiao-Man Sun

Microbial Cell Factories Open Access 15 September 2022

Simeon D. Castle

,

Claire S. Grierson

&

Thomas E. Gorochowski

Nature Communications Open Access 07 June 2021
Access options
Subscribe to Nature+
Get immediate online access to Nature and 55 other Nature journal
Subscribe to Journal
Get full journal access for 1 year
$119.00
only $9.92 per issue
All prices are NET prices.
VAT will be added later in the checkout.
Tax calculation will be finalised during checkout.
Buy article
Get time limited or full article access on ReadCube.
$32.00
All prices are NET prices.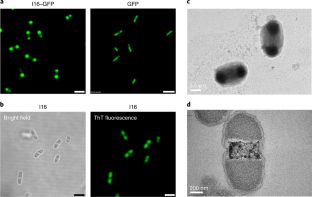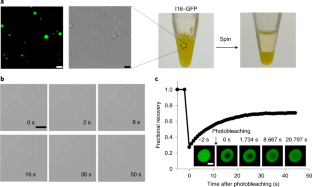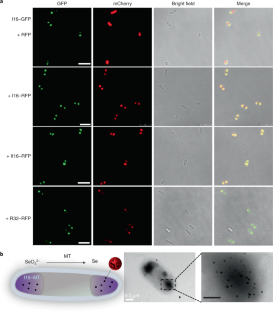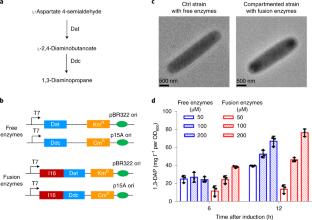 Data availability
All data that support the findings of this study are available within the paper, the supplementary information and the source data or from the corresponding author upon reasonable request. Source data are provided with this paper.
References
Hammer, S. K. & Avalos, J. L. Harnessing yeast organelles for metabolic engineering. Nat. Chem. Biol. 13, 823–832 (2017).

Kerfeld, C. A., Aussignargues, C., Zarzycki, J., Cai, F. & Sutter, M. Bacterial microcompartments. Nat. Rev. Microbiol. 16, 277–290 (2018).

Alberti, S., Gladfelter, A. & Mittag, T. Considerations and challenges in studying liquid-liquid phase separation and biomolecular condensates. Cell 176, 419–434 (2019).

Boeynaems, S. et al. Protein phase separation: a new phase in cell biology. Trends Cell Biol. 28, 420–435 (2018).

Saito, M. et al. Acetylation of intrinsically disordered regions regulates phase separation. Nat. Chem. Biol. 15, 51–61 (2019).

Aumiller, W. M. Jr & Keating, C. D. Phosphorylation-mediated RNA/peptide complex coacervation as a model for intracellular liquid organelles. Nat. Chem. 8, 129–137 (2016).

Shin, Y. & Brangwynne, C. P. Liquid phase condensation in cell physiology and disease. Science 357, eaaf4382 (2017).

Lee, M. J. et al. Engineered synthetic scaffolds for organizing proteins within the bacterial cytoplasm. Nat. Chem. Biol. 14, 142–147 (2018).

Lau, Y. H., Giessen, T. W., Altenburg, W. J. & Silver, P. A. Prokaryotic nanocompartments form synthetic organelles in a eukaryote. Nat. Commun. 9, 1311 (2018).

Huber, M. C. et al. Designer amphiphilic proteins as building blocks for the intracellular formation of organelle-like compartments. Nat. Mater. 14, 125–132 (2015).

Wei, M. T. et al. Phase behaviour of disordered proteins underlying low density and high permeability of liquid organelles. Nat. Chem. 9, 1118–1125 (2017).

Uversky, V. N. Intrinsically disordered proteins in overcrowded milieu: membrane-less organelles, phase separation, and intrinsic disorder. Curr. Opin. Struct. Biol. 44, 18–30 (2017).

Reinkemeier, C. D., Girona, G. E. & Lemke, E. A. Designer membraneless organelles enable codon reassignment of selected mRNAs in eukaryotes. Science 363, eaaw2644 (2019).

Banani, S. F., Lee, H. O., Hyman, A. A. & Rosen, M. K. Biomolecular condensates: organizers of cellular biochemistry. Nat. Rev. Mol. Cell Biol. 18, 285–298 (2017).

Zhao, E. M. et al. Light-based control of metabolic flux through assembly of synthetic organelles. Nat. Chem. Biol. 15, 589–597 (2019).

Alberti, S. et al. A user's guide for phase separation assays with purified proteins. J. Mol. Biol. 430, 4806–4820 (2018).

Heim, M., Keerl, D. & Scheibel, T. Spider silk: from soluble protein to extraordinary fiber. Angew. Chem. Int. Ed. Engl. 48, 3584–3596 (2009).

Xia, X. X. et al. Native-sized recombinant spider silk protein produced in metabolically engineered Escherichia coli results in a strong fiber. Proc. Natl Acad. Sci. USA 107, 14059–14063 (2010).

Lyons, R. E. et al. Comparisons of recombinant resilin-like proteins: repetitive domains are sufficient to confer resilin-like properties. Biomacromolecules 10, 3009–3014 (2009).

Huang, S. C. et al. Rational design and hierarchical assembly of a genetically engineered resilin–silk copolymer results in stiff hydrogels. ACS Biomater. Sci. Eng. 3, 1576–1585 (2017).

Hu, X., Xia, X. X., Huang, S. C. & Qian, Z. G. Development of adhesive and conductive resilin-based hydrogels for wearable sensors. Biomacromolecules 20, 3283–3293 (2019).

Biancalana, M. & Koide, S. Molecular mechanism of Thioflavin-T binding to amyloid fibrils. Biochim. Biophys. Acta 1804, 1405–1412 (2010).

Ellis, R. J. Macromolecular crowding: an important but neglected aspect of the intracellular environment. Curr. Opin. Struct. Biol. 11, 114–119 (2001).

Oktaviani, N. A. et al. Conformation and dynamics of soluble repetitive domain elucidates the initial β-sheet formation of spider silk. Nat. Commun. 9, 2121 (2018).

Yang, Y. X., Qian, Z. G., Zhong, J. J. & Xia, X. X. Hyper-production of large proteins of spider dragline silk MaSp2 by Escherichia coli via synthetic biology approach. Process Biochem. 51, 484–490 (2016).

Choi, Y., Park, T. J., Lee, D. C. & Lee, S. Y. Recombinant Escherichia coli as a biofactory for various single- and multi-element nanomaterials. Proc. Natl Acad. Sci. USA 115, 5944–5949 (2018).

Chae, T. U., Kim, W. J., Choi, S., Park, S. J. & Lee, S. Y. Metabolic engineering of Escherichia coli for the production of 1,3-diaminopropane, a three carbon diamine. Sci. Rep. 5, 13040 (2015).

Nott, T. J. et al. Phase transition of a disordered nuage protein generates environmentally responsive membraneless organelles. Mol. Cell 57, 936–947 (2015).

Schuster, B. S. et al. Controllable protein phase separation and modular recruitment to form responsive membraneless organelles. Nat. Commun. 9, 2985 (2018).

Rinas, U. et al. Bacterial inclusion bodies: discovering their better half. Trends Biochem. Sci. 42, 726–737 (2017).

Krauss, U., Jäger, V. D., Diener, M., Pohl, M. & Jaeger, K. E. Catalytically-active inclusion bodies—carrier-free protein immobilizates for application in biotechnology and biomedicine. J. Biotechnol. 258, 136–147 (2017).

Jäger, V. D. et al. Tailoring the properties of (catalytically)-active inclusion bodies. Microb. Cell Fact. 18, 33 (2019).

Meyer, A. J., Segall-Shapiro, T. H., Glassey, E., Zhang, J. & Voigt, C. A. Escherichia coli 'Marionette' strains with 12 highly optimized small-molecule sensors. Nat. Chem. Biol. 15, 196–204 (2019).

Liu, C. C., Jewett, M. C., Chin, J. W. & Voigt, C. A. Toward an orthogonal central dogma. Nat. Chem. Biol. 14, 103–106 (2018).

Scott, M., Gunderson, C. W., Mateescu, E. M., Zhang, Z. & Hwa, T. Interdependence of cell growth and gene expression: origins and consequences. Science 330, 1099–1102 (2010).

Klumpp, S., Scott, M., Pedersen, S. & Hwa, T. Molecular crowding limits translation and cell growth. Proc. Natl Acad. Sci. USA 110, 16754–16759 (2013).

Gardner, T. S., Cantor, C. R. & Collins, J. J. Construction of a genetic toggle switch in Escherichia coli. Nature 403, 339–342 (2000).

Qian, Z. G., Xia, X. X. & Lee, S. Y. Metabolic engineering of Escherichia coli for the production of putrescine: a four carbon diamine. Biotechnol. Bioeng. 104, 651–662 (2009).
Acknowledgements
Financial support was provided by the National Natural Science Foundation of China (grant no. 21674061 to X.-X.X, grant no. 21406138 to Z.-G.Q. and grant no. 31470216 to X.-X.X) and the National Key Research and Development Program of the Ministry of Science and Technology of China (grant no. 2016YFE0204400 to X.-X.X). X.-X.X. acknowledges the Program for Professor of Special Appointment at Shanghai Institutions of Higher Learning. We thank H. Tang (Shanghai Jiao Tong University) for his generous gift of P. putida KT2440 genomic DNA.
Ethics declarations
Competing interests
X.-X.X., S.-P.W., M.-T.C., F.P. and Z.-G.Q. have filed a patent application ('Construction and applications of membraneless organelles in prokaryotic Escherichia coli', Chinese Patent Application No. 201910929503.X) on the basis of this contribution.
Additional information
Publisher's note Springer Nature remains neutral with regard to jurisdictional claims in published maps and institutional affiliations.
Supplementary information
Supplementary Tables 1 and 2, Note and Figs. 1–7.
A time-lapse video showing fusion of two droplets formed via LLPS of spider silk I16–GFP fusion protein in vitro. Scale bar, 10 µm.
About this article
Cite this article
Wei, SP., Qian, ZG., Hu, CF. et al. Formation and functionalization of membraneless compartments in Escherichia coli. Nat Chem Biol 16, 1143–1148 (2020). https://doi.org/10.1038/s41589-020-0579-9
Received:

Accepted:

Published:

Issue Date:

DOI: https://doi.org/10.1038/s41589-020-0579-9