Abstract
Evolutionary theory suggests that lifespan-reducing alleles should be purged from the gene pool, and yet decades of genome-wide association and model organism studies have shown that they persist. One potential explanation is that alleles that regulate lifespan do so only in certain environmental contexts. We exposed outbred Drosophila to control and high-sugar diets and genotyped more than 10,000 adult flies to track allele frequency changes over the course of a single adult lifespan. We identified thousands of lifespan-associated alleles associated with early versus late-life trade-offs, late-onset effects and genotype-by-environment interactions. Remarkably, a third of lifespan-associated genetic variation had environmentally dependent effects on lifespan. We find that lifespan-reducing alleles are often recently derived, have stronger effects on a high-sugar diet and show signatures of selection in wild Drosophila populations, consistent with the evolutionary mismatch hypothesis. Our results provide insight into the highly polygenic and context-dependent genetic architecture of lifespan variation and the evolutionary processes that shape this key trait.
Access options
Access Nature and 54 other Nature Portfolio journals
Get Nature+, our best-value online-access subscription
$29.99 per month
cancel any time
Subscribe to this journal
Receive 12 print issues and online access
$189.00 per year
only $15.75 per issue
Rent or buy this article
Get just this article for as long as you need it
$39.95
Prices may be subject to local taxes which are calculated during checkout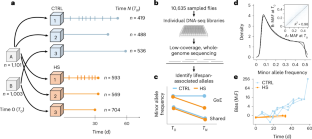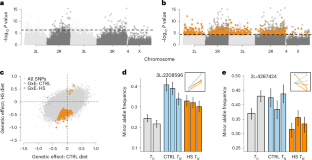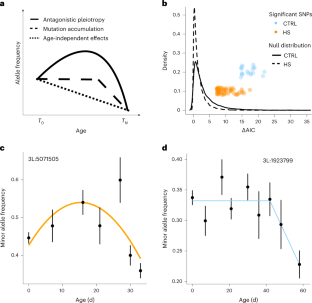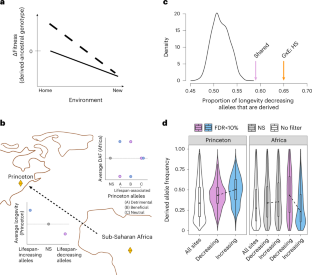 Data availability
Sequencing data have been deposited on SRA with the accession data under the under BioProject PRJNA725602. Additional data used to estimate population genetic parameters (Fig. 5,b–d) and validation experiments (Fig. 3b) are available on Dryad under accession hhmgqnkgr. There are no restrictions on data availability.
References
Ruby, J. G. et al. Estimates of the heritability of human longevity are substantially inflated due to assortative mating. Genetics 210, 1109–1124 (2018).

Kuningas, M. et al. Genes encoding longevity: from model organisms to humans. Aging Cell. 7, 270–280 (2008).

Joshi, P. K. et al. Variants near CHRNA3/5 and APOE have age- and sex-related effects on human lifespan. Nat. Commun. 7, 11174 (2016).

Sella, G. & Barton, N. H. Thinking about the evolution of complex traits in the era of genome-wide association studies. Annu. Rev. Genom. Hum. Genet. 20, 461–493 (2019).

Medawar, P. B. An Unsolved Problem of Biology (H.K. Lewis and Company, 1952).

Williams, G. C. Pleiotropy, natural selection, and the evolution of senescence. Evolution 11, 398–411 (1957).

Gibson, G. Decanalization and the origin of complex disease. Nat. Rev. Genet. 10, 134–140 (2009).

Corbett, S., Courtiol, A., Lummaa, V., Moorad, J. & Stearns, S. The transition to modernity and chronic disease: mismatch and natural selection. Nat. Rev. Genet. 19, 419–430 (2018).

Gibson, G. & Dworkin, I. Uncovering cryptic genetic variation. Nat. Rev. Genet. 5, 681–690 (2004).

Di Rienzo, A. & Hudson, R. R. An evolutionary framework for common diseases: the ancestral-susceptibility model. Trends Genet. 21, 596–601 (2005).

Quintana-Murci, L. Understanding rare and common diseases in the context of human evolution. Genome Biol. 17, 225 (2016).

Musselman, L. P. et al. A high-sugar diet produces obesity and insulin resistance in wild-type Drosophila. Dis. Models Mech. 4, 842–849 (2011).

Na, J. et al. Model of high sugar diet-induced cardiomyopathy. PLoS Genet. 9, e1003175 (2013).

Mostafavi, H. et al. Identifying genetic variants that affect viability in large cohorts. PLoS Biol. 15, e2002458 (2017).

Huang, W. et al. Context-dependent genetic architecture of Drosophila life span. PLoS Biol. 18, e3000645 (2020).

Burger, J. M. S. & Promislow, D. E. L. Sex-specific effects of interventions that extend fly life span. Sci. Aging Knowl. Environ. 2004, pe30 (2004).

Tacutu, R. et al. Human ageing genomic resources: new and updated databases. Nucleic Acids Res. 46, D1083–D1090 (2018).

Piper, M. D. W. & Partridge, L. Drosophila as a model for ageing. Biochim. Biophys. Acta 1864, 2707–2717 (2018).

López-Otín, C., Blasco, M. A., Partridge, L., Serrano, M. & Kroemer, G. The hallmarks of aging. Cell 153, 1194–1217 (2013).

Hoedjes, K. M. et al. Distinct genomic signals of lifespan and life history evolution in response to postponed reproduction and larval diet in Drosophila. Evol. Lett. 3, 598–609 (2019).

Fabian, D. K. et al. Evolution of longevity improves immunity in Drosophila. Evol. Lett. 2, 567–579 (2018).

Deelen, J. et al. A meta-analysis of genome-wide association studies identifies multiple longevity genes. Nat. Commun. 10, 3669 (2019).

Buszczak, M., Lu, X., Segraves, W. A., Chang, T. Y. & Cooley, L. Mutations in the midway gene disrupt a Drosophila acyl coenzyme A: diacylglycerol acyltransferase. Genetics 160, 1511–1518 (2002).

Xu, Y. & Wang, T. LOVIT is a putative vesicular histamine transporter required in Drosophila for vision. Cell Rep. 27, 1327–1333 (2019).

Streeper, R. S. et al. Deficiency of the lipid synthesis enzyme, DGAT1, extends longevity in mice. Aging 4, 13–27 (2012).

Johnson, A. A. & Stolzing, A. The role of lipid metabolism in aging, lifespan regulation, and age-related disease. Aging Cell 18, e13048 (2019).

Crow, J. F. & Kimura, M. An Introduction to Population Genetics Theory (Blackburn Press, 2009).

Durham, M. F., Magwire, M. M., Stone, E. A. & Leips, J. Genome-wide analysis in Drosophila reveals age-specific effects of SNPs on fitness traits. Nat. Commun. 5, 4338 (2014).

Musselman, L. P. & Kühnlein, R. P. Drosophila as a model to study obesity and metabolic disease. J. Exp. Biol. 221, jeb163881 (2018).

Rodríguez, J. A. et al. Antagonistic pleiotropy and mutation accumulation influence human senescence and disease. Nat. Ecol. Evol. 1, 55 (2017).

Carnes, M. U. et al. The genomic basis of postponed senescence in Drosophila melanogaster. PLoS One 10, e0138569 (2015).

Remolina, S. C., Chang, P. L., Leips, J., Nuzhdin, S. V. & Hughes, K. A. Genomic basis of aging and life-history evolution in Drosophila melanogaster. Evolution 66, 3390–3403 (2012).

Thornton, K. & Andolfatto, P. Approximate Bayesian inference reveals evidence for a recent, severe Bottleneck in a Netherlands population of Drosophila melanogaster. Genetics 172, 1607–1619 (2006).

Picelli, S. et al. Tn5 transposase and tagmentation procedures for massively scaled sequencing projects. Genome Res. 24, 2033–2040 (2014).

Martin, M. Cutadapt removes adapter sequences from high-throughput sequencing reads. EMBnet J. 17, 10–12 (2011).

Lesnoff, M. & Lancelot, R. aod: analysis of overdispersed data. R package version 1.3.2. https://cran.r-project.org/web/packages/aod/index.html (2016).

Kofler, R., Pandey, R. V. & Schlötterer, C. PoPoolation2: identifying differentiation between populations using sequencing of pooled DNA samples (Pool-Seq). Bioinformatics 27, 3435–3436 (2011).

Kapun, M., Fabian, D. K., Goudet, J. & Flatt, T. Genomic evidence for adaptive inversion clines in Drosophila melanogaster. Mol. Biol. Evol. 33, 1317–1336 (2016).

dos Santos, G. et al. FlyBase: introduction of the Drosophila melanogaster Release 6 reference genome assembly and large-scale migration of genome annotations. Nucleic Acids Res. 43, D690–D697 (2015).

Wang, M., Zhao, Y. & Zhang, B. Efficient test and visualization of multi-set intersections. Sci. Rep. 5, 16923 (2015).

Kofler, R. & Schlötterer, C. Gowinda: unbiased analysis of gene set enrichment for genome-wide association studies. Bioinformatics 28, 2084–2085 (2012).

Berriz, G. F., Beaver, J. E., Cenik, C., Tasan, M. & Roth, F. P. Next generation software for functional trend analysis. Bioinformatics 25, 3043–3044 (2009).

Altschul, S. F., Gish, W., Miller, W., Myers, E. W. & Lipman, D. J. Basic local alignment search tool. J. Mol. Biol. 215, 403–410 (1990).

Thurmond, J. et al. FlyBase 2.0: the next generation. Nucleic Acids Res. 47, D759–D765 (2019).

Lack, J. B. et al. A thousand fly genomes: an expanded Drosophila genome nexus. Mol. Biol. Evol. 33, 3308–3313 (2016).

Edgar, R. C. MUSCLE: a multiple sequence alignment method with reduced time and space complexity. BMC Bioinformatics 5, 113 (2004).

Lea, A. J., Martins, D., Kamau, J., Gurven, M. & Ayroles, J. F. Urbanization and market integration have strong, nonlinear effects on cardiometabolic health in the Turkana. Sci. Adv. 6, eabb1430 (2020).
Acknowledgements
We thank A.M. Taverner for providing the multispecies alignments, E. Gadja for helping in collecting flies from the wild, and M. Fernandez for helping in maintaining the experimental cages. We also thank members of the Ayroles and Andolfatto labs for their general support and helpful scientific discussions. A.G. Clark, M. Przeworski, G. Sella and A. Harpak provided helpful comments on the analyses. Funding: L.F.P. was funded by a Long-Term Postdoctoral Fellowship from the Human Frontiers Science Program. A.J.L. was funded by a postdoctoral fellowship from the Helen Hay Whitney Foundation. J.F.A. is funded by NIH-NIGMS R35GM124881-04 and NIH-NIEHS R01ES029929. The funders had no role in study design, data collection and analysis, decision to publish or preparation of the manuscript.
Ethics declarations
Competing interests
The authors declare no competing interests.
Ethics statement
No ethical approval was required for this work.
Peer review
Peer review information
Nature Genetics thanks David Rand and the other, anonymous, reviewer(s) for their contribution to the peer review of this work.
Additional information
Publisher's note Springer Nature remains neutral with regard to jurisdictional claims in published maps and institutional affiliations.
Supplementary information
Supplementary Methods and Supplementary Figs. 1–4.
Supplementary Tables 1–12.
Rights and permissions
Springer Nature or its licensor (e.g. a society or other partner) holds exclusive rights to this article under a publishing agreement with the author(s) or other rightsholder(s); author self-archiving of the accepted manuscript version of this article is solely governed by the terms of such publishing agreement and applicable law.
About this article
Cite this article
Pallares, L.F., Lea, A.J., Han, C. et al. Dietary stress remodels the genetic architecture of lifespan variation in outbred Drosophila. Nat Genet 55, 123–129 (2023). https://doi.org/10.1038/s41588-022-01246-1
Received:

Accepted:

Published:

Issue Date:

DOI: https://doi.org/10.1038/s41588-022-01246-1