Abstract
Although single-gene perturbation screens have revealed a number of new targets, vulnerabilities specific to frequently altered drivers have not been uncovered. An important question is whether the compensatory relationship between functionally redundant genes masks potential therapeutic targets in single-gene perturbation studies. To identify digenic dependencies, we developed a CRISPR paralog targeting library to investigate the viability effects of disrupting 3,284 genes, 5,065 paralog pairs and 815 paralog families. We identified that dual inactivation of DUSP4 and DUSP6 selectively impairs growth in NRAS and BRAF mutant cells through the hyperactivation of MAPK signaling. Furthermore, cells resistant to MAPK pathway therapeutics become cross-sensitized to DUSP4 and DUSP6 perturbations such that the mechanisms of resistance to the inhibitors reinforce this mechanism of vulnerability. Together, multigene perturbation technologies unveil previously unrecognized digenic vulnerabilities that may be leveraged as new therapeutic targets in cancer.
Relevant articles
Open Access articles citing this article.
Ronay Cetin

,

Martin Wegner

…

Manuel Kaulich

Scientific Reports Open Access 06 May 2023

Marouen Ben Guebila

,

Tian Wang

…

John Quackenbush

Genome Biology Open Access 09 March 2023

Fadi J. Najm

,

Peter DeWeirdt

…

Bradley E. Bernstein

Nature Communications Open Access 27 January 2023
Access options
Access Nature and 54 other Nature Portfolio journals
Get Nature+, our best-value online-access subscription
$29.99 / 30 days
cancel any time
Subscribe to this journal
Receive 12 print issues and online access
$189.00 per year
only $15.75 per issue
Rent or buy this article
Get just this article for as long as you need it
$39.95
Prices may be subject to local taxes which are calculated during checkout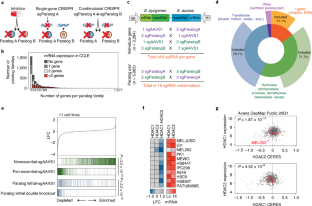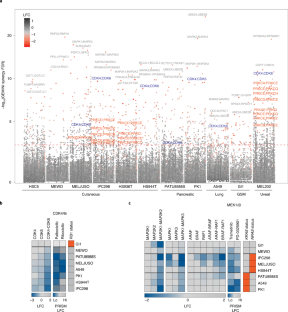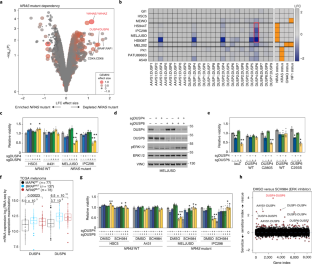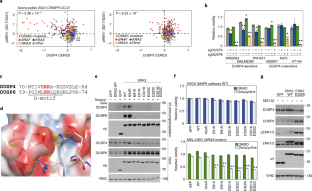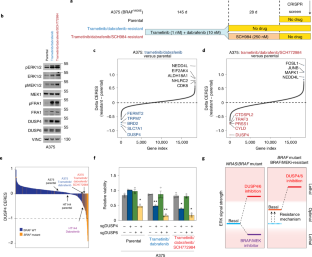 Data availability
The read counts for all screening data and subsequent analyses are provided as Supplementary Data and are available at the Sequence Read Archive under accession no. PRJNA745952. Paralog identification was obtained from ENSEMBL release 91. All genomic data from the CCLE are available at https://portals.broadinstitute.org/ccle/data. DepMap 20Q1 was used for all analyses except for Fig. 5c,d and Extended Data Fig. 6c where DepMap 21Q2 was used. Source data are provided with this paper.
References
McDonald, E. R. 3rd et al. Project DRIVE: a compendium of cancer dependencies and synthetic lethal relationships uncovered by large-scale, deep RNAi screening. Cell 170, 577–592.e10 (2017).

Behan, F. M. et al. Prioritization of cancer therapeutic targets using CRISPR–Cas9 screens. Nature 568, 511–516 (2019).

Tsherniak, A. et al. Defining a cancer dependency map. Cell 170, 564–576.e16 (2017).

Chan, E. M. et al. WRN helicase is a synthetic lethal target in microsatellite unstable cancers. Nature 568, 551–556 (2019).

Mavrakis, K. J. et al. Disordered methionine metabolism in MTAP/CDKN2A-deleted cancers leads to dependence on PRMT5. Science 351, 1208–1213 (2016).

Lieb, S. et al. Werner syndrome helicase is a selective vulnerability of microsatellite instability-high tumor cells. eLife 8, e43333 (2019).

Kategaya, L., Perumal, S. K., Hager, J. H. & Belmont, L. D. Werner syndrome helicase is required for the survival of cancer cells with microsatellite instability. iScience 13, 488–497 (2019).

Kryukov, G. V. et al. MTAP deletion confers enhanced dependency on the PRMT5 arginine methyltransferase in cancer cells. Science 351, 1214–1218 (2016).

De Kegel, B. & Ryan, C. J. Paralog buffering contributes to the variable essentiality of genes in cancer cell lines. PLoS Genet. 15, e1008466 (2019).

Kelly, M. R. et al. Combined proteomic and genetic interaction mapping reveals new RAS effector pathways and susceptibilities. Cancer Discov. 10, 1950–1967 (2020).

Kuzmin, E. et al. Systematic analysis of complex genetic interactions. Science 360, eaao1729 (2018).

Tong, A. H. Y. et al. Global mapping of the yeast genetic interaction network. Science 303, 808–813 (2004).

Costanzo, M. et al. A global genetic interaction network maps a wiring diagram of cellular function. Science 353, aaf1420 (2016).

Fischer, B. et al. A map of directional genetic interactions in a metazoan cell. eLife 4, e05464 (2015).

Han, K. et al. Synergistic drug combinations for cancer identified in a CRISPR screen for pairwise genetic interactions. Nat. Biotechnol. 35, 463–474 (2017).

Norman, T. M. et al. Exploring genetic interaction manifolds constructed from rich single-cell phenotypes. Science 365, 786–793 (2019).

Najm, F. J. et al. Orthologous CRISPR–Cas9 enzymes for combinatorial genetic screens. Nat. Biotechnol. 36, 179–189 (2018).

Horlbeck, M. A. et al. Mapping the genetic landscape of human cells. Cell 174, 953–967.e22 (2018).

Shen, J. P. et al. Combinatorial CRISPR–Cas9 screens for de novo mapping of genetic interactions. Nat. Methods 14, 573–576 (2017).

Zhao, D. et al. Combinatorial CRISPR–Cas9 metabolic screens reveal critical redox control points dependent on the KEAP1-NRF2 regulatory axis. Mol. Cell 69, 699–708.e7 (2018).

Hart, T. & Moffat, J. BAGEL: a computational framework for identifying essential genes from pooled library screens. BMC Bioinformatics 17, 164 (2016).

Helming, K. C. et al. ARID1B is a specific vulnerability in ARID1A-mutant cancers. Nat. Med. 20, 251–254 (2014).

Zamanighomi, M. et al. GEMINI: a variational Bayesian approach to identify genetic interactions from combinatorial CRISPR screens. Genome Biol. 20, 137 (2019).

Chen, X. et al. Combined PKC and MEK inhibition in uveal melanoma with GNAQ and GNA11 mutations. Oncogene 33, 4724–4734 (2014).

O'Leary, B., Finn, R. S. & Turner, N. C. Treating cancer with selective CDK4/6 inhibitors. Nat. Rev. Clin. Oncol. 13, 417–430 (2016).

Park, E. et al. Architecture of autoinhibited and active BRAF–MEK1–14-3-3 complexes. Nature 575, 545–550 (2019).

Camps, M., Nichols, A. & Arkinstall, S. Dual specificity phosphatases: a gene family for control of MAP kinase function. FASEB J. 14, 6–16 (2000).

Kidger, A. M. & Keyse, S. M. The regulation of oncogenic Ras/ERK signalling by dual-specificity mitogen activated protein kinase phosphatases (MKPs). Semin. Cell Dev. Biol. 50, 125–132 (2016).

Unni, A. M., Lockwood, W. W., Zejnullahu, K., Lee-Lin, S.-Q. & Varmus, H. Evidence that synthetic lethality underlies the mutual exclusivity of oncogenic KRAS and EGFR mutations in lung adenocarcinoma. eLife 4, e06907 (2015).

Leung, G. P. et al. Hyperactivation of MAPK signaling is deleterious to RAS/RAF-mutant melanoma. Mol. Cancer Res. 17, 199–211 (2019).

Brenan, L. et al. Phenotypic characterization of a comprehensive set of MAPK1/ERK2 missense mutants. Cell Rep. 17, 1171–1183 (2016).

Goetz, E. M., Ghandi, M., Treacy, D. J., Wagle, N. & Garraway, L. A. ERK mutations confer resistance to mitogen-activated protein kinase pathway inhibitors. Cancer Res. 74, 7079–7089 (2014).

Sanchez-Vega, F. et al. Oncogenic signaling pathways in The Cancer Genome Atlas. Cell 173, 321–337.e10 (2018).

Unni, A. M. et al. Hyperactivation of ERK by multiple mechanisms is toxic to RTK-RAS mutation-driven lung adenocarcinoma cells. eLife 7, e33718 (2018).

Liu, S., Sun, J.-P., Zhou, B. & Zhang, Z.-Y. Structural basis of docking interactions between ERK2 and MAP kinase phosphatase 3. Proc. Natl Acad. Sci. USA 103, 5326–5331 (2006).

Peng, D.-J., Zhou, J.-Y. & Wu, G. S. Post-translational regulation of mitogen-activated protein kinase phosphatase-2 (MKP-2) by ERK. Cell Cycle 9, 4650–4655 (2010).

Nazarian, R. et al. Melanomas acquire resistance to B-RAF(V600E) inhibition by RTK or N-RAS upregulation. Nature 468, 973–977 (2010).

Villanueva, J. et al. Acquired resistance to BRAF inhibitors mediated by a RAF kinase switch in melanoma can be overcome by cotargeting MEK and IGF-1R/PI3K. Cancer Cell 18, 683–695 (2010).

Corcoran, R. B. et al. EGFR-mediated re-activation of MAPK signaling contributes to insensitivity of BRAF-mutant colorectal cancers to RAF inhibition with vemurafenib. Cancer Discov. 2, 227–235 (2012).

Hatzivassiliou, G. et al. RAF inhibitors prime wild-type RAF to activate the MAPK pathway and enhance growth. Nature 464, 431–435 (2010).

Das Thakur, M. et al. Modelling vemurafenib resistance in melanoma reveals a strategy to forestall drug resistance. Nature 494, 251–255 (2013).

Johannessen, C. M. et al. COT drives resistance to RAF inhibition through MAP kinase pathway reactivation. Nature 468, 968–972 (2010).

Wagle, N. et al. Dissecting therapeutic resistance to RAF inhibition in melanoma by tumor genomic profiling. J. Clin. Oncol. 29, 3085–3096 (2011).

Konieczkowski, D. J., Johannessen, C. M. & Garraway, L. A. A convergence-based framework for cancer drug resistance. Cancer Cell 33, 801–815 (2018).

Viswanathan, S. R. et al. Genome-scale analysis identifies paralog lethality as a vulnerability of chromosome 1p loss in cancer. Nat. Genet. 50, 937–943 (2018).

Benjamini, Y. & Hochberg, Y. Controlling the false discovery rate: a practical and powerful approach to multiple testing. J. R. Stat. Soc. Series B Stat. Methodol. 57, 289–300 (1995).

Doench, J. G. et al. Optimized sgRNA design to maximize activity and minimize off-target effects of CRISPR–Cas9. Nat. Biotechnol. 34, 184–191 (2016).
Acknowledgements
We thank W. Kaelin (Dana-Farber Cancer Institute), M. Meyerson (Dana-Farber Cancer Institute) and L. Lum (Loxo Oncology) for helpful discussions and the Broad Genomics Platform and Genetic Perturbation Platform for their contribution. This work was supported by grants from Ludwig Cancer Research at Harvard (no. 500506) and Broad/IBM Cancer Resistance Research Project (G.G. and L.P.). T.I. is supported by the Department of Defense Peer Reviewed Cancer Research Program Horizon Award (no. W81XWH-19-1-0271). J.G.D. is supported by the Next Generation Fund at the Broad Institute of MIT and Harvard.
Ethics declarations
Competing interests
During the conduct of this research, W.R.S. was or is a Board or Scientific Advisory Board member and equity holder in Peloton Therapeutics, IDEAYA Biosciences, Civetta Therapeutics, Scorpion Therapeutics and Bluebird and has consulted for Array, Astex, Dynamo Therapeutics, Ipsen, PearlRiver Bio, Sanofi and Servier and receives research funding from Pfizer Pharmaceuticals, Merck, IDEAYA Biosciences and Deerfield Management. J.G.D. consults for Foghorn Therapeutics, Maze Therapeutics, Merck, Agios and Pfizer; he also consults for and has equity in Tango Therapeutics. D.E.R. receives research funding from Functional Genomics Consortium members AbbVie, Janssen, Merck and Vir. G.G. received research funding from IBM and Pharmacyclics and is a founder, consultant and holds private equity in Scorpion Therapeutics. T.I. is a current employee and equity holder of Scorpion Therapeutics. F.V. receives funding from Novo Ventures. C.M.J. is a current Novartis employee and stockholder. A.W. is a current employee of Boehringer Ingelheim. The other authors declare no competing interests.
Additional information
Peer review information Nature Genetics thanks Peter Jackson and the other, anonymous, reviewer(s) for their contribution to the peer review of this work.
Publisher's note Springer Nature remains neutral with regard to jurisdictional claims in published maps and institutional affiliations.
Supplementary information
Supplementary Tables 1–13.
About this article
Cite this article
Ito, T., Young, M.J., Li, R. et al. Paralog knockout profiling identifies DUSP4 and DUSP6 as a digenic dependence in MAPK pathway-driven cancers. Nat Genet 53, 1664–1672 (2021). https://doi.org/10.1038/s41588-021-00967-z
Received:

Accepted:

Published:

Issue Date:

DOI: https://doi.org/10.1038/s41588-021-00967-z