Abstract
The Mediator complex directs signals from DNA-binding transcription factors to RNA polymerase II (Pol II). Despite this pivotal position, mechanistic understanding of Mediator in human cells remains incomplete. Here we quantified Mediator-controlled Pol II kinetics by coupling rapid subunit degradation with orthogonal experimental readouts. In agreement with a model of condensate-driven transcription initiation, large clusters of hypophosphorylated Pol II rapidly disassembled upon Mediator degradation. This was accompanied by a selective and pronounced disruption of cell-type-specifying transcriptional circuits, whose constituent genes featured exceptionally high rates of Pol II turnover. Notably, the transcriptional output of most other genes was largely unaffected by acute Mediator ablation. Maintenance of transcriptional activity at these genes was linked to an unexpected CDK9-dependent compensatory feedback loop that elevated Pol II pause release rates across the genome. Collectively, our work positions human Mediator as a globally acting coactivator that selectively safeguards the functionality of cell-type-specifying transcriptional networks.
Relevant articles
Open Access articles citing this article.
Hiroaki Ohishi

,

Seiru Shimada

…

Hiroshi Ochiai

Nature Communications Open Access 20 December 2022

Emilia Dimitrova

,

Angelika Feldmann

…

Robert J. Klose

Nature Structural & Molecular Biology Open Access 11 October 2022

Theodora A. Constantin

,

Kyle K. Greenland

…

Charlotte L. Bevan

Oncogene Open Access 14 May 2022
Access options
Subscribe to Nature+
Get immediate online access to Nature and 55 other Nature journal
Subscribe to Journal
Get full journal access for 1 year
$79.00
only $6.58 per issue
All prices are NET prices.
VAT will be added later in the checkout.
Tax calculation will be finalised during checkout.
Buy article
Get time limited or full article access on ReadCube.
$32.00
All prices are NET prices.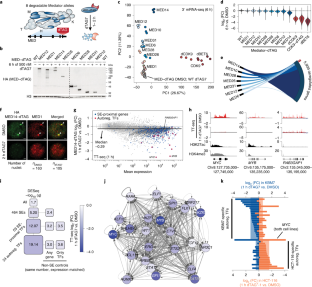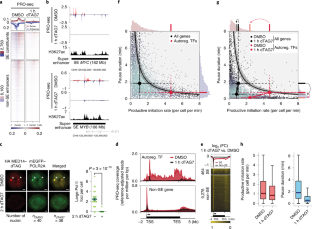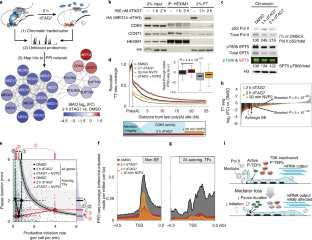 Data availability
Next-generation sequencing data are available through the NCBI Gene Expression Omnibus under accession code GSE139468. Chromatin proteomics data have been deposited at PRIDE under dataset identifier PXD017611. Source data for Figs. 1 and 4 and Extended Data Figs. 1–4 and 6 are presented with the paper.
References
Kelleher, R. J. 3rd, Flanagan, P. M. & Kornberg, R. D. A novel mediator between activator proteins and the RNA polymerase II transcription apparatus. Cell 61, 1209–1215 (1990).

Kornberg, R. D. Mediator and the mechanism of transcriptional activation. Trends Biochem. Sci. 30, 235–239 (2005).

Thompson, C. M., Koleske, A. J., Chao, D. M. & Young, R. A. A multisubunit complex associated with the RNA polymerase II CTD and TATA-binding protein in yeast. Cell 73, 1361–1375 (1993).

Kim, Y. J., Bjorklund, S., Li, Y., Sayre, M. H. & Kornberg, R. D. A multiprotein mediator of transcriptional activation and its interaction with the C-terminal repeat domain of RNA polymerase II. Cell 77, 599–608 (1994).

Fondell, J. D., Ge, H. & Roeder, R. G. Ligand induction of a transcriptionally active thyroid hormone receptor coactivator complex. Proc. Natl Acad. Sci. USA 93, 8329–8333 (1996).

Jiang, Y. W. et al. Mammalian mediator of transcriptional regulation and its possible role as an end-point of signal transduction pathways. Proc. Natl Acad. Sci. USA 95, 8538–8543 (1998).

Malik, S. & Roeder, R. G. Dynamic regulation of Pol II transcription by the mammalian Mediator complex. Trends Biochem. Sci. 30, 256–263 (2005).

Conaway, R. C., Sato, S., Tomomori-Sato, C., Yao, T. & Conaway, J. W. The mammalian Mediator complex and its role in transcriptional regulation. Trends Biochem. Sci. 30, 250–255 (2005).

Kim, Y. J. & Lis, J. T. Interactions between subunits of Drosophila Mediator and activator proteins. Trends Biochem. Sci. 30, 245–249 (2005).

Allen, B. L. & Taatjes, D. J. The Mediator complex: a central integrator of transcription. Nat. Rev. Mol. Cell Biol. 16, 155–166 (2015).

Soutourina, J. Transcription regulation by the Mediator complex. Nat. Rev. Mol. Cell Biol. 19, 262–274 (2018).

Jeronimo, C. & Robert, F. The Mediator complex: at the nexus of RNA polymerase II transcription. Trends Cell Biol. 27, 765–783 (2017).

Eychenne, T., Werner, M. & Soutourina, J. Toward understanding of the mechanisms of Mediator function in vivo: focus on the preinitiation complex assembly. Transcription 8, 328–342 (2017).

Malik, S. & Roeder, R. G. The metazoan Mediator co-activator complex as an integrative hub for transcriptional regulation. Nat. Rev. Genet. 11, 761–772 (2010).

Holstege, F. C. et al. Dissecting the regulatory circuitry of a eukaryotic genome. Cell 95, 717–728 (1998).

Petrenko, N., Jin, Y., Wong, K. H. & Struhl, K. Evidence that Mediator is essential for Pol II transcription, but is not a required component of the preinitiation complex in vivo. eLife 6, e28447 (2017).

Jeronimo, C. et al. Tail and kinase modules differently regulate core Mediator recruitment and function in vivo. Mol. Cell 64, 455–466 (2016).

Petrenko, N., Jin, Y., Wong, K. H. & Struhl, K. Mediator undergoes a compositional change during transcriptional activation. Mol. Cell 64, 443–454 (2016).

Shlyueva, D., Stampfel, G. & Stark, A. Transcriptional enhancers: from properties to genome-wide predictions. Nat. Rev. Genet. 15, 272–286 (2014).

Whyte, W. A. et al. Master transcription factors and Mediator establish super-enhancers at key cell identity genes. Cell 153, 307–319 (2013).

Loven, J. et al. Selective inhibition of tumor oncogenes by disruption of super-enhancers. Cell 153, 320–334 (2013).

Spitz, F. & Furlong, E. E. Transcription factors: from enhancer binding to developmental control. Nat. Rev. Genet. 13, 613–626 (2012).

Lee, T. I. & Young, R. A. Transcriptional regulation and its misregulation in disease. Cell 152, 1237–1251 (2013).

Davidson, E. H. Emerging properties of animal gene regulatory networks. Nature 468, 911–920 (2010).

Sabari, B. R. et al. Coactivator condensation at super-enhancers links phase separation and gene control. Science 361, eaar3958 (2018).

Cho, W.-K. et al. Mediator and RNA polymerase II clusters associate in transcription-dependent condensates. Science 361, 412 (2018).

Levine, M., Cattoglio, C. & Tjian, R. Looping back to leap forward: transcription enters a new era. Cell 157, 13–25 (2014).

Kim, S. & Shendure, J. Mechanisms of interplay between transcription factors and the 3D genome. Mol. Cell 76, 306–319 (2019).

Kagey, M. H. et al. Mediator and cohesin connect gene expression and chromatin architecture. Nature 467, 430–435 (2010).

El Khattabi, L. et al. A pliable Mediator acts as a functional rather than an architectural bridge between promoters and enhancers. Cell 178, 1145–1158 (2019).

Takahashi, H. et al. Human Mediator subunit MED26 functions as a docking site for transcription elongation factors. Cell 146, 92–104 (2011).

Wang, W. et al. Mediator MED23 regulates basal transcription in vivo via an interaction with P-TEFb. Transcription 4, 39–51 (2013).

Dahlberg, O., Shilkova, O., Tang, M., Holmqvist, P. H. & Mannervik, M. P-TEFb, the super elongation complex and Mediator regulate a subset of non-paused genes during early Drosophila embryo development. PLoS Genet. 11, e1004971 (2015).

Conaway, R. C. & Conaway, J. W. The Mediator complex and transcription elongation. Biochim. Biophys. Acta 1829, 69–75 (2013).

Erb, M. A. et al. Transcription control by the ENL YEATS domain in acute leukaemia. Nature 543, 270–274 (2017).

Nabet, B. et al. The dTAG system for immediate and target-specific protein degradation. Nat. Chem. Biol. 14, 431–441 (2018).

Cevher, M. A. et al. Reconstitution of active human core Mediator complex reveals a critical role of the MED14 subunit. Nat. Struct. Mol. Biol. 21, 1028–1034 (2014).

Winter, G. E. et al. BET bromodomain proteins function as master transcription elongation factors independent of CDK9 recruitment. Mol. Cell 67, 5–18 (2017).

Olson, C. M. et al. Pharmacological perturbation of CDK9 using selective CDK9 inhibition or degradation. Nat. Chem. Biol. 14, 163–170 (2018).

Muhar, M. et al. SLAM-seq defines direct gene-regulatory functions of the BRD4–MYC axis. Science 360, 800–805 (2018).

Plaschka, C. et al. Architecture of the RNA polymerase II–Mediator core initiation complex. Nature 518, 376–380 (2015).

Nozawa, K., Schneider, T. R. & Cramer, P. Core Mediator structure at 3.4 Å extends model of transcription initiation complex. Nature 545, 248–251 (2017).

Tsai, K. L. et al. Mediator structure and rearrangements required for holoenzyme formation. Nature 544, 196–201 (2017).

Kato, M. et al. Cell-free formation of RNA granules: low complexity sequence domains form dynamic fibers within hydrogels. Cell 149, 753–767 (2012).

Schwalb, B. et al. TT-seq maps the human transient transcriptome. Science 352, 1225–1228 (2016).

Saint-Andre, V. et al. Models of human core transcriptional regulatory circuitries. Genome Res. 26, 385–396 (2016).

Nabet, B. et al. Rapid and direct control of target protein levels with VHL-recruiting dTAG molecules. Preprint at bioRxiv https://doi.org/10.1101/2020.03.13.980946 (2020).

Mumbach, M. R. et al. HiChIP: efficient and sensitive analysis of protein-directed genome architecture. Nat. Methods 13, 919–922 (2016).

Weintraub, A. S. et al. YY1 is a structural regulator of enhancer–promoter loops. Cell 171, 1573–1588 (2017).

Li, W., Notani, D. & Rosenfeld, M. G. Enhancers as non-coding RNA transcription units: recent insights and future perspectives. Nat. Rev. Genet. 17, 207–223 (2016).

Kwak, H., Fuda, N. J., Core, L. J. & Lis, J. T. Precise maps of RNA polymerase reveal how promoters direct initiation and pausing. Science 339, 950–953 (2013).

Wissink, E. M., Vihervaara, A., Tippens, N. D. & Lis, J. T. Nascent RNA analyses: tracking transcription and its regulation. Nat. Rev.Genet. 20, 705–723 (2019).

Cramer, P. Organization and regulation of gene transcription. Nature 573, 45–54 (2019).

Hnisz, D., Shrinivas, K., Young, R. A., Chakraborty, A. K. & Sharp, P. A. A phase separation model for transcriptional control. Cell 169, 13–23 (2017).

Guo, Y. E. et al. Pol II phosphorylation regulates a switch between transcriptional and splicing condensates. Nature 572, 543–548 (2019).

Gressel, S. et al. CDK9-dependent RNA polymerase II pausing controls transcription initiation. eLife 6, e29736 (2017).

Shao, W. & Zeitlinger, J. Paused RNA polymerase II inhibits new transcriptional initiation. Nat. Genet. 49, 1045–1051 (2017).

Adelman, K. & Lis, J. T. Promoter-proximal pausing of RNA polymerase II: emerging roles in metazoans. Nat. Rev. Genet. 13, 720–731 (2012).

Ehrensberger, A. H., Kelly, G. P. & Svejstrup, J. Q. Mechanistic interpretation of promoter-proximal peaks and RNAPII density maps. Cell 154, 713–715 (2013).

Szklarczyk, D. et al. STRING v11: protein–protein association networks with increased coverage, supporting functional discovery in genome-wide experimental datasets. Nucleic Acids Res. 47, D607–D613 (2019).

Zhou, Q., Li, T. & Price, D. H. RNA polymerase II elongation control. Annu. Rev. Biochem. 81, 119–143 (2012).

Sanso, M. et al. P-TEFb regulation of transcription termination factor Xrn2 revealed by a chemical genetic screen for Cdk9 substrates. Genes Dev. 30, 117–131 (2016).

Parua, P. K. et al. A Cdk9–PP1 switch regulates the elongation–termination transition of RNA polymerase II. Nature 558, 460–464 (2018).

Bradner, J. E., Hnisz, D. & Young, R. A. Transcriptional addiction in cancer. Cell 168, 629–643 (2017).

Krebs, A. R. et al. Genome-wide single-molecule footprinting reveals high RNA polymerase II turnover at paused promoters. Mol. Cell 67, 411–422 (2017).

Li, Y., Liu, M., Chen, L. F. & Chen, R. P-TEFb: finding its ways to release promoter-proximally paused RNA polymerase II. Transcription 9, 88–94 (2018).

Mir, M., Bickmore, W., Furlong, E. E. M. & Narlikar, G. Chromatin topology, condensates and gene regulation: shifting paradigms or just a phase? Development 146, dev182766 (2019).

Chong, S. et al. Imaging dynamic and selective low-complexity domain interactions that control gene transcription. Science 361, eaar2555 (2018).

Roeder, R. G. 50+ years of eukaryotic transcription: an expanding universe of factors and mechanisms. Nat. Struct. Mol. Biol. 26, 783–791 (2019).

Sakuma, T., Nakade, S., Sakane, Y., Suzuki, K.-I. T. & Yamamoto, T. MMEJ-assisted gene knock-in using TALENs and CRISPR–Cas9 with the PITCh systems. Nat. Protoc. 11, 118–133 (2016).

Brand, M. & Winter, G. E. Locus-specific knock-in of a degradable tag for target validation studies. Methods Mol. Biol. 1953, 105–119 (2019).

Dobin, A. et al. STAR: ultrafast universal RNA-seq aligner. Bioinformatics 29, 15–21 (2013).

Anders, S., Pyl, P. T. & Huber, W. HTSeq—a Python framework to work with high-throughput sequencing data. Bioinformatics 31, 166–169 (2015).

Pedregosa, F. et al. Scikit-learn: machine learning in Python. J. Mach. Learn. Res. 12, 2825–2830 (2011).

Reich, M. et al. GenePattern 2.0. Nat. Genet. 38, 500–501 (2006).

Gautier, L., Cope, L., Bolstad, B. M. & Irizarry, R. A. affy—analysis of Affymetrix GeneChip data at the probe level. Bioinformatics 20, 307–315 (2004).

Love, M. I., Huber, W. & Anders, S. Moderated estimation of fold change and dispersion for RNA-seq data with DESeq2. Genome Biol. 15, 550 (2014).

Cui, Y. et al. BioCircos.js: an interactive Circos JavaScript library for biological data visualization on web applications. Bioinformatics 32, 1740–1742 (2016).

Aranda-Orgilles, B. et al. MED12 regulates HSC-specific enhancers independently of Mediator kinase activity to control hematopoiesis. Cell Stem Cell 19, 784–799 (2016).

Carpenter, A. E. et al. CellProfiler: image analysis software for identifying and quantifying cell phenotypes. Genome Biol. 7, R100 (2006).

Peng, K., Radivojac, P., Vucetic, S., Dunker, A. K. & Obradovic, Z. Length-dependent prediction of protein intrinsic disorder. BMC Bioinformatics 7, 208 (2006).

Virtanen, P. et al. SciPy 1.0: fundamental algorithms for scientific computing in Python. Nat. Methods 17, 261–272 (2020).

Waskom, M. et al. mwaskom/seaborn: v0.9.0. Zenodo https://doi.org/10.5281/ZENODO.1313201 (2018).

Hunter, J. D. Matplotlib: a 2D graphics environment. Comput. Sci. Eng. 9, 90–95 (2007).

McNamara, R. P. et al. KAP1 recruitment of the 7SK snRNP complex to promoters enables transcription elongation by RNA polymerase II. Mol. Cell 61, 39–53 (2016).
Acknowledgements
We thank R. Fisher (Icahn School of Medicine at Mount Sinai) for sharing antibody to SPT5 phosphorylated at Thr806. We thank the Biomedical Sequencing Facility at CeMM and the MPIMG sequencing core for assistance with next-generation sequencing. We thank the imaging core facility of the Medical University of Vienna for assistance with microscopy. We thank P. Lenart for critical review of the image quantification procedures. We thank A. Mayer and M. Erb for feedback on this manuscript. M.G.J. was supported by a Boehringer Ingelheim Fonds PhD fellowship. T.V. was supported by the International Max Planck Research School for Genome Science, part of the Göttingen Graduate Center for Neurosciences, Biophysics and Molecular Biosciences. B.A. is supported by the Austrian Science Fund (FWF) and the Medical University of Vienna's joint PhD program in Inflammation and Immunity (FWF1212). C.B. is supported by a New Frontiers Group award of the Austrian Academy of Sciences and by an ERC Starting Grant (European Union's Horizon 2020 research and innovation programme, grant agreement 679146). B.N. was supported by an American Cancer Society Postdoctoral Fellowship (PF-17-010-01-CDD). B.N. and N.S.G. were supported by the Katherine L. and Steven C. Pinard Research Fund. D.H. is supported by the SPP2202 Priority Program Grant (HN 4/1-1) from the Deutsche Forschungsgemeinschaft (DFG). This project was further supported by an FWF Stand-Alone grant (P31690-B) awarded to the Winter laboratory.
Ethics declarations
Competing interests
G.E.W., J.E.B. and B.N. are inventors on patent applications related to the dTAG system (WO/2017/024318, WO/2017/024319, WO/2018/148443, WO/2018/148440). The dTAGV-1 molecule is the subject of a patent application filed by Dana-Farber Cancer Institute. N.S.G. is a scientific founder, member of the scientific advisory board (SAB) and equity holder for C4 Therapeutics, Syros, Soltego, B2S, Gatekeeper and Petra Pharmaceuticals. The Gray laboratory receives or has received research funding from Novartis, Takeda, Astellas, Taiho, Janssen, Kinogen, Voroni, Her2llc, Deerfield and Sanofi. J.E.B. is now an executive and shareholder of Novartis and has been a founder and shareholder of SHAPE (acquired by Medivir), Acetylon (acquired by Celgene), Tensha (acquired by Roche), Syros, Regenacy and C4 Therapeutics.
Additional information
Publisher's note Springer Nature remains neutral with regard to jurisdictional claims in published maps and institutional affiliations.
Supplementary information
About this article
Cite this article
Jaeger, M.G., Schwalb, B., Mackowiak, S.D. et al. Selective Mediator dependence of cell-type-specifying transcription. Nat Genet 52, 719–727 (2020). https://doi.org/10.1038/s41588-020-0635-0
Received:

Accepted:

Published:

Issue Date:

DOI: https://doi.org/10.1038/s41588-020-0635-0