Abstract
Spatial transcriptomics enables the simultaneous measurement of morphological features and transcriptional profiles of the same cells or regions in tissues. Here we present multi-modal structured embedding (MUSE), an approach to characterize cells and tissue regions by integrating morphological and spatially resolved transcriptional data. We demonstrate that MUSE can discover tissue subpopulations missed by either modality as well as compensate for modality-specific noise. We apply MUSE to diverse datasets containing spatial transcriptomics (seqFISH+, STARmap or Visium) and imaging (hematoxylin and eosin or fluorescence microscopy) modalities. MUSE identified biologically meaningful tissue subpopulations and stereotyped spatial patterning in healthy brain cortex and intestinal tissues. In diseased tissues, MUSE revealed gene biomarkers for proximity to tumor region and heterogeneity of amyloid precursor protein processing across Alzheimer brain regions. MUSE enables the integration of multi-modal data to provide insights into the states, functions and organization of cells in complex biological tissues.
Relevant articles
Open Access articles citing this article.
Jiwoon Park

,

Junbum Kim

…

Christopher E. Mason

Genome Biology Open Access 13 December 2022

Xinyi Zhang

,

Xiao Wang

…

Caroline Uhler

Nature Communications Open Access 03 December 2022
Access options
Access Nature and 54 other Nature Portfolio journals
Get Nature+, our best-value online-access subscription
$29.99 per month
cancel any time
Subscribe to this journal
Receive 12 print issues and online access
$209.00 per year
only $17.42 per issue
Rent or buy this article
Get just this article for as long as you need it
$39.95
Prices may be subject to local taxes which are calculated during checkout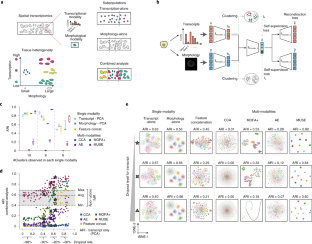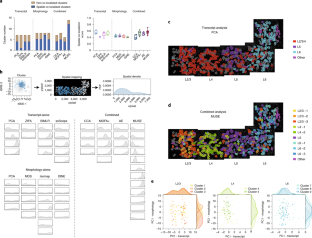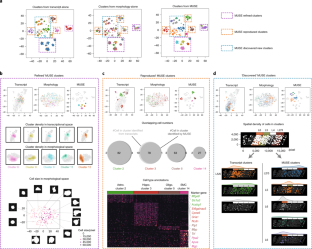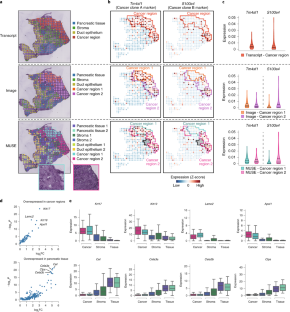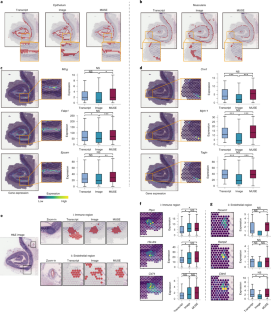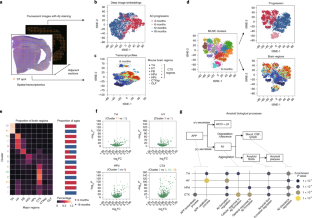 Data availability
seqFISH+ mouse cortex dataset: Transcript data were downloaded from the GitHub page of the seqFISH+ project (https://github.com/CaiGroup/seqFISH-PLUS) on 1 August 2019. Nissl and DAPI stained images were provided by the authors of the seqFISH+ paper.
STARmap mouse cortex dataset: Raw data were downloaded from the project page (http://clarityresourcecenter.org/) on 2 July 2019. Transcript profiles and cell segmentation masks were extracted from data using the Python pipeline provided by the authors at https://github.com/weallen/STARmap.
PDAC dataset: Both spatial transcriptomics (including gene expressions and H&E images) and scRNA-seq datasets were downloaded from the Gene Expression Omnibus (GEO) database with accession number GSE111672.
Intestine dataset: 10x Visium spatial transcriptomics were downloaded from the GEO database with accession number GSE158328.
AD dataset: Raw and normalized count matrix of the spatial transcriptomics were downloaded from the GEO database of the project (accession number GSE152506). Immunofluorescence images (Abeta, GFAP, NeuN and DAPI staining) that correspond to spatial transcriptomics data were downloaded from the 'synapse.org' page of the project (https://www.synapse.org/#!Synapse:syn22153884/wiki/603937) on 31 October 2020.
References
Perlman, Z. E. et al. Multidimensional drug profiling by automated microscopy. Science 306, 1194–1198 (2004).

Loo, L.-H., Wu, L. F. & Altschuler, S. J. Image-based multivariate profiling of drug responses from single cells. Nat. Methods 4, 445–453 (2007).

Feldman, D. et al. Optical pooled screens in human cells. Cell 179, 787–799 (2019).

Klein, A. M. et al. Droplet barcoding for single-cell transcriptomics applied to embryonic stem cells. Cell 161, 1187–1201 (2015).

Macosko, E. Z. et al. Highly parallel genome-wide expression profiling of individual cells using nanoliter droplets. Cell 161, 1202–1214 (2015).

Shalek, A. K. et al. Single-cell RNA-seq reveals dynamic paracrine control of cellular variation. Nature 510, 363–369 (2014).

Rizvi, A. H. et al. Single-cell topological RNA-seq analysis reveals insights into cellular differentiation and development. Nat. Biotechnol. 35, 551–560 (2017).

Gojo, J. et al. Single-cell RNA-seq reveals cellular hierarchies and impaired developmental trajectories in pediatric ependymoma. Cancer Cell 38, 44–59 (2020).

Ståhl, P. L. et al. Visualization and analysis of gene expression in tissue sections by spatial transcriptomics. Science 353, 78–82 (2016).

Vickovic, S. et al. High-definition spatial transcriptomics for in situ tissue profiling. Nat. Methods 16, 987–990 (2019).

Shah, S. et al. Dynamics and spatial genomics of the nascent transcriptome by intron seqFISH. Cell 174, 363–376 (2018).

Eng, C.-H. L. et al. Transcriptome-scale super-resolved imaging in tissues by RNA seqFISH. Nature 568, 235–239 (2019).

Chen, K. H., Boettiger, A. N., Moffitt, J. R., Wang, S. & Zhuang, X. Spatially resolved, highly multiplexed RNA profiling in single cells. Science 348, aaa6090 (2015).

Moffitt, J. R. et al. High-throughput single-cell gene-expression profiling with multiplexed error-robust fluorescence in situ hybridization. Proc. Natl Acad. Sci. USA 113, 11046–11051 (2016).

Wang, X. et al. Three-dimensional intact-tissue sequencing of single-cell transcriptional states. Science 361, eaat5691 (2018).

Thompson, B. Canonical Correlation Analysis: Uses and Interpretation (Sage, 1984).

Argelaguet, R. et al. Multi-Omics Factor Analysis—a framework for unsupervised integration of multi-omics data sets. Mol. Syst. Biol. 14, e8124 (2018).

Argelaguet, R. et al. MOFA+: a statistical framework for comprehensive integration of multi-modal single-cell data. Genome Biol. 21, 111 (2020).

Hinton, G.E. & Zemel, R.S. In: Advances in Neural Information Processing Systems 3–10 (MIT Press, 1994).

Baldi, P. In: Proceedings of ICML Workshop on Unsupervised and Transfer Learning 37–49 (MLR Press, 2012).

Chechik, G., Sharma, V., Shalit, U. & Bengio, S. Large scale online learning of image similarity through ranking. J.Mach. Learn. Res. 11, 1109–1135 (2010).

Hoffer, E. & Ailon, N. In: International Workshop on Similarity-Based Pattern Recognition 84–92 (Springer, 2015).

Levine, J. H. et al. Data-driven phenotypic dissection of AML reveals progenitor-like cells that correlate with prognosis. Cell 162, 184–197 (2015).

Hubert, L. & Arabie, P. Comparing partitions. J. Classif. 2, 193–218 (1985).

Wang, B., Zhu, J., Pierson, E., Ramazzotti, D. & Batzoglou, S. Visualization and analysis of single-cell RNA-seq data by kernel-based similarity learning. Nat. Methods 14, 414–416 (2017).

Deng, Y., Bao, F., Dai, Q., Wu, L. F. & Altschuler, S. J. Scalable analysis of cell-type composition from single-cell transcriptomics using deep recurrent learning. Nat. Methods 16, 311–314 (2019).

Qiu, P. Embracing the dropouts in single-cell RNA-seq analysis. Nat. Commun. 11, 1169 (2020).

Yuan, G.-C. et al. Challenges and emerging directions in single-cell analysis. Genome Biol. 18, 84 (2017).

Satija, R., Farrell, J. A., Gennert, D., Schier, A. F. & Regev, A. Spatial reconstruction of single-cell gene expression data. Nat. Biotechnol. 33, 495–502 (2015).

Zhu, Q., Shah, S., Dries, R., Cai, L. & Yuan, G.-C. Identification of spatially associated subpopulations by combining scRNAseq and sequential fluorescence in situ hybridization data. Nat. Biotechnol. https://doi.org/10.1038/nbt.4260 (2018).

Belgard, T. G. et al. A transcriptomic atlas of mouse neocortical layers. Neuron 71, 605–616 (2011).

Tasic, B. et al. Adult mouse cortical cell taxonomy revealed by single cell transcriptomics. Nat. Neurosci. 19, 335–346 (2016).

Szegedy, C., Vanhoucke, V., Ioffe, S., Shlens, J. & Wojna, Z. In: Proceedings of the IEEE Conference on Computer Vision and Pattern Recognition 2818–2826 (IEEE, 2016).

Pierson, E. & Yau, C. ZIFA: dimensionality reduction for zero-inflated single-cell gene expression analysis. Genome Biol. 16, 241 (2015).

Yao, Z. et al. A taxonomy of transcriptomic cell types across the isocortex and hippocampal formation. Cell 184, 3222–3241 (2021).

Mbeunkui, F. & Johann, D. J. Cancer and the tumor microenvironment: a review of an essential relationship. Cancer Chemother. Pharmacol. 63, 571–582 (2009).

Sun, Y. et al. Treatment-induced damage to the tumor microenvironment promotes prostate cancer therapy resistance through WNT16B. Nat. Med. 18, 1359–1368 (2012).

McGranahan, N. & Swanton, C. Clonal heterogeneity and tumor evolution: past, present, and the future. Cell 168, 613–628 (2017).

Moncada, R. et al. Integrating microarray-based spatial transcriptomics and single-cell RNA-seq reveals tissue architecture in pancreatic ductal adenocarcinomas. Nat. Biotechnol. 38, 333–342 (2020).

Yao, H. et al. Glypican-3 and KRT19 are markers associating with metastasis and poor prognosis of pancreatic ductal adenocarcinoma. Cancer Biomark. 17, 397–404 (2016).

Liu, X. et al. A new panel of pancreatic cancer biomarkers discovered using a mass spectrometry-based pipeline. Br. J. Cancer 117, 1846–1854 (2017).

Roa-Peña, L. et al. Keratin 17 identifies the most lethal molecular subtype of pancreatic cancer. Sci. Rep. 9, 11239 (2019).

Yang, C. et al. Evaluation of the diagnostic ability of laminin gene family for pancreatic ductal adenocarcinoma. Aging (Albany NY) 11, 3679–3703 (2019).

Van den Broeck, A., Vankelecom, H., Van Eijsden, R., Govaere, O. & Topal, B. Molecular markers associated with outcome and metastasis in human pancreatic cancer. J. Exp. Clin. Cancer Res. 31, 68 (2012).

Fawkner-Corbett, D. et al. Spatiotemporal analysis of human intestinal development at single-cell resolution. Cell 184, 810–826 (2021).

Maynard, K. R. et al. Transcriptome-scale spatial gene expression in the human dorsolateral prefrontal cortex. Nat. Neurosci. 24, 425–436 (2021).

Zhao, E. et al. Spatial transcriptomics at subspot resolution with BayesSpace. Nat. Biotechnol. 39, 1375–1384 (2021).

Hardy, J. A. & Higgins, G. A. Alzheimer's disease: the amyloid cascade hypothesis. Science 256, 184–186 (1992).

Murphy, M. & Levine, H. III Alzheimer's disease and the amyloid-β peptide. J. Alzheimers Dis. 19, 311–323 (2010).

Chen, W.-T. et al. Spatial transcriptomics and in situ sequencing to study Alzheimer's disease. Cell 182, 976–991(2020).

Stickels, R. R. et al. Highly sensitive spatial transcriptomics at near-cellular resolution with Slide-seqV2. Nat. Biotechnol. 39, 313–319 (2021).

Clark, S. J. et al. scNMT-seq enables joint profiling of chromatin accessibility DNA methylation and transcription in single cells. Nat. Commun. 9, 781 (2018).

Dries, R. et al. Giotto: a toolbox for integrative analysis and visualization of spatial expression data. Genome Biol. 22, 78 (2021).

Pham, D. et al. stLearn: integrating spatial location, tissue morphology and gene expression to find cell types, cell-cell interactions and spatial trajectories within undissociated tissues. Preprint at bioRxiv https://www.biorxiv.org/content/10.1101/2020.05.31.125658v1 (2020).

Wolf, F. A., Angerer, P. & Theis, F. J. SCANPY: large-scale single-cell gene expression data analysis. Genome Biol. 19, 15 (2018).

Eden, E., Navon, R., Steinfeld, I., Lipson, D. & Yakhini, Z. GOrilla: a tool for discovery and visualization of enriched GO terms in ranked gene lists. BMC Bioinformatics 10, 48 (2009).

Subramanian, A. et al. Gene set enrichment analysis: a knowledge-based approach for interpreting genome-wide expression profiles. Proc. Natl Acad. Sci. USA 102, 15545–15550 (2005).

Rousseeuw, P. J. Silhouettes: a graphical aid to the interpretation and validation of cluster analysis. J. Comput. Appl. Math. 20, 53–65 (1987).
Acknowledgements
We thank C.-H. L. Eng at Caltech for providing seqFISH+ image data; X. Wang at the Broad Institute and MIT for providing information on STARmap data analysis; R. Moncada at NYU for advice on PDAC data analysis; H. Koohy and A. Antanavicute from Oxford for providing full-resolution human intestine images; and O. Moindrot at Stanford for the open-source implementation of the triplet loss. We thank J. Bieber, H. Hammerlindl, L. Rao, X. Sun and other members of the Altschuler and Wu laboratories for constructive feedback. S.J.A. and L.F.W. gratefully acknowledge support from the UCSF Program for Breakthrough Biomedical Research, ProjectALS and the CZI NDNC Challenge Network. Q.D. was supported by the projects of NSFC (no. 62088102) and the MOST (no. 2020AA0105500). Y.D. was supported by the projects of NSFC (no. 61971020 and 62031001) and the MOST (no. 2020AAA0105502).
Ethics declarations
Competing interests
S.J.A. and L.F.W. have consulting agreements with Nine Square Therapeutics and BAKX Therapeutics involving cash and/or equity compensation. All other authors declare no competing interests.
Peer review
Peer review information
Nature Biotechnology thanks Itai Yanai, Raphael Gottardo and the other, anonymous, reviewer(s) for their contribution to the peer review of this work.
Additional information
Publisher's note Springer Nature remains neutral with regard to jurisdictional claims in published maps and institutional affiliations.
Supplementary information
Supplementary Tables 1–6.
About this article
Cite this article
Bao, F., Deng, Y., Wan, S. et al. Integrative spatial analysis of cell morphologies and transcriptional states with MUSE. Nat Biotechnol 40, 1200–1209 (2022). https://doi.org/10.1038/s41587-022-01251-z
Received:

Accepted:

Published:

Issue Date:

DOI: https://doi.org/10.1038/s41587-022-01251-z
This article is cited by
Katy Vandereyken
Alejandro Sifrim
Thierry Voet

Nature Reviews Genetics (2023)

Jiwoon Park
Junbum Kim
Christopher E. Mason

Genome Biology (2022)

Xinyi Zhang
Xiao Wang
Caroline Uhler

Nature Communications (2022)