This is a preview of subscription content
Access options
Subscribe to Journal
Get full journal access for 1 year
$99.00
only $8.25 per issue
All prices are NET prices.
VAT will be added later in the checkout.
Tax calculation will be finalised during checkout.
Rent or Buy article
Get time limited or full article access on ReadCube.
from$8.99
All prices are NET prices.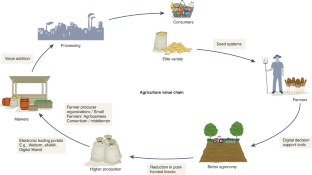 References
1.

Ray, D. K., Ramankutty, N., Mueller, N. D., West, P. C. & Foley, J. A. Nat. Commun. 3, 1293 (2012).

2.

Rosenzweig, C. et al. Proc. Natl Acad. Sci. USA 111, 3268–3273 (2014).

3.

Atlin, G. N., Cairns, J. E. & Das, B. Glob. Food Secur. 12, 31–37 (2017).

4.

Watson, A. et al. Nat. Plants 4, 23–29 (2018).

5.

Crossa, J. et al. Trends Plant Sci. 22, 961–975 (2017).

6.

Torti, S. et al. Nat. Plants 7, 159–171 (2021).

7.

Varshney, R. K. et al. Trends Genet. https://doi.org/10.1016/j.tig.2021.08.002 (2021).

8.

Bohra, A., Chand Jha, U., Godwin, I. D. & Kumar Varshney, R. Plant Biotechnol. J. 18, 2388–2405 (2020).

9.

Shrestha, P., Vernooy, R. & Chaudhary, P. (eds). Community seedbanks in Nepal: past, present and future. In Proc. Natl Workshop, LI-BIRD/USC Canada Asia/Oxfam/The Development Fund/IFAD/Bioversity International on 14–15 June 2012 in Pokhara, Nepal (Bioversity International, 2013); https://hdl.handle.net/10568/68933

10.

Zhang, W. et al. Nature 537, 671–674 (2016).

11.

Zhang, F., Chen, X. & Vitousek, P. Nature 497, 33–35 (2013).

12.

Li, C. et al. Field Crops Res. 203, 201–211 (2017).

13.

Denning, G. et al. PLoS Biol. 27, e1000023 (2009).

14.

Rosegrant, M. W., Magalhaes, E., Valmonte-Santos, R. A. & Mason-D'Croz, D. Food security and nutrition assessment paper (IFPRI, 2015); https://www.ifpri.org/publication/returns-investment-reducing-postharvest-food-losses-and-increasing-agricultural

15.

Godfray, H. C. et al. Science 327, 812–818 (2010).
Acknowledgements
The authors thank the Deputy Vice-Chancellor Research, The University of Western Australia, and Director General, ICRISAT for supporting an international workshop in Perth, Australia, to brainstorm topics in the article. R.K.V. acknowledges support from the Bill & Melinda Gates Foundation for undertaking research on seed delivery systems through the Tropical Legumes projects at ICRISAT.
Ethics declarations
Competing interests
The authors declare no competing interests.
About this article
Cite this article
Varshney, R.K., Bohra, A., Roorkiwal, M. et al. Rapid delivery systems for future food security. Nat Biotechnol 39, 1179–1181 (2021). https://doi.org/10.1038/s41587-021-01079-z