Abstract
Correct reconstruction of macromolecular structure by cryo-electron microscopy (cryo-EM) relies on accurate determination of the orientation of single-particle images. For small (<100 kDa) DNA-binding proteins, obtaining particle images with sufficiently asymmetric features to correctly guide alignment is challenging. We apply DNA origami to construct molecular goniometers—instruments that precisely orient objects—and use them to dock a DNA-binding protein on a double-helix stage that has user-programmable tilt and rotation angles. We construct goniometers with 14 different stage configurations to orient and visualize the protein just above the cryo-EM grid surface. Each goniometer has a distinct barcode pattern that we use during particle classification to assign angle priors to the bound protein. We use goniometers to obtain a 6.5-Å structure of BurrH, an 82-kDa DNA-binding protein whose helical pseudosymmetry prevents accurate image orientation using traditional cryo-EM. Our approach should be adaptable to other DNA-binding proteins as well as small proteins fused to DNA-binding domains.
Access options
Subscribe to Journal
Get full journal access for 1 year
$59.00
only $4.92 per issue
All prices are NET prices.
VAT will be added later in the checkout.
Tax calculation will be finalised during checkout.
Rent or Buy article
Get time limited or full article access on ReadCube.
from$8.99
All prices are NET prices.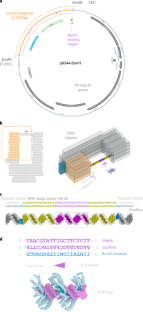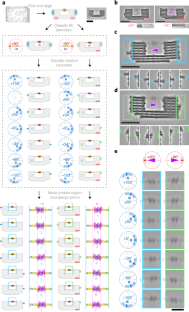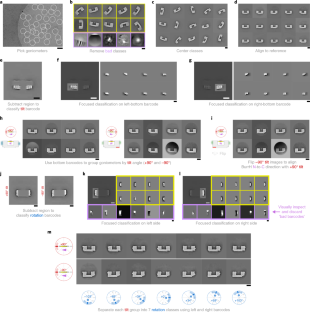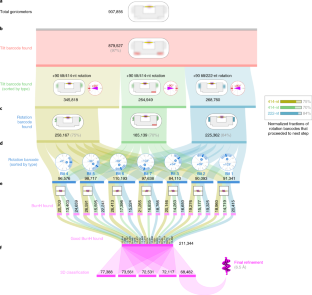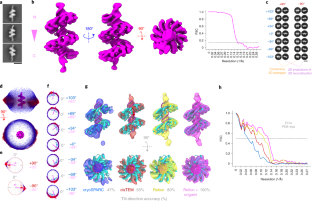 Data availability
The cryo-EM map of BurrH has been deposited in the Electron Microscopy Data Bank (EMD-21443). The cryo-EM movie files have been deposited at the Electron Microscopy Public Image Archive (EMPIAR-10373). The p9344-BurrH scaffold sequence has been submitted to GenBank (MT081208) and the plasmid deposited with AddGene (no. 140326).
References
1.

Bai, X.-C., McMullan, G. & Scheres, S. H. W. How cryo-EM is revolutionizing structural biology. Trends Biochem. Sci. 40, 49–57 (2015).

2.

Cheng, Y. Single-particle cryo-EM—how did it get here and where will it go? Science 361, 876–880 (2018).

3.

Wu, S. et al. Fabs enable single particle cryoEM studies of small proteins. Structure 20, 582–592 (2012).

4.

Zhang, C. et al. Analysis of discrete local variability and structural covariance in macromolecular assemblies using Cryo-EM and focused classification. Ultramicroscopy 203, 170–180 (2019).

5.

Liu, Y., Gonen, S., Gonen, T. & Yeates, T. O. Near-atomic cryo-EM imaging of a small protein displayed on a designed scaffolding system. Proc. Natl Acad. Sci. USA 115, 3362–3367 (2018).

6.

Seeman, N. C. Nucleic acid junctions and lattices. J. Theor. Biol. 99, 237–247 (1982).

7.

Rothemund, P. W. K. Folding DNA to create nanoscale shapes and patterns. Nature 440, 297–302 (2006).

8.

Martin, T. G. et al. Design of a molecular support for cryo-EM structure determination. Proc. Natl Acad. Sci. USA 113, E7456–E7463 (2016).

9.

Juillerat, A. et al. BurrH: a new modular DNA binding protein for genome engineering. Sci. Rep. 4, 3831 (2014).

10.

Stella, S. et al. BuD, a helix-loop-helix DNA-binding domain for genome modification. Acta Crystallogr. D. Biol. Crystallogr. 70, 2042–2052 (2014).

11.

Wang, F. et al. Amino and PEG-amino graphene oxide grids enrich and protect samples for high-resolution single particle cryo-electron microscopy.J. Struct. Biol. 209, 107437 (2019).

12.

Scheres, S. H. W. RELION: implementation of a Bayesian approach to cryo-EM structure determination. J. Struct. Biol. 180, 519–530 (2012).

13.

Punjani, A., Rubinstein, J. L., Fleet, D. J. & Brubaker, M. A. cryoSPARC: algorithms for rapid unsupervised cryo-EM structure determination. Nat. Methods 14, 290–296 (2017).

14.

Grant, R., Rohou, A. & Grigorieff, N. cisTEM, user-friendly software for single-particle image processing.eLife 7, e35383 (2018).

15.

Baldwin, P. R. & Lyumkis, D. Non-uniformity of projection distributions attenuates resolution in Cryo-EM.Prog. Biophys. Mol. Biol. 150, 160–163 (2019).

16.

Rosenthal, P. B. & Henderson, R. Optimal determination of particle orientation, absolute hand, and contrast loss in single-particle electron cryomicroscopy. J. Mol. Biol. 333, 721–745 (2003).

17.

Meents, A., Gutmann, S., Wagner, A. & Schulze-Briese, C. Origin and temperature dependence of radiation damage in biological samples at cryogenic temperatures. Proc. Natl Acad. Sci. USA 107, 1094–1099 (2010).

18.

Zhou, K. et al. Toward precise manipulation of DNA–protein hybrid nanoarchitectures. Small 15, 1804044 (2019).

19.

Glaeser, R. M. How good can cryo-EM become? Nat. Methods 13, 28–32 (2016).

20.

Lyumkis, D. Challenges and opportunities in cryo-EM single-particle analysis. J. Biol. Chem. 294, 5181–5197 (2019).

21.

Nafisi, P. M., Aksel, T. & Douglas, S. M. Construction of a novel phagemid to produce custom DNA origami scaffolds. Synth. Biol. 3, https://doi.org/10.1093/synbio/ysy015 (2018).

22.

Douglas, S. M. et al. Rapid prototyping of 3D DNA-origami shapes with caDNAno. Nucleic Acids Res. 37, 5001–5006 (2009).

23.

Wagenbauer, K. F. et al. How we make DNA origami. Chem. Bio. Chem. 18, 1873–1885 (2017).

24.

Zheng, S. Q. et al. MotionCor2: anisotropic correction of beam-induced motion for improved cryo-electron microscopy. Nat. Methods 14, 331–332 (2017).

25.

Zhang, K. Gctf: Real-time CTF determination and correction. J. Struct. Biol. 193, 1–12 (2016).

26.

Tang, G. et al. EMAN2: an extensible image processing suite for electron microscopy. J. Struct. Biol. 157, 38–46 (2007).

27.

Pettersen, E. F., Goddard, T. D. & Huang, C. C. UCSF Chimera—a visualization system for exploratory research and analysis. J. Comput. Chem. 25, 1605–1612 (2004).

28.

Dang, S. et al. Cryo-EM structures of the TMEM16A calcium-activated chloride channel. Nature 552, 426–429 (2017).

29.

Tan, Y. Z. et al. Addressing preferred specimen orientation in single-particle cryo-EM through tilting. Nat. Methods 14, 793–796 (2017).

30.

Heymann, J. B., Chagoyen, M. & Belnap, D. M. Common conventions for interchange and archiving of three-dimensional electron microscopy information in structural biology. J. Struct. Biol. 151, 196–207 (2005).
Acknowledgements
We thank F. Wang for furnishing amino-graphene-oxide grids and protocols for early tests. We thank D. Bulkley and A. Myasnikov for help with cryo-EM data collection. We thank J. Brown and C. Gingold for help with visualization. T.A. was supported by the Ruth L. Kirschstein NRSA Postdoctoral Fellowship grant no. F32GM119322. S.M.D. was supported by the UCSF Program for Breakthrough Biomedical Research, Pew-Stewart Scholars Program, NSF CAREER award no. 1453847 and NIH grant no. R35GM125027. Y.C. is an investigator of the Howard Hughes Medical Institute and was supported by NIH grant nos. R01GM098672, R01HL134183, S10OD021741 and S10OD020054.
Ethics declarations
Competing interests
The authors declare no competing interests.
Additional information
Publisher's note Springer Nature remains neutral with regard to jurisdictional claims in published maps and institutional affiliations.
Supplementary information
About this article
Cite this article
Aksel, T., Yu, Z., Cheng, Y. et al. Molecular goniometers for single-particle cryo-electron microscopy of DNA-binding proteins. Nat Biotechnol 39, 378–386 (2021). https://doi.org/10.1038/s41587-020-0716-8
Received:

Accepted:

Published:

Issue Date:
Further reading
Swarup Dey

,

Chunhai Fan

,

Kurt V. Gothelf

,

Jiang Li

,

Chenxiang Lin

,

Longfei Liu

,

Na Liu

,

Minke A. D. Nijenhuis

,

Barbara Saccà

,

Friedrich C. Simmel

,

Hao Yan

&

Pengfei Zhan

Nature Reviews Methods Primers (2021)

Massimo Kube

,

Fabian Kohler

,

Elija Feigl

,

Baki Nagel-Yüksel

,

Elena M. Willner

,

Jonas J. Funke

,

Thomas Gerling

,

Pierre Stömmer

,

Maximilian N. Honemann

,

Thomas G. Martin

,

Sjors H. W. Scheres

&

Hendrik Dietz

Nature Communications (2020)