Abstract
The gut microbiome is a malleable microbial community that can remodel in response to various factors, including diet, and contribute to the development of several chronic diseases, including atherosclerosis. We devised an in vitro screening protocol of the mouse gut microbiome to discover molecules that can selectively modify bacterial growth. This approach was used to identify cyclic d,l-α-peptides that remodeled the Western diet (WD) gut microbiome toward the low-fat-diet microbiome state. Daily oral administration of the peptides in WD-fed LDLr−/− mice reduced plasma total cholesterol levels and atherosclerotic plaques. Depletion of the microbiome with antibiotics abrogated these effects. Peptide treatment reprogrammed the microbiome transcriptome, suppressed the production of pro-inflammatory cytokines (including interleukin-6, tumor necrosis factor-α and interleukin-1β), rebalanced levels of short-chain fatty acids and bile acids, improved gut barrier integrity and increased intestinal T regulatory cells. Directed chemical manipulation provides an additional tool for deciphering the chemical biology of the gut microbiome and might advance microbiome-targeted therapeutics.
Relevant articles
Open Access articles citing this article.
Mengling Xia

,

Fei Xu

…

Jianying Zhou

Respiratory Research Open Access 21 October 2022

Jun Zhou

,

Maoyi Li

…

Qian Chen

Nature Communications Open Access 14 June 2022

Luanne R. DeChristopher

,

Brandon J. Auerbach

&

Katherine L. Tucker

BMC Nutrition Open Access 08 December 2020
Access options
Access Nature and 54 other Nature Portfolio journals
Get Nature+, our best-value online-access subscription
$29.99 per month
cancel any time
Subscribe to this journal
Receive 12 print issues and online access
$209.00 per year
only $17.42 per issue
Rent or buy this article
Get just this article for as long as you need it
$39.95
Prices may be subject to local taxes which are calculated during checkout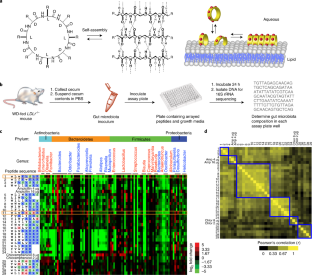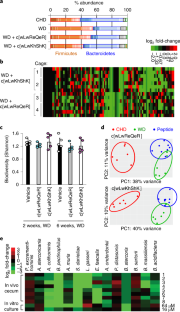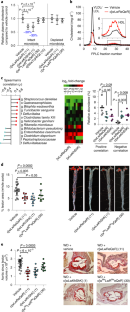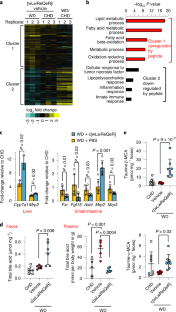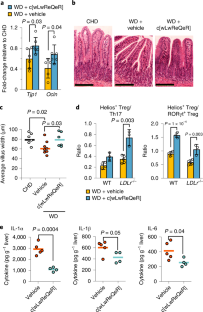 Data availability
Source data for quantifications either mentioned in the text or shown in graphs are available upon reasonable request from the corresponding authors. RNA-seq data have been deposited in the Gene Expression Omibus under accession GSE104915, and 16S rRNA sequencing reads have been deposited in MG-RAST under accession 93528, 93529 and 93586.
References
Lozupone, C. A., Stombaugh, J. I., Gordon, J. I., Jansson, J. K. & Knight, R. Diversity, stability and resilience of the human gut microbiota. Nature 489, 220–230 (2012).

Cho, I. & Blaser, M. J. The human microbiome: at the interface of health and disease. Nat. Rev. Genet. 13, 260–270 (2012).

Brown, J. M. & Hazen, S. L. Microbial modulation of cardiovascular disease. Nat. Rev. Microbiol. 16, 171–181 (2018).

Zhao, L. The gut microbiota and obesity: from correlation to causality. Nat. Rev. Microbiol. 11, 639–647 (2013).

Maruvada, P., Leone, V., Kaplan, L. M. & Chang, E. B. The human microbiome and obesity: moving beyond associations. Cell Host Microbe 22, 589–599 (2017).

Khan, M. T., Nieuwdorp, M. & Baeckhed, F. Microbial modulation of insulin sensitivity. Cell Metab. 20, 753–760 (2014).

Pedersen, H. K. et al. Human gut microbes impact host serum metabolome and insulin sensitivity. Nature 535, 376–381 (2016).

Sharon, G., Sampson, T. R., Geschwind, D. H. & Mazmanian, S. K. The central nervous system and the gut microbiome. Cell 167, 915–932 (2016).

Turnbaugh, P. J. et al. The effect of diet on the human gut microbiome: a metagenomic analysis in humanized gnotobiotic mice. Sci. Transl. Med. 1, 6ra14–16ra14 (2009).

Kau, A. L., Ahern, P. P., Griffin, N. W., Goodman, A. L. & Gordon, J. I. Human nutrition, the gut microbiome and the immune system. Nature 474, 327–336 (2011).

Carmody, R. N. et al. Diet dominates host genotype in shaping the murine gut microbiota. Cell Host Microbe 17, 72–84 (2015).

Furusawa, Y. et al. Commensal microbe-derived butyrate induces the differentiation of colonic regulatory T cells. Nature 504, 446–450 (2013).

Rios-Covian, D. et al. Intestinal short chain fatty acids and their link with diet and human health. Front. Microbiol. 7, 185 (2016).

Perry, R. J. et al. Acetate mediates a microbiome-brain-β-cell axis to promote metabolic syndrome. Nature 534, 213–217 (2016).

Hsiao, E. Y. et al. Microbiota modulate behavioral and physiological abnormalities associated with neurodevelopmental disorders. Cell 155, 1451–1463 (2013).

Dodd, D. et al. A gut bacterial pathway metabolizes aromatic amino acids into nine circulating metabolites. Nature 551, 648–652 (2017).

de Aguiar Vallim, T. Q., Tarling, E. J. & Edwards, P. A. Pleiotropic roles of bile acids in metabolism. Cell Metab. 17, 657–669 (2013).

Wahlstroem, A., Sayin, S. I., Marschall, H.-U. & Baeckhed, F. Intestinal crosstalk between bile acids and microbiota and its impact on host metabolism. Cell Metab. 24, 41–50 (2016).

Jia, W., Xie, G. & Jia, W. Bile acid–microbiota crosstalk in gastrointestinal inflammation and carcinogenesis. Nat. Rev. Gastroenterol. Hepatol. 15, 111–128 (2018).

Schmidt, T. S. B., Raes, J. & Bork, P. The human gut microbiome: from association to modulation. Cell 172, 1198–1215 (2018).

Wang, Z. et al. Non-lethal inhibition of gut microbial trimethylamine production for the treatment of atherosclerosis. Cell 163, 1585–1595 (2015).

Zhu, W. et al. Precision editing of the gut microbiota ameliorates colitis. Nature 553, 208–211 (2018).

Li, F. et al. Microbiome remodelling leads to inhibition of intestinal Farnesoid X receptor signalling and decreased obesity. Nat. Commun. 4, 2384 (2013).

Sanders, M. E., Merenstein, D. J., Reid, G., Gibson, G. R. & Rastall, R. A. Probiotics and prebiotics in intestinal health and disease: from biology to the clinic. Nat. Rev. Gastroenterol. Hepatol. 16, 605–616 (2019).

Shepherd, E. S., DeLoache, W. C., Pruss, K. M., Whitaker, W. R. & Sonnenburg, J. L. An exclusive metabolic niche enables strain engraftment in the gut microbiota. Nature 557, 434–438 (2018).

Chen, M.-L. et al. Resveratrol attenuates trimethylamine-N-oxide (TMAO)-induced atherosclerosis by regulating TMAO synthesis and bile acid metabolism via remodeling of the gut microbiota. MBio 7, e02210–e02215 (2016).

Maier, L. et al. Extensive impact of non-antibiotic drugs on human gut bacteria. Nature 555, 623–628 (2018).

De Santis, P., Morosetti, S. & Rizzo, R. Conformational analysis of regular enantiomeric sequences. Macromolecules 7, 52–58 (1974).

Pavone, V. et al. Regularly alternating l,d-peptides. III. Hexacyclic peptides from valine or phenylalanine. Biopolymers 28, 215–223 (1989).

Ghadiri, M. R., Granja, J. R., Milligan, R. A., McRee, D. E. & Khazanovich, N. Self-assembling organic nanotubes based on a cyclic peptide architecture. Nature 366, 324–327 (1993).

Fernandez-Lopez, S. et al. Antibacterial agents based on the cyclic d,l-ɑ-peptide architecture. Nature 412, 452–456 (2001).

Dartois, V. et al. Systemic antibacterial activity of novel synthetic cyclic peptides. Antimicrob. Agents Chemother. 49, 3302–3310 (2005).

Fletcher, J. T., Finlay, J. A., Callow, M. E., Callow, J. A. & Ghadiri, M. R. A combinatorial approach to the discovery of biocidal six-residue cyclic d,l-ɑ-peptides against the bacteria methicillin-resistant Staphylococcus aureus (MRSA) and E. coli and the biofouling algae Ulva linza and Navicula perminuta. Chem. Eur. J. 13, 4008–4013 (2007).

Ley, R. E., Turnbaugh, P. J., Klein, S. & Gordon, J. I. Microbial ecology: human gut microbes associated with obesity. Nature 444, 1022–1023 (2006).

Martinez, K. B., Leone, V. & Chang, E. B. Western diets, gut dysbiosis, and metabolic diseases: are they linked? Gut Microbes 8, 130–142 (2017).

Sonnenburg, E. D. et al. Diet-induced extinctions in the gut microbiota compound over generations. Nature 529, 212–215 (2016).

Koh, A., De Vadder, F., Kovatcheva-Datchary, P. & Baeckhed, F. From dietary fiber to host physiology: short-chain fatty acids as key bacterial metabolites. Cell 165, 1332–1345 (2016).

Clark, T. D. et al. Cylindrical beta-sheet peptide assemblies. J. Am. Chem. Soc. 120, 8949–8962 (1998).

Kennedy, E. A., Baldridge, M. T. & King, K. Y. Mouse microbiota models: comparing germ-free mice and antibiotics treatment as tools for modifying gut bacteria. Front. Physiol. 9, 1534 (2018).

Lundberg, R. et al. Antibiotic-treated versus germ-free rodents for microbiota transplantation studies. Gut Microbes 7, 68–74 (2016).

Zarrinpar, A. et al. Antibiotic-induced microbiome depletion alters metabolic homeostasis by affecting gut signaling and colonic metabolism. Nat. Commun. 9, 2872 (2018).

Miyake, J. H. et al. Transgenic expression of cholesterol-7-alpha-hydroxylase prevents atherosclerosis in C57BL/6J mice. Arterioscler. Thromb. Vasc. Biol. 22, 121–126 (2002).

Li, T. & Chiang, J. Y. L. Bile acid signaling in metabolic disease and drug therapy. Pharmacol. Rev. 66, 948–983 (2014).

Zhang, Y. et al. FXR deficiency causes reduced atherosclerosis in LDLr−/− mice. Arterioscler. Thromb. Vasc. Biol. 26, 2316–2321 (2006).

Sayin, S. I. et al. Gut microbiota regulates bile acid metabolism by reducing the levels of tauro-beta-muricholic acid, a naturally occurring FXR antagonist. Cell Metab. 17, 225–235 (2013).

Ridker, P. M. et al. Antiinflammatory therapy with canakinumab for atherosclerotic disease. N. Engl. J. Med. 377, 1119–1131 (2017).

Ross, R. Atherosclerosis–an inflammatory disease. N. Engl. J. Med. 340, 115–126 (1999).

Mazmanian, S. K., Round, J. L. & Kasper, D. L. A microbial symbiosis factor prevents intestinal inflammatory disease. Nature 453, 620–625 (2008).

Caesar, R., Fak, F. & Backhed, F. Effects of gut microbiota on obesity and atherosclerosis via modulation of inflammation and lipid metabolism. J. Intern. Med 268, 320–328 (2010).

Piccirillo, C. A., d'Hennezel, E., Sgouroudis, E. & Yurchenko, E. CD4+FOXP3+ regulatory T cells in the control of autoimmunity: in vivo veritas. Curr. Opin. Immunol. 20, 655–662 (2008).

Ait-Oufella, H. et al. Natural regulatory T cells control the development of atherosclerosis in mice. Nat. Med. 12, 178–180 (2006).

Schiering, C. et al. The alarmin IL-33 promotes regulatory T-cell function in the intestine. Nature 513, 564–568 (2014).

Round, J. L. & Mazmanian, S. K. Inducible FOXP3+ regulatory T-cell development by a commensal bacterium of the intestinal microbiota. Proc. Natl Acad. Sci. USA 107, 12204–12209 (2010).

Sefik, E. et al. Individual intestinal symbionts induce a distinct population of RORγ+ regulatory T cells. Science 349, 993–997 (2015).

Soroosh, P. et al. Oxysterols are agonist ligands of RORγt and drive Th17 cell differentiation. Proc. Natl Acad. Sci. USA 111, 12163–12168 (2014).

Freigang, S. et al. Fatty acid-induced mitochondrial uncoupling elicits inflammasome-independent IL-1α and sterile vascular inflammation in atherosclerosis. Nat. Immunol. 14, 1045–1053 (2013).

Schloss, P. D. et al. Introducing MOTHUR: open-source, platform-independent, community-supported software for describing and comparing microbial communities. Appl. Environ. Microbiol. 75, 7537–7541 (2009).

Love, M. I., Huber, W. & Anders, S. Moderated estimation of fold change and dispersion for RNA-Seq data with DESeq2. Genome Biol. 15, 550 (2014).

Staley, C. et al. Stable engraftment of human microbiota into mice with a single oral gavage following antibiotic conditioning. Microbiome 5, 87 (2017).

Matranga Christian, B. et al. Enhanced methods for unbiased deep sequencing of Lassa and Ebola RNA viruses from clinical and biological samples. Genome Biol. 15, 519 (2014).

Li, H. & Durbin, R. Fast and accurate short read alignment with Burrows–Wheeler transform. Bioinformatics 25, 1754–1760 (2009).

Anders, S., Pyl, P. T. & Huber, W. HTSeq–a Python framework to work with high-throughput sequencing data. Bioinformatics 31, 166–169 (2015).

Anders, S. & Huber, W. Differential expression analysis for sequence count data. Genome Biol. 11, R106 (2010).

Buchfink, B., Xie, C. & Huson, D. H. Fast and sensitive protein alignment using DIAMOND. Nat. Methods 12, 59–60 (2015).

O'Leary, N. A. et al. Reference sequence (REFSeq) database at NCBI: current status, taxonomic expansion, and functional annotation. Nucleic Acids Res. 44, D733–D745 (2016).

Huson, D. H. et al. MEGAN community edition - interactive exploration and analysis of large-scale microbiome sequencing data. PLoS Comput. Biol. 12, e1004957 (2016).

Hainer Sarah, J. et al. Suppression of pervasive noncoding transcription in embryonic stem cells by ESBAF. Genes Dev. 29, 362–378 (2015).

Li, B. & Dewey, C. N. RSEM: accurate transcript quantification from RNA-Seq data with or without a reference genome. BMC Bioinf. 12, 323 (2011).

Huang da, W., Sherman, B. T. & Lempicki, R. A. Systematic and integrative analysis of large gene lists using DAVID bioinformatics resources. Nat. Protoc. 4, 44–57 (2009).

Huang, D. W., Sherman, B. T. & Lempicki, R. A. Bioinformatics enrichment tools: paths toward the comprehensive functional analysis of large gene lists. Nucleic Acids Res. 37, 1–13 (2009).
Acknowledgements
We gratefully acknowledge funding from the National Institutes of Health (NHLBI grants R01HL118114 and R01GM125984 to M.R.G., UL1TR001114 supporting B.M. and A.T. and U54GM114833 supporting A.T.), the Skaggs Institute of Chemical Biology and the American Heart Association (postdoctoral fellowships to Y.Z. and P.M.). We thank K. G. Andersen for discussions and protocols and G. Oliveira for technical assistance with sequencing. We thank C. S. Ryan, D. J. Search, R. A. Garcia and D. A. Gordon at Bristol Myers Squibb for carrying out pharmacokinetics and fecal dual isotope cholesterol absorption studies.
Ethics declarations
Competing interests
The authors declare no competing interests.
Additional information
Publisher's note Springer Nature remains neutral with regard to jurisdictional claims in published maps and institutional affiliations.
Supplementary information
Supplementary Note, Supplementary Figs. 1–4 and Supplementary Tables 1–8.
About this article
Cite this article
Chen, P.B., Black, A.S., Sobel, A.L. et al. Directed remodeling of the mouse gut microbiome inhibits the development of atherosclerosis. Nat Biotechnol 38, 1288–1297 (2020). https://doi.org/10.1038/s41587-020-0549-5
Received:

Accepted:

Published:

Issue Date:

DOI: https://doi.org/10.1038/s41587-020-0549-5