Abstract
Autoluminescent plants engineered to express a bacterial bioluminescence gene cluster in plastids have not been widely adopted because of low light output. We engineered tobacco plants with a fungal bioluminescence system that converts caffeic acid (present in all plants) into luciferin and report self-sustained luminescence that is visible to the naked eye. Our findings could underpin development of a suite of imaging tools for plants.
Access options
Subscribe to Journal
Get full journal access for 1 year
$59.00
only $4.92 per issue
All prices are NET prices.
VAT will be added later in the checkout.
Tax calculation will be finalised during checkout.
Rent or Buy article
Get time limited or full article access on ReadCube.
from$8.99
All prices are NET prices.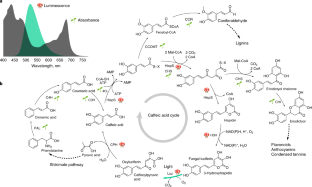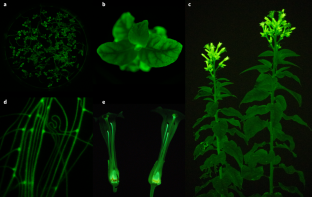 References
1.

Krichevsky, A., Meyers, B., Vainstein, A., Maliga, P. & Citovsky, V. PLoS ONE 5, e15461 (2010).

2.

Kotlobay, A. A. et al. Proc. Natl Acad. Sci. USA 115, 12728–12732 (2018).

3.

Yan, Y. & Lin, Y. Biosynthesis of caffeic acid and caffeic acid derivatives by recombinant microorganisms. US patent 8809028B2 (2012).

4.

Kawamata, S. et al. Plant Cell Physiol. 38, 792–803 (1997).

5.

Gaquerel, E., Gulati, J. & Baldwin, I. T. Plant J. 79, 679–692 (2014).

6.

Toyota, M. et al. Science 361, 1112–1115 (2018).

7.

Singh, S. K. et al. Sci. Rep. 5, 18148 (2015).

8.

Li, L. et al. Sci. Rep. 6, 37976 (2016).

9.

Li, W. et al. Sci. Rep. 7, 12126 (2017).

10.

Woo, H. R., Kim, H. J., Nam, H. G. & Lim, P. O. J. Cell Sci. 126, 4823–4833 (2013).

11.

Pauwels, L. et al. Proc. Natl Acad. Sci. USA 105, 1380–1385 (2008).

12.

Bernards, M. A. & Båstrup-Spohr, L. Induced Plant Resistance to Herbivory (Springer, 2008).

13.

Singh, R., Rastogi, S. & Dwivedi, U. N. Compr. Rev. Food Sci. Food Saf. 9, 398–416 (2010).

14.

Weber, E., Engler, C., Gruetzner, R., Werner, S. & Marillonnet, S. PLoS ONE 6, e16765 (2011).

15.

Iverson, S. V., Haddock, T. L., Beal, J. & Densmore, D. M. ACS Synth. Biol. 5, 99–103 (2016).

16.

Lazo, G. R., Stein, P. A. & Ludwig, R. A. Biotechnology 9, 963–967 (1991).

17.

Rogers, S. O. & Bendich, A. J. Plant Molecular Biology Manual (Springer, 1994).
Acknowledgements
This study was designed, performed and funded by Planta LLC. We thank K. Wood for assisting in manuscript development. Planta acknowledges support from the Skolkovo Innovation Centre. We thank D. Bolotin and the Milaboratory (milaboratory.com) for access to computing and storage infrastructure. We thank S. Shakhov for providing photography equipment. The Synthetic Biology Group is funded by the MRC London Institute of Medical Sciences (UKRI MC-A658-5QEA0, K.S.S.). K.S.S. is supported by an Imperial College Research Fellowship. Experiments were partially carried out using equipment provided by the Institute of Bioorganic Chemistry of the Russian Academy of Sciences Сore Facility (CKP IBCH; supported by the Russian Ministry of Education and Science Grant RFMEFI62117X0018). The F.A.K. lab is supported by ERC grant agreement 771209—CharFL. This project received funding from the European Union's Horizon 2020 Research and Innovation Programme under Marie Skłodowska-Curie Grant Agreement 665385. K.S.S. acknowledges support by President's Grant 075-15-2019-411. Design and assembly of some of the plasmids was supported by Russian Science Foundation grant 19-74-10102. Imaging experiments were partially supported by Russian Science Foundation grant 17-14-01169p. LC-MS/MS analyses of extracts were supported by Russian Science Foundation grant 16-14-00052p. Design and assembly of plasmids was partially supported by grant 075-15-2019-1789 from the Ministry of Science and Higher Education of the Russian Federation allocated to the Center for Precision Genome Editing and Genetic Technologies for Biomedicine. The authors would like to acknowledge the work of Genomics Core Facility of the Skolkovo Institute of Science and Technology, which performed the sequencing and bioinformatic analysis.
Ethics declarations
Competing interests
This work was supported by Planta LLC. I.V.Y. and K.S.S. are shareholders and employees of Planta. Planta has filed patent applications related to use of components of the fungal bioluminescent system and development of glowing transgenic organisms.
Additional information
Publisher's note Springer Nature remains neutral with regard to jurisdictional claims in published maps and institutional affiliations.
Integrated supplementary information
Supplementary information
About this article
Cite this article
Mitiouchkina, T., Mishin, A.S., Somermeyer, L.G. et al. Plants with genetically encoded autoluminescence. Nat Biotechnol 38, 944–946 (2020). https://doi.org/10.1038/s41587-020-0500-9
Received:

Accepted:

Published:

Issue Date:
Further reading
Brian T DeVree

,

Lisa M Steiner

,

Sylwia Głazowska

,

Felix Ruhnow

,

Klaus Herburger

,

Staffan Persson

&

Jozef Mravec

Biotechnology for Biofuels (2021)

Tzu-Chieh Tang

,

Bolin An

,

Yuanyuan Huang

,

Sangita Vasikaran

,

Yanyi Wang

,

Xiaoyu Jiang

,

Timothy K. Lu

&

Chao Zhong

Nature Reviews Materials (2021)

Yinglun Fan

,

Xiuyuan Wang

,

Haiyun Li

,

Shuang Liu

,

Liangshen Jin

,

Yanyan Lyu

,

Mengdi Shi

,

Sirui Liu

,

Xinyue Yang

&

Shanhua Lyu

Plant Methods (2020)