Abstract
Bioelectronics for modulating the nervous system have shown promise in treating neurological diseases1,2,3. However, their fixed dimensions cannot accommodate rapid tissue growth4,5 and may impair development6. For infants, children and adolescents, once implanted devices are outgrown, additional surgeries are often needed for device replacement, leading to repeated interventions and complications6,7,8. Here, we address this limitation with morphing electronics, which adapt to in vivo nerve tissue growth with minimal mechanical constraint. We design and fabricate multilayered morphing electronics, consisting of viscoplastic electrodes and a strain sensor that eliminate the stress at the interface between the electronics and growing tissue. The ability of morphing electronics to self-heal during implantation surgery allows a reconfigurable and seamless neural interface. During the fastest growth period in rats, morphing electronics caused minimal damage to the rat nerve, which grows 2.4-fold in diameter, and allowed chronic electrical stimulation and monitoring for 2 months without disruption of functional behavior. Morphing electronics offers a path toward growth-adaptive pediatric electronic medicine.
Access options
Subscribe to Journal
Get full journal access for 1 year
$99.00
only $8.25 per issue
All prices are NET prices.
VAT will be added later in the checkout.
Tax calculation will be finalised during checkout.
Rent or Buy article
Get time limited or full article access on ReadCube.
from$8.99
All prices are NET prices.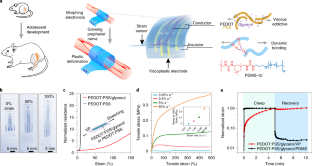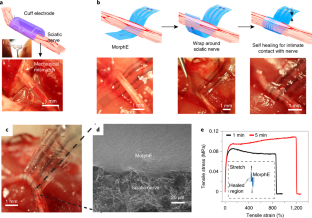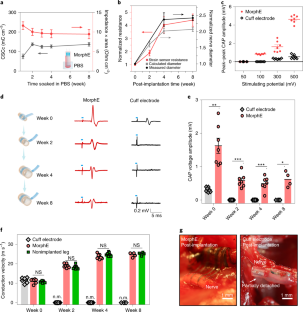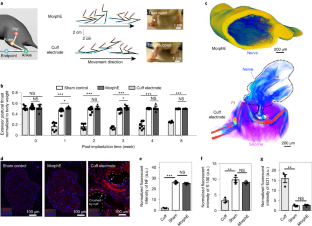 Data availability
All data are available in the article or Supplementary Information.
References
1.

Jonsson, A. et al. Therapy using implanted organic bioelectronics. Sci. Adv. 1, e1500039 (2015).

2.

Borovikova, L. V. et al. Vagus nerve stimulation attenuates the systemic inflammatory response to endotoxin. Nature 405, 458–462 (2000).

3.

Johnson, R. L. & Wilson, C. G. A review of vagus nerve stimulation as a therapeutic intervention. J. Inflamm. Res. 11, 203–213 (2018).

4.

Borzage, M., Blüml, S. & Seri, I. Equations to describe brain size across the continuum of human lifespan. Brain Struct. Funct. 219, 141–150 (2014).

5.

Meier, J. M. et al. Assessment of age-related changes in abdominal organ structure and function with computed tomography and positron emission tomography. Semin. Nucl. Med. 37, 154–172 (2007).

6.

Samuels-Reid, J. H. & Cope, J. U. Medical devices and adolescents: points to consider. JAMA Pediatr. 170, 1035–1036 (2016).

7.

Samdani, A. F. et al. Anterior vertebral body tethering for immature adolescent idiopathic scoliosis: one-year results on the first 32 patients. Eur. Spine J. 24, 1533–1539 (2015).

8.

Aalbers, M. W., Rijkers, K., Klinkenberg, S., Majoie, M. & Cornips, E. M. J. Vagus nerve stimulation lead removal or replacement: surgical technique, institutional experience, and literature overview. Acta Neurochir. 157, 1917–1924 (2015).

9.

Lee, W. et al. Nonthrombogenic, stretchable, active multielectrode array for electroanatomical mapping. Sci. Adv. 4, eaau2426 (2018).

10.

Xu, L. et al. 3D multifunctional integumentary membranes for spatiotemporal cardiac measurements and stimulation across the entire epicardium. Nat. Commun. 5, 3329 (2014).

11.

Liu, Y. et al. Soft and elastic hydrogel-based microelectronics for localized low-voltage neuromodulation. Nat. Biomed. Eng. 3, 58–68 (2019).

12.

Minev, I. R. et al. Electronic dura mater for long-term multimodal neural interfaces. Science 347, 159–163 (2015).

13.

Aaberg, K. M. et al. Short-term seizure outcomes in childhood epilepsy. Pediatrics 141, e20174016 (2018).

14.

Peña, C., Bowsher, K. & Samuels-Reid, J. FDA-approved neurologic devices intended for use in infants, children, and adolescents. Neurology 63, 1163–1167 (2004).

15.

Wang, Y. et al. A highly stretchable, transparent, and conductive polymer. Sci. Adv. 3, e1602076 (2017).

16.

Savagatrup, S., Printz, A. D., O'Connor, T. F., Zaretski, A. V. & Lipomi, D. J. Molecularly stretchable electronics. Chem. Mater. 26, 3028–3041 (2014).

17.

Kang, J. et al. Tough and water-insensitive self-healing elastomer for robust electronic skin. Adv. Mater. 30, e1706846 (2018).

18.

Khalifa, A. et al. The microbead: a 0.009 mm3 implantable wireless neural stimulator. IEEE Trans. Biomed. Circuits Syst. 13, 971–985 (2019).

19.

O'Brien, J. P. et al. A model of chronic nerve compression in the rat. Ann. Plast. Surg. 19, 430–435 (1987).

20.

Restaino, S. M., Abliz, E., Wachrathit, K., Krauthamer, V. & Shah, S. B. Biomechanical and functional variation in rat sciatic nerve following cuff electrode implantation. J. Neuroeng. Rehabil. 11, 73 (2014).

21.

Rivnay, J., Wang, H., Fenno, L., Deisseroth, K. & Malliaras, G. G. Next-generation probes, particles, and proteins for neural interfacing. Sci. Adv. 3, e1601649 (2017).

22.

Wilks, S. Poly(3,4-ethylene dioxythiophene) (PEDOT) as a micro-neural interface material for electrostimulation. Front. Neuroen. 2, 7 (2009).

23.

Cragg, B. G. & Thomas, P. K. The relationships between conduction velocity and the diameter and internodal length of peripheral nerve fibres. J. Physiol. 136, 606–614 (1957).

24.

de Medinaceli, L., Freed, W. J. & Wyatt, R. J. An index of the functional condition of rat sciatic nerve based on measurements made from walking tracks. Exp. Neurol. 77, 634–643 (1982).

25.

Kohane, D. S. et al. A re-examination of tetrodotoxin for prolonged duration local anesthesia. Anesthesiology 89, 119–131 (1998).

26.

Nitz, A. J., Dobner, J. J. & Matulionis, D. H. Structural assessment of rat sciatic nerve following tourniquet compression and vascular manipulation. Anat. Rec. 225, 67–76 (1989).

27.

Dyck, P. J., Lais, A. C., Giannini, C. & Engelstad, J. K. Structural alterations of nerve during cuff compression. Proc. Natl Acad. Sci. USA 87, 9828–9832 (1990).

28.

Beel, J. A., Groswald, D. E. & Luttges, M. W. Alterations in the mechanical properties of peripheral nerve following crush injury. J. Biomech. 17, 185–193 (1984).

29.

Rydevik, B., McLean, W. G., Sjöstrand, J. & Lundborg, G. Blockage of axonal transport induced by acute, graded compression of the rabbit vagus nerve. J. Neurol. Neurosurg. Psychiatry 43, 690–698 (1980).

30.

Bora, F. W., Richardson, S. & Black, J. The biomechanical responses to tension in a peripheral nerve. J. Hand Surg. Am. 5, 21–25 (1980).

31.

Nam, S., Lee, J., Brownfield, D. G. & Chaudhuri, O. Viscoplasticity enables mechanical remodeling of matrix by cells. Biophys. J. 111, 2296–2308 (2016).

32.

George, P. M. et al. Fabrication and biocompatibility of polypyrrole implants suitable for neural prosthetics. Biomaterials 26, 3511–3519 (2005).

33.

George, P. M. et al. Electrical preconditioning of stem cells with a conductive polymer scaffold enhances stroke recovery. Biomaterials 142, 31–40 (2017).

34.

George, P. M. et al. Three-dimensional conductive constructs for nerve regeneration. J. Biomed. Mater. Res. A 91, 519–527 (2009).

35.

Thalhammer, J. G., Vladimirova, M., Bershadsky, B. & Strichartz, G. R. Neurologic evaluation of the rat during sciatic nerve block with lidocaine. Anesthesiology 82, 1013–1025 (1995).

36.

Masters, D. B. et al. Prolonged regional nerve blockade by controlled release of local anesthetic from a biodegradable polymer matrix. Anesthesiology 79, 340–346 (1993).

37.

Oh, S. S., Hayes, J. M., Sims-Robinson, C., Sullivan, K. A. & Feldman, E. L. The effects of anesthesia on measures of nerve conduction velocity in male C57Bl6/J mice. Neurosci. Lett. 483, 127–131 (2010).

38.

Zotova, E. G. & Arezzo, J. C. Noninvasive evaluation of nerve conduction in small diameter fibers in the rat. Physiol. J. 2013, 1–11 (2013).

39.

Mokarram, N. et al. Immunoengineering nerve repair. Proc. Natl Acad. Sci. USA 26, E5077–E5084 (2017).

40.

Hort-Legrand, C., Noah, L., Mériguet, E. & Mésangeau, D. Motor and sensory nerve conduction velocities in Yucatan minipigs. Lab. Anim. 40, 53–57 (2006).

41.

Amanatullah, D. F. et al. Local estrogen axis in the human bone microenvironment regulates estrogenreceptor-positive breast cancer cells. Breast Cancer Res. 19, 121 (2017).

42.

Goldner, J. A modification of the Masson trichrome technique for routine laboratory purposes. Am. J. Pathol. 14, 237–243 (1938).
Acknowledgements
We thank P. Chu for her assistance in this work. We thank K. Xu for assistance with statistical analysis. We thank Agfa for providing PEDOT:PSS Orgacon ICP 1050. Part of this work was performed at the Stanford Nano Shared Facilities, supported by the National Science Foundation under award ECCS-1542152. Y.L. is supported by National Science Scholarship (A*STAR, Singapore). This research was supported in part by the Stanford Bio-X seed funding (Z.B.), Stanford University Dean's Postdoctoral Fellowship (S.S.), National Institutes of Health (NIH) F32HD098808 (S.S.), and NIH K08NS089976 (P.G.) and the Alliance for Regenerative Rehabilitation Research and Training supported by NIH P2C HD086843 (P.G.).
Ethics declarations
Competing interests
The authors declare no competing interests.
Additional information
Publisher's note Springer Nature remains neutral with regard to jurisdictional claims in published maps and institutional affiliations.
Supplementary information
About this article
Cite this article
Liu, Y., Li, J., Song, S. et al. Morphing electronics enable neuromodulation in growing tissue. Nat Biotechnol 38, 1031–1036 (2020). https://doi.org/10.1038/s41587-020-0495-2
Received:

Accepted:

Published:

Issue Date:
Further reading
Christina M. Tringides

,

Nicolas Vachicouras

,

Irene de Lázaro

,

Hua Wang

,

Alix Trouillet

,

Bo Ri Seo

,

Alberto Elosegui-Artola

,

Florian Fallegger

,

Yuyoung Shin

,

Cinzia Casiraghi

,

Kostas Kostarelos

,

Stéphanie P. Lacour

&

David J. Mooney

Nature Nanotechnology (2021)

Nature (2021)

Faqing Cao

,

Baohu Wu

,

Tianyu Li

,

Shengtong Sun

,

Yucong Jiao

&

Peiyi Wu

Nano Research (2021)