Abstract
Despite recent improvements in sequencing methods, there remains a need for assays that provide high sequencing depth and comprehensive variant detection. Current methods1,2,3,4 are limited by the loss of native modifications, short read length, high input requirements, low yield or long protocols. In the present study, we describe nanopore Cas9-targeted sequencing (nCATS), an enrichment strategy that uses targeted cleavage of chromosomal DNA with Cas9 to ligate adapters for nanopore sequencing. We show that nCATS can simultaneously assess haplotype-resolved single-nucleotide variants, structural variations and CpG methylation. We apply nCATS to four cell lines, to a cell-line-derived xenograft, and to normal and paired tumor/normal primary human breast tissue. Median sequencing coverage was 675× using a MinION flow cell and 34× using the smaller Flongle flow cell. The nCATS sequencing requires only ~3 μg of genomic DNA and can target a large number of loci in a single reaction. The method will facilitate the use of long-read sequencing in research and in the clinic.
Access options
Subscribe to Journal
Get full journal access for 1 year
$59.00
only $4.92 per issue
All prices are NET prices.
VAT will be added later in the checkout.
Tax calculation will be finalised during checkout.
Rent or Buy article
Get time limited or full article access on ReadCube.
from$8.99
All prices are NET prices.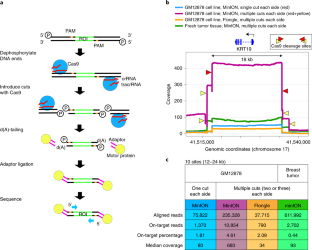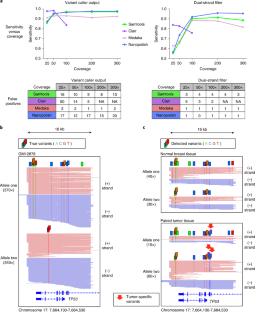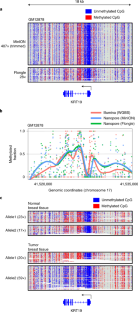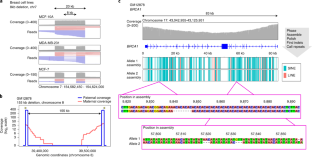 Data availability
Sequencing data from all non-primary patient samples for this study can be retrieved from the SRA, under the BioProject ID PRJNA531320.
References
1.

Karamitros, T. & Magiorkinis, G. Multiplexed targeted sequencing for Oxford Nanopore MinION: a detailed library preparation procedure. Methods Mol. Biol. 1712, 43–51 (2018).

2.

Leija-Salazar, M. et al. Evaluation of the detection of GBA missense mutations and other variants using the Oxford Nanopore MinION. Mol. Genet. Genom. Med. 7, e564 (2019).

3.

Gabrieli, T. et al. Selective nanopore sequencing of human BRCA1 by Cas9-assisted targeting of chromosome segments (CATCH). Nucleic Acids Res. 46, e87 (2018).

4.

Giesselmann, P. et al. Analysis of short tandem repeat expansions and their methylation state with nanopore sequencing. Nat. Biotechnol. 37, 1478–1481 (2019).

5.

Kozarewa, I., Armisen, J., Gardner, A. F., Slatko, B. E. & Hendrickson, C. L. Overview of target enrichment strategies. Curr. Protoc. Mol. Biol. 112, 7.21.1–7.21.23 (2015).

6.

Eberle, M. A. et al. A reference data set of 5.4 million phased human variants validated by genetic inheritance from sequencing a three-generation 17-member pedigree. Genome Res. 27, 157–164 (2017).

7.

ENCODE Project Consortium. An integrated encyclopedia of DNA elements in the human genome. Nature 489, 57–74 (2012).

8.

Sternberg, S. H., Redding, S., Jinek, M., Greene, E. C. & Doudna, J. A. DNA interrogation by the CRISPR RNA-guided endonuclease Cas9. Nature 507, 62–67 (2014).

9.

Forbes, S. A. et al. COSMIC: somatic cancer genetics at high-resolution. Nucleic Acids Res. 45, D777–D783 (2017).

10.

Lee, I. et al. Simultaneous profiling of chromatin accessibility and methylation on human cell lines with nanopore sequencing. Preprint at bioRxiv https://doi.org/10.1101/504993 (2018).

11.

Messier, T. L. et al. Histone H3 lysine 4 acetylation and methylation dynamics define breast cancer subtypes. Oncotarget 7, 5094–5109 (2016).

12.

Welcsh, P. L. & King, M. C. BRCA1 and BRCA2 and the genetics of breast and ovarian cancer. Hum. Mol. Genet. 10, 705–713 (2001).

13.

Li, H. A statistical framework for SNP calling, mutation discovery, association mapping and population genetical parameter estimation from sequencing data. Bioinformatics 27, 2987–2993 (2011).

14.

Luo, R. et al. Clair: Exploring the limit of using a deep neural network on pileup data for germline variant calling. Preprint at bioRxiv https://doi.org/10.1101/865782 (2019).

15.

Simpson, J. T. et al. Detecting DNA cytosine methylation using nanopore sequencing. Nat. Methods 14, 407–410 (2017).

16.

Martin, M. et al. WhatsHap: fast and accurate read-based phasing. Preprint at bioRxiv https://doi.org/10.1101/085050 (2016).

17.

Tate, J. G. et al. COSMIC: the catalogue of somatic mutations in cancer. Nucleic Acids Res. 47, D941–D947 (2019).

18.

Martignano, F. et al. GSTP1 methylation and protein expression in prostate cancer: diagnostic implications. Dis. Markers 2016, 4358292 (2016).

19.

Kabir, N. N., Rönnstrand, L. & Kazi, J. U. Keratin 19 expression correlates with poor prognosis in breast cancer. Mol. Biol. Rep. 41, 7729–7735 (2014).

20.

Wang, X.-M., Zhang, Z., Pan, L.-H., Cao, X.-C. & Xiao, C. KRT19 and CEACAM5 mRNA-marked circulated tumor cells indicate unfavorable prognosis of breast cancer patients. Breast Cancer Res. Treat. 174, 375–385 (2019).

21.

Noguchi, S. et al. Detection of breast cancer micrometastases in axillary lymph nodes by means of reverse transcriptase-polymerase chain reaction. Comparison between MUC1 mRNA and keratin 19 mRNA amplification. Am. J. Pathol. 148, 649–656 (1996).

22.

Sedlazeck, F. J. et al. Accurate detection of complex structural variations using single-molecule sequencing. Nat. Methods 15, 461–468 (2018).

23.

Zook, J. M. et al. Extensive sequencing of seven human genomes to characterize benchmark reference materials. Sci. Data 3, 160025 (2016).

24.

Kolmogorov, M., Yuan, J., Lin, Y. & Pevzner, P. A. Assembly of long, error-prone reads using repeat graphs. Nat. Biotechnol. 37, 540–546 (2019).

25.

Vaser, R., Sović, I., Nagarajan, N. & Šikić, M. Fast and accurate de novo genome assembly from long uncorrected reads. Genome Res. 27, 737–746 (2017).

26.

Li, H. Minimap2: pairwise alignment for nucleotide sequences. Bioinformatics 34, 3094–3100 (2018).

27.

Chaisson, M. J. P. et al. Multi-platform discovery of haplotype-resolved structural variation in human genomes. Preprint at bioRxiv https://doi.org/10.1101/193144 (2018).

28.

Audano, P. A. et al. Characterizing the major structural variant alleles of the human genome. Cell 176, 663–675.e19 (2019).

29.

Dixon, J. R. et al. Integrative detection and analysis of structural variation in cancer genomes. Nat. Genet. 50, 1388–1398 (2018).

30.

Timp, W. & Feinberg, A. P. Cancer as a dysregulated epigenome allowing cellular growth advantage at the expense of the host. Nat. Rev. Cancer 13, 497–510 (2013).

31.

Jeffares, D. C. et al. Transient structural variations have strong effects on quantitative traits and reproductive isolation in fission yeast. Nat. Commun. 8, 14061 (2017).

32.

Krueger, F. & Andrews, S. R. Bismark: a flexible aligner and methylation caller for Bisulfite-Seq applications. Bioinformatics 27, 1571–1572 (2011).

33.

Hansen, K. D., Langmead, B. & Irizarry, R. A. BSmooth: from whole genome bisulfite sequencing reads to differentially methylated regions. Genome Biol. 13, R83 (2012).
Acknowledgements
This work was supported by funding from the National Institutes for Health (grant no. R01 HG009190) (National Human Genome Research Institute).
Ethics declarations
Competing interests
J.G., E.R., R.B. and A.H. are employees of Oxford Nanopore Technologies. W.T. has two patents licensed to Oxford Nanopore Technologies (US patent nos. 8,748,091 and 8,394,584). T.G., I.L., F.S. and W.T. have received travel funds to speak at symposia organized by Oxford Nanopore Technologies.
Additional information
Publisher's note Springer Nature remains neutral with regard to jurisdictional claims in published maps and institutional affiliations.
Integrated supplementary information
Supplementary information
About this article
Cite this article
Gilpatrick, T., Lee, I., Graham, J.E. et al. Targeted nanopore sequencing with Cas9-guided adapter ligation. Nat Biotechnol 38, 433–438 (2020). https://doi.org/10.1038/s41587-020-0407-5
Received:

Accepted:

Published:

Issue Date: