Abstract
Is the oncogene MYC upregulated or hyperactive? In the majority of human cancers, finding agents that target c-MYC has proved difficult. Here we report specific bacterial effector molecules that inhibit cellular MYC (c-MYC) in human cells. We show that uropathogenic Escherichia coli (UPEC) degrade the c-MYC protein and attenuate MYC expression in both human cells and animal tissues. c-MYC protein was rapidly degraded by both cell-free bacterial lysates and the purified bacterial protease Lon. In mice, intravesical or peroral delivery of Lon protease delayed tumor progression and increased survival in MYC-dependent bladder and colon cancer models, respectively. These results suggest that bacteria have evolved strategies to control c-MYC tissue levels in the host and that the Lon protease shows promise for therapeutic targeting of c-MYC in cancer.
Relevant articles
Open Access articles citing this article.
Ting Gong

,

Xuedi Zhang

…

Youtan Liu

Communications Biology Open Access 06 June 2022
Access options
Access Nature and 54 other Nature Portfolio journals
Get Nature+, our best-value online-access subscription
$29.99 per month
cancel any time
Subscribe to this journal
Receive 12 print issues and online access
$209.00 per year
only $17.42 per issue
Rent or buy this article
Get just this article for as long as you need it
$39.95
Prices may be subject to local taxes which are calculated during checkout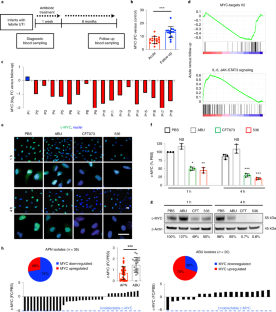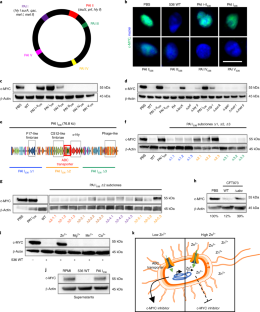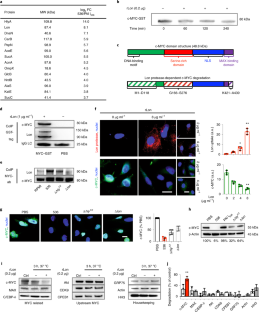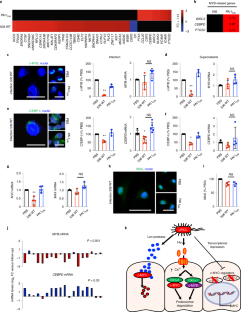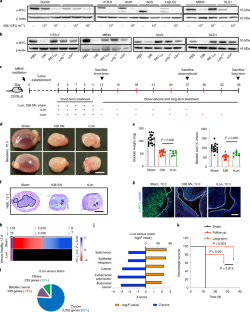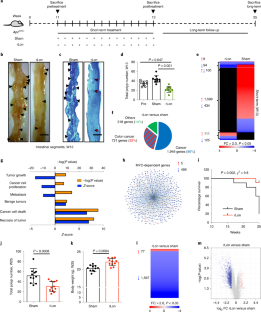 Data availability
The microarray data for this study have been deposited in NCBI's Gene Expression Omnibus repository under accession number GSE162253. All other data that support the findings of this study are available from the corresponding author upon reasonable request. Source data are provided with this paper.
References
Dang, C. V. MYC on the path to cancer. Cell 149, 22–35 (2012).

Meyer, N. & Penn, L. Z. MYC – TIMELINE reflecting on 25 years with MYC. Nat. Rev. Cancer 8, 976–990 (2008).

Nilsson, J. A. & Cleveland, J. L. Myc pathways provoking cell suicide and cancer. Oncogene 22, 9007–9021 (2003).

Wierstra, I. & Alves, J. Cyclin E/Cdk2, P/CAF, and E1A regulate the transactivation of the c-myc promoter by FOXM1. Biochem. Biophys. Res. Commun. 368, 107–115 (2008).

Chen, H., Liu, H. D. & Qing, G. L. Targeting oncogenic Myc as a strategy for cancer treatment. Signal Transduct. Target. Ther. 3, 5 (2018).

Caforio, M. et al. Recent advances in searching c-Myc transcriptional cofactors during tumorigenesis. J. Exp. Clin. Cancer Res. 37, 239 (2018).

Hann, S. R. MYC cofactors: molecular switches controlling diverse biological outcomes. Cold Spring Harb. Perspect. Med. https://doi.org/10.1101/cshperspect.a014399 (2014).

Mugrauer, G. & Ekblom, P. Contrasting expression patterns of 3 members of the Myc family of protooncogenes in the developing and adult mouse kidney. J. Cell Biol. 112, 13–25 (1991).

Caugant, D. A. et al. Genetic diversity in relation to serotype in Escherichia coli. Infect. Immun. 49, 407–413 (1985).

Leffler, H. & Svanborg Eden, C. Glycolipid receptors for uropathogenic Escherichia coli on human-erythrocytes and uroepithelial cells. Infect. Immun. 34, 920–929 (1981).

Dobrindt, U. et al. S-fimbria-encoding determinant sfa(I) is located on pathogenicity island III536 of uropathogenic Escherichia coli strain 536. Infect. Immun. 69, 4248–4256 (2001).

Middendorf, B. et al. Instability of pathogenicity islands in uropathogenic Escherichia coli 536. J. Bacteriol. 186, 3086–3096 (2004).

Datsenko, K. A. & Wanner, B. L. One-step inactivation of chromosomal genes in Escherichia coli K-12 using PCR products. Proc. Natl Acad. Sci. USA 97, 6640–6645 (2000).

The UniProt Consortium. UniProtKB – A0A454A9A9 (A0A454A9A9_ECOL5) https://www.uniprot.org/uniprot/A0A454A9A9 (2019).

Ramsay, G., Evan, G. I. & Bishop, J. M. The protein encoded by the human proto-oncogene c-Myc. Proc. Natl Acad. Sci. USA 81, 7742–7746 (1984).

Li, L. K. et al. GLIPR1 suppresses prostate cancer development through targeted oncoprotein destruction. Cancer Res. 71, 7694–7704 (2011).

Mashhoon, N. et al. Crystal structure of a conformation-selective casein kinase-1 inhibitor. J. Biol. Chem. 275, 20052–20060 (2000).

Uhlen, P. et al. alpha-Haemolysin of uropathogenic E. coli induces Ca2+ oscillations in renal epithelial cells. Nature 405, 694–697 (2000).

Patzer, S. I. & Hantke, K. The ZnuABC high-affinity zinc uptake system and its regulator Zur in Escherichia coli. Mol. Microbiol. 28, 1199–1210 (1998).

Yatsunyk, L. A. et al. Structure and metal binding properties of ZnuA, a periplasmic zinc transporter from Escherichia coli. J. Biol. Inorg. Chem. 13, 271–288 (2008).

Cogswell, J. P. et al. Mechanism of C-Myc regulation by c-Myb in different cell lineages. Mol. Cell. Biol. 13, 2858–2869 (1993).

Nakagoshi, H., Kaneiishii, C., Sawazaki, T., Mizuguchi, G. & Ishii, S. Transcriptional activation of the c-Myc gene by the c-Myb and b-Myb gene-products. Oncogene 7, 1233–1240 (1992).

Balamurugan, K. & Sterneck, E. The many faces of C/EBPdelta and their relevance for inflammation and cancer. Int. J. Biol. Sci. 9, 917–933 (2013).

Gery, S., Tanosaki, S., Hofmann, W. K., Koppel, A. & Koeffler, H. P. C/EBPdelta expression in a BCR-ABL-positive cell line induces growth arrest and myeloid differentiation. Oncogene 24, 1589–1597 (2005).

Whitfield, J. R., Beaulieu, M. E. & Soucek, L. Strategies to inhibit Myc and their clinical applicability. Front. Cell Dev. Biol. 5, 10 (2017).

Mossberg, A. K., Hou, Y. C., Svensson, M., Holmqvist, B. & Svanborg, C. HAMLET treatment delays bladder cancer development. J. Urolog. 183, 1590–1597 (2010).

Tran, T. H. et al. Bladder cancer therapy without toxicity—a dose‐escalation study of alpha1‐oleate. Int. J. Cancer 147, 2479–2492 (2020).

Siegel, R. L., Miller, K. D. & Jemal, A. Cancer statistics, 2015. CA Cancer J. Clin. 65, 5–29 (2015).

Torre, L. A. et al. Global cancer statistics, 2012. CA Cancer J .Clin. 65, 87–108 (2015).

Vos, T. et al. Global, regional, and national incidence, prevalence, and years lived with disability for 328 diseases and injuries for 195 countries, 1990–2016: a systematic analysis for the Global Burden of Disease Study 2016. The Lancet 390, 1211–1259 (2017).

Ren, J., Sui, H., Fang, F., Li, Q. & Li, B. The application of ApcMin/+ mouse model in colorectal tumor researches. J. Cancer Res. Clin. Oncol. 145, 1111–1122 (2019).

Ambite, I. et al. Fimbriae reprogram host gene expression – divergent effects of P and type 1 fimbriae. PLoS Pathog. 15, e1007671 (2019).

Lutay, N. et al. Bacterial control of host gene expression through RNA polymerase II. J. Clin. Invest. 123, 2366–2379 (2013).

Lee, I. & Suzuki, C. K. Functional mechanics of the ATP-dependent Lon protease—lessons from endogenous protein and synthetic peptide substrates. Biochim. Biophys. Acta Proteins Proteom. 1784, 727–735 (2008).

Pelengaris, S., Khan, M. & Evan, G. c-MYC: more than just a matter of life and death. Nat. Rev. Cancer 2, 764–776 (2002).

Soucek, L. et al. Modelling Myc inhibition as a cancer therapy. Nature 455, 679–683 (2008).

Zdziarski, J. et al. Host imprints on bacterial genomes-rapid, divergent evolution in individual patients. PLoS Pathog. https://doi.org/10.1371/journal.ppat.1001078 (2010).

Ambite, I. et al. Active bacterial modification of the host environment through RNA polymerase II inhibition. J. Clin. Invest. https://doi.org/10.1172/JCI140333 (2020).

Oeyen, S. et al. Long-term outcome after acute kidney injury in critically-ill patients. Acta Clin. Belg. 62, 337–340 (2014).

Leek, J. T. & Storey, J. D. Capturing heterogeneity in gene expression studies by surrogate variable analysis. PLoS Genet. 3, 1724–1735 (2007).

Mobley, H. L. T. et al. Pyelonephritogenic Escherichia coli and killing of cultured human renal proximal tubular epithelial cells – role of hemolysin in some strains. Infect. Immun. 58, 1281–1289 (1990).

Eisenhart, C. The assumptions underlying the analysis of variance. Biometrics 3, 1–21 (1947).
Acknowledgements
We thank the Swedish Research Council, Swedish Cancer Society, H.J. Forssman Foundations, Medical Faculty (Lund University), Royal Physiographic Society, Network of Excellence: Infect-ERA and ALF grants from the Medical Faculty and Regional Laboratories (Labmedicin Skåne). The work of the Münster group was supported by the German Ministry of Education and Research (no. 031L0007B) and the German Research Foundation (nos. SFB 1009 and TP B05). We also thank the Swedish National Infrastructure for Biological Mass Spectrometry. Support to the Svanborg group was further provided from the European Union's Horizon 2020 research and innovation program under grant agreement No. 954360.
Ethics declarations
Competing interests
A patent has been filed to protect the use of bacterial MYC inhibition therapy (inventors D.S.C.B., C.C. and C.S.).
Additional information
Publisher's note Springer Nature remains neutral with regard to jurisdictional claims in published maps and institutional affiliations.
Supplementary information
Supplementary Fig. 1 and Tables 1–4.
About this article
Cite this article
Butler, D.S.C., Cafaro, C., Putze, J. et al. A bacterial protease depletes c-MYC and increases survival in mouse models of bladder and colon cancer. Nat Biotechnol 39, 754–764 (2021). https://doi.org/10.1038/s41587-020-00805-3
Received:

Accepted:

Published:

Issue Date:

DOI: https://doi.org/10.1038/s41587-020-00805-3