Abstract
Approaches to increase the activity of chimeric antigen receptor (CAR)-T cells against solid tumors may also increase the risk of toxicity and other side effects. To improve the safety of CAR-T-cell therapy, we computationally designed a chemically disruptable heterodimer (CDH) based on the binding of two human proteins. The CDH self-assembles, can be disrupted by a small-molecule drug and has a high-affinity protein interface with minimal amino acid deviation from wild-type human proteins. We incorporated the CDH into a synthetic heterodimeric CAR, called STOP-CAR, that has an antigen-recognition chain and a CD3ζ- and CD28-containing endodomain signaling chain. We tested STOP-CAR-T cells specific for two antigens in vitro and in vivo and found similar antitumor activity compared to second-generation (2G) CAR-T cells. Timed administration of the small-molecule drug dynamically inactivated the activity of STOP-CAR-T cells. Our work highlights the potential for structure-based design to add controllable elements to synthetic cellular therapies.
This is a preview of subscription content
Access options
Subscribe to Journal
Get full journal access for 1 year
$99.00
only $8.25 per issue
All prices are NET prices.
VAT will be added later in the checkout.
Tax calculation will be finalised during checkout.
Rent or Buy article
Get time limited or full article access on ReadCube.
from$8.99
All prices are NET prices.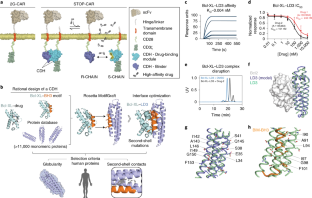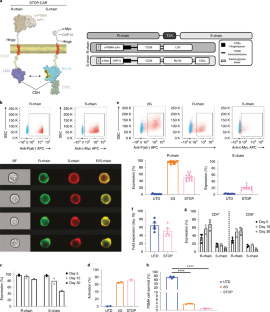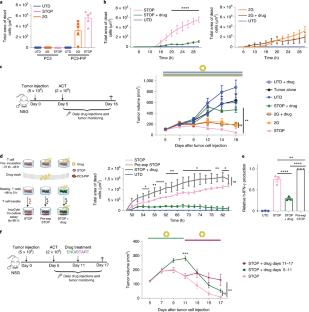 Data availability
The data supporting the findings of this study are available within the article and its Supplementary Information. Coordinates of the determined structure have been deposited in the PDB with accession code 6IWB. Other data are available from the corresponding authors upon reasonable request.
References
1.

Kalos, M. et al. T cells with chimeric antigen receptors have potent antitumor effects and can establish memory in patients with advanced leukemia. Sci. Transl. Med. 3, 95ra73 (2011).

2.

Brentjens, R. J. et al. CD19-targeted T cells rapidly induce molecular remissions in adults with chemotherapy-refractory acute lymphoblastic leukemia. Sci. Transl. Med. 5, 177ra138 (2013).

3.

Maude, S. L. et al. Chimeric antigen receptor T cells for sustained remissions in leukemia. N. Engl. J. Med. 371, 1507–1517 (2014).

4.

Turtle, C. J. et al. CD19 CAR-T cells of defined CD4+:CD8+ composition in adult B cell ALL patients. J. Clin. Invest. 126, 2123–2138 (2016).

5.

Lim, W. A. & June, C. H. The principles of engineering immune cells to treat cancer. Cell 168, 724–740 (2017).

6.

Lanitis, E., Dangaj, D., Irving, M. & Coukos, G. Mechanisms regulating T cell infiltration and activity in solid tumors. Ann. Oncol. 28, xii18–xii32 (2017).

7.

Adachi, K. et al. IL-7 and CCL19 expression in CAR-T cells improves immune cell infiltration and CAR-T cell survival in the tumor. Nat. Biotechnol. 36, 346–351 (2018).

8.

Tang, L. et al. Enhancing T cell therapy through TCR-signaling-responsive nanoparticle drug delivery. Nat. Biotechnol. 36, 707–716 (2018).

9.

Morgan, R. A. et al. Case report of a serious adverse event following the administration of T cells transduced with a chimeric antigen receptor recognizing ERBB2. Mol. Ther. 18, 843–851 (2010).

10.

Gargett, T. & Brown, M. P. The inducible caspase-9 suicide gene system as a "safety switch" to limit on-target, off-tumor toxicities of chimeric antigen receptor T cells. Front. Pharmacol. 5, 235 (2014).

11.

Jones, B. S., Lamb, L. S., Goldman, F. & Di Stasi, A. Improving the safety of cell therapy products by suicide gene transfer. Front. Pharmacol. 5, 254 (2014).

12.

Fedorov, V. D., Themeli, M. & Sadelain, M. PD-1- and CTLA-4-based inhibitory chimeric antigen receptors (iCARs) divert off-target immunotherapy responses. Sci. Transl. Med. 5, 215ra172 (2013).

13.

Lanitis, E. et al. Chimeric antigen receptor T Cells with dissociated signaling domains exhibit focused antitumor activity with reduced potential for toxicity in vivo. Cancer Immunol. Res. 1, 43–53 (2013).

14.

Cho, J. H., Collins, J. J. & Wong, W. W. Universal chimeric antigen receptors for multiplexed and logical control of T cell responses. Cell 173, 1426–1438 (2018).

15.

Rodgers, D. T. et al. Switch-mediated activation and retargeting of CAR-T cells for B cell malignancies. Proc. Natl Acad. Sci. USA 113, e459–e468 (2016).

16.

Cartellieri, M. et al. Switching CAR-T cells on and off: a novel modular platform for retargeting of T cells to AML blasts. Blood Cancer J. 6, e458 (2016).

17.

Wu, C. Y., Roybal, K. T., Puchner, E. M., Onuffer, J. & Lim, W. A. Remote control of therapeutic T cells through a small molecule-gated chimeric receptor. Science 350, aab4077 (2015).

18.

Riddell, S. R. et al. T cell-mediated rejection of gene-modified HIV-specific cytotoxic T lymphocytes in HIV-infected patients. Nat. Med. 2, 216–223 (1996).

19.

Berger, C., Flowers, M. E., Warren, E. H. & Riddell, S. R. Analysis of transgene-specific immune responses that limit the in vivo persistence of adoptively transferred HSV-TK-modified donor T cells after allogeneic hematopoietic cell transplantation. Blood 107, 2294–2302 (2006).

20.

Jensen, M. C. et al. Antitransgene rejection responses contribute to attenuated persistence of adoptively transferred CD20/CD19-specific chimeric antigen receptor redirected T cells in humans. Biol. Blood Marrow Transplant. 16, 1245–1256 (2010).

21.

Boncompain, G. et al. Synchronization of secretory protein traffic in populations of cells. Nat. Methods. 9, 493–498 (2012).

22.

Rollins, C. T. et al. A ligand-reversible dimerization system for controlling protein–protein interactions. Proc. Natl Acad. Sci. USA 97, 7096–7101 (2000).

23.

Bouillet, P. & Strasser, A. BH3-only proteins: evolutionarily conserved proapoptotic Bcl-2 family members essential for initiating programmed cell death. J. Cell Sci. 115, 1567–1574 (2002).

24.

Leverson, J. D. et al. Exploiting selective BCL-2 family inhibitors to dissect cell survival dependencies and define improved strategies for cancer therapy. Sci. Transl. Med. 7, 279ra240 (2015).

25.

Hinds, M. G. et al. BIM, Bad and Bmf: intrinsically unstructured BH3-only proteins that undergo a localized conformational change upon binding to prosurvival Bcl-2 targets. Cell Death Differ. 14, 128–136 (2007).

26.

Procko, E. et al. A computationally designed inhibitor of an Epstein–Barr viral Bcl-2 protein induces apoptosis in infected cells. Cell 157, 1644–1656 (2014).

27.

Gemperli, A. C., Rutledge, S. E., Maranda, A. & Schepartz, A. Paralog-selective ligands for Bcl-2 proteins. J. Am. Chem. Soc. 127, 1596–1597 (2005).

28.

Chin, J. W. & Schepartz, A. Design and evolution of a miniature Bcl-2 binding protein. Angew. Chem. Int. Ed. Engl. 40, 3806–3809 (2001).

29.

Silva, D. A., Correia, B. E. & Procko, E. Motif-driven design of protein–protein interfaces. Methods Mol. Biol. 1414, 285–304 (2016).

30.

Ku, B., Liang, C., Jung, J. U. & Oh, B. H. Evidence that inhibition of BAX activation by Bcl-2 involves its tight and preferential interaction with the BH3 domain of BAX. Cell Res. 21, 627–641 (2011).

31.

Lanier, L. L. DAP10- and DAP12-associated receptors in innate immunity. Immunol. Rev. 227, 150–160 (2009).

32.

Ghosh, A., Wang, X., Klein, E. & Heston, W. D. Novel role of prostate-specific membrane antigen in suppressing prostate cancer invasiveness. Cancer Res. 65, 727–731 (2005).

33.

Kochenderfer, J. N. et al. Construction and preclinical evaluation of an anti-CD19 chimeric antigen receptor. J. Immunother. 32, 689–702 (2009).

34.

Santoro, S. P. et al. T cells bearing a chimeric antigen receptor against prostate-specific membrane antigen mediate vascular disruption and result in tumor regression. Cancer Immunol. Res. 3, 68–84 (2015).

35.

Tao, Z. F. et al. Discovery of a potent and selective Bcl-XL inhibitor with in vivo activity. ACS Med. Chem. Lett. 5, 1088–1093 (2014).

36.

Feucht, J. et al. Calibration of CAR activation potential directs alternative T cell fates and therapeutic potency. Nat. Med. 25, 82–88 (2019).

37.

Griswold, K. E. & Bailey-Kellogg, C. Design and engineering of deimmunized biotherapeutics. Curr. Opin. Struct. Biol. 39, 79–88 (2016).

38.

Zhao, H. et al. Depletion of T cell epitopes in lysostaphin mitigates anti-drug antibody response and enhances antibacterial efficacy in vivo. Chem. Biol. 22, 629–639 (2015).

39.

Gainza-Cirauqui, P. & Correia, B. E. Computational protein design — the next generation tool to expand synthetic biology applications. Curr. Opin. Biotech. 52, 145–152 (2018).

40.

Lee, E. F. et al. High-resolution structural characterization of a helical αβ-peptide foldamer bound to the anti-apoptotic protein Bcl-XL. Angew. Chem. Int. Ed. Engl. 48, 4318–4322 (2009).

41.

Fleishman, S. J. et al. RosettaScripts: a scripting language interface to the Rosetta macromolecular modeling suite. PLoS ONE 6, e20161 (2011).

42.

Henikoff, S. & Henikoff, J. G. Amino acid substitution matrices from protein blocks. Proc. Natl Acad. Sci. USA 89, 10915–10919 (1992).

43.

Kuhlman, B. & Baker, D. Native protein sequences are close to optimal for their structures. Proc. Natl Acad. Sci. USA 97, 10383–10388 (2000).

44.

Wang, C., Schueler-Furman, O. & Baker, D. Improved side-chain modeling for protein–protein docking. Protein Sci. 14, 1328–1339 (2005).

45.

Gainza, P., Roberts, K. E. & Donald, B. R. Protein design using continuous rotamers. PLoS Comput. Biol. 8, e1002335 (2012).

46.

Miller, S., Janin, J., Lesk, A. M. & Chothia, C. Interior and surface of monomeric proteins. J. Mol. Biol. 196, 641–656 (1987).

47.

Word, J. M. et al. Visualizing and quantifying molecular goodness-of-fit: small-probe contact dots with explicit hydrogen atoms. J. Mol. Biol. 285, 1711–1733 (1999).

48.

Petros, A. M. et al. Solution structure of the antiapoptotic protein Bcl-2. Proc. Natl Acad. Sci. USA 98, 3012–3017 (2001).

49.

McCoy, A. J. et al. Phaser crystallographic software. J. Appl. Crystallogr. 40, 658–674 (2007).

50.

Adams, P. D. et al. PHENIX: a comprehensive Python-based system for macromolecular structure solution. Acta Crystallogr. D 66, 213–221 (2010).

51.

Dong, L. M. et al. Human apolipoprotein E. Role of arginine 61 in mediating the lipoprotein preferences of the E3 and E4 isoforms. J. Biol. Chem. 269, 22358–22365 (1994).

52.

Emsley, P. & Cowtan, K. Coot: model-building tools for molecular graphics. Acta Crystallogr. D 60, 2126–2132 (2004).

53.

Brunger, A. T. et al. Crystallography and NMR system: a new software suite for macromolecular structure determination. Acta Crystallogr. D 54, 905–921 (1998).

54.

Gong, M. C., Chang, S. S., Sadelain, M., Bander, N. H. & Heston, W. D. Prostate-specific membrane antigen (PSMA)-specific monoclonal antibodies in the treatment of prostate and other cancers. Cancer Metastasis Rev. 18, 483–490 (1999).
Acknowledgements
This work was generously supported by the Biltema and ISREC Foundations, an Advanced European Research Council Grant to G.C. (no. 1400206AdG-322875), a Starting European Research Council Grant to B.E.C. (no. 716058), the National Center of Competence for Molecular Systems Engineering, the Ludwig Institute for Cancer Research, EPFL-Fellows grants funded by an H2020 Marie Sklodowska-Curie action to P.G. and J.B., as well as a Whitaker International fellowship to E.G.G. B.-H.O. was supported by the National Research Foundation of Korea (NRF-2018R1A2B3004764). We thank members of the Flow Cytometry Platform and the Animal Care Facility of the University of Lausanne for their excellent support. Computational calculations were performed using the facilities of the Scientific IT and Application Support Center of EPFL. We also acknowledge the EPFL Protein Production and Structure Core Facility for providing access to biophysical instrumentation. Finally, we thank S. Maerkl, M. Lutolf and E. Procko for critical reading of the manuscript and E. Oricchio for valuable discussions.
Ethics declarations
Competing interests
EPFL, UNIL and the Ludwig Institute for Cancer Research have filed for patent protection on the technology described herein. G.G.-A., P.G., M.I., G.C. and B.E.C. are named as co-inventors on this patent (United States Patent and Trademark Office Provisional Application: 62/657,534).
Additional information
Publisher's note: Springer Nature remains neutral with regard to jurisdictional claims in published maps and institutional affiliations.
Integrated supplementary information
Supplementary information
Supplementary Figs. 1–12 and Supplementary Note 1.
Crystallography collection and refinement.
About this article
Cite this article
Giordano-Attianese, G., Gainza, P., Gray-Gaillard, E. et al. A computationally designed chimeric antigen receptor provides a small-molecule safety switch for T-cell therapy. Nat Biotechnol 38, 426–432 (2020). https://doi.org/10.1038/s41587-019-0403-9
Received:

Accepted:

Published:

Issue Date: