Abstract
We present Butler, a computational tool that facilitates large-scale genomic analyses on public and academic clouds. Butler includes innovative anomaly detection and self-healing functions that improve the efficiency of data processing and analysis by 43% compared with current approaches. Butler enabled processing of a 725-terabyte cancer genome dataset from the Pan-Cancer Analysis of Whole Genomes (PCAWG) project in a time-efficient and uniform manner.
Access options
Subscribe to Journal
Get full journal access for 1 year
$99.00
only $8.25 per issue
All prices are NET prices.
VAT will be added later in the checkout.
Tax calculation will be finalised during checkout.
Rent or Buy article
Get time limited or full article access on ReadCube.
from$8.99
All prices are NET prices.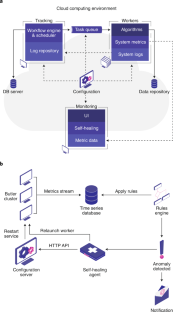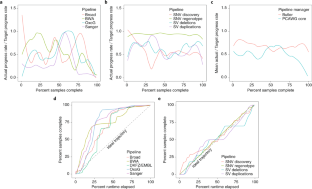 Data availability
PCAWG's final callsets, somatic and germline variant calls, mutational signatures, subclonal reconstructions, transcript abundance, splice calls and other core data generated by the ICGC/TCGA Pan-cancer Analysis of Whole Genomes Consortium is described in ref. 7 and available for download at https://dcc.icgc.org/releases/PCAWG. Additional information on accessing the data, including raw read files, can be found at https://docs.icgc.org/pcawg/data/. In accordance with the data access policies of the ICGC and TCGA projects, most molecular, clinical and specimen data are in an open tier that does not require access approval. To access potentially identifying information, such as germline alleles and underlying sequencing data, researchers will need to apply to the TCGA Data Access Committee (DAC) via dbGaP (https://dbgap.ncbi.nlm.nih.gov/aa/wga.cgi?page=login) for access to the TCGA portion of the dataset and to the ICGC Data Access Compliance Office (DACO; http://icgc.org/daco) for access to the ICGC portion. In addition, to access somatic single nucleotide variants derived from TCGA donors, researchers will also need to obtain dbGaP authorization.
References
1.

Habermann, N., Mardin, B. R., Yakneen, S. & Korbel, J. O. Using large-scale genome variation cohorts to decipher the molecular mechanism of cancer. C. R. Biol. 339, 308–313 (2016).

2.

Di Tommaso, P. et al. Nextflow enables reproducible computational workflows. Nat. Biotechnol. 35, 316–319 (2017).

3.

Vivian, J. & Paten, B. Toil enables reproducible, open source, big biomedical data analyses. Nat. Biotechnol. 35, 314–316 (2017).

4.

Mashl, R. J. et al. GenomeVIP: a cloud platform for genomic variant discovery and interpretation. Genome Res. 27, 1450–1459 (2017).

5.

Stein, L. D., Knoppers, B. M., Campbell, P., Getz, G. & Korbel, J. O. Data analysis: create a cloud commons. Nature 523, 149–151 (2015).

6.

Molnár-Gábor, F., Lueck, R., Yakneen, S. & Korbel, J. O. Computing patient data in the cloud: practical and legal considerations for genetics and genomics research in Europe and internationally. Genome Med. 9, 58 (2017).

7.

Pan-cancer Analysis of Whole Genomes Consortium. Pan-cancer analysis of whole genomes. Nature https://doi.org/10.1038/s41586-020-1969-6 (2020).

8.

Soergel, D. A. Rampant software errors may undermine scientific results. F1000 Res. 3, 303 (2014).

9.

Gormley, C. & Tong, Z. Elasticsearch: The Definitive Guide (O'Reilly Media, 2015).

10.

Leipzig, J. A review of bioinformatic pipeline frameworks. Brief. Bioinformatics 18, 530–536 (2017).

11.

Merkel, D. Docker: lightweight Linux containers for consistent development and deployment. Linux J. 2014, 2 (2014).

12.

Amstutz, P. et al. Common Workflow Language, v1. 0. https://w3id.org/cwl/v1.0/; https://doi.org/10.6084/m9.figshare.3115156.v2 (2016).

13.

Li, H. & Durbin, R. Fast and accurate short read alignment with Burrows-Wheeler transform. Bioinformatics 25, 1754–1760 (2009).

14.

Garrison, E. & Marth, G. Haplotype-based variant detection from short-read sequencing. Preprint at https://arxiv.org/abs/1207.3907 (2012).

15.

Rausch, T. et al. DELLY: structural variant discovery by integrated paired-end and split-read analysis. Bioinformatics 28, i333–i339 (2012).

16.

Raine, K. M. et al. cgpPindel: identifying somatically acquired insertion and deletion events from paired end sequencing. Curr. Protoc. Bioinformatics 15, 15.7.11–15.7.12 (2015).

17.

Nik-Zainal, S. et al. Landscape of somatic mutations in 560 breast cancer whole-genome sequences. Nature 534, 47–54 (2016).

18.

Auton, A. et al. A global reference for human genetic variation. Nature 526, 68–74 (2015).

19.

Li, H. et al. The Sequence Alignment/Map format and SAMtools. Bioinformatics 25, 2078–2079 (2009).
Acknowledgements
We acknowledge the contributions of the many clinical networks across ICGC and TCGA who provided samples and data to the PCAWG Consortium, and the contributions of the Technical Working Group and the Germline Working Group of the PCAWG Consortium for collation, realignment and harmonized variant calling of the PCAWG cancer genomes. We thank the patients and their families for their participation in the individual ICGC and TCGA projects. We also thank the PPCG project, and J. Weischenfeldt for assistance with the PPCG data. We are grateful to C. Yung, B. O'Connor, J. Zhang and L. Stein for their assistance and invaluable advice throughout the project and to A. Cafferkey, C. Short, D. Ocaña, D. Vianello, E. van den Bergh, S. Newhouse and E. Birney for invaluable support with the EMBL-EBI Embassy Cloud used largely for the computing in this study. We also acknowledge The Cancer Genome Collaboratory, Amazon Web Services, Google Compute Platform and Microsoft Azure for providing computing or cloud infrastructure. J.O.K. acknowledges support by the EOSC Pilot study (European Commission award number 739563), the BMBF (de.NBI project 031A537B), the European Research Council (336045) and the Heidelberg Academy of Sciences and Humanities. S.W. was supported through an SNSF Early Postdoc Mobility fellowship (P2ELP3_155365) and an EMBO Long-Term Fellowship (ALTF 755-2014).
Ethics declarations
Competing interests
G.G. receives research funds from IBM and Pharmacyclics and is an inventor on patent applications related to MuTect, ABSOLUTE, MutSig, MSMuTect, MSMutSig and POLYSOLVER.
Additional information
Publisher's note Springer Nature remains neutral with regard to jurisdictional claims in published maps and institutional affiliations.
Integrated supplementary information
Supplementary information
Supplementary Figures 1–8, Supplementary Tables 1–3 and Supplementary Notes 1 and 2
About this article
Cite this article
Yakneen, S., Waszak, S.M., PCAWG Technical Working Group. et al. Butler enables rapid cloud-based analysis of thousands of human genomes. Nat Biotechnol 38, 288–292 (2020). https://doi.org/10.1038/s41587-019-0360-3
Received:

Accepted:

Published:

Issue Date:
Further reading
Laura Wratten

,

Andreas Wilm

&

Jonathan Göke

Nature Methods (2021)

Jason F. Kreisberg

,

Trey Ideker

,

Funda Meric-Bernstam

&

Gordon Mills

Nature Cancer (2020)

Nature (2020)