Abstract
The global, three-dimensional organization of RNA molecules in the nucleus is difficult to determine using existing methods. Here we introduce Proximity RNA-seq, which identifies colocalization preferences for pairs or groups of nascent and fully transcribed RNAs in the nucleus. Proximity RNA-seq is based on massive-throughput RNA barcoding of subnuclear particles in water-in-oil emulsion droplets, followed by cDNA sequencing. Our results show RNAs of varying tissue-specificity of expression, speed of RNA polymerase elongation and extent of alternative splicing positioned at varying distances from nucleoli. The simultaneous detection of multiple RNAs in proximity to each other distinguishes RNA-dense from sparse compartments. Application of Proximity RNA-seq will facilitate study of the spatial organization of transcripts in the nucleus, including non-coding RNAs, and its functional relevance.
Access options
Subscribe to Journal
Get full journal access for 1 year
$250.00
only $20.83 per issue
All prices are NET prices.
VAT will be added later in the checkout.
Rent or Buy article
Get time limited or full article access on ReadCube.
from$8.99
All prices are NET prices.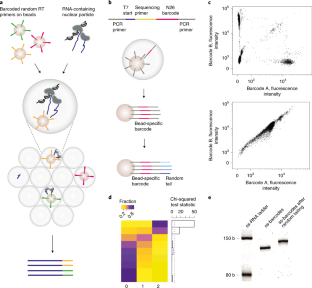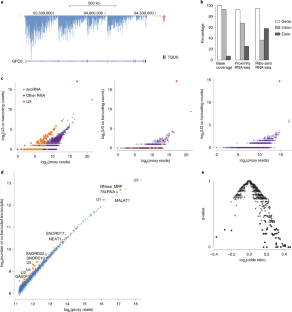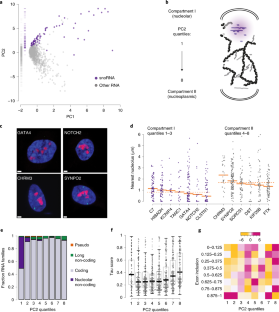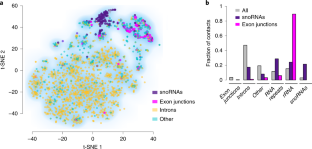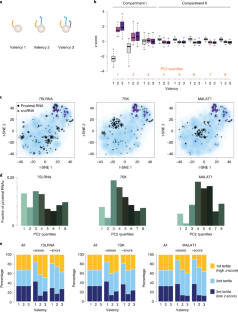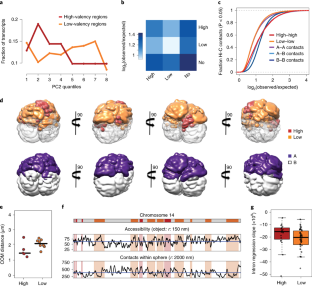 Data availability
Proximity RNA-seq and Hi-C raw sequencing data are available on Gene Expression Omnibus accession: GSE129732.
References
1.

Zhao, R., Bodnar, M. S. & Spector, D. L. Nuclear neighborhoods and gene expression. Curr. Opin. Genet. Dev. 19, 172–179 (2009).

2.

Lieberman-Aiden, E. et al. Comprehensive mapping of long-range interactions reveals folding principles of the human genome. Science 326, 289–293 (2009).

3.

Quinodoz, S. A. et al. Higher-order inter-chromosomal hubs shape 3D genome organization in the nucleus. Cell 174, 744–757 (2018).

4.

Beagrie, R. A. et al. Complex multi-enhancer contacts captured by genome architecture mapping. Nature 543, 519–524 (2017).

5.

Stahl, P. L. et al. Visualization and analysis of gene expression in tissue sections by spatial transcriptomics. Science 353, 78–82 (2016).

6.

Lee, J. H. et al. Highly multiplexed subcellular RNA sequencing in situ. Science 343, 1360–1363 (2014).

7.

Chen, K. H., Boettiger, A. N., Moffitt, J. R., Wang, S. & Zhuang, X. RNA imaging. Spatially resolved, highly multiplexed RNA profiling in single cells. Science 348, aaa6090 (2015).

8.

Shah, S. et al. Dynamics and spatial genomics of the nascent transcriptome by Intron seqFISH. Cell 174, 363–376.e16 (2018).

9.

Weidmann, C. A., Mustoe, A. M. & Weeks, K. M. Direct duplex detection: an emerging tool in the RNA structure analysis toolbox. Trends Biochem. Sci. 41, 734–736 (2016).

10.

Nguyen, T. C. et al. Mapping RNA-RNA interactome and RNA structure in vivo by MARIO. Nat. Commun. 7, 12023 (2016).

11.

Kudla, G., Granneman, S., Hahn, D., Beggs, J. D. & Tollervey, D. Cross-linking, ligation, and sequencing of hybrids reveals RNA-RNA interactions in yeast. Proc. Natl Acad. Sci. USA 108, 10010–10015 (2011).

12.

Sugimoto, Y. et al. hiCLIP reveals the in vivo atlas of mRNA secondary structures recognized by Staufen 1. Nature 519, 491–494 (2015).

13.

Ramani, V., Qiu, R. & Shendure, J. High-throughput determination of RNA structure by proximity ligation. Nat. Biotechnol. 33, 980–984 (2015).

14.

Dressman, D., Yan, H., Traverso, G., Kinzler, K. W. & Vogelstein, B. Transforming single DNA molecules into fluorescent magnetic particles for detection and enumeration of genetic variations. Proc. Natl Acad. Sci. USA 100, 8817–8822 (2003).

15.

Shendure, J. et al. Accurate multiplex polony sequencing of an evolved bacterial genome. Science 309, 1728–1732 (2005).

16.

Ameur, A. et al. Total RNA sequencing reveals nascent transcription and widespread co-transcriptional splicing in the human brain. Nat. Struct. Mol. Biol. 18, 1435–1440 (2011).

17.

Scheer, U. & Hock, R. Structure and function of the nucleolus. Curr. Opin. Cell Biol. 11, 385–390 (1999).

18.

Neve, J. et al. Subcellular RNA profiling links splicing and nuclear DICER1 to alternative cleavage and polyadenylation. Genome Res. 26, 24–35 (2016).

19.

Gondran, P., Amiot, F., Weil, D. & Dautry, F. Accumulation of mature mRNA in the nuclear fraction of mammalian cells. FEBS Lett. 458, 324–328 (1999).

20.

Engreitz, J. M. et al. RNA-RNA interactions enable specific targeting of noncoding RNAs to nascent pre-mRNAs and chromatin sites. Cell 159, 188–199 (2014).

21.

Padeken, J. & Heun, P. Nucleolus and nuclear periphery: Velcro for heterochromatin. Curr. Opin. Cell Biol. 28, 54–60 (2014).

22.

Fagerberg, L. et al. Analysis of the human tissue-specific expression by genome-wide integration of transcriptomics and antibody-based proteomics. Mol. Cell. Proteomics 13, 397–406 (2014).

23.

Kryuchkova-Mostacci, N. & Robinson-Rechavi, M. A benchmark of gene expression tissue-specificity metrics. Brief. Bioinform. 18, 205–214 (2017).

24.

Whyte, W. A. et al. Master transcription factors and mediator establish super-enhancers at key cell identity genes. Cell 153, 307–319 (2013).

25.

van Groningen, T. et al. Neuroblastoma is composed of two super-enhancer-associated differentiation states. Nat. Genet. 49, 1261–1266 (2017).

26.

Busch, A. & Hertel, K. J. HEXEvent: a database of Human EXon splicing Events. Nucleic Acids Res. 41, D118–124 (2013).

27.

van der Maaten, L. Accelerating t-SNE using tree-based algorithms. J. Mach. Learn. Res. 15, 3221–3245 (2015).

28.

Edstrom, J. E., Grampp, W. & Schor, N. The intracellular distribution and heterogeneity of ribonucleic acid in starfish oocytes. J. Biophys. Biochem. Cytol. 11, 549–557 (1961).

29.

Dixon, J. R. et al. Topological domains in mammalian genomes identified by analysis of chromatin interactions. Nature 485, 376–380 (2012).

30.

Nora, E. P. et al. Spatial partitioning of the regulatory landscape of the X-inactivation centre. Nature 485, 381–385 (2012).

31.

Sexton, T. et al. Three-dimensional folding and functional organization principles of the Drosophila genome. Cell 148, 458–472 (2012).

32.

Serra, F. et al. Automatic analysis and 3D-modelling of Hi-C data using TADbit reveals structural features of the fly chromatin colors. PLOS Comput. Biol. 13, e1005665 (2017).

33.

Bernhard, W. A new staining procedure for electron microscopical cytology. J. Ultrastruct. Res. 27, 250–265 (1969).

34.

Jonkers, I., Kwak, H. & Lis, J. T. Genome-wide dynamics of Pol II elongation and its interplay with promoter proximal pausing, chromatin, and exons. eLife 3, e02407 (2014).

35.

Veloso, A. et al. Rate of elongation by RNA polymeraseII is associated with specific gene features and epigenetic modifications. Genome Res. 24, 896–905 (2014).

36.

Rao, S. S. et al. A 3D map of the human genome at kilobase resolution reveals principles of chromatin looping. Cell 159, 1665–1680 (2014).

37.

Ziv, O. et al. COMRADES determines in vivo RNA structures and interactions. Nat. Methods 15, 785–788 (2018).

38.

Battaglia, S. et al. RNA-dependent chromatin association of transcription elongation factors and Pol II CTD kinases. eLife 6, e25637 (2017).

39.

Rybak-Wolf, A. et al. Circular RNAs in the mammalian brain are highly abundant, conserved, and dynamically expressed. Mol. Cell 58, 870–885 (2015).

40.

Mifsud, B. et al. Mapping long-range promoter contacts in human cells with high-resolution capture Hi-C. Nat. Genet. 47, 598–606 (2015).

41.

Rubin, A. J. et al. Lineage-specific dynamic and pre-established enhancer-promoter contacts cooperate in terminal differentiation. Nat. Genet. 49, 1522–1528 (2017).

42.

Tsanov, N. et al. smiFISH and FISH-quant – a flexible single RNA detection approach with super-resolution capability. Nucleic Acids Res. 44, e165 (2016).

43.

Langmead, B. & Salzberg, S. L. Fast gapped-read alignment with Bowtie 2. Nat. Methods 9, 357–359 (2012).

44.

Kim, D., Langmead, B. & Salzberg, S. L. HISAT: a fast spliced aligner with low memory requirements. Nat. Methods 12, 357–360 (2015).

45.

Kaimal, V., Bardes, E. E., Tabar, S. C., Jegga, A. G. & Aronow, B. J. ToppCluster: a multiple gene list feature analyzer for comparative enrichment clustering and network-based dissection of biological systems. Nucleic Acids Res. 38, W96–102 (2010).

46.

Yu, G. et al. GOSemSim: an R package for measuring semantic similarity among GO terms and gene products. Bioinformatics 26, 976–978 (2010).

47.

Wingett, S. et al. HiCUP: pipeline for mapping and processing Hi-C data. F1000Research 4, 1310 (2015).

48.

Imakaev, M. et al. Iterative correction of Hi-C data reveals hallmarks of chromosome organization. Nat. Methods 9, 999–1003 (2012).

49.

Trussart, M. et al. Assessing the limits of restraint-based 3D modeling of genomes and genomic domains. Nucleic Acids Res. 43, 3465–3477 (2015).

50.

Gerchman, S. E. & Ramakrishnan, V. Chromatin higher-order structure studied by neutron scattering and scanning transmission electron microscopy. Proc. Natl Acad. Sci. USA 84, 7802–7806 (1987).

51.

Pettersen, E. F. et al. UCSF Chimera – a visualization system for exploratory research and analysis. J. Comput. Chem. 25, 1605–1612 (2004).
Acknowledgements
J.M. was supported by a Swiss National Science Foundation early postdoc mobility fellowship, a Human Frontier Science Program long-term fellowship and the Babraham Science Policy Committee. The work of I.F. and M.A.M.-R. was partially supported by the European Research Council under the 7th Framework Program FP7/2007-2013 (ERC grant no. 609989) and the European Union's Horizon 2020 research and innovation program (grant no. 676556) to M.A.M.-R. M.A.M.-R. also acknowledges the support of the Spanish Ministry of Economy and Competitiveness (grant nos. BFU2013-47736-P and BFU2017-85926-P), Centro de Excelencia Severo Ochoa 2013-2017 (grant no. SEV-2012-0208) and the Agency for Management of University and Research Grants (AGAUR). M.F.-M. was supported by UNAM Technology Innovation and Research Support Program PAPIIT IA201817 and PAPIIT IN207319. We acknowledge Sphere Fluidics for their contribution of microfluidic knowhow and time and their free donation of surfactants. We thank Babraham sequencing, fluorescence-activated cell sorting and imaging facilities for technical support, and Peter Rugg-Gunn, Paulo Amaral and Lucas Edelman for helpful discussions.
Ethics declarations
Competing interests
The authors declare no competing interests.
Additional information
Publisher's note: Springer Nature remains neutral with regard to jurisdictional claims in published maps and institutional affiliations.
Integrated supplementary information
Supplementary information
About this article
Cite this article
Morf, J., Wingett, S.W., Farabella, I. et al. RNA proximity sequencing reveals the spatial organization of the transcriptome in the nucleus. Nat Biotechnol 37, 793–802 (2019). https://doi.org/10.1038/s41587-019-0166-3
Received:

Accepted:

Published:

Issue Date:
Further reading
Zhaokui Cai

,

Changchang Cao

,

Lei Ji

,

Rong Ye

,

Di Wang

,

Cong Xia

,

Sui Wang

,

Zongchang Du

,

Naijing Hu

,

Xiaohua Yu

,

Juan Chen

,

Lei Wang

,

Xianguang Yang

,

Shunmin He

&

Yuanchao Xue

Nature (2020)

Steven W. Wingett

,

Simon Andrews

,

Peter Fraser

&

Jörg Morf

Scientific Data (2020)

Nature Methods (2019)