Abstract
For cells to initiate and sustain a differentiated state, it is necessary that a 'memory' of this state is transmitted through mitosis to the daughter cells1,2,3. Mammalian switch/sucrose non-fermentable (SWI/SNF) complexes (also known as Brg1/Brg-associated factors, or BAF) control cell identity by modulating chromatin architecture to regulate gene expression4,5,6,7, but whether they participate in cell fate memory is unclear. Here we provide evidence that subunits of SWI/SNF act as mitotic bookmarks to safeguard cell identity during cell division. The SWI/SNF core subunits SMARCE1 and SMARCB1 are displaced from enhancers but are bound to promoters during mitosis, and we show that this binding is required for appropriate reactivation of bound genes after mitotic exit. Ablation of SMARCE1 during a single mitosis in mouse embryonic stem cells is sufficient to disrupt gene expression, impair the occupancy of several established bookmarks at a subset of their targets and cause aberrant neural differentiation. Thus, SWI/SNF subunit SMARCE1 has a mitotic bookmarking role and is essential for heritable epigenetic fidelity during transcriptional reprogramming.
Access options
Access Nature and 54 other Nature Portfolio journals
Get Nature+, our best-value online-access subscription
$29.99 / 30 days
cancel any time
Subscribe to this journal
Receive 51 print issues and online access
$199.00 per year
only $3.90 per issue
Rent or buy this article
Get just this article for as long as you need it
$39.95
Prices may be subject to local taxes which are calculated during checkout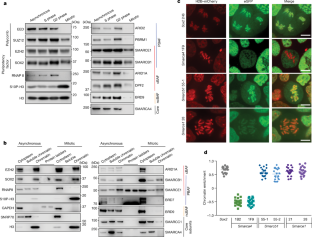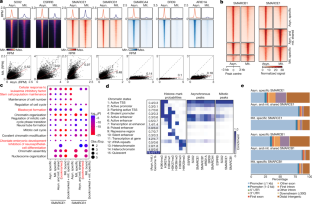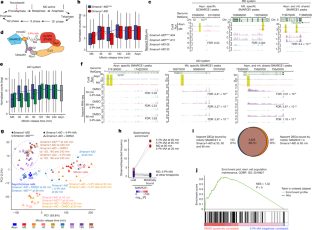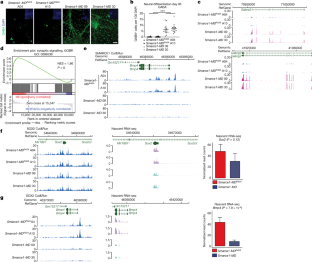 Data availability
The ChIP–seq, Cut&Run, nascent RNA-seq, RNA-seq and ATAC–seq data supporting the findings of this study have been deposited at the GEO database under accession number GSE189563. Source data are provided with this paper.
References
Palozola, K. C. et al. Mitotic transcription and waves of gene reactivation during mitotic exit. Science 358, 119–122 (2017).

Reinberg, D. & Vales, L. D. Chromatin domains rich in inheritance. Science 361, 33–34 (2018).

Ming, X. et al. Kinetics and mechanisms of mitotic inheritance of DNA methylation and their roles in aging-associated methylome deterioration. Cell Res. 30, 980–996 (2020).

Wilson, B. G. & Roberts, C. W. SWI/SNF nucleosome remodellers and cancer. Nat. Rev. Cancer 11, 481–492 (2011).

Lessard, J. et al. An essential switch in subunit composition of a chromatin remodeling complex during neural development. Neuron 55, 201–215 (2007).

Ho L, R. J. et al. An embryonic stem cell chromatin remodeling complex, esBAF, is essential for embryonic stem cell self-renewal and pluripotency. Proc. Natl Acad. Sci. USA 106, 5181–5186 (2009).

Alver, B. H. et al. The SWI/SNF chromatin remodelling complex is required for maintenance of lineage specific enhancers. Nat. Commun. 8, 14648 (2017).

PARSONS, G. G. & SPENCER, C. A. Mitotic repression of RNA polymerase II transcription is accompanied by release of transcription elongation complexes. Mol. Cell. Biol. 17, 5791–5802 (1997).

Naumova, N. et al. Organization of the mitotic chromosome. Science 342, 948–953 (2013).

Zhang, H. et al. Chromatin structure dynamics during the mitosis-to-G1 phase transition. Nature 576, 158–162 (2019).

Antonin, W. & Neumann, H. Chromosome condensation and decondensation during mitosis. Curr. Opin. Cell Biol. 40, 15–22 (2016).

Muchardt, C., Reyes, J. C., Bourachot, B., Leguoy, E. & Yaniv, M. The hbrm and BRG-1 proteins, components of the human SNF/SWI complex, are phosphorylated and excluded from the condensed chromosomes during mitosis. EMBO J. 15, 3394–3402 (1996).

Sif, S., Stukenberg, P. T., Kirschner, M. W. & Kingston, R. E. Mitotic inactivation of a human SWI/SNF chromatin remodeling complex. Genes Dev. 12, 2842–2851 (1998).

Gurley, L. R., Walters, R. A. & Tobey, R. A. Cell cycle-specific changes in histone phosphorylation associated with cell proliferation and chromosome condensation. J. Cell Biol. 60, 356–364 (1974).

Festuccia, N. et al. Transcription factor activity and nucleosome organization in mitosis. Genome Res. 29, 250–260 (2019).

Teves, S. S. et al. A dynamic mode of mitotic bookmarking by transcription factors. eLife 5, e22280 (2016).

Deluz, C. et al. A role for mitotic bookmarking of SOX2 in pluripotency and differentiation. Genes Dev. 30, 2538–2550 (2016).

Liu, Y. et al. Widespread mitotic bookmarking by histone marks and transcription factors in pluripotent stem cells. Cell Rep. 19, 1283–1293 (2017).

Festuccia, N., Gonzalez, I., Owens, N. & Navarro, P. Mitotic bookmarking in development and stem cells. Development 144, 3633–3645 (2017).

Skene, P. J., Henikoff, J. G. & Henikoff, S. Targeted in situ genome-wide profiling with high efficiency for low cell numbers. Nat. Protoc. 13, 1006–1019 (2018).

de Dieuleveult, M. et al. Genome-wide nucleosome specificity and function of chromatin remodellers in ES cells. Nature 530, 113–116 (2016).

Magana-Acosta, M. & Valadez-Graham, V. Chromatin remodelers in the 3D nuclear compartment. Front. Genet. 11, 600615 (2020).

Festuccia, N. et al. Mitotic binding of Esrrb marks key regulatory regions of the pluripotency network. Nat. Cell Biol. 18, 1139–1148 (2016).

Lodato, M. A. et al. SOX2 co-occupies distal enhancer elements with distinct POU factors in ESCs and NPCs to specify cell state. PLoS Genet. 9, e1003288 (2013).

Wang, X. et al. BRD9 defines a SWI/SNF sub-complex and constitutes a specific vulnerability in malignant rhabdoid tumors. Nat. Commun. 10, 1881 (2019).

Michel, B. C. et al. A non-canonical SWI/SNF complex is a synthetic lethal target in cancers driven by BAF complex perturbation. Nat. Cell Biol. 20, 1410–1420 (2018).

Owens, N. et al. CTCF confers local nucleosome resiliency after DNA replication and during mitosis. eLife 8, e47898 (2019).

Pelham-Webb, B. et al. H3K27ac bookmarking promotes rapid post-mitotic activation of the pluripotent stem cell program without impacting 3D chromatin reorganization. Mol. Cell 81, 1732–1748.e1738 (2021).

Hsiung, C. C. et al. Genome accessibility is widely preserved and locally modulated during mitosis. Genome Res. 25, 213–225 (2015).

Glotzer, M., Murray, A. W. & Kirschner, M. W. Cyclin is degraded by the ubiquitin pathway. Nature 349, 132–138 (1991).

Ran, F. A. et al. Genome engineering using the CRISPR–Cas9 system. Nat. Protoc. 8, 2281–2308 (2013).

Kadauke, S. et al. Tissue-specific mitotic bookmarking by hematopoietic transcription factor GATA1. Cell 150, 725–737 (2012).

Kim, J., Chu, J., Shen, X., Wang, J. & Orkin, S. H. An extended transcriptional network for pluripotency of embryonic stem cells. Cell 132, 1049–1061 (2008).

Jao, C. Y. & Salic, A. Exploring RNA transcription and turnover in vivo by using click chemistry. Proc. Natl Acad. Sci. USA 105, 15779–15784 (2008).

Hsiung, C. C.-S. et al. A hyperactive transcriptional state marks genome reactivation at the mitosis–G1 transition. Genes Dev. 30, 1423–1439 (2016).

Yesbolatova, A. et al. The auxin-inducible degron 2 technology provides sharp degradation control in yeast, mammalian cells, and mice. Nat. Commun. 11, 5701 (2020).

King, H. W. & Klose, R. J. The pioneer factor OCT4 requires the chromatin remodeller BRG1 to support gene regulatory element function in mouse embryonic stem cells. eLife 6, e22631 (2017).

Gatchalian, J. et al. A non-canonical BRD9-containing BAF chromatin remodeling complex regulates naive pluripotency in mouse embryonic stem cells. Nat. Commun. 9, 5139 (2018).

Caravaca, J. M. et al. Bookmarking by specific and nonspecific binding of FoxA1 pioneer factor to mitotic chromosomes. Genes Dev. 27, 251–260 (2013).

Asenjo, HelenaG. et al. Polycomb regulation is coupled to cell cycle transition in pluripotent stem cells. Sci. Adv. 6, eaay4768 (2020).

Pauklin, S. & Vallier, L. The cell-cycle state of stem cells determines cell fate propensity. Cell 155, 135–147 (2013).

Hodges, H. C. et al. Dominant-negative SMARCA4 mutants alter the accessibility landscape of tissue-unrestricted enhancers. Nat. Struct. Mol. Biol. 25, 61–72 (2018).

Stanton, B. Z. et al. Smarca4 ATPase mutations disrupt direct eviction of PRC1 from chromatin. Nat. Genet. 49, 282–288 (2017).

Schick, S. et al. Acute BAF perturbation causes immediate changes in chromatin accessibility. Nat. Genet. 53, 269–278 (2021).

Rosen, O. R. et al. The C-terminal SET domains of ALL-1 and TRITHORAX interact with the INI1 and SNR1 proteins, components of the SWI/SNF complex. Proc. Natl Acad. Sci. USA 95, 4152–4157 (1998).

Hsiao, P. W., Fryer, C. J., Trotter, K. W., Wang, W. & Archer, T. K. BAF60a mediates critical interactions between nuclear receptors and the BRG1 chromatin-remodeling complex for transactivation. Mol. Cell. Biol. 23, 6210–6220 (2003).

Abranches, E. et al. Neural differentiation of embryonic stem cells in vitro: a road map to neurogenesis in the embryo. PLoS ONE 4, e6286 (2009).

Hiroshi Kawasaki, K. M. et al. Induction of midbrain dopaminergic neurons from ES cells by stromal cell-derived inducing activity. Neuron 28, 31–40 (2000).

Panamarova, M. et al. The BAF chromatin remodelling complex is an epigenetic regulator of lineage specification in the early mouse embryo. Development 143, 1271–1283 (2016).

Ginno, P. A., Burger, L., Seebacher, J., Iesmantavicius, V. & Schubeler, D. Cell cycle-resolved chromatin proteomics reveals the extent of mitotic preservation of the genomic regulatory landscape. Nat. Commun. 9, 4048 (2018).

Djeghloul, D. et al. Identifying proteins bound to native mitotic ESC chromosomes reveals chromatin repressors are important for compaction. Nat. Commun. 11, 4118 (2020).

Liu, N. et al. Direct promoter repression by BCL11A controls the fetal to adult hemoglobin switch. Cell 173, 430–442.e417 (2018).

Valencia, A. M. et al. Recurrent SMARCB1 mutations reveal a nucleosome acidic patch interaction site that potentiates mSWI/SNF complex chromatin remodeling. Cell 179, 1342–1356.e23 (2019).

Mashtalir, N. et al. A structural model of the endogenous human BAF complex informs disease mechanisms. Cell 183, 802–817.e824 (2020).

Zhu, Z. et al. PHB associates with the HIRA complex to control an epigenetic-metabolic circuit in human ESCs. Cell Stem Cell 20, 274–289.e277 (2017).

Hnisz, D. et al. Super-enhancers in the control of cell identity and disease. Cell 155, 934–947 (2013).
Acknowledgements
We thank all of the members of the Roberts laboratory for discussions and G. Riddihough for help with the manuscript; the staff at the Hartwell Center Core for sequencing; the staff at St Jude Center for Applied Bioinformatics (CAB) for help with alignment of RNA-seq, ChIP–seq and CUT&RUN–seq reads; the members of the St Jude Flow Cytometry and Cell Sorting Core for cell sorting. The St Jude core facilities are supported by National Cancer Institute Cancer Center Support Grant (NCI CCSG 2 P30 CA021765) and by American Lebanese Syrian Associated Charities (ALSAC) of St Jude Children's Research Hospital. The Center for Applied Bioinformatics is supported by the National Cancer Institute, Cancer Center Support Grant P30 CA21765 and ALSAC. This study was supported by the National Cancer Institute (NCI) R01 CA113794 and R01 CA172152 to C.W.M.R.; National Cancer Institute Cancer Center support grant (NCI CCSG 2 P30 CA021765), ALSAC of St Jude Children's Research Hospital, CURE AT/RT Now to C.W.M.R.; the Garrett B. Smith Foundation to C.W.M.R.; St Jude Children's Research Hospital Collaborative Research Consortium on Chromatin Regulation in Pediatric Cancer to C.W.M.R.; R01 CA216391 to J.Z.; and National Institutes of Health (NIH) grant R01-AI123322 to D.R.G. S.R.-J. is supported by the St Jude Graduate School of Biomedical Sciences and the Ruth L. Kirschstein National Research Service Award (F31 CA261150). The content is solely the responsibility of the authors and does not necessarily represent the official views of the National Institutes of Health.
Ethics declarations
Competing interests
C.W.M.R. is a scientific advisory board member of Exo Therapeutics, unrelated to this manuscript.
Peer review
Peer review information
Nature thanks the anonymous reviewers for their contribution to the peer review of this work.
Additional information
Publisher's note Springer Nature remains neutral with regard to jurisdictional claims in published maps and institutional affiliations.
Extended data figures and tables
Supplementary information
Supplementary Fig. 1 and Supplementary Table 2.
Sample-specific spike-in scalar.
Rights and permissions
Springer Nature or its licensor (e.g. a society or other partner) holds exclusive rights to this article under a publishing agreement with the author(s) or other rightsholder(s); author self-archiving of the accepted manuscript version of this article is solely governed by the terms of such publishing agreement and applicable law.
About this article
Cite this article
Zhu, Z., Chen, X., Guo, A. et al. Mitotic bookmarking by SWI/SNF subunits. Nature 618, 180–187 (2023). https://doi.org/10.1038/s41586-023-06085-6
Received:

Accepted:

Published:

Issue Date:

DOI: https://doi.org/10.1038/s41586-023-06085-6
Comments
By submitting a comment you agree to abide by our Terms and Community Guidelines. If you find something abusive or that does not comply with our terms or guidelines please flag it as inappropriate.